Innovations Amid the Pandemic
Vocational Middle School students are coming up with various innovations for suppressing coronavirus transmission. They put theory into practice while honing their entrepreneurial skills.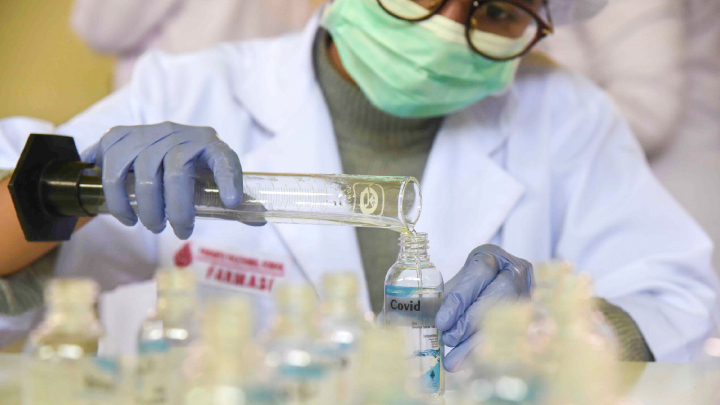 THREE white chambers were lined up in the automotive workshop of Muhammadiyah Vocational Middle School (SMK), Gondanglegi, Malang Regency, East Java. Measuring as large as three volleyball courts, the workshop has been serving as a place for teachers and students alike to manufacture disinfection chambers since the end of March. They call their invention the SMK Mutu Coronavirus Elimination Chamber (Baskom).
The idea to manufacture disinfection chamber came from SMK Muhammadiyah 7 Headmaster, Pahri, out of concern towards coronavirus victims whose number continues to increase day by day. In Malang alone, 47 positive cases have been recorded until April 28. More than 20 people have lost their lives to Covid-19.
SMK Muhammadiyah Head of Motorcycle Engineering and Business Program Alif Supriyadi designed the automatic disinfection chamber. He is assisted by three students in manufacturing the Baskom, which takes them a whole day. Production cost for each Baskom is Rp6 million. "I was asked to build a practical chamber," said Alif on April 29.
Baskom's frame is made of iron, while the walls use lightweight and water resistant polycarbonate twinlite material. A series of electronics are installed along the wall, consisting of a light sensor, an electrical motor, a pump, and nozzles. The sensor detects when a person is entering the chamber, then the electric motor pumps the disinfectant liquid and spray it through the nozzles, filling the chamber with disinfectant vapors.
They initially used chemical disinfectant. However, since the World Health Organization (WHO) banned direct use of chemical disinfectant on the human body at the end of March, the school replaced it with a disinfectant liquid made of natural ingredients. It is a mix of betel leaves, eucalyptus, and cloves.
W251bGwsIjIwMjEtMDMtMDUgMDg6MzY6MjUiXQ
Water is added to the extracts of the three ingredients, with 1:10 proportion. Each 1 liter of extract is mixed with 10 liters of water. The natural disinfectant is currently undergoing tests in Malang Muhammadiyah University laboratory. "Though still clinically unproven, this is effective in killing viruses," said Pharmacy and Nursing Studies Program Head Muhammad Imam Ma'ruf, who proposed the natural disinfectant.
The wheeled chambers from SMK Muhammadiyah 7 have been distributed to a number of places of worship and various institutions. One Baskom sells for Rp9 million. "We are producing based on demand," said Pahri.
Some 30 kilometers to the north of SMK Muhammadiyah, students of SMK Prajnaparamita came up with another innovation: hand sanitizer liquid made of alcohol and aloe vera. The students have been making hand sanitizer since early March, because it has become a rare product due to high demand following the Covid-19 pandemic.
When Tempo visited the SMK Prajnaparamita laboratory on the afternoon of April 29, it was filled with all sorts of pharmaceutical equipments. At one corner of the room, Dyah Wulandari, head of the Pharmacy Department, was busy cleaning up the tools and arranging jerrycans filled with tens of liters of hand sanitizer liquid.
She said that the hand sanitizer began to be produced when she received a report of the item's scarcity from students interning at pharmacies. At first, she said, the pharmacy department and students produced only 50 bottles per day. The bottles sold out in just two hours. Dyah then increased production to 500 bottles per day.
Over the course of a month, thousands of hand sanitizer bottles were distributed to various hospitals, police stations, and government offices in Malang. Production used to involve between five to 10 students and two teachers. The teachers supervised sterilization and maintained the precise formula. However, since the study at home policy was implemented, it has been entirely handled by teachers.
The main ingredients of hand sanitizers produced by SMK Prajnaparamita are 96-percent alcohol, aloe vera, solvent, and fragrance. After mixing, the alcohol is reduced to 72 percent by volume. Aloe vera moisturizes the skin and reduces the effects of alcohol. Acidity or pH value ranges between 6 to 6.5. "So, this is safe for the hands," said Dyah.
Dyah explained that the teachers produce between 20 to 25 liters of hand sanitizer in a day. Each liter sells for Rp100,000. "We no longer sell bottled versions because the bottles are too expensive in proportion to the selling price," said Dyah.
Moving on to Central Java, SMK Citra Medika in Sragen has been producing non-medical face masks because their prices have gone up due to scarcity. SMK Citra Medika Headmaster Nano Prayitno claims the face masks are hygienic because they are immediately washed and sterilized upon completing production. "The face masks are also tightly packed, so they can be used immediately without needing to be washed first," he said.
Before packaging, Nano said that the cotton and spunbond face masks are coated with mint-scented antiseptic to kill germs during use. This antiseptic is claimed to be safe for respiration, but he refused to elaborate on its formula. However, Nano said the antiseptic will be lost if the face mask is washed.
Therefore, SMK Citra Medika also sells antiseptic sprays for Rp25,000 for a package containing 100 milliliters. Each face mask, meanwhile, sells for Rp7,500. Production of the face masks involves students and textile businesses around the school. Students deal with sterilization and packaging, while the textile businesses handle sewing. "This is the students putting into practice the quality control theory they learned," said Nano.
Tens of thousands of face masks produced by SMK Citra Medika have been sold throughout Sragen due to significant demand. Although the school is closed for study activities, students would regularly come over to help with the face mask and antiseptic production.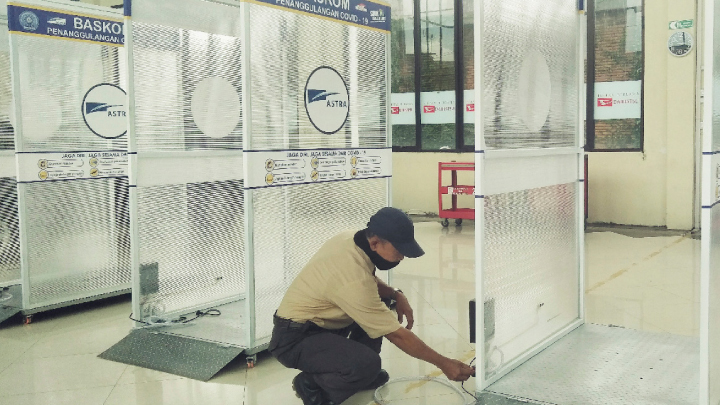 Disinfectant chambers made by students and teachers of SMK Muhammadiyah 7 in Gondanglegi, Malang. TEMPO/Eko Widianto
Other than Sragen, around 3,000 face masks have been produced by SMK students all over Central Java. Students in 48 SMKs in Central Java also made 2,500 personal protective equipment (PPE) for health workers currently working hard to treat coronavirus patients. The PPEs, worth Rp94 million, have been distributed to the Central Java administration on early April to be further channeled to various hospitals in the region.
Central Java School Headmasters Working Forum Chairman Samiran said the idea to produce PPE from spunbond material originated from the scarcity of protective gears in multiple hospitals across Central Java. Lack of proper protection even led to health workers being infected with the coronavirus, he said.
Central Java Governor Ganjar Pranowo appreciates the work and initiative by SMK students who produce PPE amid scarcity of the items. He considers the quality of the students' PPE to be sufficiently good. Ganjar said the high need for PPE may present a business opportunity. "You are welcome to sell them, honing your skills while engaging in entrepreneurship,' he said.
The education and culture ministry noted that there are more than 100 SMKs all over Indonesia which are helping with the coronavirus mitigation effort. Aside from making PPEs, face masks, hand sanitizers, disinfection chambers, and automatic hand washer, five SMKs are distributing necessities while 16 others became places for quarantine.
The ministry also notes that some SMKs are developing remote learning apps as an alternative to zoom and Google Classroom. SMK Al-Azhar Batam in Riau Islands, for example, is one of the schools that developed e-learning method through Android platform.