Kartono (1939-2020)
One and a half hours before my brother breathed his last, I visited him in the Intensive Care Unit where he had been treated for a few days.
Edition : Tuesday, May 12, 2020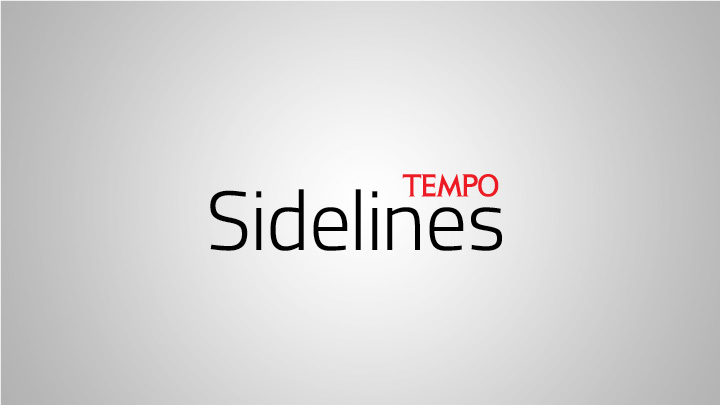 HE was lying on a high bed, as though in a deep sleep. Attached to his body were various tubes and cables, where they went and what they were for I did not know. Above his bed were some monitors, flashing away. The room was expensive, cool, sterile. But I heard my brother's every breath like a reluctant repetition.
I left the hospital to go home. A few minutes later came the news of his death.
It was no surprise. Kartono had been ill since late 2016, as though, little by little, he was preparing his family that would be left behind. Hatma Wigati, his wife, said three days before he died, "I am ready." A year before his illness, Kartono phoned me, "Goen, I'll probably be the first one to go." He had dreamt that he met our late mother, father, brothers and sisters—something that had never happened to him before.
As I went outside, past two other patients lying in Intensive Care—the place built to give people hope in delaying death—I recalled the poet Chairil Anwar's words: "Life merely delays defeat…and knowing, there are things left unsaid before finally we surrender."
It had never been clear what had made Kartono ill. It was thought that it was from a pinched nerve in his spine. He had fallen when repairing the wall clock, an heirloom from our father, which he tended for years. He had been bedridden since then. For four years.
W251bGwsIjIwMjEtMDYtMjUgMDY6NDY6MzIiXQ
It was not sure, though, whether this was the initial cause of the symptoms that followed. He needs an operation, the doctors said. But the planned operation did not take place because it was then suspected he had had a stroke. But that too was unclear: the doctors had different opinions. Meanwhile, his liver function declined…
I think Kartono was quietly aware that the doctors treating him would never work it out. I think he tacitly knew that he would not recover. He was probably prepared to accept this illness as the last chapter of his life. He was calm. Even when I got the help of a sinshe healer from Singkawang for him, he did not see this as strange, nor did he question the benefits and risks. Perhaps he was respecting my good intentions, or maybe secretly he found it funny to see me confused, or perhaps he too wanted to see this as an experiment.
The results of the sinshe's treatment lasted only a few weeks—as far as I could see. There were times when Kartono started to speak, although not very distinctly, and to laugh, watch TV dramas (he did not want to watch Game of Thrones), maybe to ease his mind. But the signs of improvement stopped. Some things could not be helped.
As I sadly observed this development, I realized: science and medical technology have made great strides over the years, with many achievements. But bodies, illness and death still carry irresolvable questions. The optimism of medical science makes death seen as 'failure', and, gradually, 'healing' has come to be identical with 'treatment'.
Medical practice, Ivan Ilich wrote in Limits to Medicine, Medical Nemesis: The Expropriation of Health (1976), transformed "pain, illness, and death from a personal challenge into a technical problem. [It] expropriates the potential of people to deal with their human condition in an autonomous way and becomes the source of a new kind of un-health."
I think Kartono read Illich. He was a doctor from a generation that read widely about developments to do with their profession, and this was particularly true when he was chief editor of the medical journal Medika. At least, he kept up with the debates around Medical Nemesis.
Like Illich (or following him?), Kartono was worried to see the medicalization of life: over time, problems were increasingly seen as matters that can be solved with medical intervention. The pharmaceutical business developed increasingly expensive healing technology for things that are actually not illness. Kartono once told me how depressed he was to see pharmaceutical companies use all manner of techniques to bribe doctors so that patients would use their products.
He himself preferred policies of prevention. He criticized the state community health centers (puskesmas) for becoming centres for dispensing medicine.
But his writing was never hectoring, he could engage in polemics without the fury. He was 'soft'. When he was a boy, unlike me, his younger brother, he never joined fights or studied martial arts. He spoke the polite level of the Javanese language, kromo, to Mother. He and I almost never quarrelled, on the contrary, he helped me. He could speak English well because Father had taught him from primary school, and so when he was in junior high school he translated an exciting book, The Secret Aeroplane, into Indonesian for me, writing it out by hand. We quarrelled only about who got to read first the books that came on order from Jakarta, especially books by Karl May. Other than that, the two of us—two out of eight children—were used to sharing.
Maybe it was because of this habit of sharing, that when he became a doctor, Kartono did not like private practice. He was more attracted to public health, especially the health of those who easily become victims of manipulation by the pharmaceutical or tobacco industries. Dr Pandu Riono, the epidemiologist and our nephew, said that he was inspired by 'Uncle Ton'. He was proud to read Kartono's lecture notes that were kept neatly (including notes on philosophy), and it was through his uncle that he too chose public health over private practice.
Kartono, who did not want to be a specialist, once did practice in a corner of Tanjung Priok. Other than that, he wrote, while working as a doctor for a business with family connections. One day, he was asked to work as a doctor for a diet club, a place for people who wanted to lose weight. He refused. "I am better looking after people who do not get enough to eat."
Goenawan Mohamad