Gone with the Flood
An ITB researcher estimates that more than 100 coastal regencies and municipalities could disappear under the sea flood. Climate Central predicts 23 million residents in coastal regions of Indonesia would be affected by tidal flood due to rising sea level by 2050.
Edition : Tuesday, May 12, 2020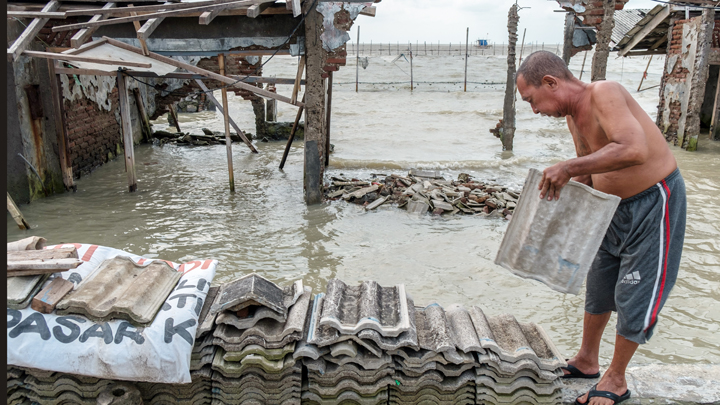 HAVING researched the potential sea flood threatening Pontianak City, West Kalimantan, Heri Andreas is concerned because only few in the society are aware of it. Heri, a member of the Bandung Institute of Technology (ITB) Geodesy Team, made a model of the tidal flood which has been inundating parts of the city for the last 10 years. "Because it happens near the year's end, it appears like a common natural phenomenon. Also, the water is only 20 centimeters deep," said Heri as he tried to guess what causes the public to be indifferent.
The city of Pontianak, according to Heri, is not situated immediately along the coastline, but further inland. Being only less than 10 kilometers away, however, its position is not very far from the sea. Tidal flood enters the city via Kapuas River when the tide or waves are high. "It was not apparent in the past because the ground was still high, then it gradually went down, making it more obvious. Particularly around Kapuas, close to the river's mouth," said Heri, who lectures in the ITB Faculty of Earth Sciences and Technology, on May 2.
In order to construct a model of the tidal flood in Pontianak, Heri and his team conducted a field survey in January. They processed data from satellite imagery and global positioning system to measure land subsidence periodically. "We found a land subsidence rate of between 2 to 4 centimeters per year," said Heri. He considers himself lucky to have obtained the light detection and ranging data for the flattened topography of Pontianak, of between one to five meters above sea level.
Seeing the land subsidence rate and flat topography, Heri said that the tidal flood will be a serious threat for Pontianak and other coastal regions in West Kalimantan. Even now, villages located close to the sea, such as in Mempawah and Kakap River, has been experiencing tidal floods every morning, with the water subsiding in the afternoon. "The governor prefers to relocate the inhabitants because building seawalls requires more work," said Heri.
In December 2019, Climate Central—an independent organization of scientists and journalists researching and reporting the science and impacts of climate change, based in Princeton, the United States—released a report titled Flooded Future: Global vulnerability to sea level rise worse than previously understood. The report mentions that, by 2050, around 23 million residents in coastal regions of Indonesia would be threatened by yearly flood from the sea due to rising sea levels caused by climate change. That number is 4.6 times higher than the previous estimate of 5 million affected residents.
W251bGwsIjIwMjEtMDUtMDggMTM6NTM6MTIiXQ
In his research, Heri found that the sea floods in Pontianak and most other coastal areas in Indonesia have been caused more by land subsidence than rising sea level. "Sea level increase in Indonesia is about one centimeter per year. Meanwhile, land subsidence is between one to 20 centimeters per year," he said. Heri mentioned a region along the northern coast of Java Island as an example, where the ground sinks by 10 centimeters each year, and the sea level increases by six millimeters per year.
Heri explained that there are seven factors that contribute to land subsidence, from natural compression or compaction, ground water exploitation, oil and gas exploitation, peatland drainage, geothermic, tectonic, to land filling activities. "Pontianak stands on peatlands and soft soils, so that draining the lands and the weight of the city buildings result in land subsidence. At some points there are extractions of water from the ground, like in swimming pools," he said.
Should land subsidence continues on for years without any prevention efforts, Heri continued, then more areas will be inundated by the tidal flood. Heri points to Jakarta, where now the tidal flood has penetrated up to one to two kilometers inland, as far away as the Jalan Gunung Sahari, Central Jakarta. Pekalongan, he said, is even worse because the tidal flood gets five kilometers into the city, while in Demak Regency, the flood reaches up to eight kilometers inland from the beach.
Heri estimates that more than 100 regencies and municipalities situated along the coastal area in Indonesia could lose their dry land and disappear under the water. In Sumatra, the eastern coast from Aceh to Lampung could potentially sink under the sea. That is also the case in Kalimantan, along the western coast from Singkawang to the east in Samarinda. In Sulawesi, Donggala and Mamuju face a similar threat. As for Papua, from Sorong and Kaimana to Asmat and Merauke are threatened to lose their dry land.
Head of the National Institute of Aeronautics and Space Remote Sensing Utilization Center Rokhis Khomarudin said that most of the major cities in Indonesia are situated near coastal area. Therefore, it is very likely that they could be affected by flood, either coming from the sea or upstream from the river. "However, a thorough study of land subsidence is required to ascertain the level of impact that may be caused," said Rokhis in his reply to Tempo's email inquiry, on May 5.
Rokhis said that his institution is studying data from the synthetic aperture radar (SAR) satellite to construct a model of land subsidence. This study will also gather information of land subsidence in five urban areas along the northern coast of Java: Jakarta-Tangerang-Bekasi, Greater Cirebon, Greater Pekalongan, Kendal-Demak-Ungaran-Salatiga-Semarang-Purwodadi, and Gresik-Bangkalan-Mojokerto-Surabaya-Sidoarjo-Lamongan. "It was requested by the Bappenas (National Development Planning Agency), in line with the National Program for Safeguarding Urban Coastal Areas on Java Island," said Rokhis.
Further, Rokhis explained that the impact of tidal flooding may be observed through data from remote sensing satellites such as SAR, by identifying areas being inundated by the flood, or moments after it has subsided. He said, not only the width of the affected area can be measured, it could also provide estimates of loss from damage to buildings and infrastructure. The advantages of remote sensing, he continued, are that it could observe a wide area and carry out periodic monitoring. "Therefore, every physical changes could be detected, including abrasion, accretion, and damage to coastal ecosystem," he said.
DODY HIDAYAT, ANWAR SISWADI (BANDUNG)