The Problem with Rapid Testing
International journalists have found issues with Covid-19 rapid test kits. India and Spain are complaining about the inaccuracy of Chinese-manufactured test kits.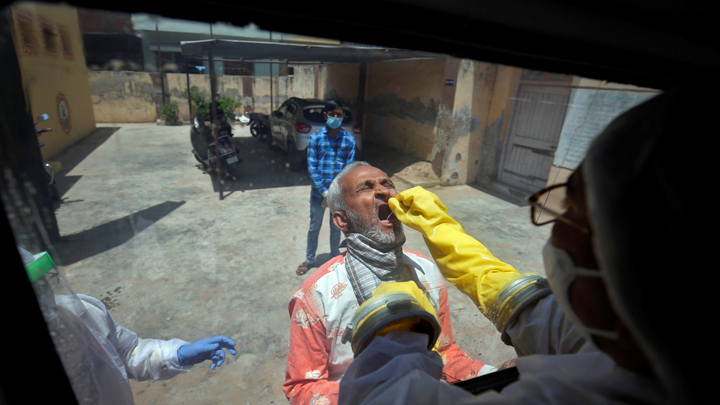 THE number of people infected with Coronavirus Disease 2019 (Covid-19) as of Saturday, May 9, had reached 4 million cases globally, with a death toll of 276,237. To control the spread of the disease, the governments of various countries have enforced restrictions, from small-scale restrictions to area lockdowns. The next step was detection with rapid testing to learn about the disease's distribution.
But a number of journalists from various media, joined under the Organized Crime and Corruption Reporting Project (OCCRP), including from Tempo, have detected issues surrounding the procurement of rapid test kits, many of which come from China, where Covid-19 was first detected. In a report published on May 6, the OCCRP exposed issues of inccuracy and non-transparency regarding these test kits' manufacturing country for commercial reasons.
According to the OCCRP, there are at least three test kit brands released by European and American manufacturers, which are, in fact, rebranded kits manufactured by Hangzhou AllTest Biotech Co Ltd. Several independent studies have found AllTest's kits to be less accurate than advertised.
These test kits are sold all over the world and are often promoted as quality European products, which many consider more reliable than the Chinese-manufactured products. The same Chinese test kits under various brands have been used by health services and government authorities in numerous countries, including Spain, Italy, England, Indonesia, Russia, and the Vatican.
Among the rebranded rapid test kits is the Biozek rapid test kit, supposedly manufactured by Inzek International Trading BV, headquartered in Apeldoorn, the Netherlands. Buyers were enticed by the "Dutch-manufactured" claim, including several Indonesian companies.
These "Dutch-manufactured" rapid test kits have proven to be popular. According to Mustafa Hamid, Biozek's quality control manager, his company has sold and shipped 1.6 million units of the kit to all over the world. Among its largest buyers are Indonesia, Russia, the Netherlands, Kuwait, Saudi Arabia, and Iraq.
The OCCRP also found that at least two companies have re-labeled the AllTest kit and marketed the test kit, among others, ScreenItalia, which is based in Umbria, Italy. The company is also registered with the Italian health ministry as a test kit manufacturer.
Italy's law allows companies to purchase and relabel imported products as long as the importer performs its own quality control and divulges the original manufacturer when requested. But ScreenItalia refused to answer questions from journalists about the original manufacturer of the company's rapid test kits, including about how their product is marketed.
Rapid test kits found in Italy and many other countries are sold by Acro Biotech, a company based in Rancho Cucamonga, California, United States. The company sells rapid test kits across the globe under the brands Acro and Juscheck. OCCRP's team did not find evidence that Acro Biotech sells these kits in the United States, instead finding many overseas buyers, such as India, Chile, Brazil, Spain, Italy, Belgium, and Finland.
Besides the issue of inaccuracy, sellers and clinics have been incorrectly promoting and managing the product. OCCRP journalists found several cases where corona rapid test kits were sold directly to consumers by online sellers or through social media platforms, such as Telegram.
In Macedonia, the Biozek rapid test kit is supplied by a Swiss intermediary, Spring Healthcare. Wasay Bhatti, a consultant for Spring Healthcare, says Inzek misled his company by ensuring that the product was manufactured in the Netherlands and not in China.
Marien de Jonge, a scientist involved in Covid-19 research at the Radboud University Medical Center, the Netherlands, says the inaccuracy of rapid testing may be dangerous. "A false positive result is no big deal because the only consequence is that someone isolates himself for nothing," he said. But, he explained, a false negative can be disastrous as it endangers the person tested and others.
In the end, India canceled its order from China because of the inaccuracy issue. Prime Minsiter Narendra Modi's administration imported 1 million rapid test kit units in early April from two Chinese companies, Guangzhou Wondfo Biotech and Zhuhai Livzon Diagnostics.
The rapid test kits arrived in mid-April. After they were tested, at least three states filed complaints, namely, Rajasthan, Kerala, and Tamil Nadu. According to Rajasthan Health Minister Raghu Sharma, his government performed 170 tests at Covid-19 points, beginning with Jaipur. It became known that the kit's accuracy is only at around 5.4 percent.
According to Raghu Sharma, when the kit was also used to test patients who had already tested positive for the coronavirus, the results came out negative. "This is why there are questions regarding the kit's credibility," he said. Reports on rapid testing's accuracy in Kerala and Tamil Nadu were likewise unsatisfactory.
After these complaints, the Indian Council of Medical Research asked regional governments to stop using these rapid test kits. According to Times of India, the government canceled the purchase for these test kits on April 27 and decided to manufacture their own testing kits.
During an online meeting with the civil community and non-governmental organizations in late April, Indian Health Minister Harsh Vardhan said India would be making its own rapid test kits in several weeks. According to Asia Nikkei, local companies given the authority by India's Central Drugs Standard Organisation to develop rapid test kits include Mylab, Medsource Ozone Biomedicals, Voxtur Bio, and Alpine Biomedis.
Ji Rong, a spokesperson for the Chinese embassy in India, criticizes the decision. "It's unfair and irresponsible of certain individuals to call Chinese products as 'false' and seeing the problem by putting prejudices ahead," he said. According to Ji Rong, issues in storage, handling or transportation may be responsible for the inaccuracy of test results.
India was not the first country to have a negative experience. In March, Spain ordered 640,000 test kits from Shenzhen Bioeasy Biotechnology Company Limited in the Guangdong Province, China. According to the newspaper El Pais, these test kits were insensitive, meaning, there is a possibility that they would not detect Covid-19 on an infected person.
According to Daily Mail, Bioeasy did replace these inaccurate kits, but Spain returned the replacements for the same reason. After the second time, Spain decided to ask Bioeasy to return the money for the purchase of all 640,000 test kits. The Chinese embassy says the Spanish government purchased these kits from a company that had not received a license.
Spain's health ministry admitted that the test kits were not directly purchased from a Chinese manufacturer, but rather through a local supplier. As of May 10, the United States had recorded 1,349,430 Covid-19 cases with a death toll of 80.101. Spain has recorded 264,663 coronavirus cases and 26,621 related deaths, making it the country with the second most coronavirus cases after the US
Turkey is yet another country with a similar experience. As of May 10, Turkey had recorded 137,115 coron cases and 3,739 related deaths. The country has complained about the inaccuracy of Chinese-manufactured rapid test kits. According to the Middle East Eye, the Turkish government stopped using sample test kits made in China after discovering their inaccuracy. A member of the Turkish health ministry's science council says the Chinese test kits are only 30-35 percent accurate.
ABDUL MANAN (OCCRP, DAILY MAIL, TIMES OF INDIA, MIDDLE EAST EYE)