Food for the City's Poor
Activists established soup kitchens to provide food for those impacted by Covid-19. The food solidarity movement is meant to assist the urban poor.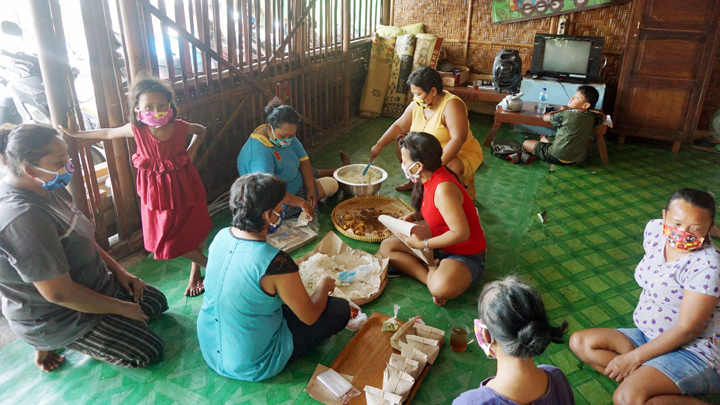 IN a kitchen half the size of a badminton court, Linda sat with four of her colleagues while listening to dangdut folk music. These sex workers in Yogyakarta's Bong Suwung area were grinding spices, and cooking rice, tempeh, as well as sardines. Once the food was ready, they wrapped it and distributed the food to the elderly, widows and the homeless, who live along a railway near the red district area. They provide 200 packages of rice every day.
The ingredients for the soup kitchen in Bong Suwung are obtained from the Solidaritas Pangan Jogja (Jogja Food Solidarity), a movement to help the city's poor residents. The movement raises money and gathers donations from various communities around Yogyakarta. "If there had been no aid, I would not have been able to eat," Linda said on May 11.
Jogja Food Solidarity was, among other, founded by activist Ita Fatia Nadia, two months ago. Most of its pioneers are activists who took active roles in the Gejayan Calling movement. They are the same people who openly spoke up against various problematic bills, such as the Corruption Eradication Commission (KPK) law revision, the Omnibus bill, as well as the Criminal Code bill. During the pandemic, these Gejayan Calling activists have been helping marginalized groups impacted by Covid-19. "This is a collective movement by residents," said Ita Fatia.
Ita calls the soup kitchen as a social and political movement that bridges university students, those who have lost their income, and the middle-class. In 1998, Ita Fatia prepared a similar soup kitchen to support the student movement. She says the movement was inspired by Russian novelist Maxim Gorky's Mother, a novel about Pelagia Nilovna, a woman moved to aid revolutionaries in their fight against the Russian Tsardom. In the novel, Pelagia prepares food and drinks, and distributes pamphlets in support of the labor movement.
In Yogyakarta, Ita has been fortunate because donors have come from all over, including non-profit organizations, universities, artists and farmers. Besides gathering donations, they are also strengthening the network linking these different communities. They receive food ingredients from a farmers community in the Dieng Mountains in Wonosobo, Central Java, and from the Gajah Wong School, an educational institution focused on scavengers. Food Solidarity is also receiving donations from a coastal farmers community from the Kulon Progo Beach, who are threatened with eviction by an iron sand mining compay. "This how the farmers are showing their solidarity," said Widodo, chairman of the community.
Among the frequent recipients of the food aid is the community of sex workers in Bong Suwung, where Linda used to earn her living. After the pandemic broke out, the police shut down the red district area. Linda has been out of work since and lost her income. Neither have they been given food aid from the government as they do not have Yogyakarta ID cards. Most of the sex workers come from Solo, Magelang, and Semarang in Central Java.
"I have worked nine years and have no savings," said Linda softly. The 36-year-old woman also owes her landlord several months of rent. Her landlord has given her an ultimatum: either she pays her rent at the end of this month or she has to leave. "Even to eat I have to go to my friends," said the woman from Semarang.
Nia, chairperson of Arum Dalu Sehat—a community for Bong Suwung's sex workers—then contacted Food Solidarity on social meadia. Not long after, food aid arrived. Linda and her friends were able to breathe a little easier.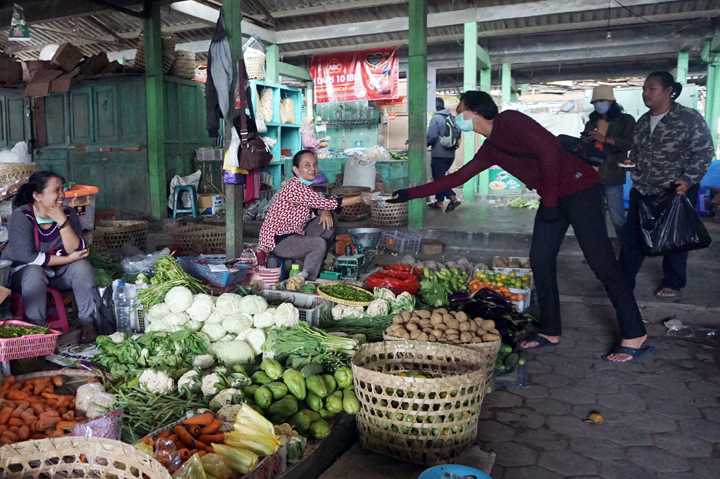 Jogja Food Solidarity volunteers distributing free food to traders at the Gamping traditional market in Bantul, Yogyakarta, May 8. TEMPO/Shinta Maharani
When Food Solidarity was established in early March, the movement only had one soup kitchen in the Ngadiwinatan village, Yogyakarta. Now they have 11 soup kitchens all over the city: from Prawirotaman, Balirejo, Gamping, to a community of scavengers in Bantul. The movement has also spread to various other regions, such as Banyuwangi and Madura in East Java, Klaten in Central Java, Bandung in West Java, Tangerang and Serang in Banten, and Jakarta. They cook and distribute rice boxes for becak (rickshaw) drivers, porters, traditional market vendors, domestic workers, sex workers, scavengers, factory workers, farmers, and former 1965 political prisoners.
Many share Linda's fate. The novel coronavirus has caused residents of the Wonocatur village, Banguntapan, Bantul, to lose their income. There are 50 homeless people without clear addresses in this village, who live in crowded spaces with cardboard and tarpaulin walls. Trash and standing water mingle all along the small alley leading to the village.
Under normal conditions, these people make Rp50,000 only from scavenging trash. But during the pandemic, Wonocatur residents have not been able to sort through trash and discarded goods from residential areas and store yards. "Some are even willing to steal to survive," said the scavengers' coordinator, Kartika Damar.
Damar went to the Yogyakarta social affairs office to ask for food aid, but her efforts yielded no result due to the complicated bureaucracy.
Later, several local activists connected the community to Food Solidarity. Since then, aid began to pour in. Every day, seven residents busy themselves preparing food in a 3x6-meter kitchen with woven bamboo walls. Twice a day, during the day and in the afternoon, they distribute around 70 rice boxes to scavengers and the homeless in the Wonocatur village.
In Bali, Food Solidarity is helping workers in the tourism sector who are living in boarding houses. Most have been sent home by a bankrupted companies since the pandemic broke out. Yohana Masamah, a volunteer for the movement, says at first she cooked the food on her own and distributed it to people in her neighborhood. Treza, her son, then urged Yohana to join Denpasar Food Solidarity.
Yohana dedicates her kitchen in the Sesetan area, Denpasar, to function as a command post for distributing food. In one day, Yohana and other volunteers prepare 30-120 rice boxes as well as snacks such as donuts.
Yohana tries her best to pay attention to balanced nutrition, taking into account carbohydrate, protein, vitamin and mineral contents. "Red tofu, Bali-style boiled egg, sometimes fried chili liver, stir-fried green beans, and fish," she said, recalling some of the dishes she has prepared for the hundreds of people she had never met before. "The main dish and vegetables have to be dry so they last longer," Yohana explained.
SHINTA MAHARANI (YOGYAKARTA), EKA WAHYU (JAKARTA)