The Sewing Crew
Several groups take the initiative to fashion protective gear for health workers. Their products are being distributed for free to hundreds of medical facilities.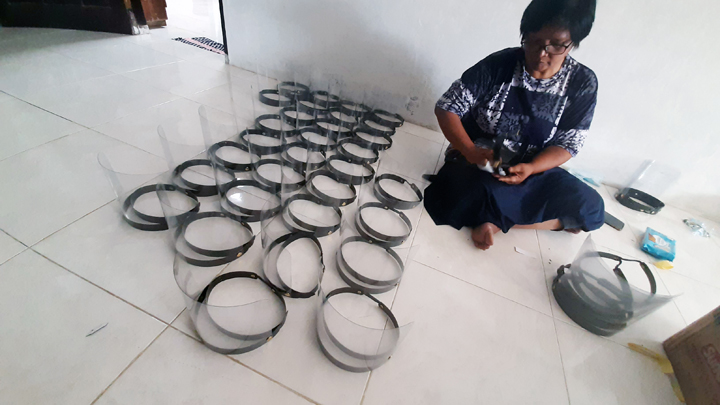 BAGAS Pratondho Ali was surfing on Facebook when his friend, a nurse, sent him a message on March 23. The friend told him that there was a team of doctors in Kebumen, Central Java, who did not have face shields while treating a patient under supervision for Covid-19. Upon learning that Bagas had a bicycle accessories business, the medical staff at the Palang Biru Regional General Hospital (RSUD), Gombong, recommended that he made protective gear.
After the conversation, Bagas' wife, who is herself a nurse, made the same recommendation. Bagas immediately looked for a manual and patterns for creating a face shield on the Internet. He took some transparent mica and bicycle tire rubber that had been washed. He cut these materials according to the pattern and put them together using clamps. And voilà. "The first face shied sample was done in only 20 minutes," said Bagas when contacted on March 31.
To test the sample, the 28-year-old man asked his mother, a nurse at the Dr. Soeradji Tirtonegoro General Hospital, to bring it to medical personnel in the emergency unit. At the time, the Covid-19 referral hospital in Klaten, Central Java, was already treating a number of people under observation and surveillance. After wearing Bagas' face shield for several hours, they said it was quite adequate, although sterilization would be required. The first order of 10 units came from Dr. Soeradji Tirtonegoro Hospital's radiology department.
News about Bagas' product quickly spread through social media and texting apps. According to him, orders would come in every day from at least 30 medical facilities. Bagas would usually send the face shields directly to these facilities, even when an order comes from an individual. "We make sure that (the face shields) are not abused for personal interest and send a maximum of 10 units so that there is equal distribution," he said.
He enlisted 15 volunteers to help with the manufacturing process at his home in the Pandes village, Klaten. But he was reprimanded by his village administration and neighbors, who felt that he was violating social distancing protocols by gathering these people. In the end he decided to work with eight people and they can now make 120 face shields every day.
To pay for production cost, Bagas has used his own money and raised money from several colleagues. As of the end of April, he had collected Rp20 million. Most of the money is used to purchase materials, and the rest for making 800 face masks. Bagas has distributed almost 3,000 face shields to 397 medical facilities, from community health clinics (Puskesmas) in Aceh to a hospital in Wamena, Jayawijaya Regency, Papua. All of these face shields are given free of charge, with even the shipping fee paid for.
Three Hermina network hospitals in Kemayoran, Jatinegara (both in Jakarta), and Depok (West Java) are among those that have received Bagas' face shields. Widjanarko Hastario, an anesthesiologist at one of these hospitals, ordered the face shields because his hospital had a limited supply of face masks and goggles. "I gave Bagas' face shields to the emergency unit, to prevent paramedics from being exposed to patients' saliva droplets," he said.
In Yogyakarta, the movement to create protective gear for paramedics was, among others, pioneered by Budhi Hermanto. The initiative began when the director of the Adjiwarga Family Planning Clinic was running a coronavirus rapid test at a government hospital in Yogyakarta. In the control room, he saw that several nurses were not wearing protective suits and face shields.
Upon return from the hospital, Budhi and his wife discussed a plan to provide protective gear for medical workers. They contacted some of their tailor friends, asking them to work together to produce hazmat suits. They managed to enlist at least 60 tailors from eight groups. Budi named the movement Mamajahit, an acronym for Majelis Mau Jahitin, or roughly, the willing-to-sew council. "All tailors involved refuse to be paid a single cent," said Budhi.
Budhi only needed to provide the materials and patterns. When a tailor wishes to join, he will immediately send the materials needed, such as fabric and zippers, to the volunteer. Members of the Mamajahit community are not required to produce a minimum number of hazmat suits.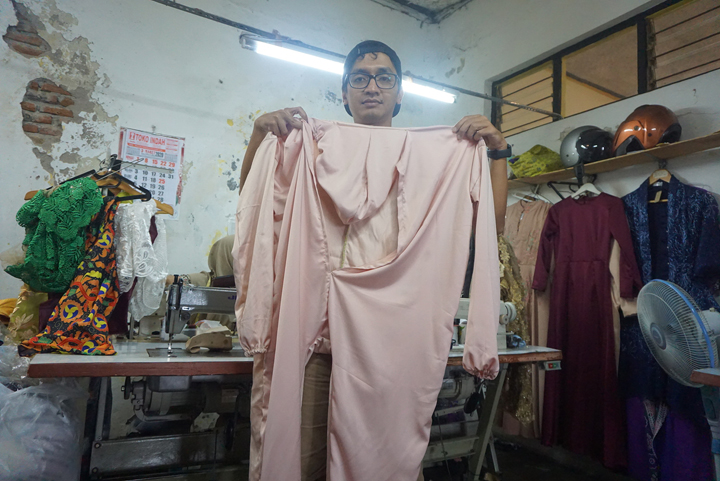 Owner of Paksi Raras Alit tailor holds the prototype of hazmat suit for doctors and nurses in Yogyakarta, April 2. TEMPO/Shinta Maharani
Paksi Raras Alit, owner of a kebaya (traditional Indonesian outfit) boutique in Yogyakarta, is a member of Mamajahit. He began making single-wear hazmat suits for paramedics after learning that many nurses and doctors had caught the novel coronavirus due to the limited supply of protective gear. He mobilizes three tailors especially for producing hazmat suits. "Our target is to make 100 hazmat suits in one week," he said.
Retnoningrum, a tailor from Gamping, Sleman, who is another Mamajahit member, instructs two of her employees to make hazmat suits. While still taking orders for normal wear, Retno only aims to make 50 units of protective gear every week. "The most important thing is that paramedics in the field are getting help," she said.
Until the end of April, the Mamajahit group had produced 5,400 hazmat suits. The protective gear is distributed for free to hospitals and medical workers in Yogyakarta and Surakarta (Central Java). According to Budhi Hermanto, the cost of production and materials is completely paid through donations.
The protective gear crisis has also encouraged artists to get involved. In collaboration with the Idselap sports group, sketch artist Ariardian Pramunindyo has raised funds for purchasing protective gear for doctors and nurses. Nindyo—as Pramunindyo is called—who graduated from the Indonesian Arts Institute (ISI) Yogyakarta, began assisting in the effort to raise money after he was asked by another Idselap member, Dewi Satriyani to draw sketches of the donors.
After a sketch is done, the donor is expected to donate money to buy protective gear, such as face masks and hazmat suits. Idselap and Nindyo do not ask for a certain amount. Some have given Rp50,000, while others give more, even up to Rp15 million for a face sketch. Without taking any money, Nindyo has sketched a number of famous people, such as actress Lulu Dewayanti and businesswoman Natali Djody, to raise money.
Dewi Satriyani says the community chose sketching as a campaigning tool to fundraise because it is an activity that is pleasing, both to the sketch artist and potential donors. The community has raised at least Rp900 million. Most of the money was already used for purchasing protective gear, which has been donated to seven hospitals in Jakarta and surrounding areas. "We give health workers the best," said Dewi.
RAYMUNDUS RIKANG, SHINTA MAHARANI (YOGYAKARTA), NURHADI (SURABAYA), MADE ARGAWA (BALI)