Rooms for Front-Line Medical Workers
The eviction of some health workers has led some boarding house owners to offer them rooms free of charge. Medical personnel are helping one another.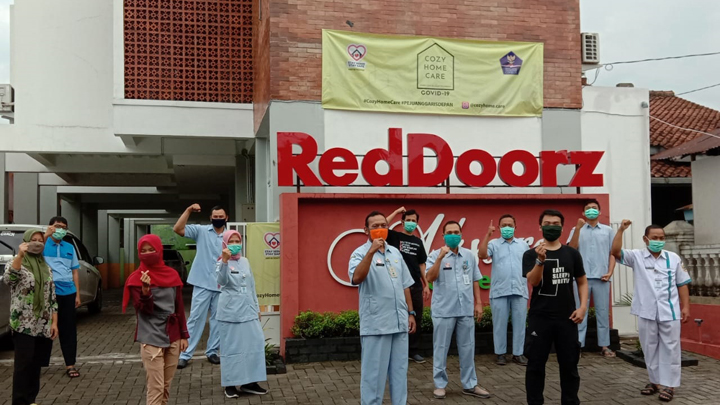 A panic fell over Sulistya Puspa Nugraha on March 26. At that time, she had heard a colleague of hers was being reviled by local residents around the boarding house where she stayed. This nurse at the Margono Soekarjo Regional General Hospital (RSUD) in Purwokerto, Central Java, heard that her friend was being accused of being a carrier of the coronavirus at her workplace.
This made Sulistya remember one person who worked in a special ward for Coronavirus Disease 2019, or Covid-19, patients who had been evicted by the owner of her boarding house. Not wanting to end up like that her friend, Sulistya contacted her superior. Her neighbors already knew that she worked in an isolation room for patients infected with coronavirus. Some of her neighbors did not want to get close to her. "I complained in order to anticipate any rejection from neighbors," said Sulistya, retelling her experience on May 10.
No long afterwards, Sulistya's superior informed her that the owner of the Aksara Homestay wanted to give her a room. That night, Sulistya packed up her things and moved to that lodging located about one kilometer from the Margono Soekarjo RSUD. Sulistya later spent that night with another nurse who had been evicted from her boarding house, each in their own room. "I stayed there one month," said Sulistya.
Brili Agung, Chief Executive Officer (CEO) of Aksara Investama Propertindo, who was contacted by Sulistya's superior, said that he did not expect that any medical personnel in Purwokerto were being evicted on account of treating Covid-19 patients. "I thought that only happened in big cities," he said. He had heard about the surprising news in Jakarta when people living around the residence of a nurse who worked at the Sulianti Saroso Infectious Diseases Hospital did not want her to live there.
Not wanting this last line of defense against the corona disease to end up homeless, Brili immediately created a group on WhatsApp whose members consisted of capital holders. He floated the idea of the Aksara Homestay giving free rooms to health personnel. This proposal was immediately accepted. The next day, he informed officials at the Banyumas Regency and the CEO of Margono Soekarjo RSUD, Tri Kuncoro, that 24 rooms were available for health personnel.
The hospital then made an agreement with Brili. According to Tri Kuncoro, Aksara Homestay will provide free rooms for medical personnel for one month, matching the length of an assignment to work in the special ward for treating Covid-19 patients. As of Monday, May 11, the hospital had treated 17 people for coronavirus, with 111 patients under surveillance.
Brili initially only provided rooms, laundry service, and free breakfast. Later this was increased after many donors helped out. The nurses also receive lunch and dinner, which includes fruits, snacks, and vitamins. According to Brili, this support came after he tweeted that his lodging facility had been given free of charge of nurses on his Twitter account on March 27. This viral tweet was liked over 51,000 times.
However, this free program has ended. According to Brili, the operational cost for employees' salaries and other benefits for the nurses for one month came to about Rp65 million. Those costs were covered out of his own money, and by investors and donors. The rooms are no longer free, but now cost Rp50,000 per day, down from the normal price of Rp200,000. "We want to provide full assistance, but there are no more funds," he said. He hopes there will be income so that he can again provide free rooms for medical personnel.
Tri Kuncoro said that their agreement was not extended because the hospital opened a dormitory for medical personnel. Even so, there are still some nurses from that hospital who are renting rooms at Aksara Homestay. "It is affordable, and includes three meals a day," he said.
Habitat for Humanity Indonesia (HHI), a non-profit organization which tries to provide basic housing for people in financial difficulty, has also made a similar program called A Stayover for Medical Heroes. HHI Communication Manager Martya Litna said that the idea came about when they saw that medical personnel could not live at home after the coronavirus outbreak. "They have been working in the fight against coronavirus at a time when others are being asked to stay at home," said Martya.
HHI is working with OYO Rooms Indonesia, a startup company in the hotel business, to provide rooms for medical personnel. According to Martya, HHI pays Rp385,000 per day to OYO for each room and food for medical personnel. HHI has received assistance from donors of about Rp200 million, more than half of which comes from donations from the Kitabisa.com website. OYO Indonesia spokesperson Meta Rostiawati said that there are eight hotels which have been set aside for medical personnel, including those in Salemba, Gunung Sahari, and Petamburan, in Jakarta.
According to Martya, since this program was launched on April 22, there have been 200 health workers who have received free rooms. HHI is targeting providing 600 rooms for medical personnel. Elvi, a nurse at the Gatot Soebroto Army Central Hospital, who lives at the Salemba OYO Hotel, is grateful she could get a clean and comfortable room. According to her, this facility has helped reduce her stress in working with Covid-19 patients.
Bobobox, a startup company in the capsule hotel business, has given 100 capsule rooms located around Jakarta and West Java as a place for medical personnel to get some rest. At the Hasan Sadikin Central General Hospital in Bandung, West Java, those capsules are reserved for doctors. "We are providing capsule rooms until the pandemic is over," said Bobobox Mitra Indonesia Marketing Manager Ahmad Qois. The hospital is taking care of the electricity, bedsheets, and room hygiene.
There is also solidarity among medical personnel to provide some rooms. In Denpasar, Bali, Doctor Gede Eka Rusdi Antara has reserved 10 boarding rooms for medical personnel at Sanglah Central General Hospital (RSUP). Rusdi, who is also a surgeon at that hospital, said that those rooms which come with a television unit, hot water, and a mini kitchen are being given free of charge. These rooms usually cost Rp2.5 million per month to rent. "These rooms can be used for free as long as needed," he said.
Rusdi has left the matter of which medical personnel stay there to Sanglah RSUP's management. Sanglah RSUP spokesman I Dewa Ketut Kresna verified the news about the free rooms. "(It has been going on) since mid-March," said Kresna.
HUSSEIN ABRI DONGORAN, ANWAR SISWADI (BANDUNG), AYU CIPTA (TANGERANG), MADE ARGAWA (BALI)