The Rebel from Pamijahan
Sheikh Abdul Muhyi used the Wali Sanga's approach in spreading Islam in West Java. He managed to evade the Dutch.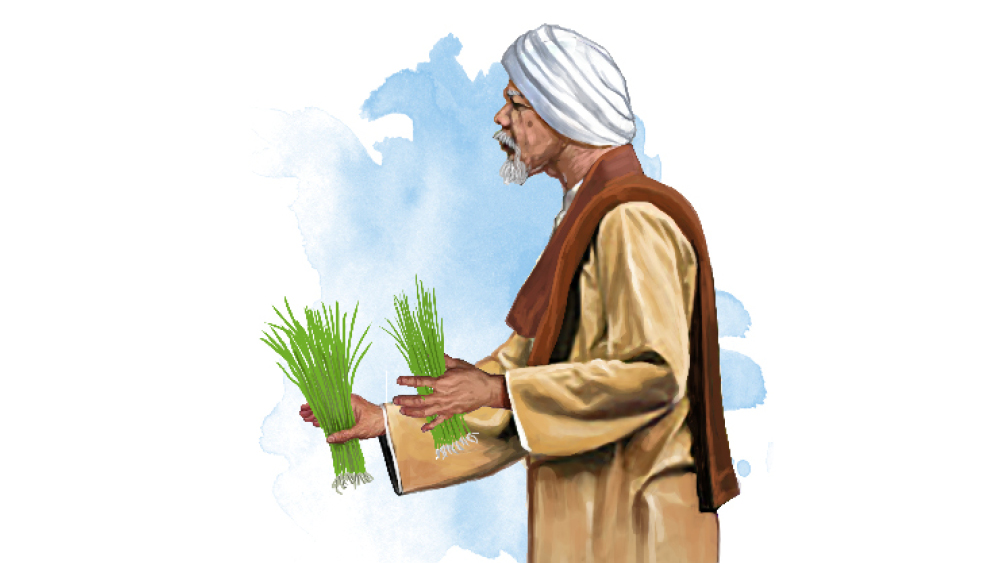 A PRAYER rug kept Busrol Karim company as he slept by the tomb of Sheikh Haj Abdul Muhyi in the Pamijahan village, Tasikmalaya, West Java. He slept sideways, facing the tomb. A man, also dressed in white, was sleeping next to him, several books lying beside him. "I spent all night here, to perform tawasul (to get closer to God), praying for the dead," Busrol told Tempo after he awoke from his sleep on Wednesday, May 6.
Busrol is a Pamijahan resident who prays at the tomb every week. The usually crowded site has been quiet since the Tasikmalaya government shut it down in April due to the Covid-19 pandemic. "Before the corona pandemic, at least five buses would come in a day. The peak is from Rajab to Sha'ban (seventh and eighth month in the Islamic calendar), there would be an overflow of pilgrims," he said.
Sheikh Abdul Muhyi is known as a Muslim missionary in south Sunda and a prominent figure of the Sattariyah school of thought. He was born in Surakarta, Central Java, in 1650, to Sembah Lebe Warta Kusumah and Raden Ajeng Tanganjiah. His father was a descendant of King Galuh, while his mother was descended from the Mataram court. Most of his childhood was spent in Giri, Gresik, East Java, where his mother's ancestors, who were of the Sunan Giri bloodline, originated.
At the age of 19, he began studying religion under Sheikh Abd al-Rauf al-Sinkili, a prominent ulema in Singkil, Aceh, who was also a famous Sattariyah teacher. "At the time, Singkil was the center of Islamic development," said Wildan Yahya, a teacher at the Bandung Islamic University and author of the book Menyingkap Tabir Rahasia Spiritual Syekh Abdul Muhyi (Lifting the Veil of Sheikh Abdul Muhyi's Spiritual Secret).
Sheikh Abd al-Rauf invited Muhyi and his other students to travel to Baghdad, Iraq, the time period's center for Islamic civilization. There is not a wealth of information regarding Muhyi's life during this period. "Any information had to do with his piety and intelligence," said Wildan.
Around one and a half years later, Seikh Abd al-Rauf invited Muhyi and his other students to go to Mecca, Saudi Arabia. One day, says the custodian of the Pamijahan pilgrimage site, Endang Adjidin, the teacher saw light coming from Muhyi's direction while they were in the al-Haram Mosque. "His gift of sainthood was apparent then," said Endang.
Agus Sunyoto, the writer of the book Atlas Wali Songo (Atlas of the Nine Saints) and chairperson of the Nahdlatul Ulama's Indonesian Muslim Artist and Cultural Activist Organization (Lesbumi), says according to oral tradition, light emanating from someone is generally known as a sign of piety. "This is similar to the story of Sunan Ampel learning of Sunan Giri's sainthood," he said.
Sheikh Abd al-Rauf then summoned Muhyi and told him about his intuition. He recommended Muhyi to develop Islam in the south of West Java, and to look for a cave. As to whether he meant an actual cave or a metaphorical cave has been open to interpretation. Wildan believes that the cave was meant as a metaphorical place to spread the religion of Islam.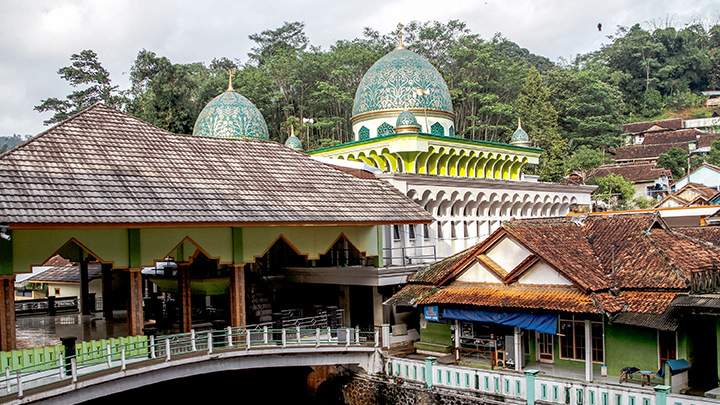 Pamijahan Grand Mosque in Bantarkalong, Tasikmalaya./Tempo/Iqbal T. Lazuardi
After half a year in Mecca, Sheikh Abd al-Rauf and his students returned to Aceh. Muhyi returned to Gresik and decided to travel to the south region of West Java, which was, at the time, more difficult to access than West Java's northern parts. Before Muhyi began his journey, his parents arranged his marriage to Ayu Bakta.
Agus Sunyoto believes that he left Gresik due to his conflict with Mataram's ruler, Amangkurat II. "The cave here can be seen as a hiding place or a place of refuge," he said.
Muhyi's first stop was Darma Kuningan, a region known today as Kuningan. His mother and father later followed him there. From 1678-1685 they lived in Pamengpeuk, Garut. Muhyi's father died here and was buried on the bank of the Cikaengan River. Muhyi then continued his journey and lived in Lebaksiuh from 1686 to 1690. This was his last stop before he found a forest with a grave—a location known today as Pamijahan.
According to Wildan, the sorcerer group Batara Karang, who ruled the area, was displeased with the new guest. As the story goes, said Wildan, two sorcerers attempted to assassinate Muhyi while he was praying. The attempt failed because they could not draw their swords as the swords would always grow in length when about to be drawn.
In this new location, which was given the name Safarwadi, Sheikh Muhyi established a settlement and began to spread Islam. The cave was used as a place to meditate and teach. The name Safarwadi was given because of the site's location on the edge of a cliff, but some interpret the name as 'the secret journey'.
Sheikh Muhyi used a number of ways to teach Islam. Wildan told the story of when Muhyi assisted people who never succeeded in catching fish, by giving an example of how to say the Shahada (Islamic creed, one of the Five Pillars of Islam) before tossing the line. Plenty of fish came and took his bait.
According to Agus Sunyoto, the Sundanese had a tradition of cultivating land during this time period. Muhyi showed them how to better plant their rice. Imam Mudofar, a Pamijahan resident and Nahdlatul Ulama (NU) activist in Tasikmalaya, spoke of the tradition of saying a prayer for the rice seeds about to be sown by Pamijahan people, which has been passed down from Sheikh Muhyi's era.
Muhyi's methods, says Agus, were very similar to methods used by the Wali Sanga (nine saints), who were also Sufis. "They did not put much emphasis on fiqh (jurisprudence), sharia (Islamic law), but on tawhid (doctrine of Islam of the oneness of God), eling (conscientiousness). After all, eling is dhikr (repeating prayer using prayer beads)," said Agus.
Muhyi's greatest appeal was his Sattariyah belief. According to Tommy Cristomy, a philologist from the University of Indonesia, Muhyi was a key figure of the Sattariyah school of thought, particularly in Java. "Influences of Sattariyah that came from Sheikh Muhyi are also found overseas, for example, in Malaysia," said the author of the book Signal of Wali: Naratives at the Secred Sites in Pamijahan, West Java.
Furthermore, Sheikh Muhyi was involved in the resistance against the Dutch. According to Tommy, the incident that put Muhyi on Dutch radar was the conflict between Sultan Ageng Tirtayasa (1631-1695) and the Dutch East India Company (VOC). Because of this conflict, Sultan Ageng and his supporters, including Sheikh Yusuf al-Makassary, were ousted and pursued by the Dutch.
Among others, they sought refuge in Karang, a region that includes Pamijahan. Tommy found documents in the Netherlands that refer to Karang as a rebel stronghold, with some information on the "hajj van Karrang." According to Tommy, Sheikh Muhyi was a prominent haj in Karang.
This information, he added, is strengthened by the letter of gratitude written by Sheikh Yusuf to Sheikh Muhyi. "This supports the suspicion that Sheikh Muhyi was a real figure, and someone who fits most perfectly with the description in the Dutch document mentioning the rebels from Karang," said Tommy.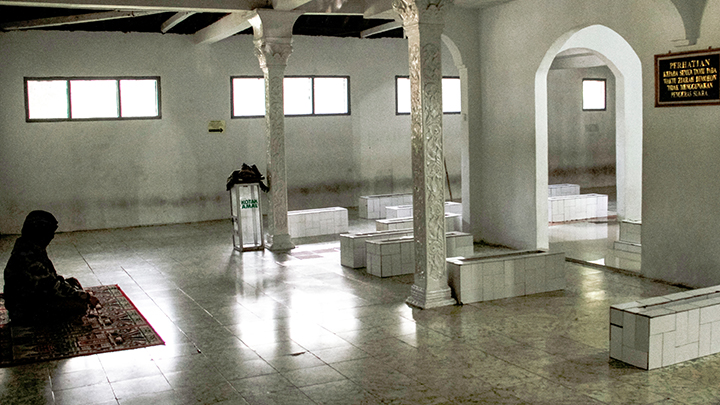 Sheikh Abdul Muhyi's tomb in Pamijahan, Tasikmalaya, West Java./Tempo/Iqbal T. Lazuardi
Wildan says the Dutch attempted to catch Muhyi but the attempt failed because Muhyi hid in the Safarwadi cave. Besides a place of refuge, the cave became one of the sources for stories of Sheikh Muhyi's supernatural powers—for example, about the cave being a direct pathway to Mecca and how Muhyi managed to go on a haj pilgrimage every year, despite such a pilgrimage being something that was extremely difficult to accomplish in those days. To Wildan, these stories are simply metaphors. "About the haj pilgrimage, it was a spiritual pilgrimage. Not directly to Mecca, but spiritually feeling tavaf (going around the Kaaba seven times), sa'i (the ritual of walking), and various other pilgrimage rituals," he said.
Catching Sheikh Muhyi in Pamijahan, says Tommy, would not have been an easy matter due to the difficult terrain. Tommy explained how hard it was for the Dutch researcher, Rinkes, to reach Muhyi's tomb around 1900. He rode a horse but at last had to be carried on a kind of stretcher to his destination.
The Safarwadi cave is located around 600 meters from the tomb. Today, many pilgrims meditate for days there, believing the cave to be a particularly effective place for prayer.