A 'Pope' from Giri
Before becoming king, Sunan Prapen propagated the Islamic faith to Lombok. He used shadow puppet plays to convey Islamic teachings.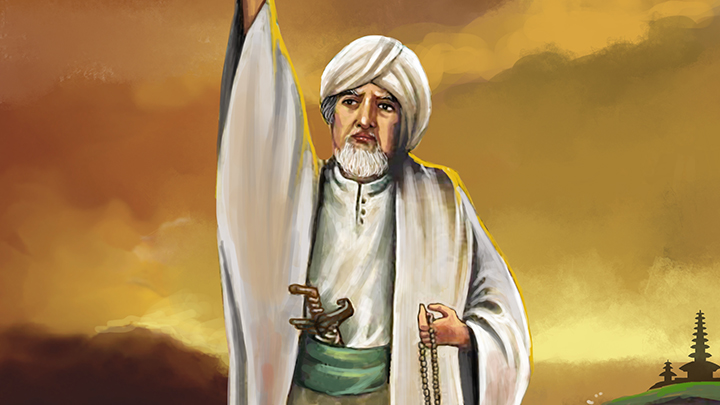 SIX men wearing sarongs could be seen on the porch of a small prayer hall under a cliff at the grave of Sunan Prapen on the afternoon of Friday, May 8. Three men were sound asleep, while the three others sat and recited verses from the Qur'an. In the yard of the grave, which is surrounded by a high wall, a shirtless middle-aged man was sweeping up some fallen leaves.
Tempo went up the step to ascend the embankment up to the grave area, but the entry was padlocked. According to the grave's caretaker, Fatik, ever since Gresik implemented the large-scale social restrictions at the end of last April, the grave of Sunan Prapen was named one of the areas where the number of visitors must be limited. Visitors can still enter, but in limited numbers. Prayers may not be said for a long time, and this must only be done in the prayer hall. Visitors are not allowed to go up to the grave site. "The grave site has been temporarily closed in anticipation of the (coronavirus) pandemic," said Fatik.
Located on a hill in the Kebomas subdistrict, Gresik, East Java, the grave of Sunan Prapen is about 500 meters from the grave of his grandfather, Muhammad Ainul Yakin or Raden Paku alias Sunan Giri. Unlike the grave area of Sunan Prapen which is still open, the grave of Sunan Giri has been totally closed to visitors.
Ali Mufrodi, a professor of Islamic cultural history at the State Islamic University of Sunan Ampel in Surabaya, said that Sunan Prapen inherited his power from his grandfather, Sunan Giri, in Giri Kedaton—which today is a part of the Gresik area. "The Giri Kedaton or kingdom was a center for the spread of Islam from eastern Java to the Nusa Tenggara region," said Ali.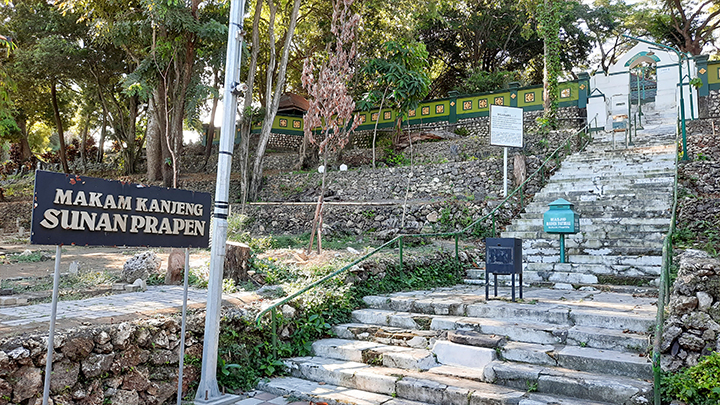 The stairs that lead to the gate of Sunan Prapen's tomb in Kebomas, Gresik, East Java./Tempo/Kukuh S Wibowo.
According to Ali, when Sunan Giri took power, Giri Kedaton was a free area. There is a story that the Majapahit Kingdom attempted to subjugate Giri in the middle of the 15th century, but failed. This is because the Majapahit soldiers were suddenly attacked by thousands of wasps. "Some say that the Majapahit attack on Giri took place during the time of Sunan Prapen, and that wasp attack was due to his karamah (extraordinary things which happen to devout people). According to me, this is not accurate because the Majapahit Kingdom fell in 1478," said Ali.
As for that attack of thousands of wasps, according to Ali, even if it is connected somehow, it would be more accurate to say that it was due to the karamah known to be possessed by Sunan Giri. However, based on historical study, the veracity of that incident cannot be confirmed.
Adrian Perkasa, a historian at Airlangga University who has studied the Giri Kedaton site, quoted the research of Gerret Pieter Rouffaer, a Dutch librarian who once lived in Nusantara or the Indonesian Archipelago in the 19th century, about the history of Sunan Prapen. This grandson of Sunan Giri rose to power, taking over for his brother who held the title of Sunan Dalem, in 1548. Sunan Prapen's real name is Raden Fathikal. He ruled Giri for a lengthy span and turned Giri into a famous Islamic kingdom in Java, replacing Demak in Central Java, whose influence waned after the death of the Sultan of Trenggana.
According to the version of Dutch historians Hermanus Johannes de Graaf and Theodoor Gautier Thomas Pigeaud, Sunan Dalem died in 1545 or 1546 and was replaced by Sunan Seda ing Margi. This third Sunan Giri ruled for a short period. He died two years later during a journey and was replaced by Sunan Prapen.
A year after taking power, Sunan Prapen ordered the construction of a new keraton or palace. His influence outside of the kingdom could be seen in the coronation of Mas Karebet alias Jaka Tingkir as the King of Pajang. According to Adrian, Jaka Tinggir understood that being appointed by Sunan Prapen, who was a descendant of Sunan Giri, was a good way to obtain legitimacy. That in-law of the Sultan of Trenggana was in the process of building his kingdom on the ruins of the Demak Kingdom. "Sunan Prapen was like a pope for the kings of Java," said Adrian.
Ali Mufrodi said that Giri under Sunan Prapen was quite advanced because it had a large port, which was the main point of trade to the east. The Giri port gained prominence over the traditional Majapahit port in Tuban. "The Giri Kingdom was strategically located because it had supporting land and sea routes," said Ali.
Because it had a maritime transportation route, many religious students from the Giri Kedaton were sent to proselytize the faith in the islands of Nusa Tenggara. "Sunan Prapen also propagated the faith. It is not surprising that evidence of his presence were found in West Nusa Tenggara, especially on the island of Lombok," said Ali.
According to Ali, Sunan Prapen first arrived in Lombok in 1545. He landed at Labuan Carik. In another version of the story, Sunan Prapen arrived at the coast of North Lombok in Salut village. He was sent by his grandfather, Sunan Giri, to Lombok together with groups of people who were sent to other areas to spread Islam.
In his religious propagation work, said Ali, Sunan Prapen used a cultural approach. He conveyed Islamic teachings by using wayang kulit (shadow puppet plays). He turned the traditional stories of Mahabharata and Ramayana into Wayang Lombok. "Sunan Prapen brought along a group of artists," he said.
Wayang Lombok tells the stories of Islamic figures such as Amir Hamzah and Umar bin Khattab. Ali bin Abi Thalib was portrayed as the character Selander Alam Dahur and Abu Lahab as Baktak. They were performed using the old Javanese literary languages of Jawa Kuna and Kawi.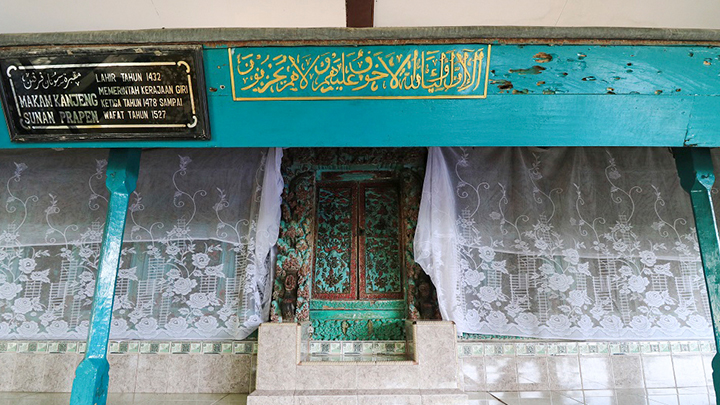 The grave of Sunan Prapen./disparbud.gresikkab.go.id
Ali added that the ulemas who came with Sunan Prapen from Java also used formal methods in propagating Islam. They made an intensive approach to the local kings in Lombok, including Selaparang. That royal family was willing to embrace Islam because they were informed that the kings in Java had already embraced Islam. "Sunan Prapen's propagation methods were peaceful," said Ali.
At that time in Lombok there were some small sovereign kingdoms. Even so, They were under the large kingdoms such as Bayan and Selaparang. After the King of Selaparang embraced Islam, efforts to convert other small kingdoms there went smoothly. When a king embraced a new religion, all of his people took up the same faith.
It is considered that the cultural approach used by Sunan Prapen was effective. He did not replace all of the local traditional belief systems, but modified them by introducing elements of Islamic Sufism. This method was more easily accepted by the people who previously held various traditional belief systems. By the 17th century, Islam had spread to all of Lombok.
According to Asnawi in his book The Cultural Response of Sasak Society to Islam, Sunan Prapen and his entourage behaved gently and did not make any extreme changes. Religion was taught according to the people's ability to accept it. After they succeeded in converting a village they would move to another village, leaving behind a kiai (cleric) to continue teaching the faith.