Duel at Tower Seven
After over 50 days operating as an emergency hospital for Covid-19 patients, the Athlete's Dormitory have treated nearly 2,000 people. Some lied to the doctors.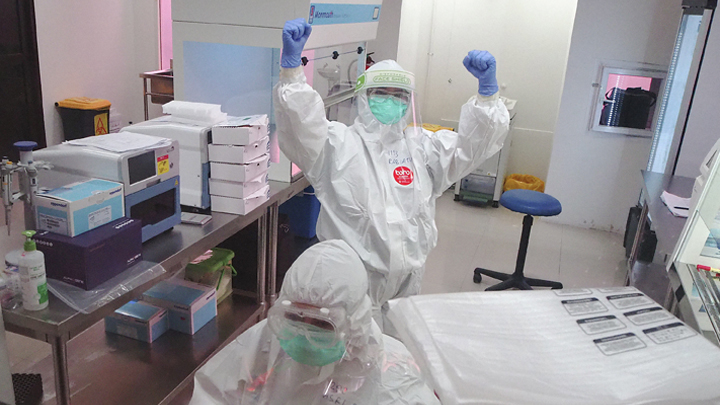 SAEPUL Jamal ordered a tiramisu cake that says "Happy 50 Days at Wisma Atlet." He celebrated his stay at the Covid-19 emergency hospital in Kemayoran, Central Jakarta, by eating the cake with other patients as well as nurses on Thursday, May 14. There is no sign that he will be discharged anytime soon even though he was no longer showing symptoms of the novel coronavirus disease.
The 44-year-old man came to Wisma Atlet (Athlete's Dormitory) two days after his wife died from Covid-19 at Husada Hospital on March 23. After burying his wife in West Jakarta's Tegal Alur Cemetery, Jamal was unable to smell the car freshener and the eucalyptus oil. "That very same day, I developed a fever," he told Tempo through a WhatsApp call.
After getting treatment from the Sulianti Saroso Infectious Disease Center Hospital, Jamal was transferred to the Athlete's Dormitory. Arriving at the lobby of the hospital's Tower 7, Jamal witnessed endless arrivals of ambulances carrying patients from other hospitals. Some were able to walk, and some had to be carried on stretchers, wearing breathing apparatuses. After his examination, a nurse escorted him to a room on the eight floor. The nurse did not tell him the statuses of other patients on that floor. "Everything was uncertain," he said.
One week after his stay, Jamal took the rapid test in early April. Four days later, he took another rapid test. Both tests showed that he was reactive to the virus. He was then moved to the 28th floor, and he later found out that is where positive patients are treated.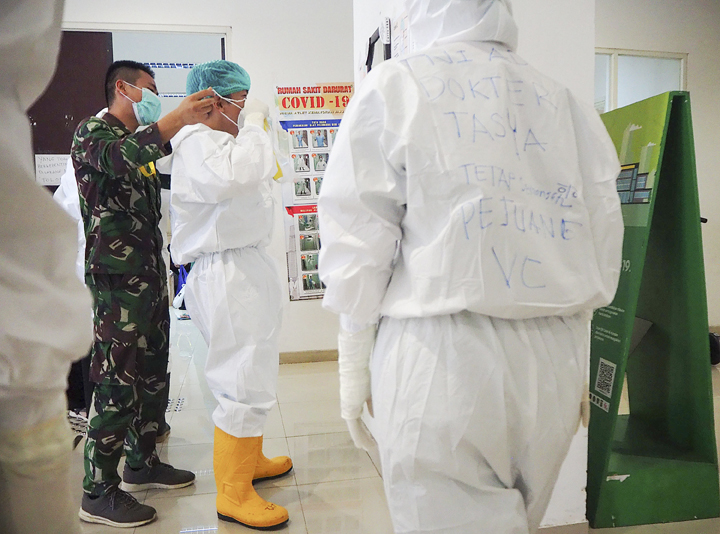 Medical personnel removing personal protective equipment under strict procedures after working in the isolation ward at the Athlete's Dormitory, Jakarta, May 15. TEMPO/Nurdiansah
W251bGwsIjIwMjEtMDMtMDEgMTE6NDA6NDQiXQ
On floor 28, Jamal took five polymerase chain reaction (PCR) test. The first two tests on April 10 and 18 came out positive for the Covid-19. Three more swab tests were conducted on April 27, May 6, and May 13. But as of the third week of May, the results have not come out. Jamal had asked about the fifth test's result since the third and fourth were unclear. The doctors told him that they would reveal the results soon.
Jamal also contacted the hospital's call center to ask about his tests, but he was told only doctors are allowed to read the results. The hospital's PCR Laboratory Chief Maj. Asep Tantula said that the lab could only process about 100 specimens per day. This capacity, he said, is far from ideal since there are more than 1,000 people being treated at Wisma Atlet. "We need a minimum of 5,000 test cartridges so we can process swab samples from patients faster," Asep said.
President Joko Widodo launched Athlete's Dormitory as a Covid-19 emergency hospital on March 23, and it has since treated nearly 2,000 patients.
Without the test results, there is no certainty about when Jamal can be discharged and return home. He misses his two children, aged 16 and 9, but does not want to go home without bringing a negative swab test result. "I am willing to stay here for a hundred days if it means I can later be with my children forever," he said.
***
WITH a suitcase of clothes, Adisty Maharani arrived at Tower 7 of the Athlete's Dormitory on the evening of April 15. She was referred there after taking a rapid test in Slipi, West Jakarta, where her result came out positive. At the lobby, she saw health workers in full protective gears yelling at newly arrived patients. "Positives that way!" she recounted the day. "I felt like my heart would explode."
She grew even more nervous entering the emergency room, where beds and ventilators lined up, filled with dozens of medics in hazardous material (hazmat) suits. Her blood pressure soared to 150/100 millimeters of mercury (mmHg), very high for Adisty who has hypotension or low blood pressure. A nurse took her to a room on the 32nd floor, where she would stay at unit 22, which has two bedrooms, a kitchen, and one bathroom. She stayed there with a woman who work as a security officer.
Since then, Adisty's lifestyle changed. She must wear plastic gloves and masks, even just going to the toilet or the kitchen. Every day, she has to take her temperature and report the result to a WhatsApp group called "Floor 32, We Can Do This." The members are patients on the floor, doctors, nurses, and psychiatrists.
She said she is always nervous when seeing health workers in hazmats. Once, she almost fainted when seven medics wearing PPEs came into her room. "I was like seeing an alien invasion," she said, which caused the paramedics to burst into laughter.

By April 20, five days after starting treatment, Adisty got a new friend in her unit. In the living room, the patient said her test result was positive. Adisty went straight into her bedroom, closed the door, and cried. She was scared because she is placed in the same unit as those who tested positive for the new coronavirus. At that time, Adisty was still waiting for the results of her PCR test, and was still hopeful that it would come out negative.
After she protested, the nurse team came and apologized. They removed the positive patient and disinfected the entire room. Psychiatrists also come to provide Adisty with therapy and send relaxation music to ease her mind.
According to Adisty, medics at the Athlete's Dormitory are very good in providing services. Not only controlling patients' health, they also become impromptu 'couriers' for patients who order food online. The lobby staff will announce on loudspeaker when there is a package for patients. The health workers on respective floor will then go down to pick up the package. "Doctors also often bring snacks to share with nurses and patients," she said.
On April 27, Adisty's PCR test results came out negative. The next day, she was told that she could go home but must take a second swab test. Later, Adisty found out that the second test also came out negative. Nevertheless, she put herself on a 14-day self-quarantine at home. Adisty stayed in her bedroom and installed a clear plastic divider at the door so that her children, 7 and 9, could still see their mother without physical contact. On May 12, the plastic barrier was removed. Adisty immediately hugged and kissed her children. That day, she helped them finished their homework.
***
THE Athlete's Dormitory become the third battlefield for 2nd Lieut. Tommy Antariksa in his fight against Covid-19. The Indonesian Military (TNI) Marine Corps doctor was involved in the quarantine of hundreds of Indonesian students from Wuhan, China, on Natuna Island. He was also assigned to Sebaru Island where the crew of the World Dream and Diamond Princess cruise ships—the two epicenters of corona outbreak—were put under observation. When the Athlete's Dormitory was designated as an emergency hospital, Tommy was appointed as the coordinator of general practitioners. "It has been four months since I returned to my barracks in Cilandak (South Jakarta)," said the man who graduated from the medical faculty of Surabaya's Hang Tuah University on May 5.
Tommy said at the start of the emergency hospital's operation, health workers were faced with very difficult tasks. Administration was not neat, and there were patients who were dishonest about their medical history and condition. At Tower 7, Tommy dealt with a Covid-19 patient who also suffers from mental illness. During registration, he only said that he had Covid-19, but did not say that he was taking sedatives.
When Tommy visited his room, the patient suddenly challenged him to a duel, pumping his fists. Tommy tried to calm him down and called two nurses for help. But the patient struggled and clawed at a nurse's hazmat suit until it was torn. He then bit one nurse's arm. More nurses were called in for help to deal with the situation. "The nurse who was bitten was immediately treated in a hospital, then quarantined," Tommy said. "We must implement strict procedures and discipline so that no personnel are infected."
Tempo came to the Athlete's Dormitory on May 5 and May 15. There, health workers implemented strict procedures. The terrace of Tower 4—assigned as the decontamination zone—had dozens of doctors and nurses in hazmat suits waiting for their shifts. Meanwhile, two army officers on guard duct-taped their gloves to the hems of their medical robes.
At the other end of the tower, a group of doctors and nurses who had just finished their shifts were lining up near a decontamination truck carrying a tank of disinfectant. After being sprayed with disinfectant, the medics took off their hazmat suits under the supervision of three environmental safety experts. They shouted greetings and encouragement to colleagues who were about to start their shifts, as they marched towards the battlefield in their hazmat armors.
RAYMUNDUS RIKANG