Religious Outreach to Africa
Having travelled to the Middle East for more than 20 years, Sheikh Yusuf spread the message of Islam in Banten and other countries. The location of his tomb is still subject to debate.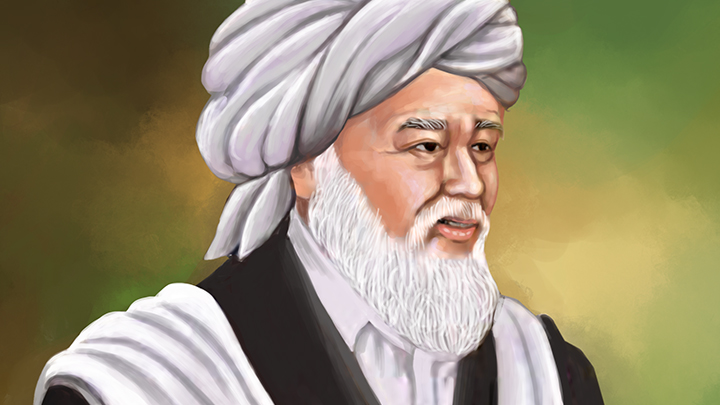 CROSSING the ocean from the port of Somba Opu, Gowa, South Sulawesi, Muhammad Yusuf bin Abdullah Abu al-Mahasin al-Taj al-Khalwati al-Makassary, or more commonly known as Sheikh Yusuf al-Makassary, set foot in Banten in 1644. Yusuf, who was 18 years old at the time, wished to travel to the Middle East in pursuit of knowledge about Islam. "The desire was inseparable from the role of his religious teacher," said Ahmad Sewang, professor of Islamic civilization in Makassar Alauddin Islamic State University, on Sunday, May 10.
Born to Sultan Alauddin, the 14th King of Gowa, Sheikh Yusuf had been absorbing various Islamic knowledge since before he was 10 years old. The book Sheikh Yusuf: a Cleric, a Sufi, and a Fighter by Abu Hamid said that he learned to recite the Qur'an from a local teacher in the Gowa Kingdom. Yusuf then learned Arabic language and writing system, as well as fiqh (Islamic jurisprudence), tawhid (doctrine of monotheism of God), tasawwuf (sufism), and logic of thinking from Sayed Ba' Alwy bin Abdullah al-Allamah Thahir, a da'i (Islamic teacher) from Saudi Arabia who resided in Bontoala.
The same book mentioned that, by the time he was 15 years old, Yusuf studied under the guidance of Sheikh Jalaluddin al-Aidit, a famous ulema from Aceh who lived in Cikoang—now a region in present day Takalar Regency, South Sulawesi. Yusuf spent several years studying there. "Not yet satisfied, Yusuf wished to study in Islamic centers overseas," wrote the book
Azyumardi Azra, a professor from the Jakarta Syarif Hidayatullah Islamic State University, said that Yusuf was well received in Banten by the kingdom's royal circles and locals alike due to his knowledge in Islam. The King of Banten at the time, Abu al-Mafakhir, was interested in studying Islam and often addressed his inquiries to famous ulemas such as Sheikh Nuruddin ar-Raniri from Aceh and others from Mecca and Medina. Like the King, Yusuf had a keen interest in learning about tasawwuf from Sheikh Ar-Raniri.
During his stay in Banten, Yusuf became good friends with Prince Surya, later known as Sultan Ageng Tirtayasa. He also often preached about Islam to the locals in Banten. One day, Yusuf decided that he would to to Aceh to study directly from Sheikh Ar-Raniri, who was serving as the king's advisor in Aceh. Upon arriving there, Yusuf did not immediately meet Ar-Raniri. "Yusuf then followed in Ar-Raniri's steps to India," as written in the book The Middle Eastern Ulema Network by Azyumardi Azra.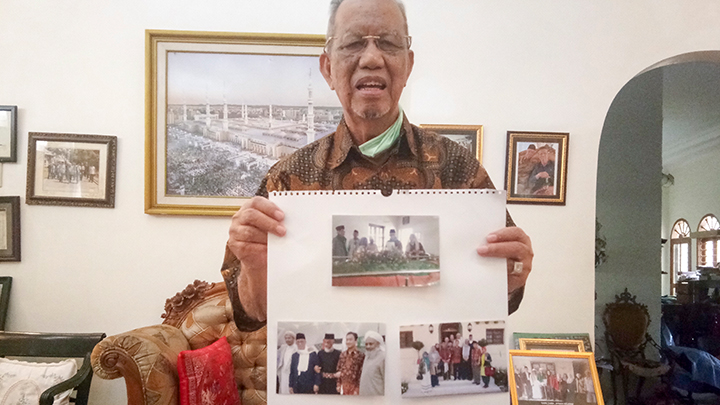 Sheikh Yusuf al-Makassari Extended Family Association General Chairman, Profesor Paturunggi Parawansa Karaeng Tobo, and the photos of his visit to South Africa, at his house, May 11./ TEMPO/ Didit Hariyadi
In Sheikh Yusuf: a Cleric, a Sufi, and a Fighter, Abu Hamid noted that Yusuf visited several centers of Islamic knowledge. These included Yemen, Mecca, Medina, and Damascus in Syria. The book said that, by the time he was 38 years old, Yusuf also taught in Al-Haram Mosque. His disciples came from various countries, including those from his home country and people from Java Island on their haj pilgrimage.
Azyumardi Azra said that Sheikh Yusuf spent time studying the Khalwatiyah school of thought and Arabic writing system under the guidance of a prominent ulema in Damascus, Ayyub al-Dimasyqi al-Khalwati. Yusuf received the title of Al-Taj Al-Khalwati or the Crown of Al-Khalwati from him. Khalwatiyah taught about contemplation, self-introspection, and adherence to God's commandments. "Sheikh Yusuf spent between 20 to 28 years studying in the Middle East," said Azyumardi. Yusuf then spread the messages of the teachings in his home country.
It is not clear when Sheikh Yusuf returned home. Azyumardi said there are two versions of story regarding this. The first one says that Yusuf returned to Gowa first before deciding to stay in Banten. Upon returning to where he came from, Yusuf saw that the Islamic teachings were not being observed. Gambling, drinking, and ancestor worship were rampant. Yusuf asked the rulers and noblemen of Gowa to eradicate such practices.
However, his request was not heeded by local authorities. "The Sheikh then decided to go to Banten and sent his disciples in Makassar to spread the messages of Islam," said Azyumardi. The second version describes Yusuf as having never set foot in Gowa upon returning, but rather went directly to Banten.
In Banten, Sheikh Yusuf became better friends with Sultan Ageng Tirtayasa. Sheikh Yusuf Extended Family Association General Chairman, Paturunggi Parawansa, said Sultan Ageng even gave Yusuf the hand of one of his daughters in marriage. Therefore, aside from teaching his disciples in the capital of Banten, Sheikh Yusuf was also involved in the politics of Banten Sultanate, including their struggle against the Dutch colonialist.
The Kingdom of Banten started to become divided in 1680 due to internal rivalry for the throne. In The Middle Eastern Ulema Network, Azyumardi wrote that a kin of Sultan Ageng, Sultan Haji, ousted the supporters of the crown prince and asked the Dutch for support. In return, Sultan Haji would give trade benefits to the Dutch East India Company (VOC).
Civil war erupted in 1682. A year later, the armies of the Dutch and Sultan Haji captured Sultan Ageng Tirtayasa and exiled him to Batavia. However, Sheikh Yusuf took command of around 5,000 soldiers from Banten and Manakssar. The Dutch managed to capture Yusuf through deceit by holding his daughter hostage. "Sheikh Yusuf was arrested when surrendering," said Paturunggi.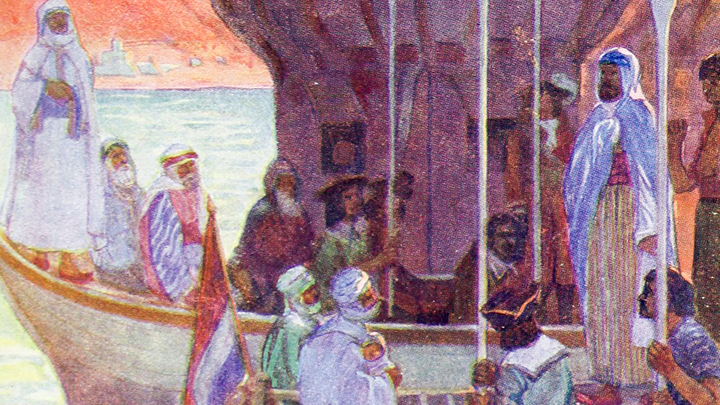 The painting titled The Arrival of Sheikh Yusuf by G.S. Smithard in 1909, depicting the arrival of Sheikh Yusuf in South Africa./TEMPO/ Didit Hariyadi
Sheikh Yusuf was exiled by the Dutch to Sri Lanka. He remained spreading the messages of Islam there. Then, said Azyumardi, fearing for his growing influence in Sri Lanka, the Dutch moved Yusuf to Cape Town, South Africa. Yusuf and his entourage arrived in Cape Town in 1694. He was given residence on a land belonging to an old Dutch church led by Priest Petrus Kladen. The Dutch hoped that Sheikh Yusuf would convert.
Later on, Yusuf became increasingly popular. He was called an imam. Many converted to Islam after hearing his teachings, and help spread the knowledge of the school of thought he had studied in the Middle East. "Islam bloomed in South Africa," said Paturunggi. Syekh Yusuf passed away in May 22, 1699.
The King of Gowa, according to Paturunggi, asked that Sheikh Yusuf's body be returned. This request was only fulfilled in 1705. "He was laid next to his wife, Sitti Daeng Nisanga," he said. Meanwhile, Azyumardi Azra said that Sheikh Yusuf's body is buried in his original tomb in Cape Town.
In Bo-Kaap, Cape Town, a tourism area with rows of colorful houses the Table Mountain in the distance as the background, Sheikh Yusuf's name is written in a number of museums. The inscriptions say that Sheikh Yusuf was buried in an area called Macassar, on the outskirts of Cape Town. There stands a kramat, or shrine, built to honor respected figures of Islam.