Falak's Tracks
Muhammad Falak bin Abbas was instructor to many important Muslim people of stature in this country. He took part in the Dutch resistance, and was prominent in politics.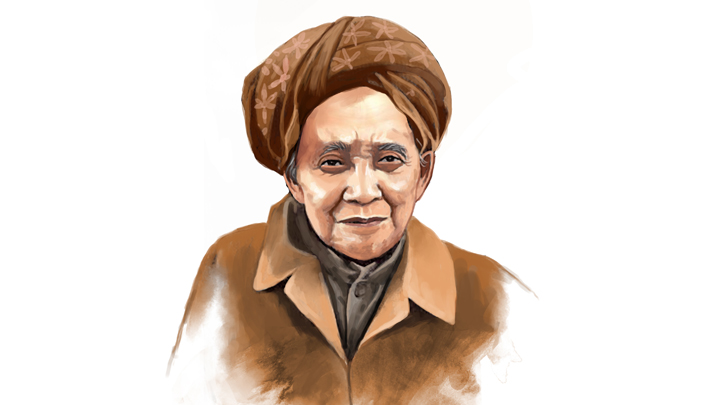 WHILE going to pay his respects at the Al-Falak pesantren (Islamic boarding school) in Pagentongan, Bogor, West Java, in the middle of January 2019, Ma'ruf Amin asked the whereabouts of the river in the compound. The former authoritative leader of the Nahdlatul Ulama Central Body recalled the river flowed near the grave of Tubagus Muhammad Falak bin Abbas, the founder of the school. "I often met with him before he passed away in 1972," said the Vice President through his spokesperson, Masduki Baidlowi, on Friday, May 15.
The age difference between Ma'ruf and Muhammad Falak was 101 years. Mama Falak (the term 'mama' in the local dialect means 'father')—the affectionate term for Muhammad Falak—was born in Sabi, Pandeglang, Banten, in 1842, and he died at age 130 years. Ma'ruf was close friends with one of Falak's sons, also a politician at the National Awakening Party (PKB), Tubagus Cecep Syarifuddin Falak—who has also passed away.
Ma'ruf regarded Falak as the leader of the charismatic Qadiriyah Naqsyabandiyah school of thought in Indonesia. It is one of the 27 teachings that Falak studied in Mecca, Saudi Arabia. In his book, Profil Pesantren Al-Falak dan Delapan Pesantren Lain di Bogor (Profiles of the Al-Falak Pesantren and Eight Other Pesantrens in Bogor), Sudjoko Prasodjo and colleagues wrote that Falak went to study in Saudi Arabia when he was 15 years old. The only son of the founder of the Sabi Pesantren Kiai Tubagus Abbas and Ratu Quraisyn stayed there for 21 years.
Kiai Haji Tubagus Muhammad Falak (left) teaching at Al-Falak Pesantren in Bogor, West Java, in 1960s. Nahdlatul Ulama
The book tells of how Falak in the beginning stayed at the house of his teacher who also came from Banten, Sheikh Abdul Karim Banten. He was the student of the great Sufi master of the Al-Haram Mosque and founder of the Qadiriyah Naqsyabandiyah school of thought, Sheikh Achmad Khotib al-Syambasi. Before passing away in 1863, Sheikh Achmad Khotib initiated Sheikh Abdul Karim as his successor for the Qadiriyah Naqsyabandiyah. It was from Sheikh Abdul Karim that Falak delved deep into the Qadiriyah Naqsyabandiyah teachings which aim is to cleanse the soul through many acts of charity.
Falak also studied Qur'an hermeneutics and fiqh (jurisprudence), hadith (reports of statements or actions of Prophet Muhammad), astronomy, and other sciences. "Abah Falak returned to Banten in 1878," the book noted. Ten years later, Falak with some other students of Sheikh Abdul Karim Banten, among them Kiai Haji Asnawi Caringin, Kiai Tubagus Wasid, and Kiai Tubagus Ismail, took part in a farmers' uprising against the Dutch, which later came to be known as the Geger Cilegon incident.
Lecturer at Nahdlatul Ulama Indonesia University-cum-researcher of Islam Nusantara texts, Ahmad Ginanjar Sya'ban, said the notes of Dutch East Indies advisor on native affairs, Karel Frederik Holle, stated that the Geger Cilegon incident was incited by Sheikh Abdul Karim Banten who dispatched his many students, including Falak, to take up war. But Holle's notes were refuted by his successor, Christiaan Snouck Hurgronje, who stated that Abdul Karim was in Mecca at the time of the uprising. "Snouck said Abdul Karim last visited Banten in 1872," said the alumnus of the Al-Azhar University of Cairo, Egypt.
According to Falak's great grandson, Achmad Ubaidillah, his great grandfather had fled to Pagentongan from Banten when the war broke out. The move was in compliance with the request of Falak's father for him to prosetylize outside of Banten. On the journey from Sabi, Pandeglang, young Falak opened up a road on the Ciseukeut track in Cibaliung, breaking through for as far as 40 kilometers to Pagentongan, which became his place of abode until today. "From our elders' stories, the region used to have a Hindu majority and was riddled with local mafia-like characters," said Ubaidillah.
Equipped with the knowledge of the main teachings of Qadiriyah Naqsyabandiyah and the other sciences he gained from his time in Saudi Arabia, Falak established a boarding school. He later married a local village girl, Siti Fatimah, and they had a son, Tubagus Muhammad Abbas alias Bapak Aceng. Falak slowly but surely propapagated Islam in Bogor through the use of kanuragan (supernatural) and other mystical knowledge and practices.
Al Huda magazine published by the Arabic community in Batavia in 1930 ran an article of list of Sundanese ulemaa who resided in Saudi Arabia, including Falak. He was noted as owning an inherited house in Mecca which he used to teach and hold Qur'an recitations. Falak also became instructor at the Al-Shaulatiyah Islamic school. "Mama Falak went back and forth Mecca-Banten between 1892 to the 1920s," said Ahmad Ginanjar, who owns a copy of the magazine.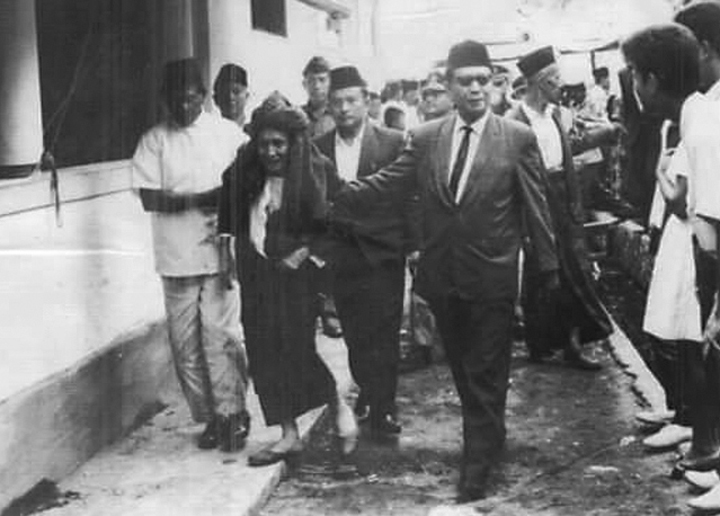 Tubagus Muhammad Falak (center) with Religious Affair Minister Saifuddin Zuhri (right) in Pagentongan, 1966. Family Doc.
Aside from teaching, said Ginanjar quoting the magazine, Falak became a mutawif or pilgrim guide for the travel agency owned by Sheikh Nawawi Banten. In 1892-1893, one of the founders of Nahdlatul Ulama, Hasyim Asy'ari, came to study in Mecca. Ginanjar deduces that Falak could have been one of Hasyim Asy'ari's teachers. In Hasyim's manuscript is written that one of his teachers was Sheikh Nawawi Banten, who was also a teacher and kin of Falak's.
Falak is also noted as teacher of the founder of the Lombok Nahdlatul Wathan, Tuan Guru Kiai Haji Muhammad Zainuddin Abdul Majid. This is noted in the book Dakwah Moderasi Tuan Guru (Moderate Preaching by Tuan Guru) by Muhammad Haramain published in 2012. In a biography video of the charismatic Kalimantan man, Muhammad Zaini bin Abdul Ghani al-Banjar, affectioantely known as Abah Sekumpul Martapura, it is also recorded that Falak was one of the teachers who taught him the 27 sciences.
Another famous Falak student was Habib Salim bin Jindan. This ulema who wrote many texts on the hadith owned four volumes of biographies of his teachers titled Raudhah Al-Wildan Fi Tsabat Ibn Jindan. "I once looked at Habib Salim's manuscript, and one of his teachers was Abah Falak, as noted in the manuscript," said Ginanjar.
From the manuscript in Arabic, said Ginanjar, it is highly possible we can find other tomes written by Falak. None of Falak's scripts have emerged to date. But, he admitted, not all ulema wrote tomes. Some did so deliberately wishing to leave no tracks behind. He gave the example of Falak's teacher's teacher, Sheikh Achmad Khotib al-Syambasi, who owned the Futuhul Arifin tome which he did not write himself, but was compiled by his students.
Falak's prowess was most evident in Indonesian politics. One book written by Kiai Tanbih Abdul Karim Kranji titled Tanbihul Ikhwan, stated Falak as being an influential ulema in Indonesia. The book published in 1957 described the list of ulama of ahlusunah wal jamaah (adherents of Sunni Islam), who are the authoritative referrals for the Indonesia at the time.
The book, Berangkat dari Pesantren (Departing from the Pesantren) by Kiai Haji Saifuddin Zufri states that Falak, with Kiai Haji Wahab Hasbullah Jombang, Kiai Haji Abbas Buntet Cirebon, and Kiai Haji Mustofa Singaparna Tasikmalaya, were the spiritual leaders of the Laskar Hisbullah, the people's army during the war for Independence. Prominent people such as Sukarno, Suharto, and ministers would often pay Falak a visit. "This goes to prove he was an ulema who held a very central role," said Ginanjar.