An Island for Rohingya
The Bangladeshi government is unable to convince Rohingya refugees to move to Bashan Char Island. There are concerns over safety and economic sustainability.
Edition : Tuesday, June 2, 2020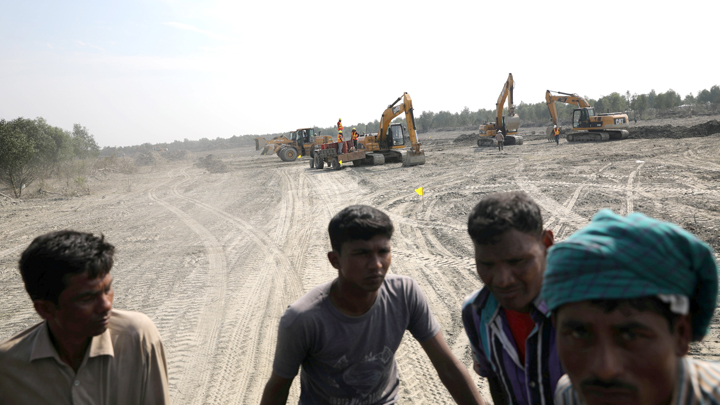 AFTER days of floating on a fishing trawler in the Bay of Bengal, more than 250 Rohingya refugees finally arrived on the mainland of Bangladesh in mid-May, escaping from Myanmar's military. According to the Dhaka Tribune, these refugees were taken by the Bangladeshi Navy to the southern part of the country, and placed on an island that had been prepared for them a long time. The name of the island is Bashan Char.
On May 3, 29 more Rohingya faced the same fate, stranded for days on sea, more than two dozen died. They were barred entry to Malaysia, and eventually were taken by the Bangladeshi army to Bashan Char.
Bangladesh has been planning for a long time to make Bashan Char a settlement for Rohingya refugees, but it has faced many obstacles. Some refugees are reluctant to move to the island due to safety reasons and instead choose to stay in the cramped Cox's Bazar refugee camp. International aid and humanitarian agencies also have the same concerns.
"As the island is not suitable for any human living there, aid agencies and human rights organizations oppose the idea of moving refugees there. The island can disappear at any time as it did not exist some 20 years ago," Nay San Lwin, spokesman for the Rohingya Liberation Coalition, told Tempo on May 27. "My fear is a serious cyclone can wipe the people out."
Bashan Char, also known as Char Piya, is an island in Hatiya Upazila, Bangladesh. Located in the Bay of Bengal, almost 60 kilometers from the coast, the island stretches 40 square kilometers. According to Nay San Lwin, in 2005 the Bangladeshi government had prepared buildings, mosques and other supporting infrastructure there to accommodate Rohingya refugees.
W251bGwsIjIwMjEtMDYtMjUgMDg6MTI6MzIiXQ
Rohingya Muslims have been oppressed in Myanmar for a long time. They are not recognized as citizens in predominantly Buddhist Myanmar, and often face discrimination and violence. They began fleeing to neighboring countries in the 2000s.
The peak was in 2017 when some 700,000 Rohingya fled the country after the state military force, Arakan Army or Tatmadaw, committed atrocities against them on the pretext of fighting armed groups in Rakhine state. The military is accused of mass rapes, murders and setting thousands of houses on fire during crackdowns. The refugees tried to flee to Malaysia and Indonesia, but most ended up in Bangladesh. They have been living in camps at Cox's Bazar.
In 2015, the Bangladeshi government announced plans to relocate Rohingya refugees to Bashan Char. But it was not until April 2018 that the government gave directions to the international aid and humanitarian agencies about the relocation plan of some 100,000 Rohingyas.
"We will not find a way to move to a safer place if the island, which is surrounded on all sides by water, gets flooded," Rohingya refugee Masuda Begum, who lives in Jamtoli refugee camp in Cox's Bazar, told VOA. Another refugee, Nurul Kader, said that "for survival, around us we need farm lands and forests which do not exist in that island."
These concerns are not unfounded. A local land ministry official told VOA that most of the island is submerged during high tide. The land in Bashan Char is unstable, and it takes at least 20 years for its soil to be plantable.
The construction of houses and infrastructure on the island was completed in 2019. "If Rohingyas go to Bhasan Char, they can do the same things there that they used to do in Rakhine State. They can do economic activities like fishing, cattle farming and agricultural activities," Bangladesh's Foreign Minister A.K. Abdul Momen told the Dhaka Tribune. To deal with floods, two dams have been built.
According to Nay San Lwin, the government's efforts to convince refugees to move had not produced results. The government believe that international aid agencies have a role in this. In addition communication problems at Bashan Char, the island is far from where humanitarian workers live around Cox's Bazar.
Phil Robertson, deputy director of Human Rights Watch's Asia division, said the international agencies are not supporting the relocation because they were not given an opportunity to assess the safety of the island. "No one is going to support Bhasan Char without a real assessment of whether it is safe, humane, sustainable and logistically serviceable, and the Bangladesh government is preventing the UN from doing such an assessment," he told Tempo on May 28.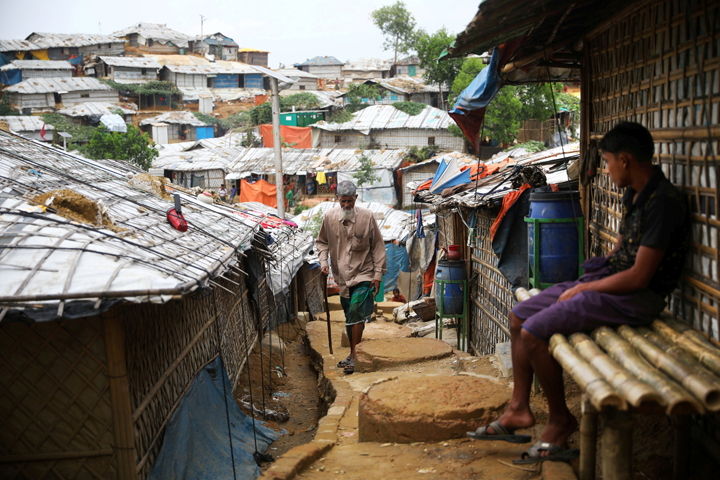 Rohingya refugees in Cox's Bazar, Bangladesh, March 2019. REUTERS
In addition, Robertson said, there are serious doubts about the island's economic viability without continuing support from the Bangladeshi government. "So what happens if there is a problem with supply from the government? People can't grow rice in saline paddy fields," he said. "Bangladesh should scrap the idea of sending Rohingya refugees to Bhasan Char once and for all."
Bangladesh is also upset because they feel they are carrying the Rohingya burden alone. Abdul Momen said all countries and human rights agencies turn to Bangladesh every time there are Rohingya stranded in the Andaman Sea or the Indian Ocean. "It is as if because we have protected 1.1 million Rohingyas, we must also protect the rest," he said.
He asserted that Bangladesh does not have enough space to accommodate more Rohingya refugees, and that other countries also have a responsibility to share the burden.
During an online meeting with delegations from European countries on May 20, Abdul Momen tried to convince them that the Bangladeshi government will always protect the Rohingya, but stressed that providing shelter for Rohingya is not a responsibility that Bangladesh must bear alone. He also talked about an agreement with Myanmar to repatriate them to Rakhine three years ago, but so far no one had returned. He called on the European Union to put more pressure for safe repatriation to Myanmar.
Nay San Lwin lamented on the soft and lack of response from the international community over the atrocities against Rohingya in Myanmar. He talked about how Gambia is the only country that has filed a case against Myanmar.
"The most urgent thing is to take action against Myanmar. Sanctions are very much necessary by every country to end the genocide of Rohingya. Boycotting Myanmar will correct the attitude of Myanmar criminals—government and military," he said.
Phil Robertson also urged Bangladesh to give pressure to Islamic Cooperation Organizations to be firm and issue a resolution for this matter. He also urged ASEAN and other governments to increase pressure on Myanmar to take responsibility for what happened to Rohingya people.
"The Tatmadaw, and their accomplices in the civilian government—led by the National League for Democracy (NDL), currently have no intention of compromising to permit the return of the Rohingya to Rakhine. The world community must find the right levers to overcome Myanmar's intransigence on the question of the Rohingya."
ABDUL MANAN (DHAKA TRIBUNE, AL JAZEERA)