The Digital Sector's Triumph
The digital approach is believed to be the key to doing business in the 'new normal' era. The banking sector may be most prepared.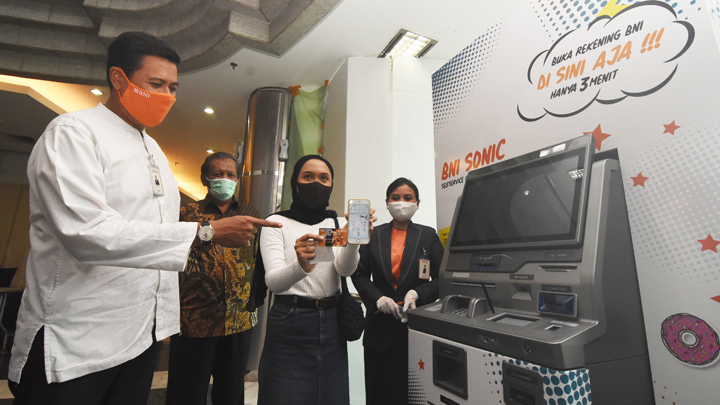 SAVITRI Amir, who has kept an online store since early this year, certainly feels the joy of e-commerce. Her hijab (headscarves), which she offers on two of the country's biggest e-commerce platforms, Tokopedia and Shopee, apparently appeal to buyers. After only five months, her sales now amount to millions of rupiah per month. She is considering expanding her business, but she has no capital. "So far, I've been using my own money," said the mother of two when we contacted her on Friday, May 29.
Savitri only learned recently that the online store where she sells her products partners with several banks to provide online businesses with capital. She sees an opportunity in the arrangement. "Who knows, it may help the business grow," she said.
One of these banks is Bank Rakyat Indonesia (BRI), among the country's largest banks. In mid-May the bank entered the market by providing capital for online vendors, a business niche that was initially made use of by fintech start-ups. In the early stage, BRI partnered with Shopee and Grab. "In the next stage, BRI will also work with Tokopedia and Gojek," said BRI Chief Executive Officer (CEO) Sunarso in mid-May.
When BRI launched its Kredit Usaha Rakyat Digital (people's digital business loan), Sunarso said the step was part of the company's breakthrough in channeling its loans. BRI followed in the footsteps of Bank Mandiri, which began funding online retailers in February.
Players in the financial sector have long believed that digital innovation would become the key in doing business in this sector. They have prepared strategies, particularly for using digital technology as a supporting tool for transactions. The coronavirus pandemic cut short the planning stage. Besides functioning as a supporting tool, digital technology has turned into a new business model.
•••
Through a virtual conference on May 18, Finance Minister Sri Mulyani explained the plan to restore the national economy which is hit by the pandemic. In the third quarter of this year, or in July, the government predicts that the economy will again improve, along with relaxed large-scale social restrictions (PSBB). At the same time, the government is expanding its economic stimuli to boost consumption among the middle class, among others, by distributing food and travel discount coupons via applications. In the fourth quarter, the government hopes that unemployment and poverty rates, which have gone up due to Covid-19, will improve.
While the government works on stimuli and arranges health protocols in the new normal era, industries are preparing to do their business in a new way. According to a number of management consultant firms, businesses will rely on the use of digital technology. Bank Mandiri Chief Economist Andry Asmoro says besides tech companies, the financial sector—such as banking—is the most prepared to adapt to the use of digital technology in the new normal era in this country. Asmoro explains that developments in the banking sector have been going in the direction of the digital era. "Covid-19 has accelerated the move toward this direction," he said on May 28.
The banking sector—particularly large banks with massive capital for tech spending—Asmoro explained, seems to be enjoying their digital services' advantages during the pandemic. It is true that these digital services will do less well after the Covid-19 vaccine is available. "But in the future, the banking sector will still rely on digital (technology)," he said. "In-person services are still needed only in remote areas."
The banks' strategy to rely on digital services during the pandemic is seen in the rise of transaction traffic. Bank Negara Indonesia's (BNI) digital transaction growth in the first quarter of 2020 rose 31 percent compared to the same period in 2019. BNI Mobile Banking's transaction growth has even reached 84.4 percent compared to the first quarter of 2019, to 63 million transactions at the value of Rp103.4 trillion. The rise in the use of digital services is also recorded among corporate customers, with BNI Direct's transaction volume increasing by 55 percent in the first quarter of 2020, compared to the same period in 2019.
BRI customer transactions via Internet banking or BRI Mobile in March rose by 61 percent compared to January. Meanwhile, Bank Mandiri's financial transactions via its digital platform reached 393 million throughout the first quarter of 2020. "In the future, the interaction between customers and banks will decline. This is why the banking sector must continue to develop the digital technology, in accordance with the wishes of customers," said Bank Mandiri CEO Royke Tumillar during the Ngobrol@Tempo event on May 29.
Private banks, such as Bank Central Asia (BCA), have also experienced a rise in digital transactions. BCA had a 91-percent year-on-year growth in mobile banking transactions, or as many as 1.286 billion transactions in the first quarter of 2020. Likewise, Internet banking transactions have risen by 24 percent to 740 million transactions. "Around 98 percent of BCA's banking transactions are via digital banking services," said BCA Executive Vice President of Secretariat and Corporate Communication Hera F. Haryn on May 28.
•••
Prior to the pandemic, digital platforms were used more as supporting tools for banking services. Today, such platforms function as a new foundation for the banking industry. The transformation is reflected in BRI's decision to enter the digital microcredit program (KUR), to fund online retailers on Shopee and Grab. "The initiative is hoped to ease the public in accessing KUR financing as well as improve the absorption of KUR to assist micro, small and medium enterprises in surviving during the pandemic," said BRI CEO Sunarso.
The digital KUR is BRI's follow-up step in moving its business into the digital realm. In December last year, BRI launched the online loan platform, Ceria, which can be used for transactions on Tokopedia, Panorama JTB, and Dinomarket. Ceria was launched online three months after BRI, in partnership with Traveloka, introduced the PayLater Card, a 'shop now, pay later' service like Ceria.
BRI is also preparing to soon launch Web Pasar, a platform that facilitates traditional market vendors in selling their products online. Banks nearest to such markets will be given the additional task of storing items bought by consumers before they are delivered by couriers. "Hopefully 5,000 markets will have entered the ecosystem by September," said BRI Micro Businesses Director Supari on May 28.
But Bank Mandiri has made its move even earlier. Mandiri launched its capital loan service on the marketplace in February, which they call Kredit Usaha Micro (micro business loan), by enlisting Tokopedia and Bukalapak. Bank Mandiri aims to channel Rp1 trillion in loans to online businesses. "In line with our five-year plan, we will give massive support to digital micro, small and medium enterprises," said Mandiri CEO Royke Tumilaar.
KHAIRUL ANAM