New Protocols for Tourism
From preparing health protocols to formulating new business models, the hotel and transportation sectors are arming themselves for the 'new normal era'. If no new Covid-19 cases emerge, Bali's tourism will be ready to reopen.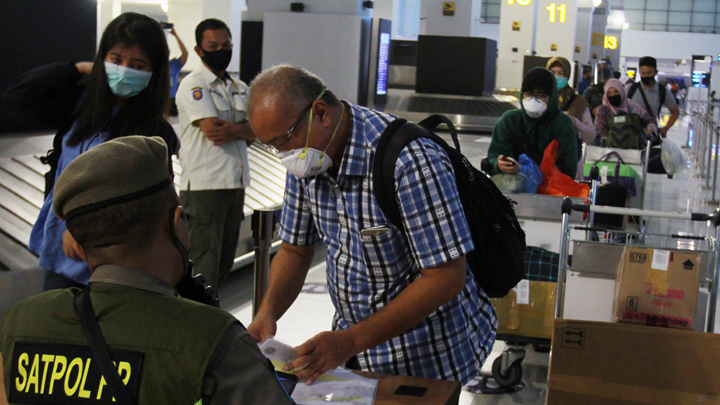 THE large-scale social restrictions (PSBB) has not forced Mahfud Ahyar to work from home. Almost every day, the public relations staff at a government institution departs to his office in Kalibata, South Jakarta. Some work apparently cannot be done from home.
He has not changed his habit of going to the office: he would take the Transjakarta bus from his home in Kayu Putih, East Jakarta, to the Manggarai Station, where he would then take the train to the Duren Kalibata Station—and the same route on his way home. The difference is, "(I) have to go home on time because public transportation is operating at restricted hours," said Mahfud on May 28.
According to Mahfud, various protocols have indeed been put in effect on the public transportation that he uses, but the implementation has been rather chaotic, especially during rush hours. "The most difficult to control is the safe distance between passengers. If (the train is) packed, we're still shoulder to shoulder because there are no officers," he explained.
Neither has social restrictions prevented Fahmi Ridho from traveling during the pandemic. The deputy director of a contractor company in Bontang, East Kalimantan, has flown from Balikpapan to Jakarta vice versa several times. Fahmi has certainly felt the strict procedure for travel, such as having to show a meeting invitation, assignment letter, and a rapid test result. Reviewing such documents has resulted in long queues at the airport. "(I) have to be at the airport four hours before the flight schedule," he said on May 29.
In greeting the so-called 'new normal' era, the government began relaxing transportation, particularly flights, in mid-May, with some restrictions on passengers. A passenger must be on an official visit, or a medical worker, a repatriated Indonesian citizen, or an individual with a pressing need for travel, for example, due to a death in the immediate family. Like Fahmi, they must show various documents to an officer.
Meanwhile, for land transportation, commuter line operator Kereta Commuter Indonesia (KCI) will issue a new policy to supplement health protocols already in effect, such as the requirement to wear masks, temperature check, and distancing. KCI will install partitions to curb the number of people on train platforms and inside cars. The additional protocol forbids passengers from conversing inside the train.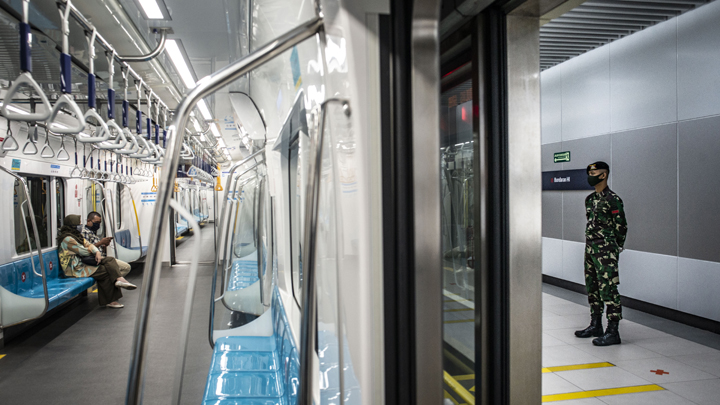 A soldier stands guard at the HI Roundabout MRT Station, Jakarta, May 27./ANTARA/Aprillio Akbar
Subway service operator MRT Jakarta is also preparing to reopen its 13 stations once social restrictions have been relaxed. At this time, only six stations are operating with an interval of 30 minutes between trains. "It will be quicker, especially during rush hour," said MRT Jakarta Corporate Secretary Muhammad Kamaluddin.
A number of simulations have been performed to ensure MRT's readiness. "(We) only need to wait for a date from the government," said Kamal. MRT is planning to raise the quota of passengers to 68 people per train from the prior 60 during the social restrictions period.
Besides transforming consumer behavior, the coronavirus pandemic has also transformed transportation companies' business models. The taxi company Blue Bird now provides delivery service for household needs as well as goods. According to Blue Bird Marketing Director Amelia Nasution, the service is available for companies as well as individuals, and can be ordered via an app or by contacting customer service. "We've come up with a proactive innovation," said Amelia.
The pandemic has also urged hotels to innovate in order to survive. Luminor Hotel and Hotel 88, both under the Waringin Hospitality Group, provide a number of independent quarantine packages. "For travelers returning home or workers who can't be immediately accepted by their communities," said Waringin Hospitality Group Corporate Director of Sales and Marketing Metty Yan Harahap on May 27. These packages were launched on the last day of the Ramadan fasting month.
Luminor and Hotel 88 are also offering meeting packages for 5-10 people. In the future, special wedding packages for immediate family members of the bride and groom will be launched. Until the pandemic has died down and tourism returns to normal, hotel businesses must think of clever ways to keep their rooms occupied.
Despite the pandemic, Bali's hotel sector began making preparations after the government gave its signal that tourist destinations will soon reopen. Bali Hotels Association Chairman, Ricky Putra, says the association is still preparing core hotel business regulations for the new normal era, among others, regarding payment and collecting travelers' history prior to their arrival at the hotel. Payment for rooms must be done during booking. "To reduce the number of cash payments," said Ricky.
Chairman of the Badung Regency Association of Indonesian Hotels and Restaurants, I Gusti Agung Rai Suryawijaya, says his organization will conduct a virtual meeting with the tourism and creative economy ministry to further discuss reopening Bali for tourism. Rai Suryawijaya believes that Bali is ready to welcome tourists.
Meanwhile, Bali Province's tourism office is still preparing its protocols for tourism business in the new normal era. Tourism Office Chief, Putu Astawa, says Bali's tourism can be reopened in stages by calculating the rate of Covid-19 transmission in the province. If there has not been an increase, Astawa believes that tourism can be revived. "July is the most realistic (time) for reopening," he said.
The tourism and creative economy ministry is preparing a 'clean, healthy, and safe' concept as the standard for the tourism and creative economy sectors. "Maybe the government will have a policy of reopening tourist sites and the creative economy sector in stages," said Ari Juliano Gema, spokesperson for the tourism and creative economy ministry Covid-19 mitigation task force.
According to Ari, the government is indeed preparing Bali to be the first tourist destination to reopen. After that, the ministry will reopen tourism in other regions, such as in Bintan, Batam, as well as several areas in Java. Ari says reopening tourist destinations is part of the effort to restore the economy following the pandemic. "(We) must be prepared to face an overflow of tourists in 2021," said Ari.
AISHA SHAIDRA, MADE ARGAWA (BALi)