Exercising During the Pandemic
Restriction of activities in public places due to the Covid-19 pandemic has not prevented fitness enthusiasts from training. Fitness centers that were shut down during the pandemic are ready to operate.
IT has been three weeks since Muhammad Justian Pradinata last performed calisthenics—a type of bodyweight exercise—with his friends in the Menteng Park, Central Jakarta. Around one week after the first Covid-19 cases were announced on March 2, the park was closed. Because of the pandemic that shook Jakarta, he has not been exercising as usual. "Parks and other open areas were also closed," Justian said on May 27.
The 29-year-old man who runs on a regular basis must adapt his activities when the government began restricting interaction and mobility to curb the spread of the SARS-CoV-2 virus, Covid-19's culprit. He is now very involved in a fitness campaign on social media and participates in virtual classes with his friends. "On teleconference, up to 30 people," said the Perusahaan Perdagangan Indonesia employee.
He has also been improvising at home because he cannot yet exercise at his favorite fitness center in Central Jakarta, which has been temporarily closed down during the pandemic. He uses various items, such as chairs as well as a backpack filled with bricks and water bottles, for strength training. According to Justian, exercising routinely—even with makeshift tools—can help maintain health. "(But it's) still much more fun to exercise together on the court," said Justian, who exercises at least three times a week.
Trijee Sportswear Chief Executive Officer (CEO) Yulianti Utomo has also continued running during the pandemic. The 58-year-old woman, who is used to running 10 kilometers a day, follows health protocols, such as wearing a mask and maintaining distance and cleanliness while exercising. "The difference is, the location where I run has turned quiet because there are fewer people exercising," she said.
The government's large-scale social restrictions (PSBB) policy has not discouraged Yulianti from exercising. According to her, exercising is the best way to maintain fitness and improve the body's immune system. Exercising also helps her relieve stress. "I'm afraid of being too lazy to exercise," said Yulianti, who completed the 42-kilometer Tokyo Marathon last year.
Sports have also taken a hit because of the pandemic. A number of top tier European soccer leagues, which had only been in play for three weeks since February 29, were postponed. Various sports events, including the Tokyo Olympics in Japan, have been canceled. Some competitions have been turned into virtual competitions, such as the Boston Marathon, which will be held online on September 7, after the earlier April 20 date was canceled.
The Indonesian government itself is planning to begin a new normal to restore conditions, particularly in the economic sector, after three months wrestling with the Covid-19 pandemic. An early study by the coordinating ministry for the economy suggests that the new normal can be applied in stages beginning early June, starting with the industrial, business, and health sectors. Other sectors, such as entertainment, restaurant, café, and fitness, will reopen in stages in early July.
Fitness enthusiasts, who no longer exercise on courts and fitness centers during the pandemic, are adapting by turning to the virtual world. Various fitness apps have served as alternatives. Fitness communities also exercise together via social media. "I exercise two-three times a week," said Citra Puspita Sari, a private-sector employee. Before the pandemic, she and her colleagues would exercise at the Bung Karno Stadium.
Fitness centers have also turned to social media. Trainers who previously taught paid classes, as well as fitness facilities, are now providing free exercises via social media. "The situation has pushed us to make changes," said Celebrity Fitness and Fitness First Indonesia Public Relations Manager Farida Sutarman via WhatsApp on May 29.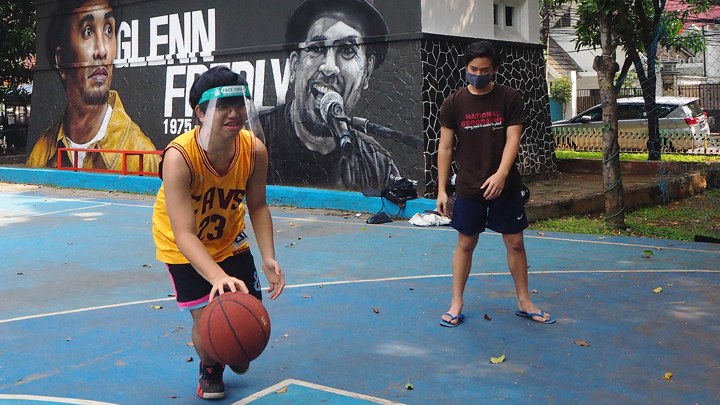 Playing basketball with a face shield in the YPK basketball park, South Jakarta, May 29./ TEMPO/Nurdiansah
As many as 44 Celebrity Fitness and Fitness First locations have been temporarily closed down since March 24. Previously, the largest fitness center network in Indonesia was still operating under strict health and hygiene procedures for its staff and visitors. According to Farida, class schedules were arranged further apart so that the rooms were able to be cleaned more thoroughly. Studio capacities were also adapted so that people would be able to exercise while keeping a distance of 1.5 meters from each other.
Now, Celebrity Fitness and Fitness First instructors are teaching fitness techniques, dance, yoga, and pilates for free through Facebook and Instagram. Celebrity Fitness and Fitness First Indonesia Managing Director David Prosser says these free classes are made to help the public stay fit. "Staying at home is no excuse not to exercise. All you need is a cellular phone or a laptop to access our online fitness classes," said Prosser.
Regulations restricting fitness activities have also caused Ade Rai to close down his fitness center network. Exercise equipment at Rai Fitness branches in various cities has been neglected for over two months. "In the meantime we still have to cover operating cost and pay employees," said Ade when contacted via telephone on May 28.
Despite the setback, Rai Fitness still caters to online registration. Its management routinely provide information on the fitness center's status and health, aside from offering food and herbal drink from Café Rai. Tips for exercising and maintaining fitness at home are frequently posted on social media. "To maintain interaction with customers. But still, (social media) can't replace the relationship model of exercising together at the gym," said Ade.
Ade believes that Rai Fitness is actually ready to operate while applying strict health protocols in the new normal scheme. Although its fitness centers have been closed to the public during the pandemic, Ade explained, equipment and classrooms are routinely cleaned. Exercise rooms are also sprayed with disinfectant. "To make sure that customers can safely exercise when gyms are allowed to operate," he said.
Likewise, Celebrity Fitness and Fitness First. According to Farida, the management has prepared steps to anticipate the new normal. Safety protocols, such as the use of masks and gloves, as well as temperature checks for all those who enter the exercise rooms, were already performed before the network's fitness centers were closed. "Total cleaning is done every four days to ensure that the facilities stay clean and well-functioning," she said.
Ade Rai says opening fitness centers early gives the people a chance to improve their immune system. The new normal, he says, is a new habit of exercising among the public. Besides, Ade explained, exercising can help alleviate stress due to exposure to too much information on the disease. "People fall ill more easily when they're not fit, not to mention the stress," he said.
Triathlon athlete Inge Prasetyo says sports that do not require much contact with others, such as running, cycling, or tennis, can already be done, as she experienced in Phuket, Thailand. She has been forced to stay there since early March due to area lockdown regulations. "Opening sports facilities is good for the public. Of course health regulations must be obeyed to minimize the risk of transmission," she said.
GABRIEL WAHYU TITIYOGA