Muhammad Jusuf Kalla: There is no state loss
Although he is no longer chairman of the steering committee of the Indonesian International Islamic University (UIII), Muhammad Jusuf Kalla, still watches over the project intensely.
Edition : Monday, June 29, 2020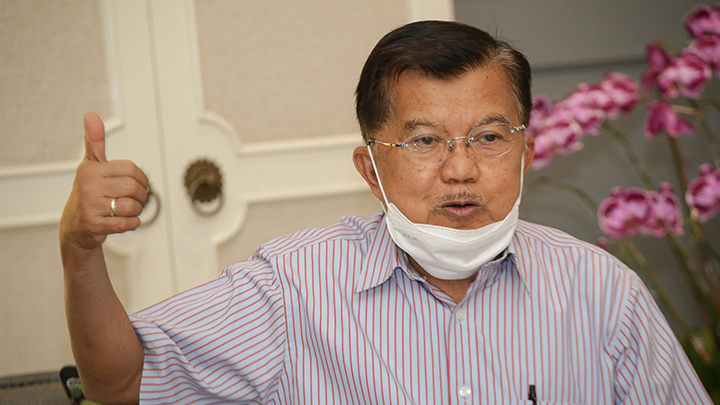 THE former vice president for two terms, now the chairman of the UIII board of trustees, said Indonesia needs an international standard Islamic campus. When Tempo met him at his home in South Jakarta's Jalan Brawijaya Raya, Thursday, June 25, Kalla spoke about the construction of the campus on a land that was once owned by Radio Republik Indonesia (RRI).
What was the government's reason for establishing UIII?
Before, Indonesians who want to enroll in Islamic studies had to go to Egypt, Saudi Arabia, Yemen, Sudan and other Arab countries. Those nations are often in conflicts, which can influence our students' minds. Indonesia needs a quality campus with international standards that can act as a center for Islamic culture. I conveyed this idea to President Joko Widodo in 2015, and he agreed. Then I instructed the relevant ministry to prepare it.
Is this a government lighthouse project?
We can say that. This is for the future generations. If Indonesia become famous because of this campus, then, thank God.
Why did you choose to build it in RRI's transmitter complex in Cimanggis, Depok?
We want to build a nice, green campus. Initially, I asked for 500 hectares of land. The area available in Balaraja, Banten, was in the form of a lake. There was also a 1,000 hectares in Sukabumi, but it's too far. I then remembered that RRI had a land in Cimanggis. In 2009, RRI directors came and offered to manage the land. The location is strategic.
But there are dozens of RRI towers there used for the international broadcast of Voice of Indonesia?
I visited the location in 2015. I asked RRI staff "who are still listening to the international broadcast?" The staff said, only two people, a Chinese national and a Pakistani who once sent a post card to the program. I saw how old the equipment used there, used since 1952.
We saw that some of those equipment were still working.
Today's radio broadcast is aired via cellular phones. There is hardly anyone listening through short wave. Worldwide, there are no more radio stations using towers and cables.
Some members of RRI's Supervisory Board said that it was wrong to take over the land.
There is no state loss in this transfer. The land was previously owned by the state, and then transferred to the state. Better to use it for national education. Out there, there are false information misleading the public about the transfer of this land.
We heard that the government pressured RRI chief executive officer into approving the transfer of this land. Is it true?
Institutionally, the RRI is under the communication and informatics ministry, despite saying that it is an independent media. The issue is not about whether anyone was pressured or not. We need to underline that this was a non-functioning state land.
What about a replacement land for RRI?
It is true that RRI sent a letter requesting for a replacement land, to move their transmitters there. But for what? Nowadays, it only takes one room to establish a radio. There is no need to use big and complicated equipment.
Then what about RRI's equipments that are still in Cimanggis?
They are no longer used. Those equipment are 70 years old. All broadcast equipment today are modern: streaming. With the Internet, people all over the world can listen to RRI.
W251bGwsIjIwMjEtMDUtMTEgMTc6NTg6MTQiXQ