Privilege for Jokowi's Legacy
The 2020 planned opening of the Indonesian International Islamic University is delayed due to the coronavirus pandemic. Ever since construction started last year, the Rp3.9 billion project has not yet been finished.
Edition : Monday, June 29, 2020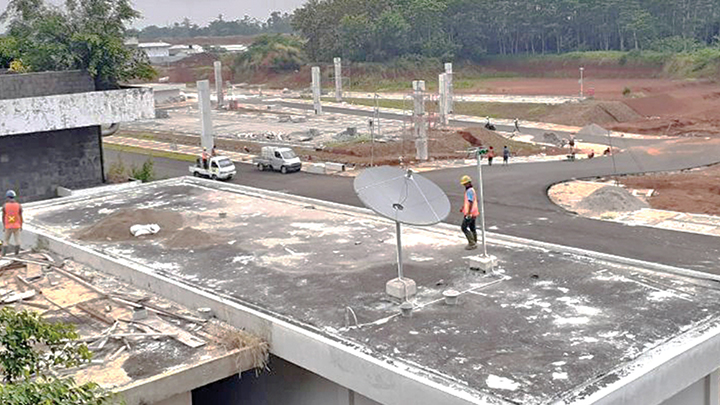 THE home page at uiii.ac.id displays various information about the Indonesian International Islamic University (UIII). One picture depicts the campus' main building with its triangular architecture. A swipe to the right reveals introductory words from the rector, and news on its groundbreaking ceremony by President Joko Widodo in June 2018. There is an 'Apply Now' button further below, but it does not bring visitors to a subsequent page when clicked.
"Registration originally planned to start in February, but we postponed it due to the (Covid-19) pandemic. We are aiming to start in 2021," said UIII Rector, Komaruddin Hidayat, on Thursday, June 25.
President Jokowi appointed Komaruddin as UIII Rector on June 4, 2019, when the campus was still being built. Situated in Cimanggis, Depok, West Java, the 142.5-hectare campus remains under construction since a year ago. The project is estimated to cost some Rp3.9 billion.
Komaruddin said he proposed the establishment of an international Islamic campus to President Joko Widodo and Vice President Jusuf Kalla in 2015. During a discussion with Jokowi in Bogor Palace that year, Komaruddin told the President that he was often encouraged by delegations of countries from the Middle East, Europe, Africa, and America to turn Indonesia into a destination of Islamic studies. They reasoned that Indonesia is a country with the largest muslim population in the world, with diverse culture, and also democratic.
Jusuf Kalla agreed with Komaruddin, saying that influential Islamic thoughts have always been originating from outside Indonesia. When Indonesians wish to further their study on Islam, they would go to countries such as Egypt, Saudi Arabia, Yemen, and Morocco. "We are just big in numbers, not in studies of Islam," said Kalla. Islam in Indonesia, according to Kalla, is more moderate compared to some countries in the Middle East. He aspires that one day people from abroad would come to Indonesia to study Islam, and obtain a more moderate understanding of Islam from it.
W251bGwsIjIwMjEtMDUtMTIgMDg6NDM6MTkiXQ
After Jokowi and Kalla gave their agreement, Komaruddin prepared his proposal. "I advocated my vision and and continued to lobby to see it through," said Komaruddin, a former rector of Syarif Hidayatullah State Islamic University. He would often play golf with Kalla to discussed the planned construction of the campus.
Komaruddin's efforts bore fruit. Jokowi appointed Kalla as chief of the board of trustees in charge of seeking a suitable location and supervising the construction. The ministries of religious affairs, national education, foreign affairs, and finance were also involved.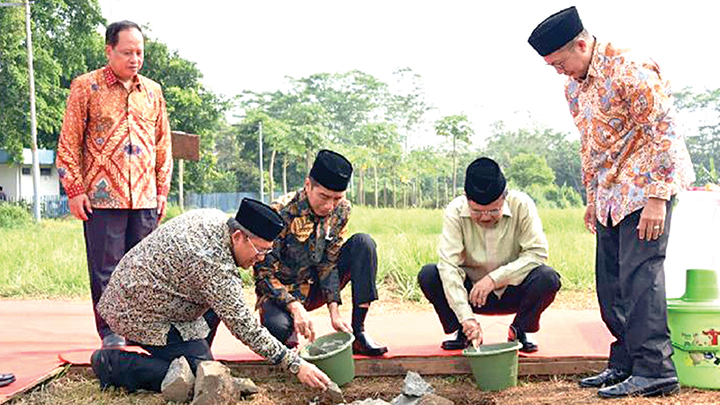 President Joko Widodo and Vice President Jusuf Kalla at the ground-breaking ceremony of the UIII project in RRI's broadcasting area in Cimanggis, June 2018./Jabar provincial government doc.
It was not easy to seek out a suitable location for the campus in a large state-owned land that is also close to the city center. Komaruddin said that Bogor, Sukabumi—both in West Java—and Tangerang in Banten were considered. The team finally settled on a 142.5-hectare land in Cimanggis, Depok, previously used by the Radio Republik Indonesia (RRI). The land transfer was arranged between the religious affairs ministry, finance ministry, and RRI in 2016.
However, the government could not immediately begin construction due to the land being illegally occupied by some 600 families. "It was also ahead of the general election. We did not wish to cause a commotion that could be politicized, so we decided to put it on hold," said Komaruddin.
While waiting for the construction to start, Komaruddin and a team from the religious affairs ministry travelled to Canada, the United States, and countries in Central Asia to establish relationship with officials and academic communities in the places they visited. "They are ready to send lecturers and students," he said. One unique aspect of the future campus, which Komaruddin promoted during his visits, is that it will build an Indonesian Islamic school of thought based on a combination of 'science, Islamness, and Indonesian-ness'.
Amid the process, questions emerged from a number of rectors and academicians from local Islamic campuses. Azyumardi Azra, a professor from State Islamic University (UIN) Jakarta, said several Islamic state university rectors are wondering why the government chose to build a new campus instead of optimizing the existing ones. Azyumardi himself had proposed six UIN campuses in Jakarta, Banda Aceh (Aceh), Bandung (West Java), Makassar (South Sulawesi), Yogyakarta, and Malang (East Java) to be converted into international campuses. "The six could be given affirmation funds to become international-level campuses," he said.
All this time, according to Azyumardi, UIN could not flourish because of restrictions in budget, bureaucracy, and autonomy. "Too many political interventions. This is also what I heard from Professor Komar when convincing Pak Kalla, that the best alternative was to build from scratch," said Azyumardi.
Most of UIN campuses are constrained by their status as Public Service Agency-State University (PTN-BLU). Therefore, a UIN may not independently open or close a study program in its institution. This is different from a Legal Entity-State University (PTN-BH) which are afforded flexibility in their curriculum and financial management.
The government gave PTN-BH status to the UIII. Although, in order to be named as PTN-BH, a university must first have a business unit that provides income. Lack of business unit was the reason UIN could not become a PTN-BH. "This is why I call UIII as a political project, because it does not follow formal procedures and requirements," said Azyumardi.
UIII Rector Komaruddin Hidayat admitted that his campus is given privilege by the government. "Because this will later become a legacy of Pak Jokowi's administration," he said. Komaruddin said UIII campus construction was also decided by then religions minister Lukman Hakim Syaifuddin. "We also decided to open master's and doctoral degree programs, not undergraduates because that would take portions away from other campuses," he said.
Seven faculties are being prepared, namely Islamic studies, humanities and social science, Islamic economics, science and technology, education, and art and architecture. The university plans to initially open three majors of Islamic studies, political science, and business economics.
When asked for confirmation, Lukman Hakim Syaifuddin refused to elaborate on his decision to agree upon the UIII construction. "It would be better to ask the question to the current official," said the United Development Party (PPP) politician.
Komaruddin is now racing against time. Although the campus building is yet to be finished, Komaruddin feels glad because he is already accompanied by colleagues in UIII's structure. They are Institutional and Cooperation Affairs Deputy Rector Jamhari Ma'ruf and Economic Development Deputy Rector Dadang Muliaman Satria. "There are six official employees aided by an ad hoc committee," he said. They are now recruiting lecturers and planning to accept 150 master's and doctoral students for the very first class.
LINDA TRIANITA, RIKY FERDIANTO