I Need to Create a Friendly Business Climate
Trade Minister Agus Suparmanto spoke openly about his policies, his conflict with his former close confidant at a nickel mining operation in Central Sulawesi and his strategy in the midst of corona-virus pandemic.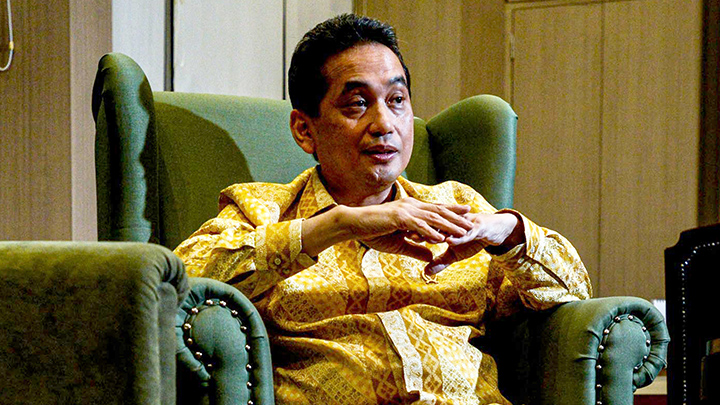 SINCE the 'new normal' protocol was put into effect, Trade Minister Agus Suparmanto must keep up with the prescribed routine of using hand sanitizers, wearing masks and keeping physical distance every time he goes out. "If you hold hands (with a woman), you could be asked to prove that you are married. So, I told my wife, 'dear, don't be too close, or they will ask us to show our marriage certificate,' (chuckles)..." Agus quipped during the special interview with Tempo last Wednesday, June 24.

Agus, 54, said the government's new set of regulations was aimed at expediting the control of the coronavirus outbreak in all sectors, from social, health to trade. "So that our lives can return to normal gradually," he said adding that although the economy is starting to move again with the reopening of shopping centers and markets, the public safety will remain government's priority and will be safeguarded through health protocols.

Agus, accompanied by his lawyers Harris Sarana and Sehat Damanik, sat down with Tempo reporters Agung Sedayu, Mahardika Satria Hadi and Khairul Anam at his office for the interview.

He explained various matters ranging from his strategy to mitigate the impact of the Covid-19 pandemic on the trade sector, government's decision to approve export of personal protective equipment to the need to impose import quotas for several commodities.

In addition, he also clarified Tempo's news report that linked him to the fiasco surrounding Aneka Tambang's nickel mining project in North Maluku. In its March 31-April 6, 2020 issue, Tempo published an investigative article titled Mining Scandal of Trade Minister. The report highlighted Agus' connection to a series of irregularities in a nickel ore project in Tanjung Buli in remote East Halmahera, North Maluku. Agus himself is an investor in Yudistira Bumi Bhakti which undertook the project during the period 2001-2014.

Agus has raised objections to the report. He felt his name had been smeared. The press council which mediated the dispute had issued Assessment and Recommendation Letter No. 23/PPR-DP/V/2020 which, albeit calling the title inaccurate, stated that the entire coverage met the standard journalistic requirements. Tempo has already offered an apology to Agus Suparmanto for the title. This interview also partly serves as the right of reply.
How did your relation with Yudistira Bumi Bhakti begin?
I received a lot of (investment) offers that time and one of them was from YBB (Yudistira Bumi Bhakti) which offered a nickel mining business opportunity. My position was only as an investor and I didn't handle technical matters. Pak Juandy (Tanumihardja, YBB's chief executive officer) and Pak Miming (Leonardo, YBB's commissioner) asked me to join them. I studied and assessed that it was quite a promising business and I decided to go in. That was around 2000. It was a long process until I finally invested in 2001. I don't have a mining background. It was for investment only.
Is it true that you invested around US$6 million in the project?
Yes, US$6-7 million. But I wasn't involved in YBB's internal affairs. Perhaps they also had other partnerships. I have no idea because there were many items. I only looked at the (project) implementation as an investor. That was the extent of my involvement. I just made sure that I got my investment returns. I wasn't a shareholder nor a board member. The bottom line is that I just put my money there. I wasn't involved in any technical matter or in the process behind the project because I didn't have the authority.
Why did you inject such a huge capital?
Based on the calculation of the (cost of) the equipment needed. Not of all YBB's fund came from me. The company also has its own resources. After the calculation, they asked me to make up the shortfall in the above-mentioned amount.
How much did you know about YBB's participation in Aneka Tambang's tender for mining and transporting nickel ores in Tanjung Buli, East Halmahera?
It was YBB which undertook the process from the start. All I knew was that they needed fund.
Yudistira won the tender in 2001. However, starting 2004, the company got projects through direct appointments. Were you aware of these processes?
I wasn't. That is too technical and only the board of directors and shareholders had the authority over that. I couldn't go in there. I didn't have the capacity as an investor to be involved in the company's internal matters. Say, we have a company and borrow money from banks. Banks can't possibly interfere with our company's business, you see. My position as an investor is the same as that of the banks. When a company applies for loans, they would only look at who the investors and the directors are. It's not possible for them see what the content of the project is or what the process is like and so on. That's beyond my capacity.
Has Yudistira made profits from the Tanjung Buli project?
Yes, it did. My profit from it is the business between me and YBB and not with anyone else.
How much profit share did you receive?
In essence, the company and I shared around 70 percent of the profits. I don't want to discuss on personal basis because this is a company. So, legally, there was a limited liability company and I joined it as an investor. It's not my business if the company had other deals. There wasn't a grey area where my involvement could be conjectured. No. I only monitored the finances and the yields to protect the money I put in there.
Why were you interested to invest in Yudistira?
They promised the project would be profitable although there were losses in the first three to four years. I did get panicked. Then we began to make profits. Every businessman has to deal with profits and losses. I just followed my gut instinct particularly after I was already deep in it. If I decided to stop, I had to give up the money I had invested.
Why losses?
I didn't know the cause. I knew there were losses because there was a negative balance and the company asked me for more fund. It turned around in the fourth year with zero or little loss and finally it made profits in the fifth year. The bottom line is that when they suffered losses in the early years, YBB requested fund from me. I did inject fund but in stages.
The value of the joint venture between Yudistira and Aneka Tambang was allegedly marked up. Aneka Tambang's audit team also found the same. What's your response?
I didn't know anything about it because I never sat face to face with Antam (Aneka Tambang). I didn't know or meet any Antam official. Second, that is a very technical issue. I am not very familiar with technical aspects of the mining business.
On January 3, 2000, you signed a memorandum of understanding (MOU) with a number of companies regarding cooperation in acquiring nickel ore mining projects from Aneka Tambang. What does it contain?
I never signed any agreement personally.
The MOU in question was signed when you were the CEO of Mitrasysta Nusantara…
Oh, yes, on behalf of Mitrasysta, but the MOU was never implemented. It was signed by four companies (Mitrasysta Nusantara, Surya Labuhan Sari, Yudistira Bumi Bhakti, and Trecons Multisarana). I signed on behalf of the company, not personally. In the course of time, it went unexecuted and the companies were no longer involved. Then, Pak Juandy and Pak Miming offered me an investment opportunity in YBB. That's all I know.
On March 13, 2001, there was another MOU for sharing Yudistira's profits stipulating that 70 percent of profits go to the investors and the rest to the project owner. Please tell us about it.
I didn't participate in that agreement and never signed that MOU. That was the agreement between the company (YBB) and those who signed the document. There have been rumors as if I were there. My name wasn't even in the MOU as I was never involved in the process. I communicated directly with YBB—Juandy and Miming, respectively the director and the commissioner. So, the profit-sharing MOU was between the company and those involved in the agreement.
So, you only signed the MOU of January, 2000?
Yes, but not on my behalf, but on behalf of the company (Mitrasysta). There was none that I signed on my behalf.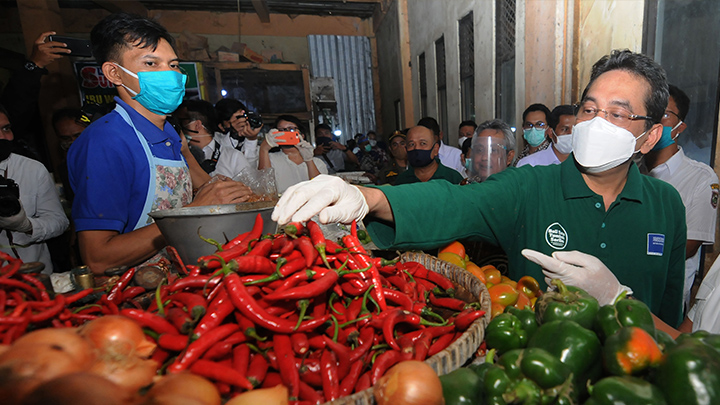 Trade Minister Agus Suparmanto (right) talking to a vegetable seller at the Boyolali Market, Central Java, July 1./ANTARA/Aloysius Jarot Nugroho
In 2013, your former business partners filed a fraud complaint with the police claiming that you didn't share profits from the Antam project. What actually happened?
Let's go back to the said MOU and see who signed it. It was the company, wasn't it? Yes, I was sued at the time. Actually, to be honest, it was a misdirected charge because I wasn't the one responsible for distributing the profits. The company was. I never had any contacts with the people who sued me. Second, with whom did the company which distributed the profits sign the contract? If it was with companies, well, it should deal with the companies, not people.
If they should file the complaint against the company, why were you sued?
It's their right to sue anybody they want. We can't prohibit them. In any case, the truth revealed itself. There is no civil or criminal lawsuit here. That's why I asked why me. They barked up the wrong tree.
The suit ended after you agreed to sign a peace deed on April 3, 2014. What does the document contain?
They came to the wrong person, but because it was associated with the MOU, the (peace) agreement was notarized. All the accused were listed in the deed to prevent future disputes. We shouldn't have any incomplete data later. But in the end, it was Yudistira that had to pay at that same moment. I didn't have to pay anything.
Besides you, who else were sued that time?
Several others and many of them were not related (to the case).
You were reported to the police that time...
Everyone has the right to report anyone to the police, but he or she must be aware of the legal consequences if his or her allegation proves wrong. We can't stop people from disliking us. But I just don't understand what motivated them to implicate me in the first place.
• • •
What is your strategy as trade minister in mitigating the impact of Covid-19 on Indonesia's trade sector?
The Covid-19 pandemic struck the entire world and disrupted the economies. Besides budget cuts, we focus on strategic commodity and food export and import policies and the availability of medical equipment and supplies for prevention of the spread of the disease for public safety and security. We guarantee the availability of basic commodities during this crisis.
What sort of trade commodities do you give special attention to?
During the time leading up to the end-of-fasting-month Lebaran, we imported sugar to overcome the shortage. We turned to local producers but the milling season was delayed from April to June.
What are the obstacles in importing commodities during the pandemic?
The order process has changed. It now takes longer to order from the countries in lockdown. Not just for sugar, but for other commodities as well, for example, buffalos. I even contacted the trade ministers of exporting countries personally to try to expedite shipments because we needed them urgently.
From whatever countries?
From India, Thailand, Australia to faraway Brazil. Buffalo meat is from India. I prioritize the sugar import. All the importers are also working hard. As you know, it isn't always easy to clear shipments at airports and seaports.
The milling season is predicted to be delayed until June. Why was the sugar import late causing the prices to soar?
We planned and made the swift decision on the sugar import, but the actual execution was late because the countries were in lockdown. They couldn't ship. So, there were delays on the part of exporting countries. The process that usually took two to three weeks took one to two months. That is something we could not predict.
What was the role of the trade ministry in the export of personal protective equipment (PPE) some time ago?
We saw that we produced sufficient PPE and masks. We already have sufficient supplies so we exported the rest. Indeed, we've relaxed some regulations because companies also need revenues. We gave them some breather but on condition that the domestic needs are already met. We implement health protocols while allowing economic activities to resume. There must be a balance, otherwise it's a pity because many businesses have diverted their resources to export (PPE). There are a lot of laments, 'Pak, we have too much (stock). There are no more buyers.'
When was the floodgates of PPE export opened?
It was announced three days ago.
---
AGUS SUPARMANTO
• Place and date of birth: Jakarta, December 23, 1965 • Education: Bachelor's degree, National University, Jakarta • Career: CEO, Galangan Manggar Biliton, Minister of Trade (since October, 2019) • Organization: Cadre, National Awakening Party, Vice President, Asian Fencing Confederation (2017-2020), Chairman, Executive Board of the Indonesian Fencing Association (2014-2022)
---
Is it true that export requests came from PPE producers?
From the businesses which produce PPE. They accept both domestic and overseas orders. We also have cooperation with South Korea and Japan whereby they send the raw materials, we produce and ship back the end products. How can our people work if there are no orders? Actually, this activity is important in boosting our economy.
So far, import quota has created loopholes for backroom deals and corruption like in the garlic import case. Should the quota system be scrapped?
Actually, the structure is already clear. Scrapping quota means influx of imports. Then there will be influx of goods. That's why we reapplied import quotas in the new regulation. I am the regulator. I have to create a friendly business climate for businesses. Hence the need for control of imports and quota is the tool for that. Therefore, we continue to impose import agreements to control. If there are too much surplus goods, businesses will suffer losses and have to lay off employees. If people lose jobs, their buying power decreases. So, these are parts of the economic cycle that we need to keep in balance. Under a friendly business climate, workers earn income and their buying power increases.
Under the previous trade minister, imports of commodities such as garlic were fraught with corruption because of quota brokers. How do you overcome this problem?
I gave directions to my subordinates so that they work professionally and stay away from corruption. We stress this to all the staff of the trade ministry. I will take stern actions (against violators). But when a legal process is required, we will surrender it to the authorities, such as the Corruption Eradication Commission, the attorney-general's office or the police.