Cabinet Reshuffle Threats
The president is unhappy with the performance of his ministers and banking institutions. There are plans to disband the Financial Services Authority and reshuffle the cabinet.
Edition : Monday, July 6, 2020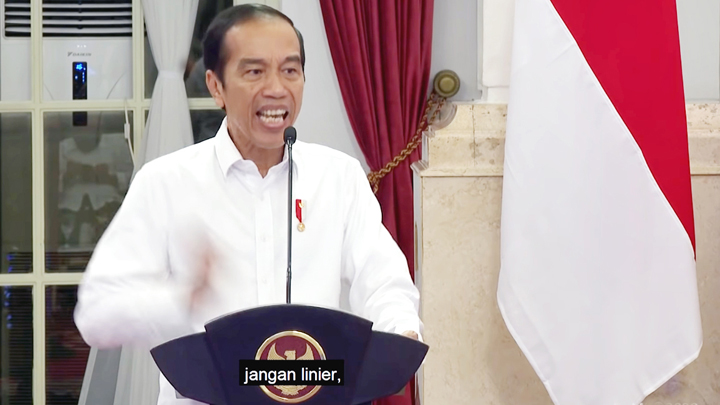 PRESIDENT Joko Widodo could not conceal his anger during the first cabinet plenary meeting on Thursday, June 18. This was the first face-to-face meeting after almost three months of gathering online. Jokowi believed that some of his assistants view the coronavirus pandemic as a normal situation. The President has also insinuated that some of them have not been sensitive towards the crisis. "It annoys me so much. Don't they have any feelings?" Jokowi said on the Cabinet secretariat's You Tube account.
Jokowi also scrutinized the slow ministerial spending. He had hoped that this would increase money circulation and encourage public spending. In a crisis, Jokowi said, the ministers should be innovative, for example by issuing regulations to overcome spending obstacles. He even said that he was ready to issue government regulations replacing laws in order to handle the various problems.
Jokowi's anger runs parallel with data from the finance ministry about the low levels of budget absorption. Until May, budget intake from ministries and government institution only reached 10.41 percent of the total Rp1,851.1 trillion. In the same period last year, that number was already 18.56 percent. This year, the social affairs ministry is the institution with the lowest absorption at 0.89 percent, followed by the health ministry (2.17 percent) and the religious affairs ministry (2.19 percent).
The President also questioned the sluggishness of incentive payments for medical staff handling Covid-19. In fact, the government has already set aside Rp1.9 trillion in incentives for central health workers, and Rp10.45 for those in the regions. Until early June, only Rp10.45 billion of incentives for about 259,830 health workers has been spent. After questioning this during the cabinet meeting, Jokowi again warned the health ministry on June 29, about the matter. He pointed out that regulations obstructing the spending should be solved so that the money could arrive in the hands of the health workers.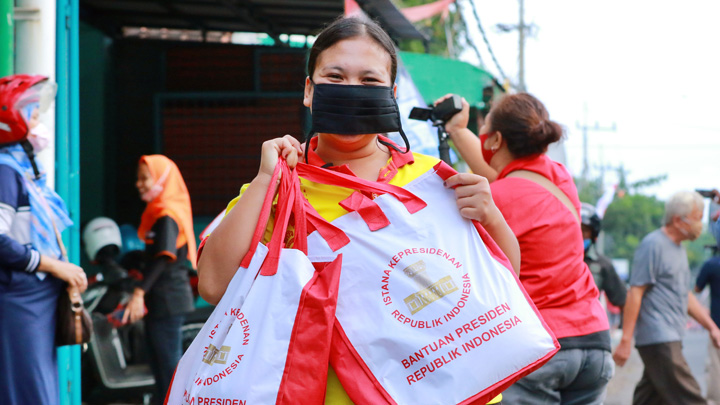 Assistance from President Joko Widodo for the people in Banyuwangi, East Java, June 25. ANTARA/Budi Candra Setya
W251bGwsIjIwMjEtMDQtMjEgMTQ6NTA6MDQiXQ
Abdul Kadir, heath ministry's head of human resources development and empowerment, explained that Rp408 billion of incentives has been disseminated to medical workers. The process is slow, Kadir continued, because of the lengthy verification process from health facility providers, regency/city, province, and then to the health and finance ministries. "These lengthy, multiple levels are there to secure accountability," he said.
Finance Minister Sri Mulyani said one reason for the slow absorption is bureaucracy. The pandemic has led to those in control of the budget to be careful with spending. "This becomes a dilemma," she said.
Achmad Yurianto, spokesperson for the Covid-19 mitigation acceleration, said the low spending level at the health ministry is due to several factors, like the dearth of needed equipment. Another reason is the closed logistical distribution channels of producing countries such as India. "There are multiple problems, and these have been detailed in the ministerial meeting," he said.
Bureaucratic clutter has caught Jokowi's attention since May. According to a Presidential staffer, Jokowi plans to revise Presidential Regulation No. 16/2018 regarding government goods/services procurement. On May 27, the President gathered the Financial and Development Supervisory Agency Chief Muhammad Yusuf Ateh, Government Goods/Services Procurement Policy Head Roni Dwi Susanto, and the finance minister at the Presidential Palace. An official familiar with the meeting said that one of the meeting's conclusions was the need to simplify budget bureaucracy, including regulation revisions.
State Secretary Minister Pratikno, who received orders to execute results of the meeting, was unable to be reached for comments. He did not answer messages and phone calls from Tempo. Meanwhile, Roni Dwi Susanto declined to discuss the meeting. "Please ask the Palace," he said.
***
JOKO Widodo's anger was only known to the public when his speech was released on Sunday, June 28, 10 days after the meeting. Bey Machmudin, the presidential secretariat's deputy for protocol, press and media, said documentation of that plenary meeting was only meant for internal use. However, they then asked the President's permission to release it as it contained material important to the public. "We studied it for a long time, and reviewed it over and over again," Bey said.
Cooperatives and Small and Medium Enterprises Minister Teten Masduki said that the President's indignation towards ministers' performance had been expressed repeatedly during cabinet meetings. Until now, however, this displeasure had been uttered in the form of pressure on ministers to accelerate national economic recovery policies. "Pressure has been exerted almost every week. But he only really became angry in that meeting," Teten said.
Two government officials said that Jokowi was also exasperated with Bank Indonesia and the Financial Services Authority (OJK) in their handling of Covid-19. The officials said that Jokowi believed the responsibility of handling the pandemic has been put solely on the state budget. Actually BI was expected to circulate more money in order to help the economy. However, that plan has yet to be realized.
Regarding the OJK, the President deemed that the institution had not properly anticipated the emergence of potentially non-performing banks. Jokowi is worried that this weakness will impact badly on the economy, and he plans to hand over banking monitoring authorities to BI. Teten confirmed this. "This is why the President said that institutions may be dissolved if necessary."
Ubaidi S. Hamidi, head of the state budget center's fiscal policies body, did not clearly define plans for handing back banking monitoring to BI from the OJK. He said that policies and inter-institutional coordination are ongoing discussion topics. He underlined that it was important for the government to secure this coordination between institutions in order to carry out joint fiscal, monetary, and economic policies. Meanwhile, OJK Deputy Commissioner for Public Relations and Logistic Anto Prabowo said it was unclear where the idea for handing back authorities from the OJK to BI originated from.
***
AMIDST his anger, President Joko Widodo also raised the discourse for a cabinet reshuffle. This already started in February but disappeared once the Corona pandemic hit Indonesia. Some have pressured the President to fire Health Minister Terawan Agus Putranto, who has been seen as being dismissive towards the coronavirus from the very beginning. In the plenary meeting on June 18, Jokowi said he will lay down options regarding the performance of some ministers. "A reshuffle is possible," he said.
The President's statement, according to the two officials, has hyped up internal coalition parties. For example, with the Golkar Chairman Airlangga Hartarto and Democratic Party Chairman Agus Harimurti Yudhoyono met at the Golkar office in Slipi, Jakarta, on June 25. Prior to the cabinet formation last year, Agus Harimurti had been rumored to get a ministerial slot. Two Golkar politicians said the meeting could be read as a signal for Golkar to build a balancing power within the coalition.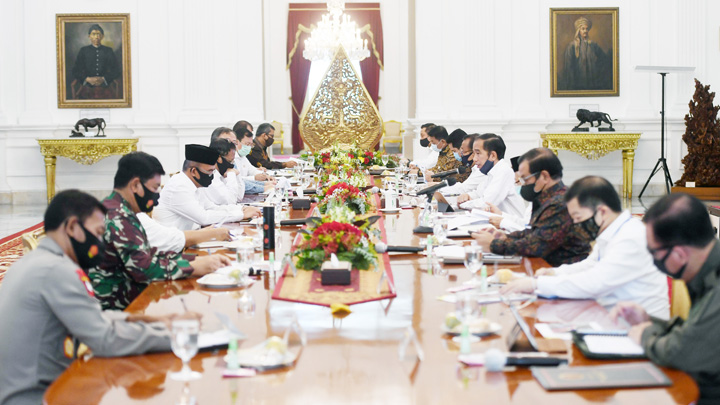 Presiden Joko Widodo (fifth from right) led a limited cabinet meeting on the acceleration of Covid-19 mitigation at the Merdeka Palace, June 29. ANTARA/Akbar Nugroho Gumay
Speaking to journalists after the meeting, Airlangga and Agus admitted that they discussed the coalition in the context of regional head elections and general elections regulations. The coalition formed by Golkar, Airlangga said, is not only with parties supporting the government, but also those outside of the coalition. Ossy Dermawan, head of the Democrat Party's strategic communication division, has yet to answer if his party would enter the government's coalition.
Approval levels towards Jokowi's cabinet has not been consistent. Surveys by Indikator Politik show that public acceptance on government's performance reached 70.8 percent in February. After three months of the Covid-19 pandemic, this has gone down to 56.4 percent. Meanwhile, a poll done by Arus Survei Indonesia showed that the average approval rating on ministerial performances is below 50 percent.
Although Jokowi has mentioned the possibility of a cabinet reshuffle, a number of coalition leaders contacted by Tempo doubted that these plans would be realized soon. One indication for this is that the President has not yet met with their party chairperson to discuss a reshuffle. They said that these kinds of meetings always precede a cabinet overhaul.
Indonesian Democratic Party of Struggle (PDI-P) Secretary-General Hasto Kristiyanto said that there are certain parties that have laid low and not taken any initiatives in handling Covid-19. That is why, Hasto continued, it is logical that the President is evaluating his cabinet's performance. National Democrat (Nasdem) Party politician Saan Mustopa said that many surveys are being used as a measuring tool to see how the ministers perform. "The president must listen to the public," Saan said.
WAYAN AGUS PURNOMO, DEWI NURITA,
EGI ADYATAMA, EKO WAHYUDI