New Strain of Swine Flu
Discovery of a new strain of H1N1 swine flu in China rises concern that the 2009 pandemic could reemerge. The new virus may become very dangerous if it manages to transmit itself between humans and acquire highly pathogenic genes.
Edition : Tuesday, July 14, 2020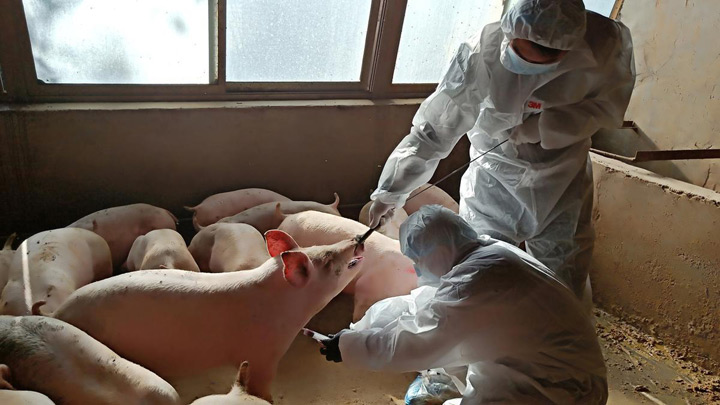 A MID the ongoing fight against Covid-19 outbreak caused by SARS-CoV-2 virus, another worrying discovery surfaced in China of a new strain of the swine flu virus, rising concern of reemergence of the 2009 pandemic. A research led by Sun Honglei of China Agricultural University, Beijing, found that the new strain of swine flu virus, known H1N1 Genotype 4 Eurasia (H1N1 G4 EA), has had dominant presence in China's pig population since 2016. The research is based on monitoring of pig farms in 10 provinces in China between 2011 to 2018.
What worries the scientist is the virus' ability to latch on sialic acid 2.6 galactose (SAα2,6-Gal) receptors of epithelial cells along human respiratory tract. This trait is similar to that of the H1N1 Pdm/09 virus strain responsible for the 2009 swine flu pandemic. Honglei and his team collected blood samples from 338 workers in 15 pig farms and 230 residents around the farms. From antibody analysis, 35 workers (10.4 percent) and 10 residents (4.4 percent) tested positive for the H1N1 G4 EA virus.
Commenting on the report published in the Proceeding of the National Academy of Sciences on June 29, microbiology professor Widya Asmara of Gadjah Mada University's Faculty of Veterinary Medicine said that the H1N1 G4 EA is capable of infecting humans, but unable to transmit between humans like the SARS-CoV-2 virus. "The virus' infection in China occurs between pigs and humans. There is not yet evidence of human to human transmission," he said on Thursday, July 9.
Widya continued that the H1N1 G4 EA virus could potentially cause a pandemic in the event of mutation or viral genetic recombination. He explained that, when two or more viruses infect a person or the same cell, genetic recombination is bound to happen. "The concern is that if the virus infects a person already carrying another influenza virus, causing viral genetic recombination. If it acquires a set of highly pathogenic genes, the virus could trigger a pandemic," he said.
Professor Michael Haryadi Wibowo of Gadjah Mada University's Faculty of Veterinary Medicine Microbiology Department shares a similar view. Pandemic, according to him, will not necessarily happen because it depends on many factors involving genetics. Due to its ability to bind with receptors on human cells, he said, the virus has the potential of triggering a pandemic. However, Michael continued, that would have to be supported by genes involved in cell fusion to enable the virus to release its generic material. "And also internal genes that determine virulence. The genes work together like an orchestra," he said.
W251bGwsIjIwMjEtMDUtMTEgMTc6NDQ6MjUiXQ
Because of its low pathogenicity, Widya said Indonesia need not worry of the H1N1 G4 EA entering the country. "Indonesia does not import pork from Chinese farms anyway. If a person from China carries the H1N1 G4 EA virus, he or she will not be severely ill, so chances of an outbreak are small," said Widya.
The populace in Indonesia, according to him, has developed antibodies to resist various strains of the H1N1 virus, albeit not the newer G4 one. "This will not become a pandemic because most Indonesians are not easily infected and fall ill," he said.
Michael seems to agree, saying that H1N1 G4 EA infection is treatable by using oseltamivir antivirus drug, or Tamiflu that acts as an anti-neuraminidase—inhibitor of the neuraminidase enzyme in influenza virus- which prevents the virus from breaking out of infected cells. Neuraminidase, according to Michael, is highly conserved, and oseltamivir, based on data from in-vitro tests, exhibits similar activity towards all neuraminidase subtypes.
Michael suspects that Indonesia does not have a case of H1N1 G4 EA, yet. However, he added that the country needs to be more vigilant by increasing research capacity, laboratory diagnoses, and integrated surveillance. Agriculture Ministry Director of Veterinary Medicine, Fadjar Sumping Tjatur Rasa, explained that his department is coordinating with the Agriculture Quarantine Agency to more closely monitor animal traffic in order to anticipate the new swine flu. "Stricter checks are being implemented in ports of entry. Samples are also taken for laboratory tests," he said to Antara on July 2.
Fadjar said that Indonesia has advanced surveillance capabilities for early detection of type-A influenza virus, by using the Influenza Virus Monitoring (IVM) platform. "We will increase monitoring via the IVM facility given by the World Health Organization (WHO)," he said. Indonesia is currently operating eight active laboratory for early detection surveillance and monitoring of the influenza virus.
The surveillance effectiveness was proven when a patient under surveillance for Covid-19 died in Dr. Kariadi General Hospital in Semarang, Central Java, on February 23. The patient's death was linked to the H1N1 virus. Fathur Nurcholis, a member of the team of doctors treating the 37-year-old male patient, said laboratory test by the Health Research and Development Agency in Jakarta confirmed that the patient contracted the H1N1 virus. "From the swab test, it was found to be H1N1," he said in February 27.
Fathur said that the patient, who was hospitalized since February 19, worked in the shipping industry. He had just returned from Spain after stopping over in Dubai, the United Arab Emirates. He arrived in Semarang on February 10. After one day in his home, the man began coughing. The following day, he went to Pati, Central Java. His condition deteriorated and he was admitted to a hospital, which later transferred him to Dr. Kariadi General Hospital for having developed severe lung infection. "When brought to Dr. Kariadi General Hospital, the patient was already in critical condition," said Fathur.
Due to his travel history and health condition, the patient was taken into isolation room under surveillance for Covid-19. A day after he died, Covid-19 laboratory test of his specimen came out negative. He was then found to be infected by the H1N1 virus.
Director of Vector and Zoonotic Infectious Diseases Prevention and Control in Health Ministry's Diseases Prevention and Control Directorate-General, Siti Nadia Tarmizi, confirmed that the patient under surveillance who died in Dr. Kariadi Hospital was indeed a victim of the H1N1 virus. "Laboratory test shows H1N1, which means seasonal influenza," said Siti, answering Tempo's question via WhatsApp messages, on July 9.
Siti affirmed that the H1N1 virus detected in the patient was not of the G4 strain. "Certainly not, because the PCR (polymerase chain reaction) test did not show (the new strain)," she said. Seasonal influenza, she said, is the type of flu commonly caused by type A or type B influenza virus. "The flu is mild and will go away with enough rest and nutritious diet, provided there is no severe comorbidity," she said during a health ministry teleconference via Zoom on July 9.
She also said that people should understand the differences between the swine flu, H1N1, and the African swine fever raging in numerous places in Indonesia and killing pigs in farms. Both swine flu and the African swine fever infect pigs, she said. However, African swine fever is only transmitted between animals and there has not been any proof that it could jump to humans as well. "Meanwhile, the swine flu has been proven capable of infecting both pigs and humans," said Siti.
DODY HIDAYAT, MITRA TARIGAN, SHINTA MAHARANI (YOGYAKARTA), JAMAL A. NASHR (SEMARANG)