Government Doesn't Take Ombudsman Seriously
Amzulian Rifai, Chairman of Indonesian Ombudsman: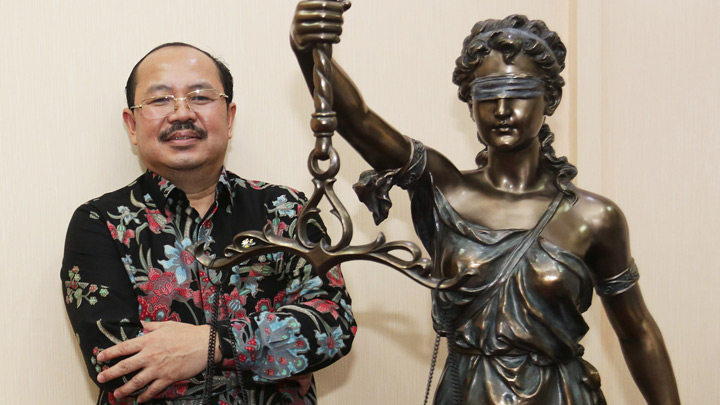 POLEMICS surrounding dual appointments of state-owned enterprises (SOEs) commissioners are heating up again. The Indonesian Ombudsman found that the number of commissioners who were holding dual positions in various SOEs had multiplied. In its latest findings, the watchdog agency reported that during 2019, there were 397 state officials reportedly doubling as SOE commissioners and another 167 in SOE subsidiaries, a marked increase from 222 in the previous year.
Ombudsman's study found indications that those commissioners who were still actively serving in various ministries and non-ministerial institutions—from the military, police force to academic institutions—were also earning double incomes. "The government should have taken swift actions to stop the practice," Amzulian Rifai, Ombudsman's chairman, said during a special interview with Tempo on July 7.
Amzulian, 55, added that the government should begin an immediate evaluation of the practice which not only violates a number of laws but also has the potentials to create conflict of interest, interfere with corporate governance, and disrupt SOEs' public services. This trend invovling public officials at the central level is expected to continue this year. "The implications are far reaching and the practice can become a precedent for the regional governments," he said.
During the interview with Tempo reporters Mahardika Satria Hadi and Nur Alfiyah at his office, Amzulian touched upon various issues, from Ombudsman's findings on dual positions in SOEs, complaints regarding social assistance in response to the Covid-19 pandemic, to the public perception that his agency lacked teeth. The interview was supplemented with the response from Ombudsman's Commissioner Ahmad Alamsyah Saragih who led the investigation into indications of SOE commissioners' dual positions.
How do you see the dual position practice which is still rampant in SOEs?
We are here to foster good governance as trumpeted by the government. We need good corporate governance in SOEs as they are expected to contribute to the state. They are business entities so they should generate profits. But is it possible for them to make profits if they are burdened by bureaucratic hassles which can actually be streamlined? One of them is the dual position practice. We don't want to name names, it's not about who, so no one should get offended.
What has become the problem in the practice?
SOEs ministry's spokesman (Arya Sinulingga) repeatedly said that the government must be present (within SOEs). That's okay to have government elements in SOEs. After all they are government-owned companies. The only problem is allowing dual positions. Of course, a good corporate governance follows universal principles including those governing the recruitment process, the capacity of the candidates, etc. It is stipulated in the Public Service Law that service providers including commissioners must not hold dual positions. Service provider in this case is the government. If we look at the SOE Law, conflict of interest is not allowed. So that already explained, you see.
Do dual positions automatically mean double salaries?
According to Pak Alamsyah's evaluation, yes.
Ombudsman has shed light on the practice since 2017 and reported it to the office of the presidential staff. Were there any follow-ups?
Amzulian: The government should have taken swift actions to stop the practice. I'm sure Ombudsman is not the only side that gave the suggestion. The government should have listened to the feedback from all the parties.
Alamsyah: In 2007, we examined samples from several SOEs to see the proportion of those holding dual positions and found that 222 people had them. We published our findings to the public while awaiting for government's reaction. It indeed created controversy due to different interpretations of the regulations. The presidential staff office that time responded and said it would offer two options, one being a single income system. Even the Corruption Eradication Commission (KPK) highlighted the practice and advised against double incomes. We waited but there hasn't been any more development. We eventually decided to study further and last year we made the issue one of our top priorities.
In the recent findings, Ombudsman reported indications that 397 SOE commissioners were holding dual positions…
The data came from the SOEs ministry itself, you see. We didn't poke around. We invited the SOEs ministry and got that number. In every case, we always invite both the complainant and the respondent for clarification.
What solution did Ombudsman offer?
Amzulian: Clearly, it is a fact that there are dual positions and that is the crux of the matter. The ball is in the government's court. For sure, there are problems. Imagine high level SOE officials acting as commissioners in different sectors which are sometimes not related to their SOEs' fields.
Alamsyah: The government must issue a presidential decree to resolve the clash of regulations. According to the Indonesian Military (TNI) Law, for example, such an employment is interpreted as being part of a non-war military operation or a specific assignment. It also says the person must be a non-active officer. The same applies to the national police force. Officers must become non-active if they want to be employed outside the police environment. However, there is also a clause saying that they may also be assigned to other police duties (while they are still active members) which is then interpreted as (a legitimacy to appoint them as SOE commissioners). Then what's the point of the word 'non-active'?
The Public Service Law clearly prohibits public officials to be appointed as commissioners in central or local government-owned enterprises. Why does this practice still exist?
Amzulian: The government doesn't take Ombudsman seriously. There are still many rebellious ministries and institutions. At best, they'd say, 'Never mind the Ombudsman recommendations. You don't go to jail if you don't follow them.' A state institution's compliance with Ombudsman is reflected in the level of bureaucratic civilization. Should they be threatened with prison sentence to make them comply?
Alamsyah: Dual positions are forbidden except in certain areas. Well, this 'certain areas' is now up for wide arrays of interpretations. This is what happens if interpretation is left to the discretion of each institution. That's why the interpretation should be restricted to prevent contradictions. Since it is already forbidden, a presidential decree is actually unnecessary.
What exactly should the government do?
Ombudsman will give a written and official feedback to President Joko Widodo. The President must resolve this inter-ministerial issue.
What are the ramifications of the practice on corporate governance and public services of SOEs and their subsidiaries?
We're talking about maladministration. The implications are for sure far reaching and the practice will set a precedent for the local governments. How does an SOE with trillions of rupiah in debt have dual positions for commissioners who don't make much contribution to the company? How much can they contribute in their positions? For example, when does a very busy director-general have the time to double as commissioner? How many meetings does he have in a week as a commissioner? Even more so if the company is located in a regency in Sumatra, for example. How does he do the supervision? Add to this the huge number of commissioners. Some say only three or four is sufficient.
How about commissioner candidates who came via political patronage?
Amzulian: For me, it's up to them if candidates were campaign team members or whatever as long as they are competent, but the problem is competency was never tested.
Alamsyah: There is no problem recruiting from certain groups that are deemed professional albeit some political representation as there is a political mission. The elected president for sure has a mission to shepherd his programs to success, including through SOEs, but competency should not be eliminated. We have to be careful because SOEs are corporations. They already have regulations on the source of candidates for recruitment, for example, former directors or commissioners in other SOEs, former structural or functional government officials and other sources. And other sources could be professional groups or volunteer groups.
What should the SOE commissioner recruitment process look like?
Amzulian: There must be transparency, participation and accountability under a good governance. If the process is open and transparent, the public can be the judge. Nominations of unpopular candidates can be deliberated, as such, the recruitment will not create polemics afterwards.
Alamsyah: As stipulated in the SOE ministerial regulation, party officials are not allowed to participate in the recruitment process. There should be a more concrete regulation to ensure that candidates who are active party board members do not pass.
To what extent does Ombudsman have the authority in resolving public service issues?
Just like any other average oversight institution in this republic. The Judicial Commission, for example, can only give recommendations to the Supreme Court. It can't do anything if the supreme court ignores their recommendations. The same goes for the National Human Rights Commission and the Central Information Commission. Actually, these institutions are more prevalent in countries with mature bureaucratic systems. That's why ombudsmen in Europe are strong. There are around 174 ombudsmen in 97 countries and some countries have more than one ombudsman. For example, they have banking ombudsman or insurance ombudsman. Each sector has their own ombudsman.
Which country has the strongest Ombudsman?
Taiwan. I was invited once to Taiwan to give a speech in front of around 200 members of the ombudsman there called Control Yuan. It is the fourth strongest branch after executive, judiciary and legislative branches. They can impeach government officials. It's the most powerful ombudsman in the world. They visited Indonesia a few times.
What did you convey in your speech?
About our system. I was taken aback by a lot of questions from them about human rights. They care about women's rights, violence against women, domestic violence, etc. Therefore, protection of domestic helpers there including those from Indonesia is quite good. They also value democracy.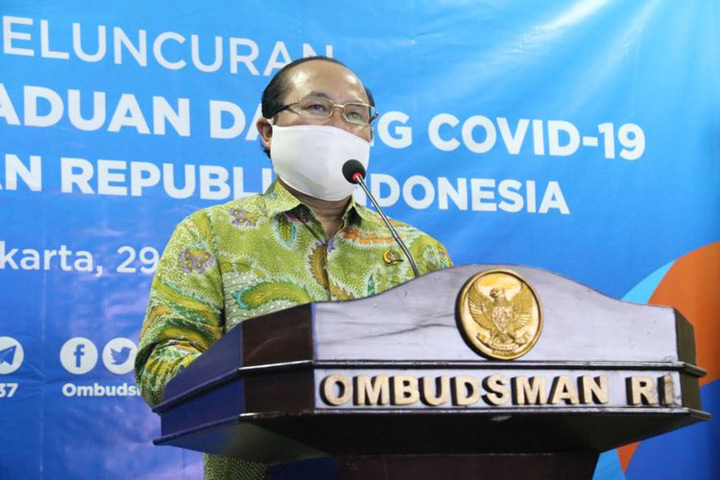 Amzulian Rifai in Indonesian Ombudsman Buidling, last April. Indonesian Ombudsman Public Relations Doc.
Many sides view that Ombudsman has no teeth. What is your defense?
The law gives us a very limited authority, that is to give recommendations only. We don't want to become a paper tiger, so we are very selective about our recommendations. They have to come from in-depth studies done based on various aspects. If we keep giving recommendations, we would lose our prestige. We also formed resolution and monitoring teams. We can resolve a lot of public complaints via mediation. Actually, Ombudsman is a mediator so it's not fitting either if we are given the authority to jail people. Mediator should be able to pacify conflicting parties. In essence, we resolve issues.
For example?
Someone in the region complained about the land certificate which hadn't come through after four years. If I could make a call to the regional land agency and then the certificate came through, then we didn't have to issue any recommendation, right? There are many cases like that.
How many of Ombudsman's recommendations were followed up?
Over 80 percent.
What if the reported parties do not follow up on Ombudsman's recommendations?
Many don't even implement court rulings, not to mention Ombudsman's recommendations. So many people complained to Ombudsman because court rulings could not be executed. Even the court is powerless in this country, (laughs)...
How many complaints came to Ombudsman?
The number has gone down. Below 10,000 in the past two years. (The agency recorded more than 32,000 reports throughout the period 2016-2019. The regional governments are the most reported parties.)
What kind of problems can the public report to Ombudsman?
All kinds of issues relating to public services by the ministries and institutions. They all have problems. There is no single ministry that plays straight (chuckles). But, in line with the provisions in the article 36 of the Ombudsman Law, the public can report to us only after other efforts have been made. For example, if someone has a problem with the police in the region, he or she must have a proof that the matter has been brought up to the regional supervision inspectorate. If there is a reason to believe that he or she has not reported due to fear, then Ombudsman will take over the case.
Were there any recommendations that were ignored?
For instance, plagiarism by a rector (Muhammad Zamrun Firihu, Halu Oleo University, Kendari, Southeast Sulawesi) in 2018. The research, technology and higher education ministry did not heed our recommendations. Plagiarism is a serious problem in this country.
How did the ministry respond that time?
Nothing. In fact, the person who reported the rector almost ended up in prison. And they also wanted to sue Ombudsman. Luckily, Ombudsman members have immunity which even the KPK doesn't have. Article 10 of the Ombudsman Law says that in carrying out their duties, Ombudsman members cannot be investigated, interrogated or prosecuted in court.
Have you ever been reported to the police?
I ignored several police summons at the beginning of my job. I told them to look at the Article 10. We don't want to testify in court. Change the article first if they want to summon me.
Reported for what charges?
Various charges. For example, for taking sides. Then for defamation. Same old song. Everybody can use defamation articles. There have been many attempts to criminalize me, but they all failed.
Why do Ombudsman members refuse to testify in court?
We're committed not to because we will be preoccupied with court matters. We stick to the Article 10 that I mentioned before. There are implications if we are dragged to court. The number of reports that came to us is almost 10,000 per year. We will be overwhelmed if just 10 percent of them needs expert testimonies.
Throughout the Covid-19 pandemic, Ombudsman continues to receive reports from the public. What are the most reported issues?
Mostly about social assistance programs. More than 80 percent of the reports is about the (inacurate) data. We opened posts in 34 provinces. Covid-19 is testing our bureaucracy's preparedness. From the mammoth budget, we see the President's extraordinary will to overcome this pandemic, but all the efforts will not go well if he is not supported from the bottom up.
What has Ombudsman done in response to social assistance complaints?
Our representatives acted on them so people who did not get the assistance finally received it. It's all about following up on reports. Some government apparatus in the regions intimidated the people for reporting to Ombudsman.
Some people are still not so familiar with Ombudsman and its functions. Your response?
As regards familiarity, Australia also has the same problem. Not every citizen knows what Ombudsman is. Pak Alvin (Alvin Lie, Ombudsman commissioner) once went to the Palace and the presidential security force members had no idea about what Ombudsman was. He was allowed to enter only after their commander explained, (laughs)…No problem. Many people suggested changing Ombudsman's name to something that's easier to pronounce.
---
AMZULIAN RIFAI | Place and date of birth: Musi Rawas, South Sumatra, December 2, 1964 | Education: Bachelor of Law, Sriwijaya University, Palembang (1988); Master of Law, Melbourne University, Australia (1995); PhD in Law, Monash University, Australia (2002) | Career: Dean, Faculty of Law, Sriwijaya University (2009-2016), Founder, ARF-Indonesia Consulting Group (since 2011), Consultant, Semen Baturaja (2010-2014), Commissioner, Pupuk Sriwijaya Palembang (2009-2016), Chairman, Indonesian Lawyers' Association (2018-2023), Professor of Constitutional Law, Sriwijaya University (since 2005), Chairman, Indonesian Ombudsman (2016-2021) | Awards: Outstanding Lecturer, Faculty of Law, Sriwijaya University (1993), Publication Award from Melbourne University