Sri Mulyani Indrawati, Finance Minister: This is an Extraordinary Dilemma
As the Covid-19 pandemic continues to restrict major public activities, the government predicts the national economic growth to take a nose dive to minus 4.3 percent in the second quarter. "For the most part, the drop is attributed to a sharp decline in consumer spending," said Finance Minister Sri Mulyani Indrawati, 57, during a special interview with Tempo on July 17.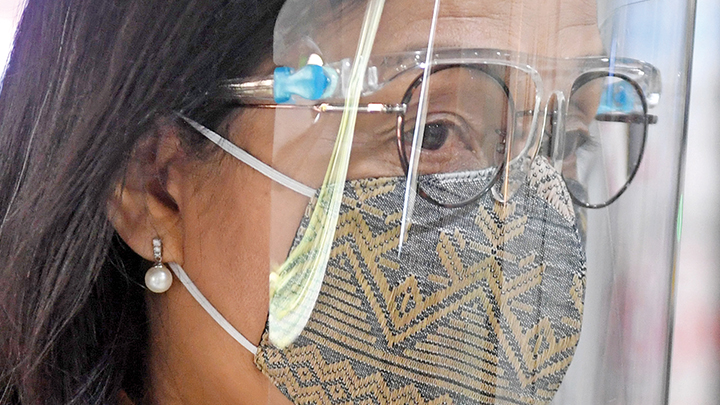 WITH investment also on a downward spiral, Sri Mulyani said that the economy would remain under pressure in the coming months, particularly in Jakarta and East Java. The two provinces which contribute more than 30 percent of the gross domestic product (GDP) are still scrambling to contain the virus spread. Hence, the government's focus on the spending budget to revive consumer demand.
From the time the country was first hit by the pandemic in March, the government has already issued a slew of policies to salvage the economy. Some of them attracted sharp criticism such as the government regulation in lieu of law (perpu) on Covid-19 management which was challenged before the Constitutional Court or the 4.1 trillion budget earmarked for official travels. The stimulus package that resulted in the budget deficit in excess of Rp1,000 trillion also drew backlash. "Making policies carries risks," Sri Mulyani said.
Via a video conference from her office, Sri Mulyani, who was the managing director of the World Bank from 2010 to 2016, spoke to Tempo reporters Wahyu Dhyatmika, Sapto Yunus, Mahardika Satria Hadi, Khairul Anam and Ghoida Rahmah about government's Covid-19 response strategy, the importance of the economic revival, to a looming recession threat.
How bad is the economic condition as a result of the Covid-19 pandemic?
Covid has ravaged more than 200 countries and regions around the world. Indonesia now has over 80,000 positive cases with 3,797 fatalities. With Jakarta being the country's first epicenter of the outbreak, we right away knew that Covid wasn't just a health problem. Jakarta contributes 18 percent to the GDP, a massive contribution to the economy. East Java which has now become the second epicenter contributes 14.9 percent. The total contribution of the two regions is already 30 percent. If we add Central and West Java, Covid's impact on our economy is quite substantial. The large-scale social restrictions (PSBB) have had very significant impacts on social-economic activities, particularly in the transportation sector which came to a complete halt. This is the reason why there was a slide in the first quarter growth to 2.97 percent from the usual rate of above 5 percent.
With the PSBB in place in many regions for more than three months, the effects are not only on transportation but they have spread to the trade, manufacturing and construction sectors. We predict the economic growth to slide further to minus 4.3 percent due to the huge decline in consumer spending.
The economic growth is stunted when consumer spending stops?
Consumption is one of the biggest contributors—56.6 percent—to GDP. Consumption, especially non-food consumption such as transportation, clothes, housing, and electronics, has fallen sharply. This non-food consumption makes up 60 percent of the total consumption. So, when these sectors decline, the total consumption automatically falls. When consumption falls, GDP follows suit. The economic slump in the second quarter is worse than we predicted earlier which was minus 3.8 percent. The second quarter is really tough as not all the budgets have been approved as we've just finished refocusing, reallocating and adding (budget), but the execution only began in June.
What about the investment sector?
It also took a dive because economic activities ceased. We predict the sector to contract almost 8 percent. So, if the two major components, namely consumption and investment which contribute more than 88 percent of the total GDP, plunge to minus growths, our economy would also definitely contract. Export has also dwindled because the global economy has weakened. All the components of demand of our economy are in a slump.
Is there any way out from this situation the government can take?
The only way we can pin our hope on is the government spending. That's why we are focusing on finding ways to increase spending to create a catalyst to spur demand. As regards supply, there have been much less activities during the PSBB which immediately affected the transportation sector. Then hotels, restaurants, trade, and now real estate construction and manufacturing. So, we must put on the thinking cap and figure out how to revive the economy. Certainly, health is still the primary focus. Without it, the economy cannot recover.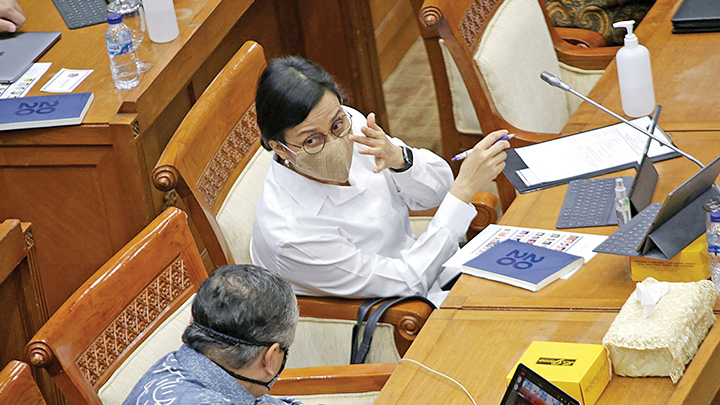 Finance Minister Sri Mulyani in a meeting with DPR's Finance Commission at the Parliament Complex, Senayan, Jakarta, June 29./TEMPO/M Taufan Rengganis
President Joko Widodo has reminded about the low budget absorption rate. How will the government ensure the quality of its spending and make sure that the measures will successfully reboot domestic spending?
In constructing fiscal policy responses, the government adopts a potential domino effect theory whereby health affects social, economic and financial activities. Fiscal policies are enforced via the (state budget) laws through a long process. We drew the 2020 budget with a smaller deficit assumption which was 1.76 percent of the GDP and almost zero primary balance because we believed that the economy was improving. But it turned out Covid has upended everything including the state budget. On one hand, tax revenues went into free fall. On the other hand health care spending soared. Then we added social assistance because many people became jobless and their income dropped. This (loss of income) impacted the economic sector. Small businesses went bankrupt. The financial sector which lends money to the businesses was the next to be hit. So, we try to mitigate this domino effect of the Covid.
How?
In March, as the first response, we agreed that if the state budget was to be the most crucial instrument in this situation, it's not possible for us to maintain the 3 percent deficit limit. The government issued a perpu to relax the 3 percent threshold under special circumstances. But we were also cautious at the same time because once a given country enjoys a relaxed deficit, it will develop a penchant for it. Life becomes easier. It doesn't have to chase tax revenues. It can go on shopping sprees while creating piles of debts. It has happened in all the countries in Europe and South America. That practice can weaken fiscal discipline and eventually our system will collapse. Actually, in the last 20 years, we've been known for being cautious with the fiscal policies so that our economy could grow stably. That's why we target to relax the deficit for only three years, until 2022. We predict the Covid-19 to behave like the Spanish flu outbreak that lasted for 18 to 24 months plus the recovery period.
The House of Representatives (DPR) proposed the budget deficit threshold so as to be able to anticipate the worst scenario because the deficit is financed through debt. Why hasn't the threshold been set?
Actually, the deficit threshold was one of the topics the cabinet discussed during the drafting of the perpu, and some cabinet members asked whether it was necessary to reset the threshold to maximum 5 or 10 percent.
What was your response?
I asked that time, 'Is anyone present in this room knows how long the Covid-19 will go on and how powerful it will be?' That time, the world was already panicked, our stock prices fell, the rupiah was under pressure almost reaching Rp16,000 against the US dollar, and there were capital outflows worth Rp124 trillion within just one week. So, I posed that question and no one could answer. Then why should we set a certain threshold only to reset it to an even higher one later and then issue another perpu? I asked how much health care budget was needed, and no one could give me an answer. As the finance minister, I explained that there was no reason—including financial constraint—for not taking health and safety measures. I would put the money there and see how it is managed. Therefore, flexibility is important but at the same time we must be cautious and maintain accountability.
The government has been criticized for its lax health protocols after it relaxed social restrictions to revive the economy. What is your response?
For me, health protocols are non-negotiable. So, it is not the policy, but people's lack of discipline. They still need a lot of education and familiarization. Many asked the government if they could reopen restaurants, malls and so on. If the government says no, then what alternatives can it offers? People can't remain idle for six months. There are increasing calls to reopen mosques or churches. But as soon as we reopen, there will be spike in infections. So, if you look at other places, like Tokyo, Seoul, Beijing or California, as soon as there are new outbreaks, they shut down everything again. So, here's my point. Every policy maker faces tremendous pressure. They have to consider health, economy, survival of so many people. I agree that we should not sacrifice health and rush to reopen the economy because sooner or later the economy will suffer again if we trivialize public health. We have to make very difficult policy choices and every policy has its own risks. However, it doesn't mean we should give up or be afraid of taking risks or decisions.
The government gave such a huge stimulus package and the 2020 budget deficit swelled to Rp1,039 trillion landing the government in debt. Is the additional debt sustainable?
As regards the deficit, I've always used the percentage against the GDP, which is 6.34 percent. When I first became the finance minister, the debt to GDP ratio was still around 58 percent. Now our debt percentage is at 30 percent. With the current surge in the deficit, it can reach 36-37 percent by the end of the year. Whether it is sustainable or not depends on whether the economic growth will rebound and the deficit will fall, as well as whether we can control the debt interest rates. If the interest rates continue to rise but the growth is negative or positive but very low, it will lead to negative debt dynamics. If you look at developed countries like Japan etc. whose debts are already 200 percent of GDP with zero growths, well, the debt will continue to roll over. Therefore, as regards to the countries that usually have high debts, the question is whether they can reduce debt to GDP through stable economic growths. That's the most difficult part.
Regarding money printing, what is the highest amount can be safely printed by Bank Indonesia (BI) without disturbing the market?
As we stated in the joint decree between the government and BI (about the burden sharing in national economy recovery program), it is an extraordinary and exceptional situation. So we make a breakthrough with BI enacted a new regulation in lieu of law to allow it to buy government sovereign debt paper (SBN) from the primary market. Despite the deficit of confidence in government bonds market, the new regulation is able to stabilize and bring down interest rates because the central bank is now act as the standby buyer. The government and BI have agreed yesterday on a private placement of government bonds in BI worth Rp397 trillion to finance public benefit programs such as health care, and social assistance. BI is really to print money this time. I am issuing debt securities and BI will give me the money directly. In order to maintain market confidence that the government and BI governor are not being reckless, we've announced that it is an extraordinary situation and that money printing will only take place this year. Next year we will put it back on the national budget. I and the BI governor have explained it to the DPR, press and the investors. They apparently understand these two people aren't insane.
Singapore is experiencing a recession following the pandemic. What is Indonesia's strategy to avoid falling into the same trap?
Singapore is a small country with the population of only 5 million. Its economic pulse entirely depends on the global economy. Its export and import to GDP are more than 100 percent. As soon as the Covid hits the transportation sector, Singapore airlines stopped operations. That's why its economy contracted very quickly. At least Indonesia is a big country with high population and domestic demand and expansive geographic areas. People can still move about within the country. So, we still have more sources for domestic growth compared to Singapore. But we will not be spared from the impact if the global economic contraction reaches 5 percent. Our export will shrink. This is what disrupts one of our economic growth drivers. Therefore, we have to concentrate on investment and domestic consumption through, as I said earlier, a good compliance with prescribed health protocols so that people will not be afraid to go out and eat in restaurants, for instance.
---
SRI MULYANI INDRAWATI
• Place and date of birth: Bandar Lampung, August 26, 1962 • Education: Bachelors of Economics, University of Indonesia (1986); Master of Science of Policy Economics, University of Illinois Urbana-Champaign, US (1990); PhD of Economics, University of Illinois Urbana-Champaign (1992) • Career: Executive Director, International Monetary Fund (2002-2004), Head, National Development Planning Agency (2004), Finance Minister (2005-2010), Acting Coordinating Minister of Economy (2008-2009), Managing Director, World Bank (2010-2016), Finance Minister (2016-2019 and 2019-now) • Awards: Asia's Best Finance Minister (2006), World's Best Minister (2018), Best Finance Minister in the Asia Pacific (2017-2019) • Organization: Chair, Indonesian Association of Islamic Economists (2019-2023)
---
Some said the government should not only offer credit and interest stimulus to micro and medium businesses but also assist large corporations. What kind of scheme has the government prepared?
We know that if we want the economy to grow, banks and corporations must resume operations again. That's why we're now formulating a stimulus program for them. We will perhaps use a similar format used for MSMEs (micro, small and medium enterprises). The government will deposit the money with low interest rates in Himbara (the association of state-owned banks), as the partner banks. If I put Rp1 trillion, banks must issue credits worth three times that amount. Banks will carry 20 percent risks and the government 80 percent so that banks will be responsible in disbursing loans. Credits are guaranteed by (state- owned credit insurers) Askrindo (Asuransi Kredit Indonesia) and Jamkrindo (Jaminan Kredit Indonesia) which will also be insured. So, there are two layers (of guarantee). We're considering the same mechanism for corporations.
What strategy has the government prepared to prevent moral hazard?
This is an incredible dilemma. As a policy maker, I experienced it in the Bank Century case in 2008. It's always the decision of helping or not helping. If we help, we have to do macro thinking. Of course there are people who may bent on taking advantage of the situation. That's why the government makes a policy and sets the guidelines. First, because these are the government-owned banks, it's okay to put the money there first. We can also keep watch on regional government-owned development banks. As regards other banks, we will see their track records. Are they really into our program to push the economy? How many clients do they have? Or are their businesses running well? Provision of cheap funds is not for the banks to make profits but to provide working capital loans to businesses.
What is the oversight mechanism like?
We sought the assistance of the Financial Services Authority (OJK), Supreme Audit Agency (BPK), Finance and Development Supervisory Agency (BPKP), Corruption Eradication Commission (KPK), Attorney General's Office, and the police to keep watch to the extent that now everyone is wary of taking money from the government because there are too many controllers. That's what is happening now.