Responding to Stones with Tofu
Irwan Masduqi's Islamic boarding school in Yogyakarta was nearly torched because he loudly spoke up for tolerance. His school accepts non-Muslim students.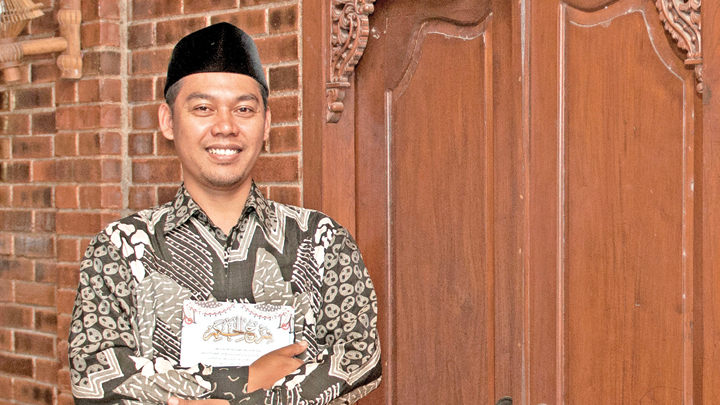 JUST before the Idul Adha (Day of Sacrifice), Irwan Masduqi, 37, remembered an experience he had eight years ago. The school which he runs, the Assalafiyah Mlangi pesantren (Islamic boarding school) in Nogotirto village, Sleman Regency, Yogyakarta, was nearly burned down by a group of people. He was accused of making Christianization efforts.
On the second night of Idul Adha in 2012, his students took part in a theatrical presentation competition, recreating ritual animal slaughter as performed by various religions. Some students acted as an ulema, Christian priest, and Jewish rabbi. One portrayed former Indonesian President Abdurrahman Wahid, another a sympathizer of the Islamic State of Iraq and Syria (ISIS). "The idea for this performance came from the students themselves," said Irwan, talking about the event with Tempo on Wednesday, July 15.
According to this graduate in Qur'anic exegesis at Al-Azhar University, Cairo, Egypt, the play put on by the students was meant to show there is a history of animal sacrifice in religions other than Islam. However, that night a photo of a student carrying a cross circulated in the social media, saying this was taking place during a takbiran (praise of God, part of the end-of-fasting-month Idul Fitri and Idul Adha celebration) parade. A chain message went out calling to burn down that Islamic boarding school founded in 1936 by Irwan's grandfather, Masduqi.
The next day, a group of people showed up at the Assalafiyah Mlangi school. Stones were thrown at the school's sign, damaging it. Local residents also made fun of the school's name, Assalafiyah, by slipping in the word for salib (cross), changing it to 'Asalibiyah'. Muzaki, the guard of the royal graveyard at the Pathok Negoro Mlangi Mosque, located about half a kilometer from that school, witnessed the attack on the school. He said that the accusation against Irwan enraged the residents of Mlangi village. "At the time their opposition was harsh and head-on," he said.
Irwan was put 'on trial' by about 20 ulema at an Islamic boarding school in Sleman. It was a heated meeting. He calmly explained that the message of the performance was harmony between religious communities. It also sent Abdurrahman Wahid's message about respecting differences. The rumor about a Christianization effort reached Lirboyo Islamic Boarding School in Kediri, East Java, where Irwan once studied. The post-graduate studies graduate in Qur'anic exegesis at the Yogyakarta State Islamic University (UIN) went there to give an explanation.
None of this deterred Irwan. He continues to call for social tolerance. This official of the Human Resource Development and Studies Institution (Lakpesdam) under the Executive Committee of the Nahdlatul Ulama (NU) organization, also visits many neighborhoods to teach the value of tolerance. In order to make it more acceptable by the communities, he often adds some jokes to his speeches. He combines Javanese, Indonesian, and Arabic in some of his talks.
Irwan often quotes chapter 109 of the Qur'an, entitled Al Kafirun (The Disbelievers) when talking about tolerance. He considers this chapter is often used to justify discriminating against others. Whereas, he said, that chapter actually recognizes diversity. "Tolerance does not mean conflating the beliefs of different religions, but recognizing diversity," said this son of Suja'i Masduqi, the spiritual guide who became the guru of the Qodiriyah wa Naqsabandiyah sect which teaches love and affection in Islam.
When opposing hardline Islamic groups dreaming of establishing a caliphate, Irwan often expresses his ideas in writing. For instance, he criticized the use of the black flag which some believe to the banner or standard of Prophet Muhammad. In an article posted on the Jaringan Santri website, he argued that flying black flags at various public protests implied that the national red-and-white flag was somehow out of line with the sayings of Prophet Muhammad. Referring to Islamic reference books, Irwan pointed out that the color of the flags used by Muhammad differed, and were only a part of the battle strategy used to intimidate their adversaries.
Irwan also works with youths and figures from other faiths to voice tolerance. They came up with the idea of The City of Tolerance in 2012. This movement which emphasizes cultural diversity targets the neighborhoods in Yogyakarta considered to be prone to friction between religious communities. He often appears on the Angkringan Kebangsaan show (nationhood talk) broadcast by TVRI. His religious study sessions emphasize Islam as peaceful, friendly, and accepting of differences.
Pedro Indharto, a diversity activist in Yogyakarta, said that he often works with Irwan in the City of Tolerance movement. He feels that Irwan is sufficiently accepted among the Christian community because he carries the spirit of peace. "We often invite Gus Irwan (a nickname for Irwan as a descendant of a kiai or cleric) because although he is still young, he is a strong speaker who is passionate about building peace," said Pedro, presently a member of the General Election Supervisory Agency for the City of Yogyakarta.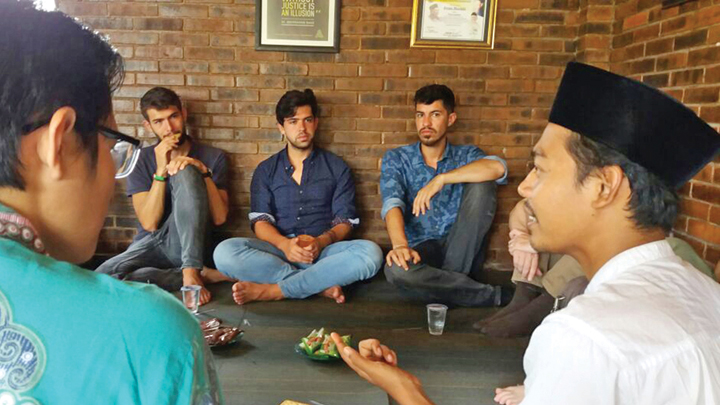 Irwan Masduqi (right) teaching foreign university students at the Assalafiyah Mlangi Islamic Boarding School, Yogyakarta. Private Doc.
Irwan's tolerance-themed religious study sessions have expanded to other areas of Yogyakarta. Alit Dharma Putra, a youth figure from Potorono village, Banguntapan, Bantul Regerncy, said that he invited Irwan to speak at Ramadan fasting month event involving figures from different religions in 2014. This event featured an Islamic arts hand-drum performance and a dragon dance performed by Chinese artists. "Gus Irwan brings a spirit of openness and respect for diversity," said Alit.
At the Assalafiyah Mlangi school, Irwan is open to receiving guests from various circles, including people of different faiths. Non-Muslim students, researchers, and guests from home and abroad have been to his school to study. Some non-Muslim groups stayed there for a week. Irwan said that he often provides explanations about various accusations made against Muslims, such as Islamic boarding schools being considered terrorist nests.
Irwan's school is growing. When he began running it in 2012, there were only 50 students. Today the school has 1,000 students. "Even the people living around the school who initially rejected Irwan now send their children to this school," said Dalwanudin Abdusalam, a caretaker of the boarding school who has been Irwan's friend since they went to school together in Lirboyo. The school's presence has also had an impact on the local economy. They sell snacks to the school and have opened laundry service and eateries.
According to Dalwanudin, some ulema who were initially at odds with Irwan are now on good terms. He has been invited to speak at some of the Islamic boarding schools which had previously accused him of making Christianization efforts. He does not hold a grudge against the treatment he received in the past. He said that he continues to act kindly, following the advice of his grandfather, the founder of the Assalafiyah Mlangi school. "If stones are thrown at you, respond it by giving tofu. It means to reply to evil with kindness," said Irwan.