Sharing and Qur'an Study
Ratna Ulfatul Fuadiyah combines religious teaching with economic empowerment. Religious teachings tend to be more easily accepted.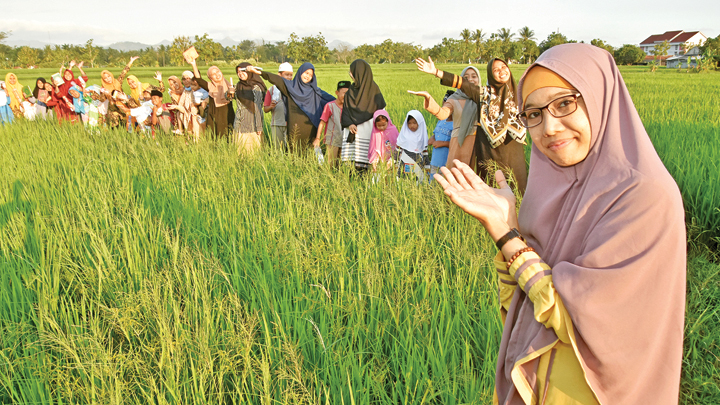 TWO years ago, a debt collector visited Ratna Ulfatul Fuadiyah in Borokulon village, Banyuurip subdistrict, Purworejo, Central Java. This time, the debt collector, who was often seen in the village, did not come to collect debt, but rather to protest. "Ibu has killed my livelihood," said the 39-year-old woman, quoting the debt collector, in mid-July.
The debt collector was furious because fewer and fewer Borokulon residents were borrowing money since Ratna initiated infak produktif (productive charity) program for her Islamic study group. In Purworejo, Ratna grew popular as an ustazah (female Islamic teacher) who founded a religious study group for children and people living in her neighborhood.
Since Ratna initiated the charity program, fewer people were borrowing from loan sharks. Every month, each of the group's member would deposit Rp5,000. When the program was founded in 2018, 30 people participated and deposited money. Anyone can borrow according to their needs and return the money to the group's treasury without interest and with no administrative fee. The loan would be paid in installments every week for one year, according to the borrower's financial situation.
There are only two conditions for borrowing money from the group: the borrower must have actively participated in the religious study group for three months and is willing to continue studying while the loan is in effect. This way, said Ratna, she is able to teach borrowers how to manage family finances and live simply as taught by the Prophet Muhammad. This is why Ratna does not only offer general advice during her Qur'an study sessions. "I quote religious teachings using simple language, in line with everyday contexts," she said.
The productive charity initiative helped Sri Poniyati pay her Rp3-million debt to a loan shark. "I no longer dare borrow from a loan shark," said the 64-year-old woman. She then opened a food stall using the money she borrowed from the religious study group.
The group's members have been free from loan sharks for over 10 years thanks to the initiative. Ratna's popularity as an activist grew.
According to Ratna, sermons tend to be more effective if they also offer solutions to the congregation's day-to-day problems. She prefers to be called a religious counselor rather than an ustazah. "A religious counselor is an agent of change," she said, "who does not only teach religion but also counsels on other affairs."
She formally became a counselor in 2015, when the graduate of the Sunan Kalijaga State Islamic University, Yogyakarta, was accepted as a non-civil servant counselor by the religious affairs ministry, with a pay of Rp300,000 per month.
Formally, Ratna goes to work at the Banyuurip subdistrict religious affairs office. But since she opened a religious study group with her husband, Taufiq Hidayat, a religious counselor for the Purworejo religious affairs office, in 2007, she has been working more from home.
Taufiq proposed to Ratna after she graduated from the university in Yogyakarta. After staying for a short time at her home in Mlangi, Yogyakarta, Taufiq brought Ratna to Purworejo, where he had been assigned. The idea to begin a religious study group at home emerged after the couple moved to Borokulon, when they saw that the villagers could not fluently recite the Qur'an during Ramadan fasting month.
They both took the initiative to teach how to read the Qur'an, interpretation, fiqh (Islamic jurisprudence) and morals. The couple divided tasks among them, with Taufiq teaching the men in the group. Taufiq then named the Islamic study group Majelis Taklim Wal Quran Nur Iman. But those living around the rented house often complained of the noise.
In 2014, Ratna and Taufiq moved to their own home, surrounded by rice fields. Because they no longer had neighbors in close proximity, the protests stopped. Members of their religious study group grew. The home was turned into a pesantren (Islamic boarding school), with two live-in students who were left there by a school. Taufiq and Ratna did not ask them to pay. "If someone wants to leave money, it would be voluntarily," said Ratna.
In 2015, Ratna began selling Muslim clothing at home. She uses the money to finance her study group and live-in students, including to pay for their schooling. "So that the household's finances aren't disrupted," said the mother of three.
In June 2018, Taufiq succumbed to leukemia at the age of 44 years old. Despite her husband's small pension, Ratna continues to manage the religious study group on her own, and to take care of her three children and live-in students.
To meet their daily needs, Ratna encouraged her children and live-in students to plant vegetables and fruit trees in her yard, such as red watercress, eggplant, green watercress, basil, guava and banana. She sells some of the seeds and grows the rest, to be harvested by her study group members. Some she distributes to her neighbors.
The charity work became the start of the one bag one garbage (OBOG) program. Ratna asked her group members to bring trash every time they come to study the Qur'an. The trash is then sorted: organic trash is turned into fertilizer while plastic trash is sold to collectors. Money from the sales are used to finance the religious study group and pesantren.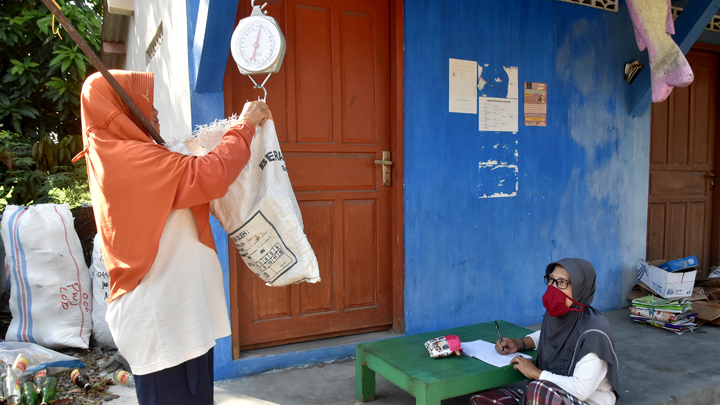 Trash Bank at the Community Unit of Pepabri Housing Complex in Purworejo, Central Java, July 21. TEMPO/Yovita Amalia
Ratna also has a catering business. "During the coronavirus pandemic, we rely on the catering business," she said. Sometimes she would organize a bazaar for staples, inviting farmers living in her neighborhood.
But the fact that she is a widow often sparks gossip. "Some are jealous when I do business with their husband," said Ratna. She then gathered other widows in a religious study group called Arrohmah in November 2019.
The group grew quickly, with members coming from all of Purworejo. "So that single parents can share thoughts, to strengthen and help each other," said Ratna. She applied the productive charity and OBOG concepts to this group as well. But the Covid-19 pandemic forced Arrohmah to stop its activities.
Her home was once crushed by a tornado, but Ratna did not give up. She continued to teach while repairing her house. Her congregation only grew, and the charity program spread to eight villages. Her network with farmer benefiting from the charity and who are involved in OBOG widened.
Head of the Islamic Religious Information and Charity Subdivision at the Central Java Religious Affairs Office, Ahyani, says Ratna's preaching is easily accepted by the community. "She knows when to use millennial language for the younger congregation and when to use day-to-day language that's easy to understand for those who are older," he explained.
In 2019, the religious affairs ministry named Ratna West Java's top religious counselor.