Killer Professor Counters Radicals
Alivermana Wiguna eliminated a radical group at his university. His student was sent as a spy.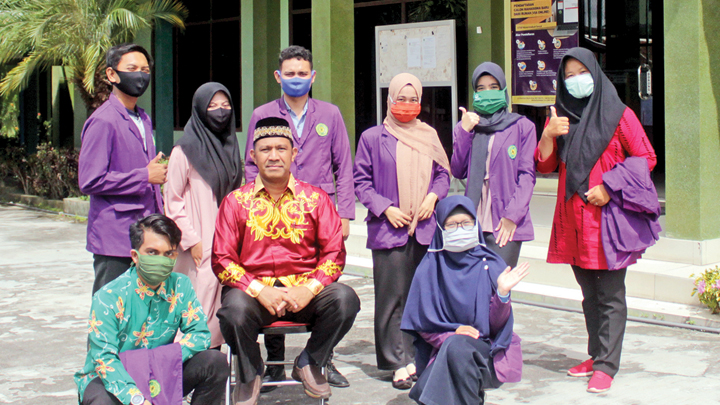 ONE afternoon at the end of 2014, when the religious study group at the yard Al-Mukhlisin mosque had not yet finished its session, Alivermana Wiguna, 45 years old, arrived. The teacher of Muhammadiyah Education College (STKIP) in Sampit, East Kotawaringin Regency, Central Kalimantan, immediately asked about the students' activities at the mosque inside the university complex.
Rahmat Spianur, an economics student, said they were studying Qur'an. "(You're) studying Qur'an, but why have a Power Point presentation called 'Invested Sin,'" said Rahmat, quoting Alivermana, when Tempo contacted him on Tuesday, July 21. 'Invested Sin' is the precept of a certain a Islamic group that innocent people also bear the burden of other people's sins. The teaching supports the use of the caliphate system to resolve transgressions and sins.
At the time, Rahmat was still a second-semester student. According to him, Alivermana seemed furious and forbade them from following this teaching. He said the 'Invested Sin' idea only took parts of the Qur'an while directing the readers to radical thought and attitudes. Alivermana confirms the story. "That's just one of the many forms of anger that I have towards the university's radical groups," he said on July 17.
Rahmat joined the study group because he was invited by a classmate. He was only 18 years old at the time, and welcomed the invitation because he wanted to study religion.
When Alivermana appeared that afternoon, Rahmat had already been in the Qur'an study group for almost four months. In one week, he and the group would meet twice in the mosque's yard. The study had four levels: divinity issues, supernatural phenomena, the wrongs of democracy, and 'Invested Sin'. In teaching these ideas, the group used books and Power Point presentations on a laptop, guided by Rahmat's seniors at university.
Feeling confused, Rahmat also joined Alivermana's religious study groups and sermons held on campus. One of the sermons that struck him the most said that a Muslim should not blame other groups or teachings. This contradicted the radical religious study group that Rahmat and his seniors followed on campus. After routinely listening to Alivermana's sermons, Rahmat chose to leave the his earlier study group.
Alivermana has been aggressively silencing radical groups at his university since the end of 2013, when he resumed teaching at STKIP Muhammadiyah Sampit after pursuing his PhD from the Muhammadiyah University in Yogyakarta for three years. He was shocked when he heard that STKIP's University Da'wah Institution (LDK) was dominated by students affiliated with radical groups.
He then investigated this information and found that LDK officials helped determine the first day of Ramadan fasting month in 2013 using the rukyat global (first crescent moon appearance) often used by radicals.
Sujani, an Al-Mukhlisin Mosque official, also reported the radical movement to Alivermana. Among others, they invited preachers from outside Muhammadiyah, who were hardliners. "The sermons would always harshly criticize and blame the government," he said.
Alivermana recorded that during his time away from STKIP, 40 percent of students had joined the radical group, from the initial number of only nine students. The number spiked after radical students became the chair of the student executive body (BEM) and the LDK. Alivermana reported his finding to the chairman of STKIP Muhammadiyah Sampit, Apuanor, who then gave Alivermana permission to eradicate radical groups at the university. According to Apuanor, at the time, his university was not paying too much attention to radical groups because they were not yet forbidden by the government. "Pak Aliv was really tough in driving the radicals away, and the university always supported him."
In order to suppress radical groups at the university, Alivermana used various methods, from arguing against them during discussions, prohibiting the distribution of their bulletin, to delivering sermons at the mosque. One time, Alivermana cut short a radical group's discussion, which was promoting the implementation of sharia Islamic law, for example, requiring a murderer to be killed or a thief to have his hand cut off.
He asked the group's leader about the conditions for a murderer to be executed as well as for a thief to have his hand cut off. "They couldn't answer," he said. Alivermana then explained that cutting off a hand can be done according to Islamic law, if a thief steals a certain amount. But the sanction can be revoked if the perpetrator admits to theft.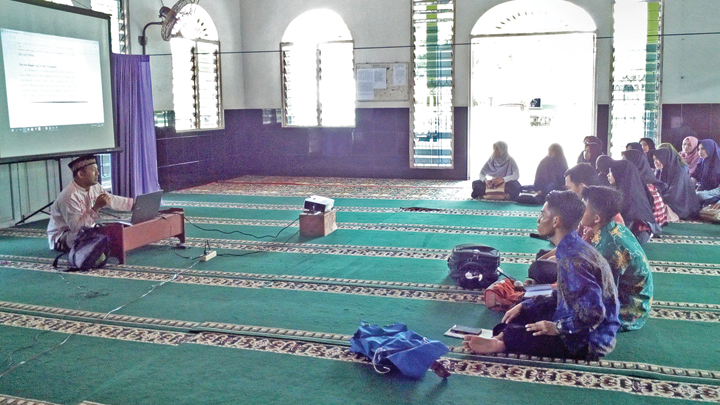 Alivermana Wiguna (left) teaching at a Ramadhan on Campus event in STKIP Muhammadiyah Sampit, June 2019. Private Doc.
Radical students were assigned to one group when STKIP did fieldwork study in the Luwuk Bunter village in 2015, in order to restrict their movement. Alivermana also assigned one student, Naim Wahyudi, to the same group, to monitor to the movements of his radical fellow students.
According to Naim, in the one month that he spent with the five leaders of the radical group, he often saw them attempting to recruit villagers to join in their group. They also held religious study sessions called halaqah, meaning circle. "I let them because the villagers were not swayed," said Naim.
Alivermana, who is known as a 'killer' professor because of what it takes for him to give a passing grade, said Naim, had already reported the potential for attempted recruitment to important figures in the village. Alivermana says the report was made to avoid unwanted occurrences.
When giving preaching at the university mosque or when a discussion, Alivermana often promotes the rahmatan lil alamin idea of Islam that is peaceful and full of love. He says the gift of Islam is not only meant for Muslims, but also for non-Muslims. He stresses that Islam does not teach Muslims to fight adherents of other religions and to call them unbelievers.
As of 2017, said Alivermana, there were no radicals at his university. Even so, in his sermons and discussions he continues to promote a peaceful and friendly Islam in his environment, including at the university where he teaches.