Family Feuds
The conflict between John Kei and Nus Kei is allegedly about the security fee of a disputed land for a hospital in Ambon, Maluku. Guarding plots of land is still a favorite job for thugs from the eastern parts of Indonesia.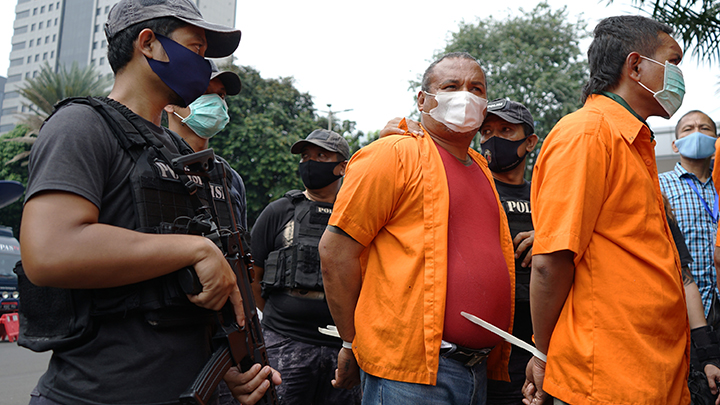 NNUS Kei's duel challenge went on unanswered. Agrapinus Rumatora a.k.a. Nus Kei (54) challenged his own nephew, John Refra a.k.a. John Kei (53), to a one-on-one fight. Nus sent 10 WhatsApp messages to John on Saturday, May 23. But he received no reply. "Coward," was among those messages.
A few days earlier, John sent several of his men to one of Nus' houses in Duri Kosambi, Cengkareng, West Jakarta. They intimidated Nus' men. "This is between him (John Kei) and me, why did he have to involve others?" Nus told Tempo on May 30.
According to Nus, John's men came three times his homes in Kosambi and Green Lake City, Cipondoh, Tangerang, Banten. The patterns, he said, were the same. The young men came in cars, and then threatened Nus' men. They would then leave after more of Nus' men came to defend their friends.
The fourth time their men met, a bloody battle took place. Seven of John Kei's men allegedly attacked two of Nus' people in Jalan Kresek, Duri Kosambi, at 11:30am on Sunday, June 21. The two men were stabbed.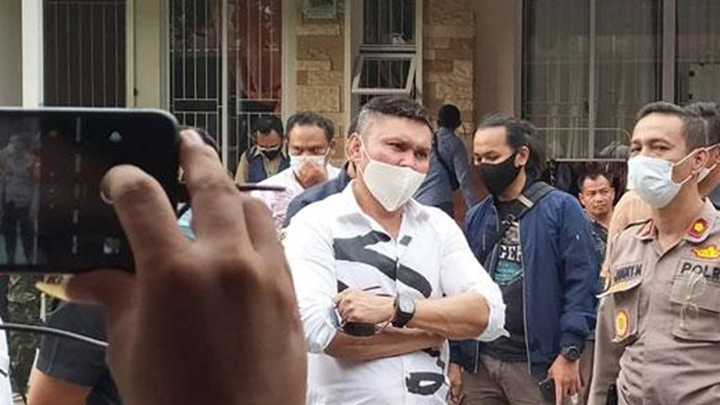 Nus Kei (center) during the reconstruction of the attack of his house by the John Kei gang, June 24./TEMPO/Ayu Cipta
One of Nus' men, Yustus Dorwing Rakbau (45), was killed. "The victim died from stab wounds," Jakarta Metro Police Chief Insp. Gen. Nana Sujana said the day after the incident.
About an hour later, another group came in three cars. They charged into Nus Kei's home in Cipondoh, Tangerang. They ransacked and vandalized the property, hurting one security guard and an online ojek (motorcycle taxi) driver.
They did not manage to get their hands on Nus Kei, who was rushing to Duri Kosambi to check on Yustus. John Kei's lawyer Anton Sudanto repeatedly denied that his client masterminded the attack. "There is no proof that John Kei ordered the attack," Anton told reporters on June 23.
Several hours after the incident, officers from the Jakarta Metro Police, Tangerang Sector Police, and the Medansatria Precinct raided John Kei's headquarters in Jalan Tytyan Indah Utama X, Bekasi, West Java. That night, John and dozens of his men surrendered without a fight. The police charged John and 37 of his men with assault and first degree murder.
Senior Comsr. Tubagus Ade Hidayat, director of general crimes division at the Jakarta Metro police, suspected that the conflict between John and Nus is centered on loyalty within their inner circle. Despite being the uncle, Nus Kei was a 'subordinate' of John Kei since the 1990s until 2016. "He (John) sees Nus Kei as a traitor," Tubagus told Tempo on Wednesday, July 29.
They were also fighting over money, which is the 'protection fee' in a land dispute of the Dr. M. Haulussy Regional General Hospital (RSUD) in Ambon, Maluku. John accused Nus of denying the protection racket share. "The personal dispute between John and Nus Kei is related to dissatisfaction in the land sales fees cut," Insp. Gen. Nana Sujana said.
A member of Maluku's Legislative Council (DPRD) who knew about the case said that the land dispute at the Dr. M. Haulussy RSUD has been going on since 2009. Johannes Tisera claimed that the 3.1-hectare of the hospital land was inherited from his father. The Maluku provincial government used the land to build nurse students' dormitory, morgue, and supporting building for the Dr. M. Haulussy Hospital.
Johannes Tisera filed a lawsuit against the provincial government, but he lost at the district court. Fransiskus Refra a.k.a. Tito Kei was Tisera's lawyer when he filed a cassation appeal to the Supreme Court. The DPRD member said that Tito borrowed Rp1.4 billion from his older brother, John Kei, to pay for the costs needed during the procedure.
At the time, John Kei was serving a term at Nusakambangan Prison in Cilacap, Central Java. He was sentenced to 16 years for his involvement in the murder of Tan Hary Tantono a.k.a. Ayung, the former boss of Sanex Steel, on January 26, 2012. John was released on parole by the justice and human rights ministry on December 26, 2019.
John agreed to lend the money on one condition. If they win the lawsuit, they must pay him back Rp3 billion. This 'interest' allegedly served as payment for the services of John's clout and the use of his men in protecting and overseeing the Dr. M. Haulussy's RSUD disputed land. Johannes Tisera demanded Rp69 billion compensation for the use of the 3.1-hectare land.
The project stalled when Tito died on May 31, 2013. A man shot Tito in his head at his home in Jalan Tytyan Indah Utama X, Bekasi. After Tito's death, Johannes Tisera, the land owner, asked Nus Kei for help. "He sent a messenger," Nus said.
Nus and Tisera then met in Jakarta. They agreed on a number of deals, including borrowing Rp1 billion to process the appeal in the Supreme Court. The Rp1 billion, Nus said, did not come from John Kei's pocket. "Other friends chipped in," he said.
Nus also planned to make use of the local government officials he knows in Maluku. He claimed to have reported this agreement to John Kei when the nephew was still in Nusakambangan. Nus said he did not know about the money Tito borrowed from John Kei.
Sidik Latuconsina became Johannes Tisera's legal advisor when the Dr. M. Haulussy RSUD's land dispute entered the cassation court. Sidik denied using money for the cassation process. He monitored the legal proceedings himself until the Supreme Court granted his client's appeal. He did not know about Nus and John Kei's roles in the land dispute case. "I also just found out that John and Nus Kei were involved the Halaussy RSUD dispute," he said.
The Supreme Court granted Johannes Tisera's cassation in 2017. After the ruling, the Maluku provincial government and JoTisera's camp agreed to a compensation value of Rp49 billion. The Maluku government has paid Rp13 billion in installments to Tisera in mid-2019 and on March 2020.
Hearing news of the payment, John Kei then sent four of his aides to meet with a number of people in Ambon, in March. They were there for almost two weeks. John's envoy reported that Johannes Tisera had sent some money to Nus Kei. This was the begining of the bitter feud.
John then asked Nus Kei for his share of the money. Nus declined, believing he had no obligation to give money to John. He suspected that there was a deal between Tito Kei and Johannes Tisera about how the money should be split, but he refused to meddle in the agreement. He has paid a loan of Rp1 billion to his friend. "My business in Ambon is finished," he said.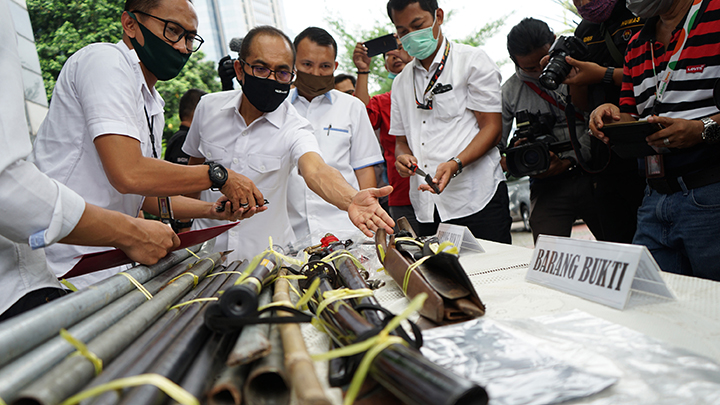 Polisi present the evidences of thuggery by the John Kei gang, at the Jakarta Metro Police HQ, June 22./TEMPO/Muhammad Hidayat
Nus claimed to have tried to help John receive his 'share' of the fee for Dr. M. Haulussy's RSUD land deal. He asked John to wait for the budgeting process in the Maluku government. "Disbursing government budget has stages, but he was impatient," Nus said.
Senior Comsr. Tubagus Ade Hidayat said that during questioning John Kei admitted that he was disappointed about the hospital dispute fee. However, Tubagus suspects that the money issue was just one of several reasons behind the attack. John, Tubagus said, still sees Nus as a soldier in his group.
To investigators, John admitted he was upset when Nus left the community in 2016. Nus was also accused of taking along in some of John's men when he left, men who were still his relatives. Loyalty, according to Tubagus, is a main requirement for membership among thugs. "Moreover, John accused Nus of tarnishing the former's reputation," Tubagus said.
John Kei's lawyer, Anton Sudanto, has not provided an answer about the Hospital land dispute and accusations of thuggery until Friday, July 31. He promised to accept Tempo's request for an interview on July 29. After that, Anton stopped answering the text messages and phone calls. John's daughter, Melan Refra, also did not respond to an interview request.
• • •
THE name John Refra a.k.a. John Kei is a legend in Jakarta's underworld. He gained more recognition after leaving Nusakambangan prison in December 2019.
One of John's men, Denny Ouw, proudly talked about his experience with the boss. Before John was jailed in 2012, Denny could make around Rp30 million per month. He was the leader and ruler of parking lots spanning from Ujung Menteng, East Jakarta, to Harapan Baru, Bekasi. "That was how much I got from parking lots and cafes there," he said on July 28.
Denny remembered how he always name-dropped John Kei in his activities. Denny now run his own gang, but he still mentions John Kei's name. "I get better results when bringing up John Kei's name," he said.
Denny recruited dozens of new members after John Kei was jailed for alleged involvement in the murder of Tan Hary Tantono in January 2012. Denny currently acts as the Maluku Commander of the Satu Rasa Salam Sarane group. His area of ​'authority' includes various neighborhoods in Jakarta.
With his men, Denny does a variety of jobs. Among them collecting debts and towing vehicles when the owner could not pay the installments. He called his profession as 'freelance repo man'.
The middle-aged man occasionally guards lands in disputes. Even though he said he did not like the job, Denny said the income is lucrative. The pay for guarding lands is at least 10 percent of the land price. "If the land is worth Rp100 billion, then we can ask for at least Rp10 billion," he said.
They consider this value worth the risk. The Umar Ohoitenan gang, a.k.a. Umar Kei, even set a tariff of 15-20 percent of the land value. "Protecting a land requires many people," said Raul Kalila, Umar Kei's right hand man, on July 28.
Raul is also a member of the Maluku Muslim Youth Front, led by Umar Kei. Umar has been a prominent figure among Ambonese youth figures for at least the past decade. Umar never joined John Kei's group. John, Nus, and Umar are from the Kei Islands, Maluku.
Denny Ouw said they must prepare to strike if the disputed land is being processed in court. That happened in 2012, when John Kei's group faced the group of Rozario Marshall a.k.a. Hercules in a disputed land in West Jakarta.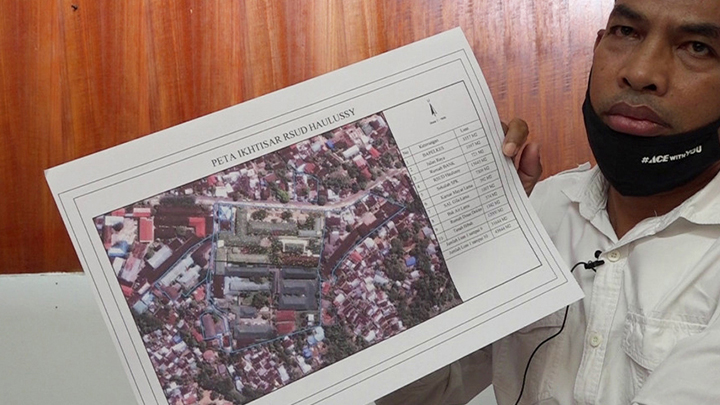 The overview map of Dr M. Haulus­sy RSUD (left)./Belseran Christ
In court, the businessman John Kei worked for won. Meanwhile, Hercules' men still had control over the land. "We came bringing machetes," he said. He added that these kinds of events still happen in various places. A group that has won more clash gains more respect.
Just like John's group, Umar Kei and friends worked on collecting debts and as repo men for leasing companies. Raul Kalila said that the wage for taking cars with bad loans could reach Rp15 million per unit. "This is halal (lawful) work, because we are given power of attorney by our clients," he said.
In addition to using power of attorney, these groups of young men use a legal entity for each 'job'. Raul and Denny Ouw considered that the existence of power of attorney and official entity would keep them safe from legal prosecution, if there are conflicts with the party to be billed.
If the debtors resist, these men sill start to intimidate them. "We can threaten the debtors by mentioning big names like John Kei," said Denny.
There are also groups that use networks instead of prominent names. Nus Kei said he stopped relying on John Kei since 2016. He already established his own company. Nus was reluctant to explain the business he engages in. In his activities, he collaborates with various groups from East Nusa Tenggara. "If there are conflicts, we prioritize peaceful settlements, using traditional approaches," he said.
• • •
SENIOR Comsr. Tubagus Ade Hidayat said the police have mapped out Maluku thug groups in Jakarta. He said that John Kei currently has about 100 men working for him. These men generally work as security guards, lawyers, to freelancers.
They reside near John's house in Bekasi. In addition to living in Bekasi, John has plenty of offices there. "They keep growing as there are many who use their services," Tubagus said.

In the aftermath of John and Nus' clash, the National Police Chief Gen. Idham Azis released an order to combat thuggery more seriously. Groups of thugs, he said, create public discomfort as they feel terrorized by their existence.
Idham promised that the police would not tolerate thuggery under any pretext. Those caught violating the law will be severely punished. "The state must not be defeated by thugs," he said on June 22.
MUSTAFA SILALAHI, RIKY FERDIANTO, BELSERAN CHRIST, MUHAMMAD JAYA BARENDS (AMBON)