Unseen Research Ecosystem
The Law on the National System of Science and Technology that gave birth to the National Research and Innovation Agency (BRIN) is expected to provide clarity over the form of Indonesia's research and innovation ecosystem. The absence of an organizational and governance structure at the research and technology ministry/BRIN means that efforts to integrate research and development institutions as well as assessment and implementation have not been implemented.
Edition : Monday, August 10, 2020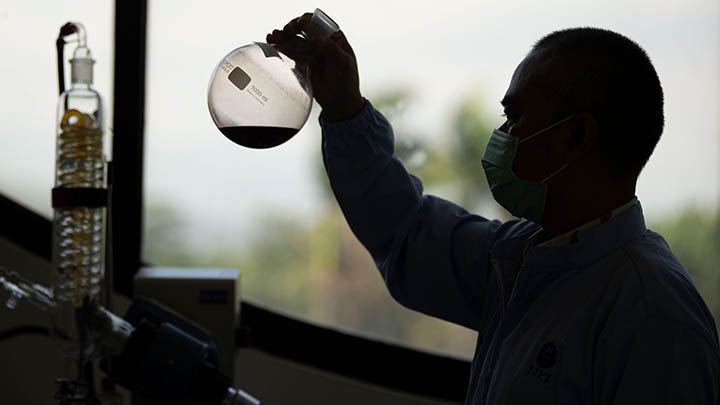 FOR one and a half decade, Yenny Meliana (43) has been a researcher at the Indonesian Institute of Sciences (LIPI). It began when she became a prospective civil servant in 2005. Yenny, a doctor from the National Taiwan University of Science and Technology, consistently worked on chemical researches, in accordance with her status as a bachelor of Chemical Engineering from the University of Indonesia's Faculty of Mathematics and Natural Sciences.
Yenny has been servings as head of the Chemical Research Center since mid-2019. She said she is comfortable being a researcher. "The salary as a researcher is enough to allow me to work comfortably, with focus. No need to look for additional jobs," she said via WhatsApp, Tuesday, August 4.
She said that Indonesia's research infrastructure has become more up-to-date, providing support for research work according to today's needs. "Today, we don't need to send samples overseas for analysis as we did in the past," she said. Yenny and her team have produced 27 patents, three of which have been licensed to industrial partners.
Yenny's situation in a non-ministry research institute is better than others. Gunawan Pasaribu of the environment and forestry ministry's Center for Forest Product Research and Development, for example, said that he is paid quite well, but he faces limited infrastructure and very minimal funds.
"It is difficult to get adequate research infrastructure. Fortunately, we have links to researchers from other agencies, so we can use their labs," said Gunawan, who has been a researcher for 17 years. "The research budget is so limited that it has not been able to produce inventions and innovations," said the man who researches non-timber forest products.
W251bGwsIjIwMjEtMDUtMTEgMTg6NDM6MjciXQ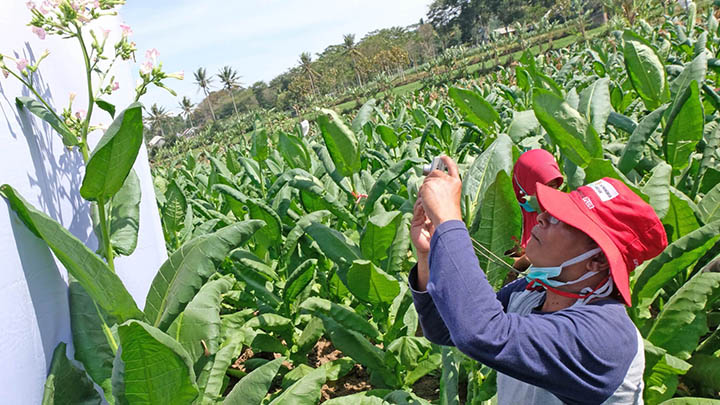 A researcher fron the agriculture department indetifies a tobacco plant in Walitelon village, Temanggung, Central Java, July 23./ANTARA/Anis Efizudin
Yenny and Gunawan are still doing a lot better than Shinatria Adhityatama, a researcher at the National Archaeological Research Center (Arkenas) of the education and culture ministry. Since 2013, Shinatria's employment status remains as a contract worker. Of some 130 researchers at Arkenas across Indonesia, 122 are civil servants. According to Shinatria, there are few researchers because the selection process is the same as the process of recruiting civil servants. "Ideally, researcher recruitment is separated. The selection can be in the form of research portfolios and publications," said the man who obtained a postgraduate scholarship from Griffith University, Australia.
Human resources and research infrastructure, according to LIPI Chief Laksana Tri Handoko, are two of three main aspects for researches. "For those two aspects, the budget comes on its own, or can be obtained from any sources," he said in an interview via Zoom on August 1.
He said that the reason why Indonesia's research capacity stopped developing since the 1970s is mismanagement in human resources (HR) and infrastructure. "In 2018, we began making big changes. In the past, HR and budgets in research centers were separated. Now they are integrated," he said.
The same goes with the research infrastructure. It is no longer run by the research center at LIPI, but is integrated into the head office. "Even the researchers at the botanical garden are no longer owned by the botanical garden. Why? Because in the past, botanical garden researchers spent more time managing botanical gardens than doing research. Today, as we have taken over the botanical garden, researchers can use it at any time," Handoko said. LIPI, he added, made a large infrastructure investment of nearly Rp2 trillion in the 2017-2022 planning. That amount does not include the budget for new research vessels.
Handoko said that with the existence of infrastructure and changes in research management to allow remuneration for researchers to be approved, LIPI can now reach and recruit young people from the Indonesian diaspora. "Today, LIPI researchers be filled with people with a doctoral degree (S3), so that we can walk more quickly. If we recruit S1 graduates (bachelor), it would take us 10 years to send them to school first. And there is no guarantee that their interest lies in that specific field," he said.
Nevertheless, LIPI is still managing the composition of its human resources, which is now dominated by administrative staff rather than researchers. According to Agus Haryono, deputy of science engineering at LIPI, the number of administrative staff swelled. This is because in 2009 all staff with honorarium system were accepted as civil servants. "They are asked to upgrade education and training so they can become workers of science and technology, and they can help researchers," Agus said in an online conference on July 24. "I do not know the exact number, but my estimate is that the proportion between researchers and staff is 1,000 to 3,000. Later we can at least make it 50-50."
Harmonizing human resources and infrastructure management is also carried out by the Technology Assesment and Application Agency (BPPT). BPPT's Main Secretary Dadan M. Nurjaman said that the keys to building a research and innovation ecosystem are human resources and infrastructure. Human resource development at the BPPT, Dadan said, will be focused on the technology sector which has become a national research priority. "We have to map out everything first. That is why, in compliance with the Law on the National System of Science and Technology, we have to make a master plan for the development of science and technology. From there, we can see which fields need prioritizing, and then the HR development will follow suit," he said.
Dadan said that BPPT's largest portion of workers is engineers, amounting to 1,400 to 1,500 of the 2,800 total civil servants. "The number of researchers is around 20 percent or some 500 people. Most are functional, while some work as policy analysts, management supporters, and financial analysts," he said. The BPPT, according to him, is currently building a talent pool for its functional employees, using a merit system that shows the maturity of human resources in the fields of science and technology. This model can later be used also in research institutions in the provincial level.
The issue of the human resources quantity in ministries' research institutions is more complex. I Made Geria, chief of the Arkenas research center, said they only have one researcher on duty on the island of Kalimantan. As a result, many potential research objects have not been addressed due to human resource problems. "In the end, foreign researchers are more active," said Geria.
The number of researchers at the Research and Development Agency for the communication and informatics ministry is also small, only 26 people throughout Indonesia. According to telecommunications researcher Riza Azmi, the lack of researchers have caused most of research outputs to be used for internal needs.
Chairil Abdini, a special staff member for the national development planning minister, said that the ministry's research and development (R&D) agencies are very diverse. Some have international reputations such as the Eijkman Institute for Molecular Biology, and others only provide training or simply do certification. "The results of the evaluation conducted by the University of Indonesia found many problems in the ministry's R&D agency," Chairil said.
One example, he said, is large funds with no apparent results. There are also the lack of human resources in terms of quantity and competence, as well as a variety of institutions with unclear business processes. Such conditions, he added, require improvement in the research and innovation ecosystem. Many developing countries try to replicate the success of research and innovation from developed nations, but only a handful are successful. "One of the causes is failure to build and develop a research and innovation ecosystem," said Chairil, who is also the secretary-general at the Indonesian Academy of Sciences.
Yanuar Nugroho, advisor at the Center for Innovation Policy and Governance, said that good research and innovation ecosystem will produce three outputs: policy, downstream, and state capacity. "Why do we need an ecosystem of knowledge and innovation? Because there are unintended consequences from each policy," he remarked. As an example, Yanuar pointed to the remote learning policy by Education and Culture Minister Nadiem Makarim. "There are 68 million students affected. When making the policy, they did not predict the unintended consequences," he remarked.
Chairil said that when making a policy his ministry always tries to use the latest scientific evidence from various domestic and foreign sources. For example, a safe economic and social activity recovery policy amidst the Covid-19 pandemic, which was formulated using a scenario analysis approach. That way, each province will have an idea of which economic activities can stay open, and which must resume operations under the strict health protocols.
However, Chairil continued, not all evidence can be directly used in policy formulation. In the health sector, for example, evidence derived from research results requires rigorous analytical processes before being used as policy input, such as the decrease in stunting rates and control of infectious diseases. In this case, he said, the evidences need sorting: which ones are strong, which are weak, and which have doubtful validity. This process is called the search for clues of evidence. "After that, we continue with evidence synthesis, which will eventually lead to policy formulation."
Chairil said there are several factors that cause research results cannot be used as policy input. Among them are weak evidence, or no longer relevant results. "For example, at the beginning of Covid-19 pandemic, only people who showed symptoms of fever, cough and respiratory problems were advised to wear masks. As it turned out, people who are infected can show no symptoms, and so masks are now recommended for everyone."
When asked how many of LIPI research results that have been used as the basis of government policies, Laksana Tri Handoko said it was difficult to say. He said that this is because researchers conducted research to find novelty and not to make products. "For example, in a radio there are 100 patents. One researcher that produced one of the patents cannot claim that he invented the radio," he said. "The same goes with policies. For example, Law No. 11/2019. There were many studies. Well, the owner of the paper cannot claim that he made the law."
Handoko explained, there are records of the number of patents produced by LIPI. The Portal of Intellectual Property website shows the number of patents produced by the institute's researchers from 1991 to August 6, 2020. There are 1,118 patents, 66 copyrights, 32 brands, 20 industrial designs, and 11 protected plant varieties. The justice and human rights ministry named LIPI as the R&D institution that applied for the most patents in 2018.
Amin Soebandrio, head of the Eijkman Institute for Molecular Biology, said there are snowball effects from Eijkman's researches on state institutions. "We are a think tank for the education program of the research and technology ministry/BRIN," he said.
Eijkman also provides input for policymakers, for example about thalassemia, hepatitis, dengue, emerging viruses, malaria, and degenerative diseases in the health sector. They also give inputs to the police, in the form of forensics and identification of disaster victims. In addition, they provide information and inputs for the forestry sector for wildlife trade and conservation of endangered species.
According to Minister of Research and Technology/BRIN Chairman Bambang Brodjonegoro, to become an innovation-based country Indonesia must have the sources. "Innovations come from research, development, assessment, and implementation. So, research and development activities must be given attention and improved, both in terms of resources and quality," said Bambang.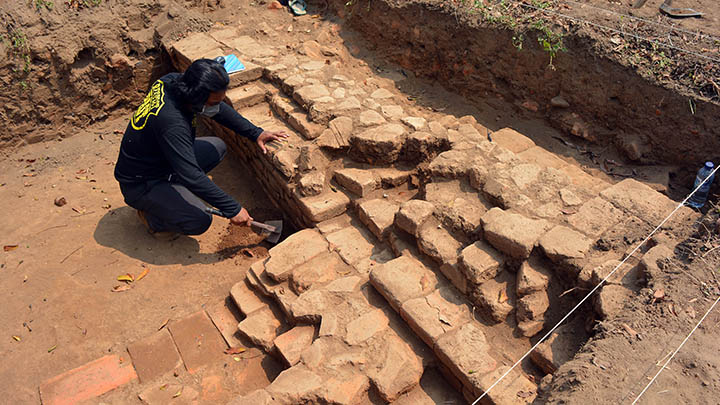 A team from the East Java cultural heritage conservation office conducting excavation works at the Kumitir site in Bendo hamlet, Mojokerto, East Java, August7./ANTARA/Syaiful Arif
Those activities, according to Bambang, are still spreading in many places, among others universities; non-ministry research center, such as the BPPT, LIPI, National Institute for Aeronautics and Space (Lapan), and National Nuclear Energy Agency (Batan); ministry and institution's R&D. What also important to do is increasing private participation. "When compared with various countries' R&D using the ratio between investments (R&D spending) to gross domestic product, Indonesia is still very small at 0.25 percent. South Korea's R&D expenditure, for example, is 4.3 percent of GDP," Bambang said.
In building research and innovation ecosystems, he further said, the ministry is taking a triple helix approach, namely synergizing and harmonizing cooperation between the three main parties in research and innovation activities: research, industry and government. "However, the relationship between the business world and universities and research institutions is not well established, and the business world considers that research institutions unable to make (innovations)."
According to Bambang, the triple helix approach can work if the research and technology ministry/BRIN acts as a facilitator to create intensive and smooth communication between researchers and investors. "In BRIN there is the word 'innovation', thus my key performance indicator increases. That way, I don't only encourage research activities and technology application, but I also have to ensure the downstreaming of the research results," he said.
Totok Hadi Wibowo, chairman of the Indonesian Policy Analyst Association, said that many research results conducted by various R&D institutions did not respond to real problems in industry and in society. "The solutions offered do not completely work, while in the market there are technologies that work better in solving real problems, some at a lower price," he said.
Meanwhile, BPPT Chief Hammam Riza said that the Law on the National System of Science and Technology, which gave birth to BRIN, was an effort to improve the situation. Hammam said that before the law was passed, innovations were not needed. The orientation of higher education research institutions, he added, revolved around journals, and business people acted more as traders rather than developers. "In the past, innovation was part of concepts and ideas. Today, innovation is part of the law," he said. "Of course, what is also important is how to implement the law."
Bambang said that the law mandates BRIN to integrate all agencies of research, development, assessment, and application (litbang jirap). However, almost 10 months after the law was passed in October, 2019, his ministry still does not have an organizational and governance structure, because a presidential regulation has not been issued. "We have followed all the statutory provisions for the drafting of the presidential regulation, all the way to the president's approval. We understand it is not easy because the ministries feel that R&D should still be their part," said Bambang, who promised to talk with other ministries to fast-track the integration process.
Bambang refused to comment on rumors that a major political party wants their representatives be part of BRIN's steering committee. According to Bambang, the committee only exists in an independent body of a ministry's level. "For example, Pak Doni Monardo has a steering committee. The problem is that research and technology ministry's structure is similar to my previous position as minister for national development planning/head of Bappenas. It is also similar to Pak Sofyan Djalil (Minister of Agrarian Affairs and Spatial Planning/Head of the National Land Agency) and Pak Wishnutama (Minister of Tourism and Creative Economy/Head of the Tourism and Creative Economy Agency)," he said.
---
Science & Technolgy Team
• Team Leader: Dody Hidayat • Project Head: Gabriel Wahyu Titiyoga • Writers: Abdul Manan, Dody Hidayat, Gabriel Wahyu Titiyoga, Isma Savitri, Mahardika Satria Hadi, Nur Alfiyah  Editors: Dody Hidayat, Kurniawan, Nurdin Kalim, Sapto Yunus
• English Editor: Luke Edward • Photo Research: Jati Mahatmaji (Coordinator), Gunawan Wicaksono, Ratih Purnama Ningsih
• Design: Munzir Fadly, Mistono, Riyan R. Akbar