Research and Technology Minister/National Research and Innovation Agency Chief, Bambang Brodjonegoro: Research and Industy Do Not Yet Trust Each Other
Research and Technology Minister Bambang Brodjonegoro has a new task in hand. As head of the National Research and Innovation Agency (BRIN) he is responsible for down-streaming the results of studies by universities and research institutes.
Edition : Monday, August 10, 2020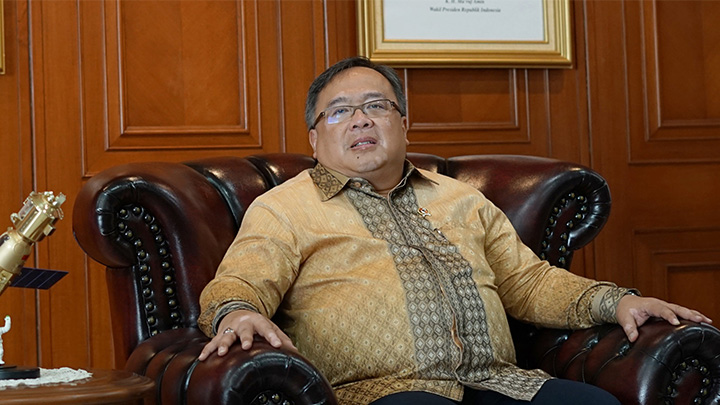 THIS is an unprecedented duty not found in the portfolio of previous research ministers. "BRIN includes the word 'innovation', which is added to my performance indicator," said Bambang to Tempo via video conference on Tuesday, August 4.
Bambang said that national research community has been focused more on publishing the results of their studies. Meanwhile, in order to establish an innovation-based economy, every research done by universities and research institutes should be able to be transformed into ready-to-use products. BRIN, therefore, has a mission to bridge the research and business community. "We do not want to become a country that produces research reports," he said.
Indonesia is home to numerous research institutes. How does the government decide its policy based on innovations by these institutions?
If we wish to be an innovation-based country, we should prepare the sources where the innovations come from. Innovations are made by litbang jirap (research, development, assessment, and implementation) in universities as well as research and development (R&D) agencies in various ministries and institutions. The second step is to get the private sector to participate
Why must private sectors be involved?
Indonesia still has very small research funds in proportion to its gross domestic product (GDP), only about 0.25 percent. Compare that to South Korea, for example, whose R&D expenditure is 4.3 percent of GDP. But that is not what I want to emphasize. Both the government and private sectors contribute to research funding. In South Korea, private sectors contribute some 70 percent. In Indonesia, 80 percent is from the government. Our private sector is still largely unwilling to invest in research and development.
What is the current situation in Indonesia's science ecosystem?
We are adopting the triple helix approach in implementing research and innovation. This represents a synergy between three main components: the research, from both universities and research institutes, the industry, and the government. To build the triple helix ecosystem, aside from having the three components, they also need to be connected. Current implementation of triple helix is not yet ideal. The research and business communities have not been communicating intensively.
Why is that?
W251bGwsIjIwMjEtMDUtMDggMTM6MzI6MTkiXQ
Some private companies and state-owned enterprises have their own, strong research and development unit, and we are highly supportive of this. But more often than not, they lack sufficient communication with universities and research institutes, so that the business communities would think that we are not yet able to produce something. As a result, when a need surfaces in the market, we end up doing import. This happens all the time.
What should be done to present ideal environment for the triple helix approach?
Triple helix should run well if the government, in this matter the research and technology ministry and BRIN, facilitate intensive communication between research and business communities. The problem is, their members do not know, talk to, or trust each other yet. Nothing will come out of triple helix if communication is nonexistent. During the Covid pandemic, when the people said we did not have enough ventilators and testing tools, researchers responded by self-manufacturing the required equipments in two or three months.
Is the lack of communication between research and industry communities related to the government's non-innovation oriented policies?
Exactly. When I was inaugurated last October, there was actually a fundamental change in the portfolio. If we talk about research and technology, the output is the inventions. However, they still have a long way to go to become innovations. BRIN includes the word 'innovation', which is added to my performance indicator. Aside from encouraging research activities and technology implementation, I must also bring the research results downstream. Hence the litbang jirap term.
What is the long-term goal of BRIN?
BRIN is expected to become the government's only litbang jirap institution. Previous research ministers were just like a coordinator of research affairs. The Indonesian Institute of Sciences and the Technology Assesment and Application Agency, for example, are not one hundred percent under our control. Let alone R&D agencies in ministries and institutions who would only obey their own minister. When all of these R&D agencies have been well consolidated, we hope that there will no longer be duplication of research results.
How would you convince the ministries to move their research and development to BRIN?
We do not intend to move their R&Ds entirely, but rather split them. Those who deal with technical support or policies should stay with the ministry. Do not let policies go without being based on data and research. But I do know some activities in ministries that are purely litbang jirap.
You explain a lot about researches and applicable innovations, such as those related to the industry. What about researches on economics, politics, and social matters?
We are actually responsible for all the fields of research or litbang jirap. We divide them into clusters. There are clusters related to the manufacturing industry, defense industry, agriculture, health, and social-humanities.
Before being integrated with BRIN, each ministry R&D agency still carries out their own researches. How do you make sure that their researches do not overlap?
In line with Law No. 11/2019, it has been affirmed that litbang jirap would be integrated with BRIN. Operational matters are to be handled by clusters according to their respective fields. The President (Joko Widodo) had twice issued the integration order in closed meetings. He instructed the ministers to integrate their R&D agencies to us.
How is the follow up so far?
I do a bilateral approach, one by one with several ministers who own significantly large R&D units. Some ministers give very positive response. Environment and Forestry Minister Siti Nurbaya has confirmed that part of the R&D agency in her ministry will be joining us. Energy and Mineral Resources Minister Arifin Tasrif will even commit the ministry's entire R&D to BRIN.
Have you also encountered resistance from ministers about integrating their R&D agencies?
It is difficult to talk about one's own colleagues, because it concerns other ministers. I do not want to mention any name or institution. That said, upon knowing the Law No. 11/2019, my subsequent appointment as minister and chief of BRIN, and then the President's order for integration during closed meetings, a minister suggested to just dismiss the R&D agency. Not in the sense of being dismissed and then join us, but integrating the units within the R&D agency to directorate-generals. Kind of turning it into R&D directorate-general.
Is R&D agencies integration being hindered by the lack of presidential regulation on the organizational structure and governance of BRIN?
We have followed all of the statutory provisions for a presidential regulation, all the way to the President's approval. If the integration is not smooth, stopped in the middle, it will not look good for the President. It would appear as if his instruction is not followed through 100 percent. I want to maintain the President's reputation by ensuring that the integration goes smoothly using a mechanism that is satisfactory for every party. This is no easy task due to sectoral ego. R&D is usually born with the corresponding ministry. They could say, "We are seniors, the eldest who are older than you, and yet we are told to follow the junior." Sometimes such sentiment still surfaces.