The Pandemic's Lost Generation
There are problems with distance learning during the coronavirus pandemic. It is believed that student dropouts and early marriage are increasing.
Edition : Monday, August 10, 2020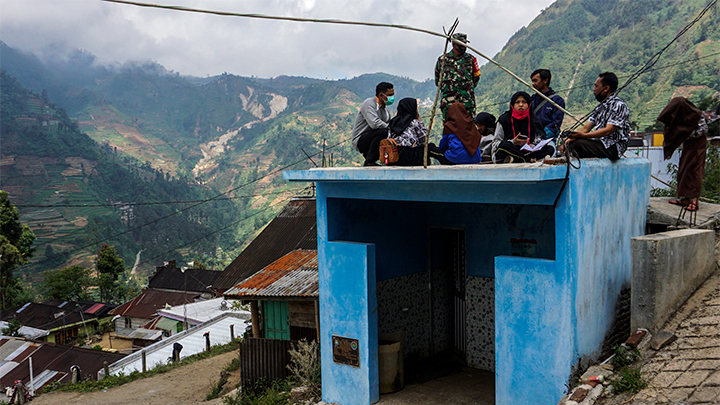 WHILE presiding over an online meeting with the theme Opening In-Person Study in Yellow Zones on Monday, August 3, Nadiem Makarim explained a number of issues which have arisen with distance learning. The minister of education and culture highlighted the burden which is being borne by students, such as buying Internet data package.
Agus Sartono, Deputy Coordinator for Education and Religion at the Coordinating Ministry for Human Development and Culture, who attended that meeting, said that Nadiem also said that the curriculum has not been adjusted to pandemic conditions. "Conditions are not normal, yet the studies are like they were from before the pandemic," said Agus on August 4.
That two-hour meeting was also attended by Minister of Religious Affairs Fachrul Razi, Minister of Home Affairs Tito Karnavian, Health Minister Terawan Agus Putranto, and Chairman of the Covid-19 Accelerated Response Task Force Doni Monardo. According to Agus, Nadiem Makarim also conveyed the many criticisms which came out after he issued a circular on March 17, about two weeks after President Joko Widodo announced the first positive coronavirus case. It was about the process of studying from home.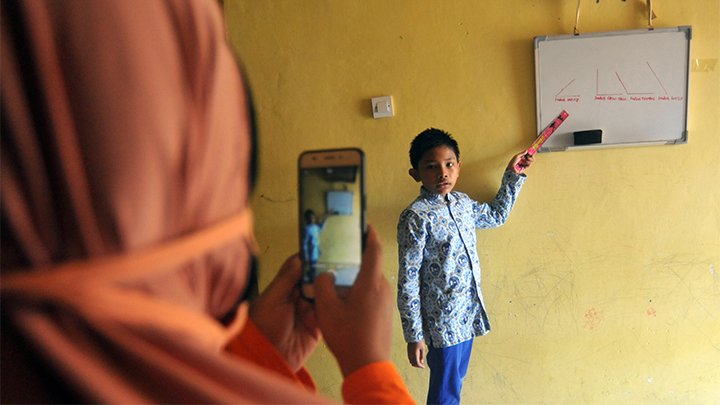 An primary school student makes a video about studying math from home in Rawang village, Pariaman, West Sumatra, July 21. ANTARA/Iggoy el Fitra
Two government officials—one of them at the education ministry—said that the circular was issued without any research on the number of schools which have Internet access as well as data on how many teachers and students have smartphones or laptops. Those two mentioned that Nadiem provided data to the coordinating ministry for human development and culture that 46,000 schools did not have Internet service three months after that circular was issued. Agus Sartono verified the news that the government made that study from home policy without research due to the pressing nature of the situation. "That was the best decision because there was no other choice," he said.
W251bGwsIjIwMjEtMDQtMjEgMTQ6MjU6NTEiXQ
In that meeting, said Agus, one meeting participant came up with the idea of purchasing cellular phones or laptops for students who did not have such equipment. However, this was deemed to be unfeasible because it was not in the budget. Nadiem then proposed opening schools in the yellow zone. A joint letter had been issued earlier by four ministries stated that in-person education was only allowed at schools in the green zone. On August 7, Nadiem announced the decision made in that meeting. He also issued an emergency curriculum which would be in effect until the end of the year. He also allowed school operational assistance (BOS) funds to be used to purchase Internet use data packages.
Retno Listyarti, a commissioner at the Indonesian Child Protection Commission (KPAI), said that this plan is risky for children. She cited the opening of a school in Pariaman, West Sumatra, which was in the green zone, which resulted in a teacher and a school administrator being infected by the coronavirus. "There should have been an evaluation first on the implementation of in-person learning in the green zone," said Retno.
However, Nadiem said that online study is not optimal and has a negative impact. He cited the potential for students to drop out and be forced to search for work, a reduction in the quality of education, and increases in violence against children and early marriage. "We run the risk of a generation facing learning loss. A lost generation," he said.
  
THE distribution of report books last June was embarrassing for Ivan Maulana. In the first semester of the school year, this 10th grader at Bumijawa 1 State Vocational High School (SMKN) in the Tegal Regency, Central Java, had ranked 17th of 29 students. However, this time he was ranked last. He got a D in English because his score was 50. "I did not send in my assignments and did not take part in the remedial lessons because I don't have a smartphone," he said.
Ivan did have a cellular phone, but not long after the coronavirus pandemic began, he dropped and damaged the phone. His father, Anton Priyadi, who works on contract, has been unable to have Ivan's phone fixed or to buy a new one. The plan to purchase a new phone ended because Anton's contract was not renewed after the pandemic began. The Bumijawa SMKN has been holding distance learning program since the pandemic began.
Ivan had been studying with a friend from his school who has a cellular phone. He pedaled his bicycle for 30 minutes from his home in Kedawung village to the home of his friend in Tuwel village. There, he took part in online learning with his teacher for automotive engineering industry studies. Ivan also did the work sent to him by his teacher via WhatsApp. If he could not answer, he wrote down the questions on a paper. "I returned the next day to send my answers," said Ivan.
Ivan later felt uncomfortable about going to his friend's house. He was often mocked for borrowing the phone. He stopped routinely taking part in the studies. He occasionally borrows the phone of a relative to do the schoolwork.
In Meunasah Tuha village, Greater Aceh Regency, Aceh Province, Zulkiran is also having difficulty taking part in online learning. This 5th grade student at the Lamteh State Primary School does not have a cellular phone. "It is difficult to study. I don't understand," said Zulkiran. His mother, Zaidar, said that she often borrows the cellular phone of a relative who lives next to them. Zaidar must buy an Internet service package for Rp20,000, which is enough for four days. The phone is used to download assignments from the teacher. Zulkiran then copies them onto a paper. His mother turns in the schoolwork the following day.
Zaidar said that her son is stressed out because he does not have a cellular phone and cannot meet his friends at school. There is not much she can do. She works washing clothes, while her husband is a roving rice miller. They are unable to buy their son a phone. Zaidar has thought about taking her son out of school, but decided against it. "Even though we are poor, my son needs an education," she said.
According to Zaidar, her son has had difficulty learning because the teachers only give assignments and no study material. Tempo also interviewed parents of students in: Agam Regency, West Sumatra; the city of Bengkulu; Jakarta; Bandung, West Java; Bulungan Regency, North Kalimantan; and Merauke, Papua. All of them complained the distance learning program using online facilities. Teachers tend to not teach as usual and only give assignments.
A poll of 1,700 students in a number of areas done by KPAI found the same thing. According to Retno Listyarti, in this survey 76.7 percent of children were unhappy studying online. The remaining 23.3 percent liked it. In that same poll, students complained about the high number of assignments given by teachers, short amount of learning time, not having Internet access, and not owning phones or laptops. "Some students have dropped out of school due to the pandemic," Retno said.
Sri Tiawati, an education activist in Bulungan Regency, North Kalimantan, said that about 20 children in the Sekatak subdistrict are no longer in school because of the pandemic, due to not having any means to study online. "Parents take them to the forest and plant crops," she said. Research done by Save the Children organization indicates that the pandemic has had a huge impact on children, ranging from parents losing their jobs, inability to access quality education, and children becoming more susceptible to violence.
Distance learning and economic difficulties stemming from Covid-19 are now believed to be triggering a rise in early marriages. A study done by the law faculty at Padjadjaran University in Bandung shows an increase in the number of requests to relax the regulations on early marriage in West Java since the start of the pandemic. In Surabaya, East Java, as of July, there have been 182 requests for such dispensation. This figure is already near the total of 187 such requests made in 2019.
In the South Pesisir Regency of West Sumatra, in July, there were 40 requests for early marriage regulation dispensation. Last year there were only 10 such requests were made in that region. Regent of South Pesisir Hendrajoni said that one reason for this increase is that children are dropping out of school because they cannot participate in the distance learning program. "It might be that case that due to economic difficulties parents are marrying off their children," he said.
***
THERE are also issues with distance learning at the university level. Unlike primary and secondary education, where there is difficulty in online study, university students are pointing out that tuition fees are not going down. Deodatus Sunda Se, a politics and social faculty student at Nasional University, had to seek support from colleagues because the school only reduced tuition by Rp100,000. He considers that to be a small reduction compared to tuition of Rp5-7 million per semester.
Students are demanding a tuition reduction of at least 50 percent. "Online study is effective. The campus is not used for study. The tuition is too high," said Deodatus on Thursday, August 6. Some students held protests that caused disturbances. In the end, Deodatus and three of his colleagues were expelled from the university, while some others were suspended.
Nasional University Head of Public Relations Marsudi said that these punishments were given because the students violated rules of order. On top of that, according to him, the university tuition reduction was already appropriate. "There was another reduction of Rp150,000," he said.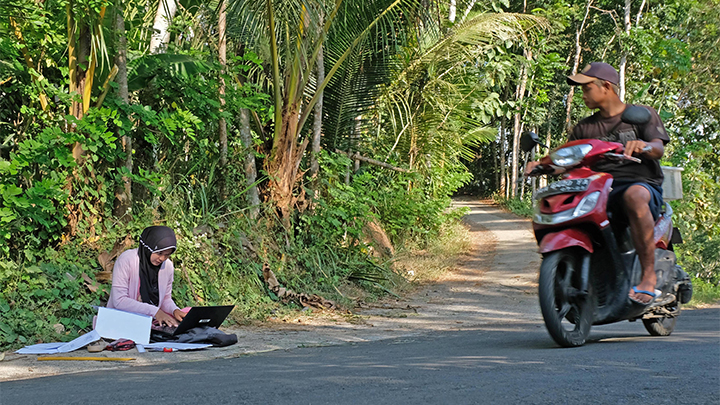 A university student taking a mid-semester test online at the roadside in Kenalan village, Magelang, Central Java. ANTARA/Anis Efizudin
In Makassar, South Sulawesi, students at Hasanuddin University also demanded lower tuition. Abdul Fatir Kasim, chairman of the student executive body at Hasanuddin University, said that tuition during a pandemic should not be as high as it is under normal conditions. A spokesman for the university, Ishaq Rahman, said that the school cannot grant that request. According to him, there has already been a deduction for those students who meet some conditions. These include a letter regarding low income issued by a village head and a letters of layoffs for parents of students who have lost work due to the pandemic.
The issue of university tuition has also been a hot topic on social media platforms. On June 2, the hashtags #MendikbudDicariMahasiswa and #NadiemManaMahasiwaMerana appeared on Twitter, calling out the minister of education. In early July, Nadiem Makarim issued Education Minister Regulation No. 25/2020 regarding higher education operational cost standards. In this regulation, universities and the ministry of education must have more relaxed policy on tuition. For instance, students who take leave of absence do not need to pay tuition. A total of 410,000 university students are going to receive assistance through the Smart Indonesia Card.
The pandemic is also having an impact on the admission of new university students. Achmad Solihin, chairman of the student registration center at Airlangga University in Surabaya, said that as of August 6 only 4,000 had personally applied to the school. "Last year, that number was 10,000 applicants," he said.
Al Azhar Indonesia University Rector Asep Saefuddin said that the number of people applying to the school has declined drastically. He predicted there will only be about 600 new students, about half as many as last year's 1,200 students. According to Asep, this decrease in admission applications is due to the economic impact of the coronavirus. "Families are focusing on basic needs compared to tertiary education," he said.
HUSSEIN ABRI DONGORAN, ANWAR SISWADI (BANDUNG), SHINTA MAHARANI (YOGYAKARTA), NURHADI (SURABAYA), DIDIT HARIYADI (MAKASSAR)