Longing for the Classroom
Education stopped in some regions. Teachers are having difficulty visiting the homes of students.
Edition : Monday, August 10, 2020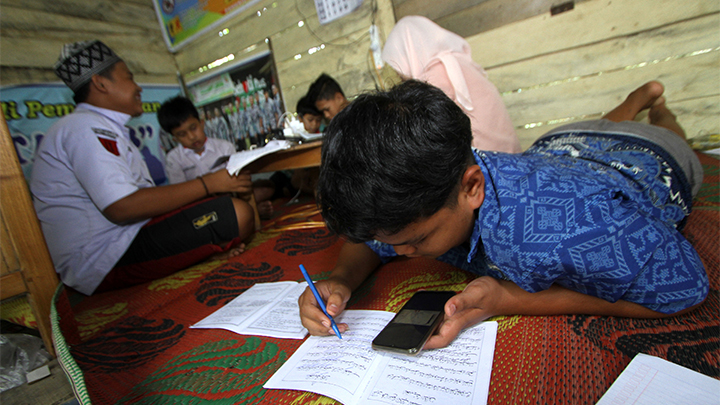 WEARING a mask, nearly every day Shopia Ping Luhat, 48, goes out carrying a stack of books and blank sheets of paper. Taking turns with another instructor, this teacher at Abdi Mulya Kindergarten on the bank of Mahakam River, Long Tuyoq village in Mahakam Ulu Regency, East Kalimantan, visits the homes of 20-some students. "The children no longer come to the school because they are afraid of catching the coronavirus," said Shopia when contacted by Tempo on Tuesday, August 4.
Last March, the Mahakam Ulu Regency education office issued a circular about the temporary cessation of in-person educational activity at schools due to the coronavirus pandemic. Later, on May 17, the Mahakam Ulu Regency administration banned travel in and out of the regency. The risk of the spread of the virus in Long Tuyoq village was deemed to be rather high because it borders Sarawak, Malaysia. Access was completely shut down.
The problem is, distance learning is not a possibility in Long Tuyoq. It falls in the category of being an outermost, underdeveloped border area without any electricity service. There are only shared generators which only run from 6:30am to 10pm. Although Internet service became accessible in July, nearly all parents there have low incomes and do not possess smartphones.
Sophia and her associate realized that they could not rely on parents to teach their children. This is because most of them only graduated primary or middle schools. Not wanting those children to stop learning how to read and write, Sophia and her friend decided to take the initiative to meet their students. "We felt bad that the children could not go to school," she said.
However, the two of them have had difficulty meeting with students. After the school shut down, parents began taking their children to the planting fields. One of them, Katerina Tuko, 44, took Angel, her four-year-old daughter, to the rice field located about three kilometers from their home. She said there was no one who could watch Angel when she has to leave the home. Before the pandemic, Katerina took Angel to school every morning.
W251bGwsIjIwMjEtMDQtMjEgMTQ6MDQ6MTUiXQ
During this pandemic, Katerina said that it has been difficult to teach Angel reading and writing. Her child cannot participate in online learning. They struggle to have enough food, let alone the money to get Internet access. "There is no money to buy data packages," said Katerina.
After roaming around for a few weeks, Sophia and her friend felt that the study activity at the homes of students was ineffective. Parents could not help children with their study material. Now she only makes occasional visits to her students.
This educational vacuum has also affected Makki State High School (SMAN) in Lanny Jaya, Papua. No students have been there for the past three months. Maruntung Sihombing, at teacher at Makki SMAN, said that distance learning is not possible in this region. There is only an Enhanced Data GSM Environment (EDGE) network, which has generally low connection speeds. Before the pandemic, teachers were having difficulty with classroom instruction. "The number of teachers is limited. I had to triple teaching in primary and middle schools also," said Maruntung.
Maruntung said he took the initiative to visit the homes of his students to teach them face-to-face. However, at the end of June, Silwanus Sumule, spokesman for the Covid-19 task force in Papua, announced the first positive case of coronavirus in Lanny Jaya. This number has increased to about 20 people. Being in a red zone and not having any personal protection equipment, Maruntung stopped his endeavor.
To keep his students studying, Maruntung has reactivated the reading room he created in 2016. This is a place where he placed books for students to read. However, only one or two children have been there. The school quickly held a meeting to discuss the future of the student body. Maruntung, who has been a teacher in Lanny Jaya for seven years, was worried that students there would fall behind or drop out. "This is already an underdeveloped area. It could fall even further behind," he said.
Distance learning efforts at a private school located on the coastal area, the Adhi Luhur Kolese Le Cocq D'Armandville YPPK High School in the Nabire Regency, Papua, have not been maximal. Neles Woge, a 12th grader at the school, said that he cannot study online when at his hometown in the Dogiyai Regency. Last March, Neles had to return to Dogiyai because that boarding school decided to send the students home. He still studies on his own by reading books he brought home when leaving the school dormitory.
In early August, Adhi Luhur High School reopened classroom activities. Christophorus Aria Prabantara, Headmaster of the Kolese Le Cocq D'Armandville, said that the school was reopened based on a check done by the regional Covid-19 task force. "We are following a strict protocol to reopen the school," said this pastor from the Society of Jesus order. Neles has returned to the dormitory and resumed his studies. "I want to go the Institute of Public Administration (IPDN)," said Neles.
On the Island of Java, and even in the Capital City, students are having difficulty studying online. Ajeng Satiti Ayuningtyas, founder of the Sekolah Cinta Anak Indonesia Foundation which works with poor children in Cikini, Central Jakarta, said that one child they help was nearly expelled from school for not completing assignments distributed online. This child did not have a smartphone. According to Ajeng, the school made no effort to understand this child's condition. The Foundation then met with the teacher at the school and explained the situation, and ultimately that student was not expelled.
Some groups are taking action to help those who do not have smartphones. As of the end of July, the Gusdurian network has been distributing cellular phones. A'ak Abdullah Al-Kudus, general chairman of Gusdurian Cares, said that this program is underway in East Java. Some reporters belonging to Journalists Across Media have asked for donations as well. They have distributed over 100 cellular phones to students in Jakarta, Bogor (West Java), Bekasi (West Java), Aceh, and Papua so that they can study.
Khairul Nugroho, a third grader at Gondangdia III State Primary School said that he misses going to school. So far, this student of the Sekolah Cinta Anak Indonesia Foundation has gone to his aunt's house to borrow a cellular phone for online learning. There is nothing he can do if his aunt's Internet data quota is gone. "I want this corona thing to be over quickly so that I can meet my teachers and study again," he said.
DEVY ERNIS, EGY ADYATAMA