Missing Friends
Students with disabilities have more difficulties to study from home with the remote learning system. Parents are demanding for schools to reopen.
Edition : Monday, August 10, 2020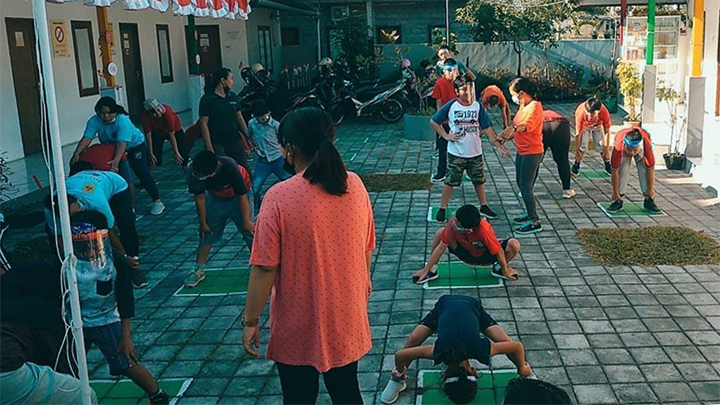 WITH her mother by her side, Freisya Aidea Briliana made doodles at her home in Jatirejo Hamlet, Bantul Regency, Yogyakarta, on Thursday, July 30. That day, Freisya was learning to count. The 10-year old had difficulties concentrating, and kept on running to the porch every time she heard her father's voice. Her mother Sartiyah would repeatedly call her to come back inside. She asked Freisya to use her fingers for counting, and the child often got it wrong. "I'm dizzy," Freisya told her mom.
Freisya is a fourth-grader at Siluk State Primary Inclusive School in Bantul. She is diagnosed with intellectual disability. Since the pandemic started, she stopped coming to school and began a remote learning system that the school implemented. But she and her mother found the system difficult. The family only has one smartphone, which her father, a beef delivery man, uses for work from morning until night.
Freisya had to wait for her father to come home before she can start doing her homeworks. Another problem she faces is unstable Internet connection, as the family home is located on a hilly area. To work around this, Freisya often studies at the home of Purwono Dwi Nugroho, the Jatirejo hamlet chief, as they have better Internet connection. Under these limitations, her school works are piling up, and she is often late to submit them. There have been occasions where Sartiyah had to plead to Freisya's teacher for extra time.
To help Freisya study, Siluk Primary School sent a tutor who comes every week, Nafrida Sekartiwi Astiyana. Nafrida is a special education's graduate from Yogyakarta State University. She is in charge of monitoring Freisya's development. Nafrida's day job is teaching at the Marsudi Putra I Special School in Bantul. During the Covid-19 pandemic, he was sent to assist in Siluk Primary School, helping four students with disabilities. "They need extra assistance," Nafrida said.
According to Nafrida, students with mental disabilities have more difficulties to study remotely. She said that almost all 91 students at Marsudi Putra I have complained about remote-learning. Their conditions require them to have face-to-face activities, which also allow teachers to monitor their progress and needs.
W251bGwsIjIwMjEtMDQtMjEgMTU6MTA6MzIiXQ
Freisya is just one of hundreds of thousands of students with disabilities. In 2018, the number of students with disabilities was more than 993,000. They are spread across 2,241 special schools and 29,000 inclusive schools throughout Indonesia. Just like other students, they are also affected by Covid-19. A research by the Disability Voices from Indonesia revealed that 67.9 percent of 128 children with disabilities had difficulty following online learning methods. They choose to study independently or not at all.
The survey also shows that 47.6 percent of children with disabilities study with their parents. But that does not solve the problem. The Principal of Denpasar's Sushrusa School for the Hearing Disabled, Ni Made Raka Witari, said that not every parent understands the learning materials for deaf children. Ni Made often received reports from teachers, or complaints from parents, since the school began implementing the remote-learning system on March 16.
To overcome this issue, Sushrusa School, which teaches 11 pre-school students and 45 primary students, creates video tutorials on the subjects. The videos are distributed each morning before lessons begin. But Raka Witari said some parents still had difficulties following the guidelines. Teachers encourage parents to ask questions via WhatsApp if they do not understand. To be honest, Raka Witari hopes that school activities can resume soon. "Children really want to go back to face-to-face learning," he said.
Parents experienced similar difficulties at the Sarwahita Autism Learning Center. Nyoman Sukadana said he was overwhelmed with the tasks of guiding his child's study time. Sukadana said that during the remote-learning period, his seven-year-old child's academic ability decreased. A number of parents then urged school administrators to reopen the school.
On July 13, the school with around 60 students was reopened. The teacher at the Sarwahita Learning Center, Ratih, said children and teachers who are not feeling well are prohibited from coming. This is to avoid transmission given the frequent physical contact between students and teachers. Ratih said that face-to-face meetings help the development of children with autism. "The problem with autistic children is that they need to socialize," said Ratih.
Tolhas Damanik, chairman of the Indonesian Inclusive Wahana Foundation, said that remote-learning is not too problematic for people with physical disabilities. Meanwhile, children with mental and intellectual health issues have a harder time understanding lessons online. "The problem is, the government's education policies do not include them," he said. According to Tolhas, educational institutions need to have strategies so that students can follow the rhythm of learning. For example, sending teachers to spend extra time with children with special needs, or school administrators allow students to come.
Jakarta Emerald School is one of the schools that allows students to come to school once a week. One of the students has Down syndrome. Farida Rachman, Principal of Emerald School, said that the child became sulky, begging to be taken to school to meet his friends. When told he could not, the boy then shut himself up, threw tantrums, and developed a high fever. It is for reasons such as these that the school allowed children with disabilities to come in turns.
At Emerald School, there are 34 children with special needs. Farida said that remote-learning has a bad psychological impact on them. Their development tends to be hampered during the pandemic. While at home, Farida said, children tended to be more spoiled than when they were at school. One of the strategies that the school applies is providing self-development lessons. "They must complete their daily tasks and check-mark the items they have completed," Farida said.
WAYAN AGUS PURNOMO (JAKARTA), SHINTA MAHARANI (YOGYAKARTA),
MADE ARGAWA (DENPASAR)