An Epidemic of Virtual Events
Virtual event-organizer service providers begin to appear. Its potential niche market grows during the Covid-19 pandemic.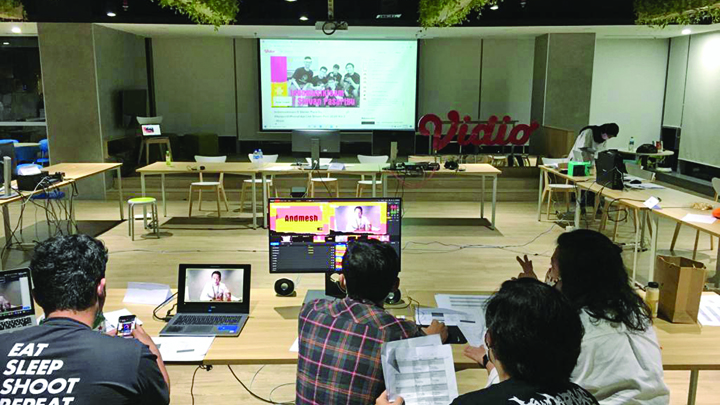 DENNIS Alexander Sihombing is involved in at least seven meetings every day. As content operation manager at Vidio Dot Com, his activity has increased. In this work-from-home era, the 42-year-old man has to go to the office every day to ensure that the large-scale live streaming on Vidio, the website-based and application video-on-demand service developed by his company, runs smoothly. "Before the pandemic it wasn't this many," said Dennis, on Thursday, August 20.
The Covid-19 pandemic was an opportune moment for Vidio, which has been in operation since 2018 as a part of a Surya Citra Media business group. Social restrictions to prevent the viral contagion have altered consumer behavior. The marketing strategy of many companies has also switched to digital services.
Before this pandemic, Vidio was more about film content and live broadcast of sporting events. Today, Vidio's management has been flooded with requests to hold virtual events. "It can be said that the demand went up by more than 100 percent," said Adhi Maulana Mauludi, general manager of content operation at Vidio.
These live streaming events vary from promotions packaged as talk shows, seminars, and long-distance press conferences. "This is much less expensive than off-air events," said Adhi.
Combined with the daily products they routinely produce, Vidio works on up to 27 event projects each day. Most of the requests to organize events come from the food and beverage and telecommunications sectors. Adhi claims that one live stream can be watched by at least 4,000-5,000 accounts. This number can be as much as three times as high for entertainment events. "That is existing in real-time, while for offline events the number will certainly be much lower," he said.
The ability to reach a large audience, creative concept services, the streaming model, and various promotion arrangements are the selling points of Vidio to its clients. It is considered that there is potential for a niche market for organizing virtual events, even though many social media platforms provide such services for free, such as YouTube, Facebook, and Instagram. Vidio is currently preparing a new service, which is paid virtual concerts. "The infrastructure is in place. Only a few systems need to be improved," said Adhi.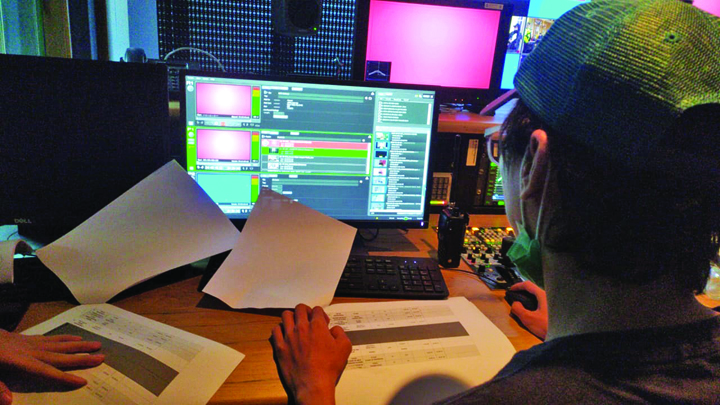 Vidio.com control room during a live streaming event in Jakarta, last May. / photos: Vidio Doc.
This potential has also been seen by Pison TicketTech. This company which goes by the name KiosTix, and provides ticket event management services, has developed the KiosLive virtual event platform, which will focus on the entertainment market. Their content includes music shows, webinars, cinema, and virtual parties. Starting in April, KiosLive has held about 150 virtual events, both paid and free. The ticket sales for these events are handled by KiosTix.
The prices for some of the paid programs streamed by KiosLive vary according to the type and content of the event. A ticket for a music concert, for instance, sells for between Rp35,000-300,000. Virtual party events—which are sold as package deals including food, beverage and merchandise which can be sent to people's homes—can be accessed for about Rp500,000.
KiosTix Creative Manager Caesario Ibrahim said that the 150 virtual events which they worked on over the past five months are not yet ideal to sustain the company. "However, we have seen an increase because a growing number of successful events," said Caesario, on August 19. "Many people have begun to become familiar with this sort of platform."
This growth in virtual services for broadcasting events is not without its inherent risks. This is why event organizer Visicita Imaji Semesta or Visicomm decided to invest in building their own system when holding Flavs, a hip-hop and RnB music festival, on August 15-16.
Muhammad Riza, chief executive officer (CEO) of Visicita, said that the Flavs music festival concept required a suitable system so that the audio-visual service could be accessed interactively by viewers. "There is no such thing available on the platforms which have been used a lot for online events, such as YouTube, IG Live," said Riza, on August 18.
Indeed, for their first festival, Flavs was not profitable. The company had spent Rp8.5 billion. The revenue was not more than Rp1 billion from sales of 6,000 tickets priced at Rp99,000 each.
Nevertheless, according to Riza, the system developed for Flavs is a part of the company's investment strategy. In addition to being used to hold future concerts, this system can be rented out if other music event organizers are interested. Riza is optimistic that future concerts will bring in more revenue as more consumers and sponsors become familiar with virtual event services.
Syakira Ghyna Rajawali Indonesia Communication, a communication strategy and event organizer service company, has been more fortunate. Last January, before the pandemic began, Rajawali Communication began cooperation with Telkom Indonesia to develop i-Konser, a music concert channel on IndiHome. Those who are not paid subscribers of IndiHome can access this channel on a pay-per-view basis for Rp15,000.
According to Anas Syahrul, CEO of Rajawali Communication, the strategy to provide virtual concert services was not only a result of the pandemic, but is also aimed at reaching more viewers at more affordable prices. "Many fans cannot go to concerts in person because of location, high ticket prices, and other costs like accommodations," said Anas.
In the near future, Rajawali Communication is going to routinely present the Prambanan Jazz event, which this year, like it or not, must be repackaged. This event which was planned to be held last July has been rescheduled for the end of October. Rajawali plans to use a hybrid concert concept. The event can be attended in-person on location, as well as via live streaming. "We are still approaching the (Covid-19) task force in order to receive a letter of recommendation," said Anas.
AISHA SHAIDRA