Questions for the 2021 Draft Budget
The government projected a reversal in economic conditions, from the current negative state to a rise of between 4.5 to 5 percent in 2021. Formidable challenges will be faced in recovering public consumption, investment, and realizing state expenditure.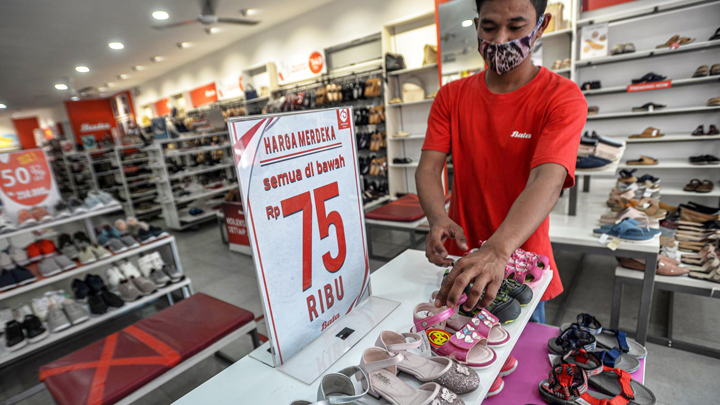 RETAILERS offered huge discounts as Indonesia celebrated its 75th independence anniversary. The Association of Shopping Mall Tenants, for example, organized Indonesian Discount Shopping Days for two weeks between August 14 and 30. It offered deals related to '75', from 75 percent price slashing to a Rp75,000 discount. There were also 'buy-one-get-one-free' offers for culinary, fashion, and beauty products.
GoFood, an app for food delivery, also came out with its 'Promo Foodiskon' until September 29. This is a continuation of its 'Do Good Promo' which went on between June 20 and July 31. "We see people's enthusiasm, and a positive impact on our business partners," said Rosel Lavina, Gojek's vice president for corporate affairs-food ecosystem, on Wednesday, August 19.
Roy Nicholas Mandey, chairman for the Indonesian Retail Association, believes that the promotion efforts surrounding the independence day celebration only benefitted the sub-sector for staples like food. The public prioritizes these kinds of consumption. "Not items like cosmetics, shoes, and others," he said. Public consumption is lagging, hit by the Covid-19 pandemic. The Central Statistics Agency noted that household consumption in the second quarter of 2020 went down 5.51 percent compared to the same period last year.
Although this sector has not contracted as much as others, such as government expenditure, investment, and exports/imports, this sharp decline in household consumption is the main reason for the gross domestic product's decline of 5.32 percent in this year's second quarter. Household consumption contributes to more than half of gross domestic product.
Finance Minister Sri Mulyani Indrawati said consumption, together with investments, are the most important variables. "It contributes 90 percent to our economy," she said in an interview with state broadcaster TVRI on August 17. The problem, she said, is that recovering those two variables in the midst of this pandemic crisis is no easy matter. "It's tough."
Sri Mulyani, former World Bank executive director, explained that the government is trying to step up consumption. One effort is to allocate some sections of the State Budget towards social assistance.
The minister said that if a country suffers from a negative year-on-year growth for two quarters in a row, it is in a recession. "We have already suffered a downturn of 5.32 percent in the second quarter. If we want to prevent this from happening in the third quarter, everyone has to contribute," she said.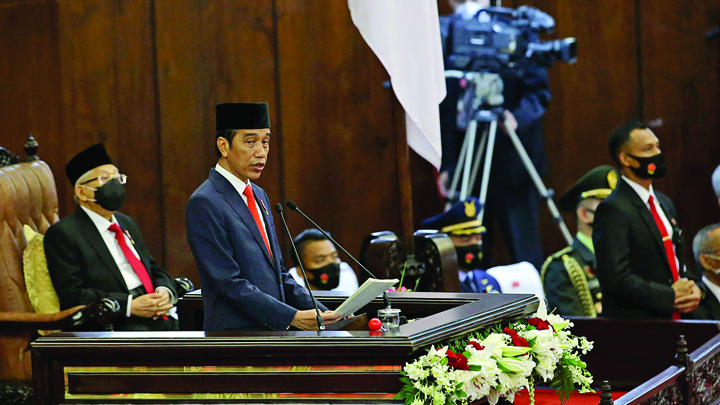 President Joko Widodo delivers his speech on the 2021 Sate Budget draft at the House of Representatives in the Parliament Complex, Senayan, Jakarta, August 14./ TEMPO/M Taufan Rengganis
In his speech on the 2021 State Budget draft on August 21, President Joko Widodo said that the government is preparing to set aside funds for a social safety net for the middle and lower classes amounting to Rp110.2 trillion next year. Those funds are to be distributed through the Family Hope Program, Staples Card (Kartu Sembako), Pre-Employment Card (Kartu Prakerja), and Social Cash Assistance.
Overall, the budget for social assistance amounts to Rp419.3 trillion, including that for social recovery and support to gradually reform the social safety net system. This amount is double that of this year's Rp203.9 trillion.
Wages subsidies is the newest program in next year's budget. This program is aimed at workers active in the Workers Social Security Agency (BP Jamsostek), who earn below Rp5 million a month. This section of the society will receive assistance of Rp600,000 a month, for a period of four months. The target is 15.7 million people with funds allocation of Rp37.7 trillion. This policy is hoped to push consumption to energize the economy.
Jokowi compared Indonesia's economic downturn, and that of other countries, to a stalling computer. "It's in a hang mode. All countries must go through the process of stalled computer for a short moment," he said. The president is optimistic that the global economic downturn could be an opportunity and momentum to overcome this lag and to reverse it. "All countries have the opportunity to reset their systems."
•••
MANY are scrutinizing the government's 2021 draft budget. The economic growth projection of between 4.5 to 5.5 percent is seen as overly optimistic amidst the uncertainty of when the pandemic would blow over. "We in the private sector are not as optimistic as the government," said Sofyan Wanandi, chair of the Indonesian Business Association's Advisory Council. His prediction is that the economy would only grow between 3 to 4 percent.
Sofyan said that public consumption in the middle and lower classes would not be sufficient to move the economy. The government needs to stimulate the middle-upper class to consume, since this segment consists of some 52 million people which counts for between 60 to 70 percent of household consumption. "This is the largest segment, so it's up to them, not the middle-lower one," Sofyan pointed out.
The government has already identified that the middle-upper class segment is currently keeping its money in the banks instead of spending it. "Based on data, one problem is on the demand side. Those who have savings above Rp200 million choose to increase their savings instead of spending it," said Coordinating Minister for the Economy Airlangga Hartarto on, August 12.
Bhima Yudistira, economist at the Institute for Development of Economics and Finance, also questioned some other aspects in the macroeconomic assumptions for next year. For example, the government has pegged an inflation target of 3 percent. Meanwhile, the rupiah exchange level is expected at Rp14,600 to the US dollar. "Is it possible to go from a recession to growth of between 4.5 to 5.5 percent? We are still facing a pandemic," he said.
Kamrussamad, member of the House of Representative's (DPR) Finance Commission, appreciated government's optimism over Indonesia's economic recovery. "The question is, will the economic team be able to realize that by counting on the consumption and investment sectors?" said this politician from the Gerindra Party.
Yustinus Prastowo, a special staffer for the finance minister, assured that the optimism in the 2021 draft budget is based on realistic assumptions. Yustinus said that many new opportunities arise during the pandemic. "There are new sectors that come up and develop. On the other hand, we hope that other sectors hit by the pandemic will be able to recover soon."

Meanwhile, the Indonesian Forum for Budget Transparency (Fitra) appreciated that the draft included funds for food secuty amounting to Rp104.2 trillion. "The agricultural sector deserves to get additional support, as it is proven to contribute towards national economic resilience in the midst of a potential recession," said Misbah Hasan, Fitra's secretary-general, on August 15.
It is still unclear where the Rp104.2 trillion funds would be placed. However, the agriculture ministry is guaranteed to get an allocation of Rp3.38 trillion. Some Rp2.2 trillion is pegged to support the food estate program in Central Kalimantan, South Sumatra, and Papua. The remaining Rp1.18 trillion is to be used to fund activities related to national food security, such as Pekarangan Pangan Lestari, a program to encourage growing food-generating plants in gardens, and Peningkatan Produksi Komoditas Pertanian (Program to Increase Agricultural Commodities). Total budget allocation for the agriculture ministry is Rp21.83 trillion.
Prior to this, the President has said that the defense ministry is to be the leading sector in developing food estates in Central Kalimantan. In the 2021 State Budget draft, this ministry under Prabowo Subianto is set to receive a budget of Rp136.99 trillion, the second largest amount after the ministry for public works and people's housing. However, no details have been given for the food estate funds allocation in the defense ministry.
The public works ministry, which will receive Rp149.811 trillion next year, has clearly mapped out its funds' allocation for the food estate program. The biggest chunk, Rp5.89 trillion, will be used for programs in the former peatland area in Central Kalimantan, and Rp750.04 billion will go to developments outside that region. These funds do not include budgeting for national food security for Rp2.2 trillion.
Economist Fauzi Ichsan pointed out that the central point for the draft budget is implementation, not the macro aspect. "It depends on how fast the bureaucracy can make the funds liquid and distribute them to the people," he said. The problem is, Fauzi continued, that many officials and bureaucrats are still worried about the legal implications that may arise in executing these programs.
The finance ministry noted that the realization of government expenditure until June this year has reached Rp1,068.9 trillion, or 39.02 percent of the national budget as stated in the Presidential Decree No. 72/2020. The government expenditure is lower compared to the same period last year, which was 42 percent.
The central government's expenditure for the first semester of 2020 is the lowest: Rp668.5 trillion, or 33.8 percent of the total Rp1,975 trillion. The biggest chunk of central government allocations went to non-ministerial and institutional expenditure for Rp1,138.8 trillion. However, its realization only reached 27.9 percent. Non-ministerial and institutional expenditure includes various subsidy and stimulus programs to counter the impact of the Covid-19 pandemic.
RETNO SULISTYOWATI, FRANCISCA CHRISTY ROSANA, AHMAD FIKRI (BANDUNG)