Abuse Must Be Dealt With Openly
Bishop of Bogor, Monsignor Paskalis Bruno Syukur: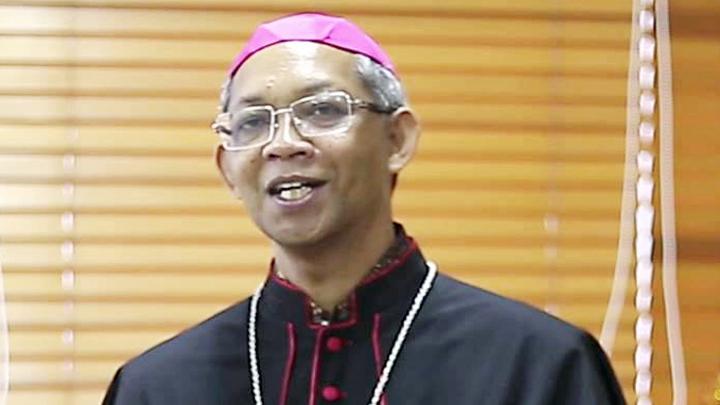 CASES of sexual abuses have begun to be exposed in the Bogor Diocese. In addition to a case of sexual abuse of an altar boy at St. Herkulanus Church in Depok, which was disclosed last June, a similar thing is suspected of having taken place at the Kencana Bejana Rohani Foster Home in Depok, West Java. The suspected perpetrator in the latter case is Friar Angelo Ngalngola, who claimed that his orphanage was authorized by the Diocese.
On Friday, August 21, Bishop of Bogor Monsignor Paskalis Bruno Syukur met with Tempo reporters Wayan Agus Purnomo and Raymundus Rikang, at the Pastoral Center of the Bogor Cathedral. For about an hour, Paskalis explained the matter of suspected cases of sexual abuse at that foster home.
When did you find out there are cases of sexual abuse at the Kencana Foster Home run by Angelo?
After the Diocese Legal Commission informed me. At that time, we were focused on helping the children at the foster home so that they would not become traumatized.
What did you do after that?
They could not be sent home because they were still studying. We entrusted them to two orphanages. The legal affairs bureau also looked for places which could take them in.
It looks like the Bogor Diocese was not proactive in this suspected abuse.
The response to the legal case must be cautious to avoid a counter-attack. If someone reports it to the Commission on Justice and Peace, there is an opportunity to get to the bottom of it. If no one wants to testify, then how to uphold the accused actions? While the Diocese Legal Commission has been proactive, it comes back to the victims and whether or not they are willing to turn the case over to the Diocese.
Angelo claimed that he had authorization from the Bogor Diocese for his work. How do you respond to that?
Usually religious orders that want to work in the Dioceses have a working contract known as a conventio scripta and submit the constitution and statutes of their order. Those documents contain the vision and types of services which are to be carried out by the order over a certain time frame. The diocese does not have a conventio scripta with Angelo's order, which he claimed was the Blessed Sacrament Missionaries of Charity.
Did you asked Angelo to provide those documents?
The diocese through Pastor Yohanes Driyanto, who is in the Legal Commission, asked Angelo to submit those required documents. After three to six months, he had still not submitted those documents to the diocese.
You met with a BSMC representative from the Philippines. How did that go?
I asked Angelo to bring over the leader of his order. One person came wearing a robe and gave a sort of statutes of the order, but I did not study them. Perhaps that was an oversight on my part. I forbid Angelo to establish any community, and he could only teach at the Theresia Primary School, which needed an English teacher.
To what extent had the diocese investigated the credibility of Angelo's congregation?
Pastor Driyanto studied and investigated that order. The conclusion was that the BSMC was not a religious order, but a public association or ordinary group. The diocese has summoned Angelo and asked him to turn in his robes. I also issued a letter stating that Angelo is not a friar.
There is a photo of Angelo with you in some BSMC publications.
That photo was taken during the appointment of members of the St. Mateus Parish Board in Depok. After the event there was a photo session, and Angelo came in with some children. I could not refuse because the children were there. That photo was used to give the impression that the diocese approved of Angelo's activities.
The church is often seen as not being transparent in handling cases of sexual abuse. What do you have to say about that?
That view has come about because of the view on previous cases. My principle is that if such cases of sexual abuse happened then it must be handled openly. No less important is that efforts must be made to provide counseling and aid for the victims.