I Pay officers
Songbird Smuggler, Diah Bayu
Edition : Monday, September 7, 2020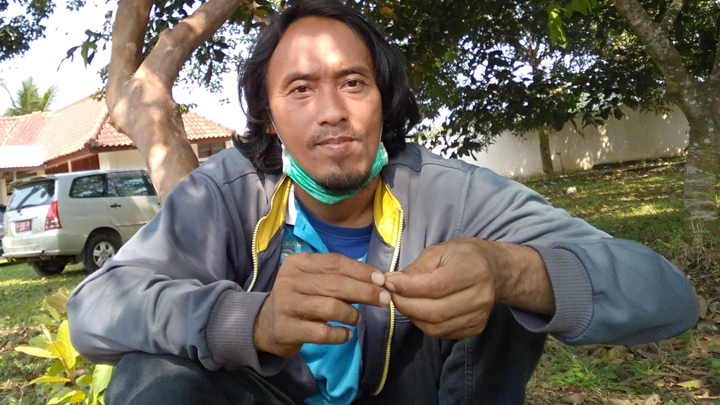 THE Bakauheni Port Police in Lampung, arrested Diah Bayu (42) and his driver when they were passing through the port checkpoint on Tuesday, July 7. He was busted for bringing 400 songbirds from various regions in Sumatra. Police had been tailing the man for a week throughout his journey from Purwokerto, Central Java.
Diah Bayu is famous among song bird lovers and collectors in Lampung, Bengkulu, Riau, and Jambi. In June, Bayu contacted his network, to say that he was ready to buy all sorts of songbird, regardless of how many. Some of these are protected species; such as hornbills, crested jay (Platylophus galericulatus), and the blue-winged leafbird (Chloropsis cochinchinensis). When the police and investigators of the Bandar Lampung quarantine center questioned him, Bayu said that he was trading chickens and pigeons, with a capital of more than Rp10 million. He promised he would not repeat the offense.
In early September, Diah Bayu was arrested again at the Bakauheni Port. Officers were tipped that Bayu had been in Sumatra to purchase more birds in August. When his car was pulled over, there was not a single bird inside, so the police had to let him go. On July 8, after the first questioning in Bandar Lampung, Diah Bayu told Tempo's Mustafa Silalahi that he has an umang-umang, which is the local term for paid informant.
Why do you smuggle songbirds to Java?
Because there are not many birds in Java. Well, there are plenty, but only in Pramuka Market (East Jakarta). If you take them to other districts in Java, you only get a small profit.
Where do you get the songbirds?
I visit collectors in various areas by car. I made an order beforehand. Sometimes I order to bird catchers as well.
There are bird markets in Solo, Central Java. Why not just buy there?
W251bGwsIjIwMjEtMDUtMTIgMDk6MDk6NTgiXQ
That is where the big traders play. They do wholesale there. Birds from Sumatra (that are sold) there are usually shipped by planes.
Are there many lovers of Sumatran birds in Java?
Plenty, from all age groups. The feed are easy to get, too. Just give them sugared water to make them sing. I sell the birds all the way from Purwokerto to Probolinggo (East Java). It is difficult to find small birds in Java. Big ones are easy, as they are bred in bird farms in Java.
What are the small birds for?
We usually use them to entice other birds to sing. Some are for pets.
How much do you buy them from bird catchers, and how much do you sell them for?
For hummingbirds, I buy them for Rp5,000 per bird, and resell them for Rp20,000 to Rp30,000.
What types of birds do you trade?
Just small birds, hummingbirds, crested jay, greater green leafbird (Chloropsis sonnerati), all kinds. Once I sold a white-bearded bulbul (Criniger ndussumensis) for Rp700,000.
We heard that you still order hornbills and other protected birds. Do you?
Not anymore. I am too scary to do that now. The risks are too high.
Many of the birds you carried in the boxes died. Why is that?
That's just the risk. We calculated it as losses. We provided feed in the box. What usually happens is they die because they got weak when captured. Sometimes the box is too full.
Do you cooperate with law officers?
There is an officer of the law, his name is Pawan, from Bakauheni. He does not wear uniforms. I paid Rp400,000 to officers so they would let me pass through the checkpoints. He has helped me before.