A Middle Way for Green Energy
A new price regulation for electricity from new and renewable energy sources will be issued coming soon. Full of incentives to pursue the 2025 target.
Edition : 7 September 2020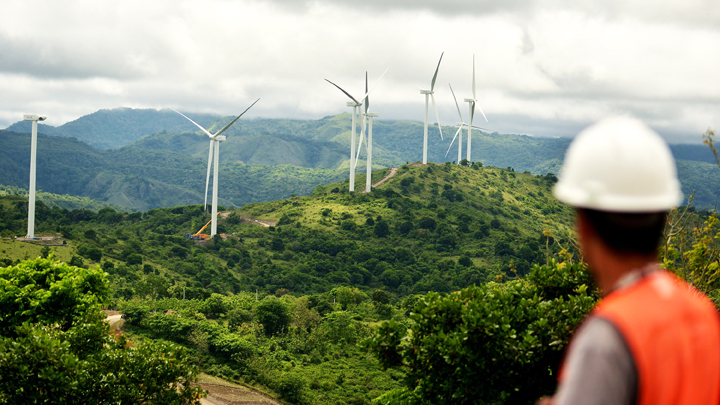 THE presidential regulation draft for purchasing new and renewable electricity from state power company PLN is completed. In August, the discussions between ministries started to lead towards an agreement. "It is still being harmonized by the justice and human rights ministry," Ida Nuryatin Finahari, director of geothermal energy at the energy and mineral resources ministry, said on Wednesday, September 2.
The regulation is expected to be issued this month—later than government's initial plan to have it passed in the first half of 2020. In addition to the energy ministry, the bill's discussion, which began 18 months ago, was also joined by the finance ministry and the state-owned enterprises (SOEs) ministry.
F.X. Sutijastoto, director-general of new and renewable energy and energy conservation, said that the main issue in the discussion was aligning the perception on a profitable yet affordable price, which will encourage new and renewable energy development. Right now, the domestic market for green energy is still small—not reaching an economic scale yet, which causes prices to be quite high.
He pointed at the economies of scale for solar power generation, which is 300 megawatts (MW). The actual scale in the domestic market is now still on average 100 MW per year. Because of that, Sutijastoto said that "New and renewable energy must be encouraged to achieve economies of scale, so that prices can fall."
New and renewable energy development has been rather stagnant. In the last four years, the average capacity growth has been only 500 megawatts. Without serious efforts, especially in the form of government support, Sutijastoto said by 2025 Indonesia would only have 2,500 MW of additional green energy power plants' capacity. In fact, Indonesia needs an additional capacity of 9,000-10,000 MW to achieve the target of contributing 23 percent of new and renewable energy to the 2025 national energy mix.
To push for green power plant development, he said, the government must implement policies on a reasonable and affordable economic price. In order for prices to be affordable, the government will provide incentives to developers of new and renewable energy. "All of this is stipulated in the presidential regulation draft on new renewable energy prices."
In the final draft of the presidential regulation, the government classified prices into three groups, namely the feed-in tariff, the highest benchmark price (HPT), and the agreed price. With feed-in tariffs, there is no negotiation, nor is there any period escalation in terms of the sale and purchase agreement. The government plans to have the regulation also act as a price agreement from the minister.
The feed-in tariff scheme is applied for electricity purchased from power plants with a capacity of up to 5 MW. The types include hydro power, solar power, wind, biomass, biogas, and geothermal power.
Meanwhile, the HPT scheme uses negotiation with a ceiling that refers to the highest benchmark price set out in the presidential regulation. This price is also accompanied by a non-escalation scheme during the term of the power purchase agreement. Especially for geothermal plants, escalation applies during the contract of steam or electricity sale-purchase.
The final group for is electricity bought for a price that was agreed through a negotiation. The result of the agreement must be approved by energy minister.
Sutijastoto said that the feed-in tariff scheme is specifically applied to generators with a capacity of less than 5 MW, appointed directly. "The government wants to encourage the growth of new and renewable energy entrepreneurs in the regions," he said.
•••
INDONESIA is obliged to comply with the Paris Agreement committed to reducing the greenhouse gas effect by 29 percent (self-employed) and 41 percent (with international support) by 2030. The government is targeting to cut greenhouse gas emissions by 314 million tons of CO2 equivalent over the next 10 years, which is estimated to cost of Rp3,500 trillion.
The new and renewable energy generation sector is expected to contribute to said goal. The target is to cut greenhouse gas emissions of 156.6 million CO2 equivalent, or 49.8 percent of the total energy sector mitigation. To achieve that, the investment needed is estimated to reach up to Rp1,690 trillion.
At the same time, the government is also targeting to have 23 percent of new and renewable energy mix by 2025. According to the energy ministry's calculations, at the end of 2020's first half Indonesia has renewable energy power plants with an installed capacity of 10.4 Gigawatts (GW). Most of them are hydropower plants with a total capacity of 6.07 GW, as well as a 2.1 GW from geothermal plants.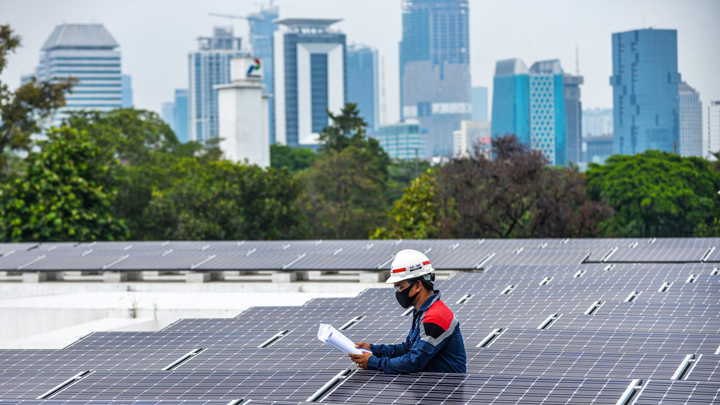 A maintanance officer checking on the solar panels at the Istiqlal Mosque, Jakarta, September 3./ Tempo/Tony Hartawan
For Ida Nuryatin, geothermal is a potential source of renewable energy due to its large capacity factor. "That way, it will have a significant contribution to the green energy mix and greenhouse gas emissions reduction," she said on August 19.
Previously, a number of regulations were issued to encourage the development of renewable energy. Among them are the Energy Minister Regulation No. 50/2017 on the utilization of renewable energy sources for the provision of electric power, and Regulation No. 49/2018 on the use of rooftop solar power systems by the consumers of PLN. However, Fabby Tumiwa, Executive Director at the Institute for Essential Services Reform, said that the main problem with the new and renewable energy development in Indonesia is the inconsistent regulations. "Our regulations can change 180 degrees in a very short time," he said on August 31.
He mentioned the electricity price provision that was set out in 2008. The rule only lasted a year. "And then they changed it again in 2012 and in 2015," Fabby said. The changing rules have made it difficult for renewable energy's investment and development to advance.
F.X. Sutijastoto said that the energy minister regulation alone would not suffice to encourage new contracts for renewable energy. "Therefore, for push for competitiveness, the prices of new renewable energy will be determined through a presidential regulation. This is very important," he remarked.
Energy Minister Arifin Tasrif also said that the previous price rules failed to push the development of new and renewable energy. "The last time, we applied feed-in rates for all, and it did not work. (Energy) that has high costs should not be sold cheap, "he said.
•••
THE government drafted a new rule with a plethora of incentives, both fiscal and non-fiscal, such as waivers and exemptions on income taxes, value-added tax, and luxury goods imports. The geothermal sector will also enjoy relief for land and building taxes.
Another incentive being prepared is the cheap rates for financing renewable energy development. The new regulation will also determine the compensation for geothermal exploration costs. "We are also suggesting support for special financing and guarantees, through appointed SOEs," Finance Ministry's Director-General of Financing and Risk Management Luky Alfirman said.
Geothermal Director Ida Nuryatin said that the presidential regulation draft will also regulate the mechanism for government drilling on geothermal exploration. This activity will be carried out by energy ministry's geological agency, using money from the state budget. The proven reserves found in the work area will be certified, and then auctioned.
That way, future auctions will have complete data and information on the geothermal working area offered. Developers are expected to immediately work on the area without first conducting surveys and exploration, which are the activities with the most risks. This whole time, obtaining proven reserves in a geothermal area required the drilling of at least three wells, each costing between US$3 million and US$12 million. Ida estimates that without the risk of exploration drilling, prices could be corrected by US$0.5 to US$2.5 cents per kilowatt-hour.
She added that the energy ministry is suspending geothermal working areas auctions temporarily in 2020 and 2021. "We will complete the data first. By 2021 we will resume drilling, and the work area auctions are likely to start in 2022."
Prijandaru Effendi, chairman of the Indonesian Geothermal Association, said that the discussions on the draft presidential regulation also involve business actors. One of the things that the association suggested is for the government to regulate rates in accordance with each project's economic values. "I hope that the draft regulation will provide legal certainties to support geothermal development."
Meanwhile, Geo Dipa Energi Chief Executive Officer Riki Firnandha Ibrahim suggested that, in the future, new sales contracts for geothermal power plants could be extended to 50 years (long-run marginal cost). That way, the project's economic price will not be too different from PLN's basic costs of supplying electricity. Currently, the average term of each agreement is only 25-30 years, whereas the operating period of geothermal plants can last up to 100 years. "Perhaps the contracts can be extended to, say 60 years, so that prices become cheaper," he said.
PLN spokesman Arsyadany was reluctant to comment, because the draft regulation is not passed yet. She only stated that PLN's duty is to carry out government policies. Matters related to (price) negotiation must also be agreed by the buyer and the seller, and known by the government.
However, PLN's Executive Vice President for New and Renewable Energy, Zulfikar Manggau, said something else. In his presentation during a focus group discussion on geothermal energy development, challenges, and future breakthoughs on June 11, he said that the price of geothermal plants will be cheaper after 20 years, or after the loan repayment period ends.
Like Riki, Zulfikar urged the government to regulate contract periods' extension. He gave an example of the Larderello geothermal plant in Italy, which has been operating for more than 100 years, as well as New Zealand's Wairakei geothermal plant that has been running for more than 60 years. "Meanwhile, Kamojang is more than 35 years old," he said.
RETNO SULISTYOWATI