Recovering in Silence
A number of public officials are reluctant to announce testing positive for Covid-19. It is seen as endangering the safety of others.
Edition : Monday, September 14, 2020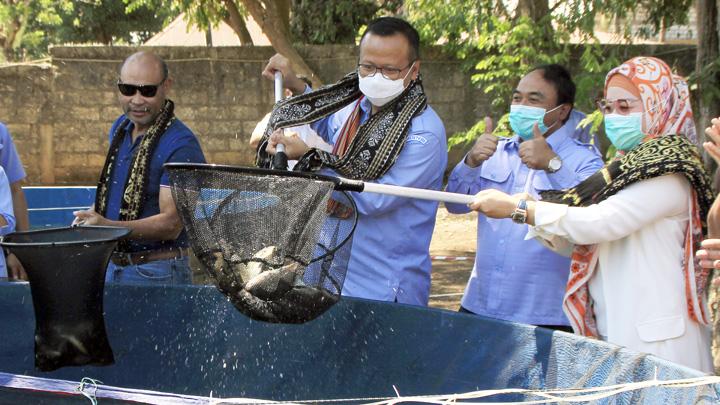 ANDRE Rosiade, a member of the House of Representatives (DPR), send some traditional beef rendang (meat cooked in coconut milk and spices) and fish curry dishes to the official residence of Marine Affairs and Fisheries Minister Edhy Prabowo in Jalan Widya Chandra, South Jakarta, on Wednesday, September 9. Andre, who had just returned from Padang, West Sumatra, heard that his colleague in the Gerindra Party had tested positive for coronavirus. "No one in the party (chat) group was talking about Edhy's condition," said Andre when contacted on September 11.
On that day, Gerindra Secretary-General Ahmad Muzani verified the news that Edhy had contracted Coronavirus Disease 2019 or Covid-19. Muzani, who is also a DPR deputy speaker, said that he has contacted Edhy. According to him, Edhy is in good health. "His voice is strong and he laughed a lot. He is patiently facing this," said Muzani at the DPR Building. A day earlier, Daniel Johan, deputy chairman of the DPR's Fisheries Commission, said that he received news on September 3 from a member of Edhy's special staff that Edhy had tested positive for Covid-19.
News that Edhy had contracted the coronavirus has been going around since early September. An official at the maritime affairs ministry said that Edhy's temperature had risen during activity in the provinces. Traveling with an entourage from Jakarta, Edhy visited Maluku, East Nusa Tenggara, and East Kalimantan from August 28 to September 3. In Maratua, East Kalimantan, Edhy had released some baby green turtles into the sea. In Maluku, he met with Governor Murad Ismail and appointed a civil servant investigator. Edhy also met with East Nusa Tenggara Governor Victor Laiskodat.
As seen in photographs of these activities, Edhy took of his face mask several times when giving speeches and posing for photos with people. According to this same official, upon arriving in Jakarta Edhy was taken to a hospital, then went into self-isolation at his official residence. The office of the maritime affairs ministry has been closed for the first two weeks of September.
Edhy did not respond to questions submitted by Tempo about his positive coronavirus status. Officials at the maritime affairs and fisheries ministry are not talking about it either. Secretary-General of the Maritime Affairs Ministry Antam Novambar and Chief of the Public Relations and Foreign Cooperation Bureau Agung Tri Prasetyo did not respond to telephone calls and messages sent by Tempo. Andreau Pribadi, a member of Edhy's special staff, said that he was actually the one who had contracted the coronavirus. Andreu said that Edhy was sick due to fatigue, and the Edhy's swab test had come back negative.
W251bGwsIjIwMjEtMDUtMDggMTU6MDk6NTciXQ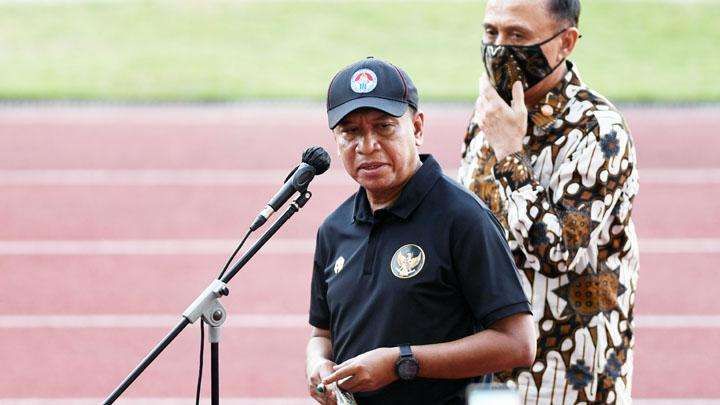 Youth and Sport Affairs Minister Zainudin Amali at the Madya Stadium, Senayan, Jakarta, August 29. ANTARA/Puspa Perwitasari
The Presidential Palace has not made any announcement regarding Edhy testing positive for Covid-19. Things were different compared to mid-March when Minister/State Secretary Pratikno announced that Transportation Minister Budi Karya Sumadi had contracted the coronavirus. Pratikno did not respond to Tempo's message. This was also the case with presidential spokesman Fadjroel Rachman.
Pandu Riono, an epidemiologist from the University of Indonesia's School of Public Health, said that the government and public officials do not need to conceal any coronavirus cases. According to him, openness will make it easier to trace the people who had been in contact with such officials. "If they are not open about it, it will endanger the lives of those around them," he said. "There is nothing shameful about being infected by the coronavirus. Public officials should give a good example for the public."
At the tourism and creative economy ministry, some officials have reportedly tested positive for Covid-19. Tourism Minister Wishnutama did not respond to Tempo's question about any of his subordinates testing positive. A high-ranking official at that ministry said that there was one echelon I official who contracted the coronavirus. That official had been on an official trip to Bali. The office of the tourism ministry was closed for four days, from September 8-11, to be sterilized.
It was also reported that Youth and Sport Affairs Minister Zainudin Amali had previously contracted the coronavirus. Speaking to Tempo, Zainudin verified that a rapid test he took early on during the pandemic was positive. This Golkar Party politician decided to not tell anyone about this test result because he felt the test reaction was caused by fatigue. A swab test came back negative. "As it turned out, it was fatigue which made the rapid test reactive," he said.
Several members of the DPR also tested positive for Covid-19 and did not share the information with the public. Deputy Speaker of the People's Consultative Assembly (MPR) Arsul Sani admitted to being infected by the coronavirus on August 20 after he took a swab test. He said he experienced mild symptoms such as flu and headache. He immediately went into self-isolation. "Now I am healthy again," said the United Development Party (PPP) politician. A week before the swab test, Arsul attended a rehearsal for the annual MPR session and attended a big parliamentary meeting attended by President Joko Widodo. Arsul has resumed his usual activity at the parliament.
Bambang Wuryanto, secretary for the Indonesian Democratic Party of Struggle (PDI-P) Faction in the DPR, said that there have been a DPR member and party staff who have tested positive for Covid-19. The chairman of PDI-P's election campaign body said that their faction conducts coronavirus rapid tests every week. In early September, one of eight staff members had a positive rapid test result. The PDI-P Faction followed this up with swab testing. The results showed one DPR member and three staff members tested positive for the coronavirus.
According to Bambang, the DPR member who tested positive was Abidin Fikri, who is assigned to the Health Affairs Commission. Abidin did not respond to messages and telephone calls from Tempo. The staff members who tested positive were the driver of one DPR member, a member of the expert staff, and a janitor who works at the office of DPR Speaker Puan Maharani. Bambang verified that the PDI-P Faction did not announce the results of those swab tests. "There was no need to frighten the public," he said.
Ahmad Sahroni, deputy chairman of the DPR's Legal Affairs Commission, did not deny the news that some members in his commission had contracted the coronavirus. Sahroni himself verified some expert staff and staff on the Legal Affairs Commission had tested positive. As a result, the Commission's room was temporarily closed and sterilized. Some meetings were cancelled. Sahroni said that the decision on whether or not to announce test results is the right of each DPR member. However, according to this politician from the National Democrat (NasDem) Party, openness will make it easier to trace those they had been in contact with. Previously, in August, Taufik Basari, a member of the DPR's Legal Affairs Commission, tested positive and announced the result to the public.
Trimedya Panjaitan, a member of the DPR's Legal Affairs Commission, said that some of his colleagues have ignored health protocols. "Indeed it appears some of them have lacked discipline in wearing masks," said the PDI-P politician. Trimedya received information that some expert staff, drivers and staff of DPR members were affected by the coronavirus. "If many become affected, perhaps the DPR can be locked down," he said.
DEVY ERNIS, FRANCISCA CHRISTY ROSANA, HUSSEIN ABRI