Counterclaims in the Capital
Claiming unavailability of hospital beds and an increasing number of positive coronavirus cases, Jakarta Governor Anies Baswedan reinstated Large-Scale Social Restrictions. He is accused of not supporting the economy.
Edition : Monday, September 14, 2020
CLEF Pasaka was laying on an ambulance gurney for an hour in front of his house in Jagakarsa, South Jakarta, on Sunday, August 30. His breathing assisted by a medical device, this 66-year-old man was examined by two medical personnel wearing hazmat suits. Clef had been suffering from a fever for the past few days.
That night, at 7:40pm, Clef was not immediately taken to the hospital, because the treatment ward was full. Those paramedics contacted some health facilities, including the Fatmawati Central Public Hospital and the Koja Regional Public Hospital (RSUD), asking about bed availability. Around 9pm, Clef was finally given confirmation that he could be treated at the Fatmawati Hospital emergency room. "Many hospital rooms were full that day," said Clef's son, Satrio Wibowo, when contacted on September 10.
Upon arriving at the hospital, Clef underwent a corona rapid test and the result showed reactive. Hospital workers gave him an agreement to sign to approve medical treatment under the Coronavirus Disease 2019 or Covid-19 protocol. However, Clef still had to stay in the emergency room that night. After being unable to be placed in a treatment room, Clef died on August 31 at 10:38am, more than 12 hours after arriving at the hospital. According to Satrio, his father was buried according to the Covid-19 protocol at the Pondok Ranggon public cemetery in East Jakarta. The burial process was recorded by cemetery workers. "The family could only mourn father's passing via video," said Satrio, 33.
For the past two weeks, the Sulianti Saroso Hospital for Infectious Diseases in Jakarta has also been operating at high capacity. Atika Rahmawani, a nurse who works in the special isolation ward, said that there have not been any empty beds in this negative-pressured room which was specifically designed to treat Covid-19 patients. Whenever a patient recovers, their bed is immediately filled by a coronavirus patient waiting in the emergency room.
According to Atika, the Large-Scale Social Restrictions (PSBB) have slowly reduced the number of patients who tested positive for coronavirus being treated at Sulianti Saroso Hospital. However, she has noticed that the 50-bed isolation ward has been rather crowded since mid-August. "The patient turnover is very fast," she said.
W251bGwsIjIwMjEtMDUtMDggMTM6MzA6MDQiXQ
At the Koja RSUD in North Jakarta, only 23 of the 165 beds for coronavirus patients are available. Ida Bagus Nyoman Banjar, director of the Koja RSUD, said that they are going to add 200 beds to keep up with the increased number of Covid-19 cases in Jakarta. Beds at the Cengkareng RSUD in West Jakarta, a coronavirus referral hospital owned by the Jakarta government, have been at over 70 percent capacity since September 11. "Beds will be full in the third week of September if there is no intervention," said Cengkareng RSUD Director Bambang Suheri.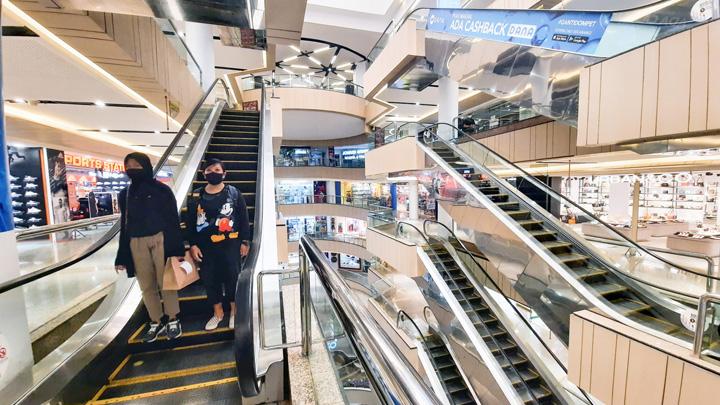 Activities at a shopping mall nearing the reinstatement of the PSBB in Jakarta, September 10. TEMPO/Hilman Fathurrahman W.
The availability of hospital beds such as in the Fatmawati, Sulianti Saroso, Koja, and Cengkareng hospitals is one reason that Jakarta Governor Anies Baswedan has reinstated the PSBB starting Monday, September 14. Referring to data from the city's health office, Anies said that it is predicted that isolation beds for coronavirus patients will no longer be available in Jakarta as of September 17. On that day, the number of Covid-19 patients requiring medical treatment will reach 4,053 people.
The Jakarta government plans to increase bed capacity by 20 percent to 4,807 units. After the health office ran a data simulation, those beds will be full on October 6, even though the program to add beds was completed two days later. Anies took notice that the number of active cases and fatality rate has increased since the end of August. The number of active cases—patients still undergoing treatment in isolation—has increased by more than 3,700 people on August 30 to September 10. During this time there have been 179 deaths connected to Covid-19. "There is no choice but to immediately pull the emergency brake," he said.
According to Anies, this is an emergency situation because the pandemic will only end if a safe and effective vaccine is found. However, this former minister of education and culture predicts this will only be available in 2021. Until a vaccine is ready, he says that social restrictions are one way to fight the pandemic. He plans to only allow 11 types of businesses to operate while PSBB restrictions are in place.
City Hall—where Anies works—received some input regarding the pandemic before deciding on reinstating the PSBB. Some of this input came from Pandu Riono, an epidemiologist from the University of Indonesia, who said that caution must be taken regarding the drastic increase in cases. He said that the number of positive cases in Jakarta rose drastically due to the long holiday in mid-August. Using data from the Google Mobility Index, the movement of people in Jakarta to recreational sites led to at least a 10 percent increase since August 18.
This had led to increased interaction between people. "The risk of spread also increased," said this doctor who graduated from the University of California. Keeping in mind the availability of hospital beds, Pandu also suggested the Jakarta government institute new referral facilities to back up the hospitals which have been treating Covid-19 patients since March.
Two officials at City Hall said that Anies came up with some options to anticipate an increase in the number of patients. This included providing special isolation facilities in sports halls and hotels, and increasing the tracking of clusters of new cases in offices. However, the plan for special isolation facilities was called off because it was deemed to be too expensive. After making some calculations, such facilities would have required a budget of at least Rp1 trillion up to the end of the year.
...Pandu Riono, an epidemiologist from the University of Indonesia, who said that caution must be taken regarding the drastic increase in cases. He said that the number of positive cases in Jakarta rose drastically due to the long holiday in mid-August. Using data from the Google Mobility Index, the movement of people in Jakarta to recreational sites led to at least a 10 percent increase since August 18.
Anies held at least three meetings before making the announcement about the PSBB on the night of Wednesday, September 9. Two sources who are familiar with those meetings said that Anies made the decision after hearing a presentation from the city's health office about hospitals only having enough beds for patients to last to September 17. Documents on that presentation obtained by Tempo indicate that the Jakarta government predicted that the number of Covid-19 patients with serious to critical clinical symptoms will reach 4,500 at the end of September. Without any intervention, it is estimated that there will be 8,400 patients by year's end.
A day after Anies' announcement, Coordinating Minister for the Economy Airlangga Hartarto openly criticized the former's decision. Airlangga considers that Anies' statement created economic uncertainty. He said that 50 percent of offices will continue to operate. He claimed that health facilities still have sufficient capacity to handle Covid-19 patients.
On September 10, a day after the PSBB announcement, Anies held a meeting with some cabinet ministers who deal with the economy, namely Coordinating Minister for Maritime Affairs and Investment Luhut Binsar Pandjaitan, Coordinating Minister for the Economy Airlangga Hartarto, and Finance Minister Sri Mulyani. Health Minister Terawan Agus Putranto also attended this virtual meeting. Two people familiar with what happened during this meeting said that Anies was heavily criticized for suddenly implementing social restrictions.
According to these two officials, the cabinet ministers said that the PSBB policy was detrimental to the economy. For instance, the Jakarta Composite Index plummeted a day after the social restrictions were announced. They also pointed out that this measure could potentially lead to a sluggish economy. Economic growth was starting to pick up in the third quarter. In essence, according to those officials who attended the meeting, those ministers pitted economic indicators against the PSBB policy.
Those same officials said that the data on the availability of hospital beds given by Anies was questioned during this meeting. Airlangga, for instance, said that patient bed capacity in Jakarta is indeed at about 50 percent capacity, but that this is still sufficient to handle the number of Covid-19 patients. The same criticism was made by Luhut Binsar Pandjaitan. When asked for comment about that meeting, Anies had no response as of Saturday, September 12. However, he previously assured that the PSBB will still go into effect. "The PSBB status in Jakarta has never been rescinded," he said.
Jodi Mahardi, a spokesman for the coordinating ministry for maritime affairs and investment, said that the Jakarta and central governments have different data regarding the number of patients and bed capacity, in particular at the Athletes' Dormitory Emergency Hospital in Kemayoran. According to Jodi, the central government and Jakarta administration continue to coordinate to harmonize policies, including reviewing the level of preparedness of the Athletes' Dormitory Hospital facility.
Chief of Health for the Jayakarta Regional Military Command, Colonel Stefanus Dony—who is responsible for overseeing the Athletes' Dormitory Hospital facility—assured that the capacity of this emergency hospital is sufficient to handle an increase in patient numbers. According to him, the occupancy rate at the Athletes' Dormitory Hospital is only about 65 percent of its total capacity of 4,000 beds in isolation rooms. "We are very ready to take in additional patients," he said.
RAYMUNDUS RIKANG, FRANCISCA
CHRISTY ROSANA