Two Men in the 10 Million Dollar Proposal
A plan to set Joko Tjandra free allegedly involved former Supreme Court chief, Hatta Ali. A pardon option was considered.
Edition : Monday, September 14, 2020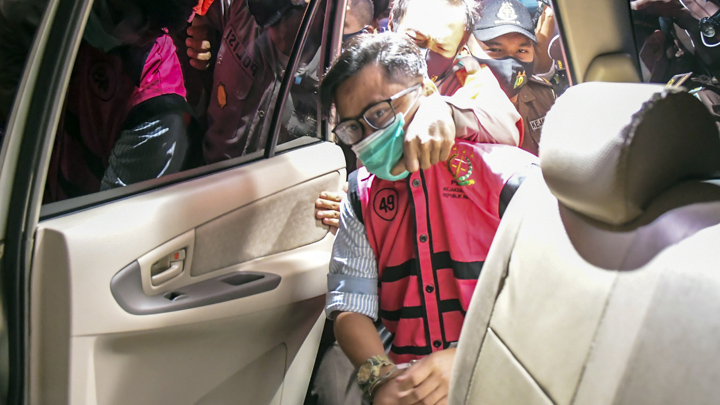 TITLED Action Plan Case JC, the single page drew up a plan to set free Joko Soegiarto Tjandra, the accused in the Bank Bali case. The action plan contained a seven-column table with the appropriate designed steps to be taken complete with the time frame, costs, and persons-in-charge.
The action plan was drawn up by head of Monitoring and Evaluation Sub-section II of the Planning Bureau of the Attorney General's Office (AGO), Pinangki Sirna Malasari; deputy head of the South Sulawesi National Democrat (Nasdem) Party Andi Irfan Jaya, a colleague of Pinangki's; and Joko Tjandra's attorney, Anita Kolopaking. The proposal to seek a Supreme Court legal opinion on Joko's freedom from legal suit was submitted to him in November 2019. "Pinangki and colleagues submitted the action plan," said Joko Tjandra's lawyer, Soesilo Aribowo, on Thursday, September 10.
The AGO has apprehended Pinangki and Andi for suspicion of accepting bribes from Joko Tjandra. Anita has been detained by the National Police Headquarters' criminal investigation department for her alleged involvement in a fake letter used by Joko Tjandra to reenter Indonesia. Joko himself, after 11 years on the run, was brought home from Malaysia by the police on July 30.
The first point in the proposal drew up action for signing off of a letter of authority to execute between February 13-23. The sign-off was to guarantee the entire action plan would be carried out. After that, Anita Kolopaking and Andi Irfan Jaya would send a letter requesting legal opinion to "BR". Two people in the know about the proposal said BR meant Attorney General Sanitiar Burhanuddin.
According to the proposal, on February 26 to March 1, Burhanuddin would send a letter requesting legal opinion to "HA". The same two sources said HA was Hatta Ali, who was Supreme Court chief at the time the proposal was submitted. Hatta came to pension on April 6, and was succeeded by Syarifuddin. Next in the plan, Hatta would issue a legal opinion between March 6-16. In those 10 days, Burhanuddin would issue instruction for further execution of the Supreme Court opinion. If everything went according to plan, Joko Tjandra would be free and return to Indonesia either in April or May of this year.
W251bGwsIjIwMjEtMDUtMDggMTQ6MDQ6MTgiXQ
A copy of Pinangki's interrogation document obtained by Tempo stated the proposal was valued at US$100million, or around Rp1.4 trillion. But Joko only agreed to US$10 million. He submitted US$500,000, or about Rp7 billion, as an advance payment. Despite the advance already paid out, Joko Tjandra's lawyer, Soesilo Aribowo, stated the plan was canceled halfway. "No deal was reached, nor any agreement," he said.
***
Pinangki Sirna Malasari's meeting with Joko Tjandra in Kuala Lumpur, Malyasia, was facilitated by Joshua Rahmat, a businessman close to Joko. In a letter sent to Tempo on September 11, Joshua Rahmat said Pinangki and Anita had forwarded the request during a lunch meeting with him in a South Jakarta hotel in early November 2019. "I texted Pak Joko directly though WhatsApp, 'Pak, someone wishes to meet with you,'" wrote Rahmat in his letter. Rahmat then sent a picture of Pinangki's namecard.
Several days later, on November 11, 2019, said Rahmat, Joko replied saying he could meet the next day in Kuala Lumpur. Rahmat contacted Pinangki who was in Singapore. They agreed to meet at the Kuala Lumpur International Airport at 10am. They then went together to Joko's office at The Exchange 106 tower the next day. Tempo magazine's August 25-31 edition reported the meeting occurred in September 2019.
To Joko, Pinangki stated she was capable of getting him off scot-free. In 2009, the Supreme Court sentenced Joko with two years imprisonment in the Bank Bali cessie case for allegedly causing state losses amounting to Rp904 billion. During the lunch meeting, Pinangki submitted the proposal to Joko. But the 70-year-old man refused it because Pinangki was a state official and a civil servant. Pinangki returned to Singapore that same afternoon. Rahmat stated he had no knowledge of what was discussed between Pinangki and Joko.
On November 19, 2019, Rahmat and Pinangki came with Anita and Andi Irfan Jaya to Joko's office on the 105th floor of The Exchange 106. Anita forwarded a power of attorney letter as an attorney at law, which Joko signed on the spot. After lunching together and stopping over at Joko's apartment on the 39th floor of the West Tower Oval Apartments, Anita left to attend an ASEAN Law Association (ALA) forum in Phuket, Thailand. A few days later, Andi Irfan submitted the action plan to Joko through WhatsApp.
A lawyer in the know of Anita's activities said, in Phuket, Joko's attorney allegedly met with Hatta Ali, who at the time was still Supreme Court chief. Said this lawyer, the meeting was facilitated by Hatta's staff-member, Soesilowati, and discussed the submission of the legal opinion for Joko and a case review by the court. The Supreme Court website states that Hatta Ali and Soesilowati indeed attended the all-ASEAN justice conference. Also in attendance were Supreme Court Deputy Chief for Judicial Affairs M. Syarifuddin—now Supreme Court chief—and two supreme justices, namely I Gusti Agung Sumanatha and Ibrahim.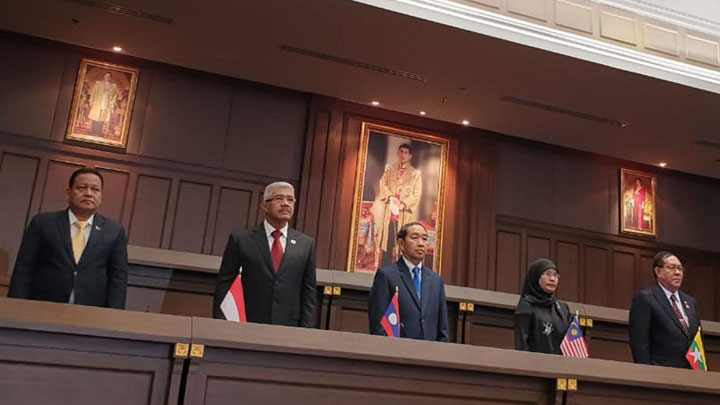 Former Supreme Court Chair Hatta Ali (second from left) in Phuket, Thailand, November 2019. mahkamahagung.go.id
Hatta Ali denied request for an interview from Tempo. He asked Supreme Court spokesperson Andi Samsan Nganro to answer questions. Andi verified the information that both Hatta and Anita were in attendance to the same forum. He said, Hatta was head of Indonesian ALA, comprising justices, judges, and lawyers. Anita herself was an ALA member. "So, yes, she did meet with Pak Hatta," he said. Regarding Anita's special meeting with Hatta arranged by Soesilowati, he said, "According to protocol, anyone meeting with Pak Hatta would be based on arrangement by Ibu Soesilowati." Andi added that Hatta did not discuss Joko Tjandra in the meeting.
A source in the know of the plan said, Anita and Pinangki divided their duties. Anita was tasked with approaching Hatta Ali, while Pinangki was tasked with lobbying Attorney General Sanitiar Burhanuddin. Pinangki's questioning document obtained by Tempo states how she reported all meetings with Joko Tjandra to Burhanuddin. The source said, conversations between Anita and Pinangki always referred to Hatta as "Anita's father," while Burhanuddin was "Pinangki's father."
The same source said, upon return from Thailand, Anita had a discussion with Pinangki regarding the option of a pardon for Joko Tjandra. Said the source, Anita had submitted a request for a pardon. But Pinangki was wary the option could jeopardize the entire plan. She requested that Anita make an inquiry to the Chief of the Criminal Chamber of the Supreme Court, Suhadi, regarding cancellation of the request for pardon. The same source said Pinangki had also contacted an adjutant of President Joko Widodo's regarding the request for a pardon.
Supreme Court spokesman Andi Samsan Nganro claimed he asked for information regarding the matter to Suhadi. "Pak Suhadi is not acquainted with Anita," he said. Andi also stated that Anita had never submitted a request for pardon for her client to his institution. Member of presidential expert staff in legal matters, Dini Purwono, claimed she had no knowledge of Pinangki approaching an adjutant of the President. "Maybe you could ask the Presidential staff office, the justice and human rights ministry, or the attorney general," said Dini.
To pave the way for legal opinion from the Supreme Court, Anita and Pinangki are suspected of arranging meetings with Hatta and Attorney General Burhanuddin. Said the source in the know of the conspiracy, Anita and Pinangki arranged a meeting for December 7, 2019. But the meeting was canceled. Only on December 13 did Hatta met with Burhanuddin. The results of the meeting, said the same source, was conveyed by Burhanuddin to Pinangki that same evening.
Andi Samsan verified the meeting took place. "It was a courtesy call to maintain inter-institutional good relations," said Andi. Burhanuddin did not respond to a request for interview from Tempo. Prior, he claimed Pinangki had never reported to him regarding meetings with Joko Tjandra. "Pinangki never made any reports," he said. He also claimed not knowing about any money surrounding the proposal. "Let alone regarding any money, I am not involved in any of this."
Anita's lawyer, Tommy Sihotang, has no knowledge of a meeting between his client with Hatta Ali. "Ibu Anita never told us about those things," he said. Pinangki was also tight-lipped after her 14-hour interrogation on Wednesday, September 9.
The plan to request a court decision halted in its tracks. Together with Anita, Joko Tjandra came out of hiding and submitted a request for a case review to the South Jakarta State Court on June 8. This plan blew up in his face when his arrival was publicly revealed. At end of July, the court refused the review request.
Joko Tjandra's lawyer, Soesilo Aribowo, said his client accepted the proposal from Pinangki and friends, believing it could pave the way to set him free. Moreover, said Soesilo, Joko was vehement the two-year sentence dropped by the Supreme Court was unfair. "This was his reason for leaving Indonesia," said Soesilo.
LINDA TRIANITA, HUSSEIN ABRI DONGORAN, ANDITA RAHMA, EGI ADYATAMA