The Fugitive's Tracks in Palm Oil Plantation
Joko Tjandra went through a long and winding road to return to Jakarta from Kuala Lumpur. He had help from a fugitive wanted by the Corruption Eradication Commission.
Edition : Monday, September 14, 2020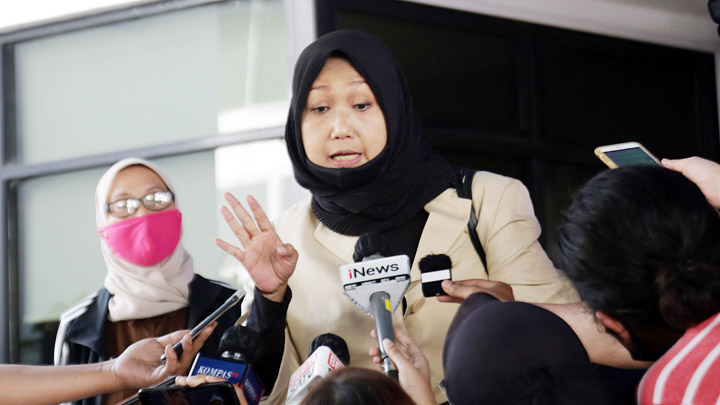 UPON landing in Supadio International Airport, Pontianak, West Kalimantan, on Saturday, June 6, Brig. Gen. Prasetijo Utomo disembarked his chartered plane and went straight to a restaurant outside the departure terminal. The former civil servant investigator supervisory and coordination bureau chief at the National Police Headquarters' criminal investigation department walked with his aide, and also his travel companion, Anita Kolopaking.
At around 7am in the restaurant, Anita introduced Prasetijo to a person who had been waiting for their arrival: Joko Soegiarto Tjandra, the fugitive in Bank Bali cessie case. Anita had been Joko's legal counsel since November 2019. "Anita took care of everything, including the plane charter and introducing him to Joko," said Presetijo's lawyer, Petrus Bala Pattyona, Thursday, September 10. Prasetijo has been named a suspect for allegedly forging travel documents for Joko, and also for receiving bribes from the fugitive.
A source with knowledge of the meeting said that they were only there briefly. With a cup of coffee in their hands, they headed back to the same chartered plane and took off at around 8am, heading to Halim Perdanakusuma Airport, Jakarta. In flight, Joko and Prasetijo discussed how to settle the dispute with the Financial Services Authority (OJK) regarding the Rp469.36-billion rent of Wisma Mulia I and II buildings.
They landed in Jakarta two hours later and immediately went to the Mulia Hotel in Senayan, Central Jakarta, a hotel which Joko built. At the lobby, Joko, Anita, and Prasetijo posed together for a photograph. Then, Anita—now also a suspect in the forgery of Joko's travel documents—brought Joko to his house at Jalan Simprug Golf I No. 89, South Grogol, South Jakarta. Anita's attorney, Tommy Sihotang, said the escort was part of an advocate's service. "That is just common in the world of advocates," he said on September 11.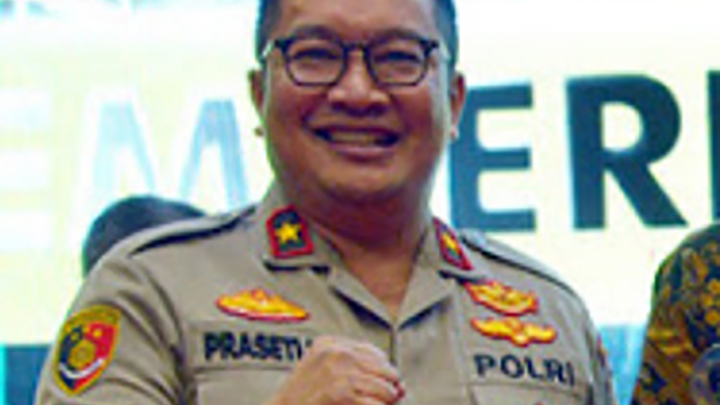 Brigadier Gen. Prasetijo Utomo at an event in Jakarta, September 2019. ditjenpktn.kemendag.go.id
W251bGwsIjIwMjEtMDUtMDggMTM6Mjg6NTUiXQ
The following day, a driver took Joko to visit the cemetery of his mother and grandparents in Bogor, West Java. Then, he went to the grave of his father in San Diego Hills burial grounds, Karawang, West Java. In Monday morning, June 8, Joko and Anita went to Grogol to obtain an identity card. Less than half an hour later, he already had the new ID card in his pocket, to replace his old one that had expired in August 2013.
They continued on to the South Jakarta District Court to file a case review against the Supreme Court decision of sentencing Joko to two years in prison on June 11, 2009. A day before that verdict was issued, Joko fled to Papua New Guinea. He had been living in Kuala Lumpur, Malaysia, since 2014, controlling his businesses from there. Speaking to Tempo on July 10, Anita admitted of bringing Joko to file the case review. "We spent around two hours there," said Anita at the time.
After going to the court, Joko returned to his house to change clothes. At around 1pm, Joko went to Halim Airport, where Anita, Prasetijo, and his aide had been waiting. They took a chartered plane to Pontianak. There, according to a source with knowledge of the trip, the group dined in Atong Restaurant. Anita excused herself to buy souvenirs. After that, they went their separate ways. Anita and Prasetijo returned to Jakarta, while Joko spent another night before going back to Kuala Lumpur.
***
JOKO Tjandra went through a long and winding road to get into Indonesia in early June. A source with knowledge of how Joko crossed the border said that, in May, he contacted Surya Darmadi, owner of Duta Palma which owns a palm oil plantation in West Kalimantan. Surya is now a fugitive wanted by the Corruption Eradication Commission (KPK). He is named a suspect in the case of alleged bribery to former Riau governor, Annas Maamun, regarding forest function conversion in that province, in 2014. The same source said that Joko asked that old friend of his, whom he has known for 30 years, to help him enter Indonesia. Surya said he was ready to help Joko.
On Friday, June 5, a day before meeting Anita Kolopaking and Brig. Gen. Prasetijo Utomo, Joko flew from Kuala Lumpur to Kuching, Sarawak. There, he was greeted by Luang, a Malaysian employee of Surya's. Joko began traveling by land in a white Toyota Fortuner SUV with Sarawak license plate. "Yes, (they) went through Kuching," said Joko's lawyer, Soesilo Aribowo, affirming the information.
After leaving Kuching, the same source said that Joko and Luang took public roads. Then, they entered plantation area. They arrived in Indonesia's territory in two hours. Joko was brought to the palm oil plantation headquarters owned by Surya Darmadi. However, that colleague of his was not there to welcome Joko.
The plantation route was once again taken when Joko went back to Jakarta on June 20. Carrying travel documents and a letter stating that he was not carrying Covid-19, given by Prasetijo, Joko boarded a Lion Air flight.
Leaving no time for Joko to rest, Luang called another driver who goes by the name Cecep. They switched car to a black Toyota Land Cruiser to take Joko to Pontianak, arriving in the city past midnight. The same source said that Joko stayed in Golden Tulip Hotel in Pontianak. The next morning, before meeting with Anita and Prasetijo, Joko had a bowl of Pontianak noodle for breakfast.
Joko Thandra went through the same route crossing palm oil plantation upon going back from Jakarta on June 8. However, a source with knowledge of Joko's trip said that he did not immediately return to Kuala Lumpur, instead spending four nights in Kuching. The plantation route was once again taken when Joko went back to Jakarta on June 20. Carrying travel documents and a letter stating that he was not carrying Covid-19, given by Prasetijo, Joko boarded a Lion Air flight.
Joko Tjandra tried to obtain a passport at the North Jakarta immigration office on June 22. He was brought there by Anita. However, after waiting for a whole day, the passport was still not issued. "Meanwhile, he wanted to return to Malaysia that same day," said Anita to Tempo on July 10. Later that day, Joko went back to Malaysia.
Joko's presence in Indonesia was not detected until Attorney General Sanitiar Burhanuddin mentioned it during a work meeting at the House of Representatives' Legal Affairs Commission on June 29. In cooperation with Malaysian Police who arrested Joko, Police Criminal Investigation Department Chief Comsr. Gen. Listyo Sigit Prabowo brought Joko back on July 30, ending the fugitive's runs in and out of Indonesia.
HUSSEIN ABRI DONGORAN, LINDA TRIANITA