Bitter Competition of Sugar Business
A number of state sugar factories in East Java ended their milling season early. They became the first victims of the increasing fierce competition for sugar cane supplies.
Edition : 22 September 2020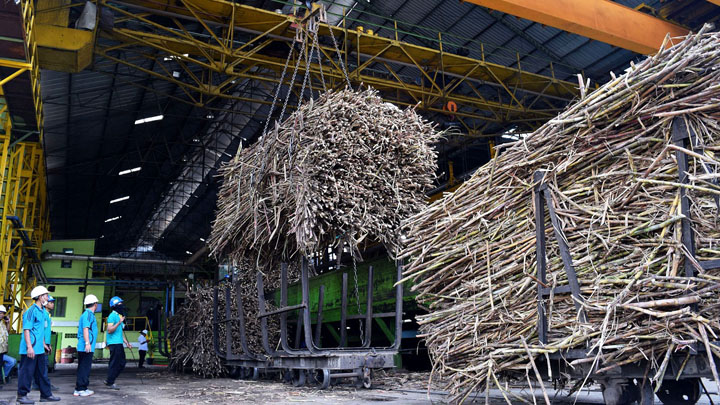 IN a short time, important news circulated among sugarcane farmers in Kediri, East Java, and its surroundings. It was about the decision of the Meritjan Sugar Factory, which is managed by Perkebunan Nusantara X (PTPN X), to end this year's milling period on Thursday night, September 17. The news came after a similar announcement. The day before, Tjoekir Sugar Factory in Jombang, East Java, also announced that they would stop milling on Wednesday night, 16 September.
One by one, the sugar factory managed by PTPN X ended the 2020 milling season earlier than planned. "The sugar factories that are closed are Lestari in Nganjuk, Djombang Baru in Jombang, and Kremboong in Sidoarjo," PTPN X Director Aris Toharisman told Tempo on September 16.
He said that the factories were in operation for less than 100 days. They ran out of the sugarcane supply. Ideally, factory machines run at least 150 days in a milling season. Less than that, the factory will definitely lose money. But Aris said they had to take the decision. "It is better than insisting to keep milling with difficulties, on-off, on-off. It's better to be off completely, to save fuel costs and prevent the sugar from getting ruined."
PTPN X's sugar factory has been obtaining most of raw material supply from outside the factory's working area. The thing is, this year's sugarcane production fell 20 to 30 percent because of a prolonged dry season at the end of 2019. In East Java, Aris estimated that this year's sugarcane yield is only 12.8 million tons. Meanwhile, the overall milling capacity of the sugar factory is only around 139,000 tons per day. This means that on average factories can only mill for 92 days. As a result, competition between factories heats up. "Everyone wants to get sugarcane, by any means necessary," Aris remarked.
According to Aris, the gap in the sugarcane balance is getting bigger. The unbalanced amount between supply volumes and factory capacity triggers intense competition for raw materials. As a result, the cutting plan, which had been prepared based on the maturity of the canes, planting time, and other factors, fell apart. Factories productivity also decreased.
PTPN X, for example, only got a supply of 3 million tons of sugarcane this year. This was a small volume compared to the previous grinding periods, which could reach 3.3 million tons. The root of the problem, Aris said, is that the upstream and downstream sides of the sugar sector are no longer balanced. New sugar mills kept appearing. On the other hand, ​​sugarcane plantation areas are shrinking, partly due to land conversion. "The new factories do not develop lands, but only utilize existing areas managed by the PTPN or older factories," he said.
Kebun Tebu Mas (KTM) also felt the tough competition for hunting farmers' sugarcanes. The private sugar factory in Lamongan, East Java, has a capacity of up to 12,000 tons of cane per day (TCD). But this year, it only managed to processes an average of 7,500-8,000 TCD. KTM announced that the milling period, which began on June 1, will end on September 22.
This means that KTM's milling machine only ran for less than four months. The factory, which has been operating since mid-2017, usually operates for five to six months. "Yes, the plan is to close the mill, because we ran out of raw materials," KTM Advisor Adi Prasongko told Tempo on September 17. KTM has been receiving sugarcane supplies not only from Lamongan, but also from other areas in East Java, such as Bojonegoro, Tuban, Gresik, Jombang, Mojokerto, and Kediri.
•••
LAST week was a tough one for Kebun Tebu Mas. They had to take care of the land at the Forest Management Unit (KPH) of Cepu, East Java. The company is cooperating with Perum Perhutani to expand its sugarcane plantation, which is located inside the state-owned enterprise's area. KTM is targeting to have 25,000 hectares of sugarcane plantation to supply the company with raw materials.
The cooperation with Perhutani started after the factory was established in 2017. The company applied for a borrow-to-use permit for 12,000 hectares of land. However, to this day, only 461.21 hectares have been worked on. The plantations are located in the lands that belong to the KPH of Mojokerto, Jombang, Tuban, and Bojonegoro. KTM employs farmers to work on those lands.
The Agriculture Minister Regulation No. 98/2013 on the guidelines for plantation business licensing requires agricultural processing industries to provide at least 20 percent of raw materials from their own plantations. The rest must be obtained from community plantations or other plantation companies through partnerships.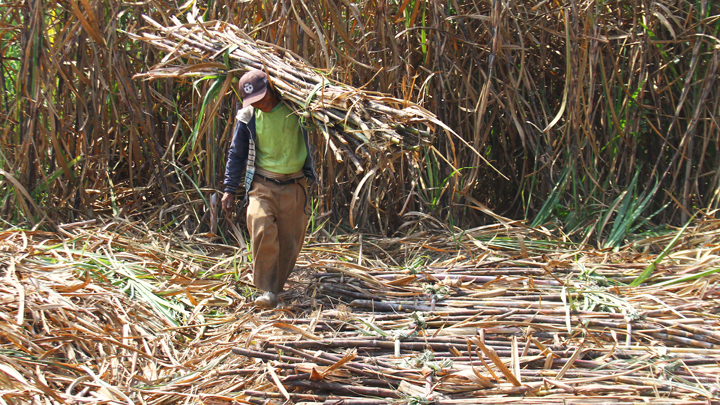 A farmer harvesting sugarcane at Perkebunan Nusantara X's plantation in Malang, East Java, August 24./ ANTARA/Ari Bowo Sucipto
Like KTM, Rejoso Manis Indonesia (RMI), which manages a sugar factory in Blitar, East Java, is also working with Perhutani. RMI Chief Executive Officer (CEO) Syukur Iwantoro, said that the company needs 20,000 hectares of plantation in order to have the raw material needed by its factory that has 10,000 TCD. "Twenty percent means 4,000 hectares (obtained from our own plantation)," Syukur, a former secretary-general at the agriculture ministry, said on September 15.
In the early stages, RMI collaborated with Perhutani to plant sugarcane in an area of 2,700 hectares. The company still holds a license to use 5,800 hectares, which will be worked on in stages. Syukur is targeting to meet the 20-percent self-supplying obligation by 2021. Meanwhile, the rest will be met from smallholder farms.
Syukur is not worried about the situation. Based on the results of a survey by the agriculture ministry's research and development agency, he said, the size of dry lands that can be planted with sugarcane in Blitar—excluding rice fields and residential areas—is 22,000 hectares. "That also does not include forest areas," he said.
He estimated that the area of sugarcane plantation in Blitar is only around 4,000 hectares. About two-thirds of the crop is sent by farmers to RMI sugar factory. The rest is supplied to factories outside Blitar, because, among others, it is under contract. "Maybe because some have debts and so on," said Syukur.
The small area of the sugarcane plantation, Syukur said, was caused by a decline in the interest among farmers who have not made a proper living from their crops. He is optimistic that sugarcane planters' passion will come again if the work brings welfare. That is why, he added, RMI buys sugar canes from farmers at a price above the average of other sugar factories.
That way, Syukur believes that Blitar will regain its status as a center of sugarcane like it was once in the past. Over a decade ago, Blitar's ​​sugarcane plantation spanned between 10,000 and 12,000 hectares. "It has not been very attractive lately. Farmers lack capital and the soil is rarely fertilized. They don't use good seeds, even the average ratoon is 8-12 years," he said. The ideal lifespan of ratoon, a.k.a. sugarcane plants that sprouts from plants that have already been harvested, is three years. As a result, sugarcane plantations' productivity declined to just 70 tons per hectare, far below the normal conditions of 100-120 tons per hectare.
The PTPN Group also plans to expand its sugarcane planting area by, among others, converting rubber and tea plantations. In addition, they will collaborate with Perhutani and local governments to utilize social and non-social lands.
•••
MOHAMMAD Wahyudi now prefers to send sugarcane to Rejoso Manis Indonesia and not to other sugar factories. Almost every day, the sugarcane farmer from Kediri send four or five trucks full of sugarcane from his plantation—each truck hauling 7-8 tons—to the factory in Blitar. He is happy with the way RMI pays in cash.
The cash mechanism is something that farmers have longed for. So far, farmers have sold their sugarcane to PTPN-owned factories on a profit-sharing scheme. They only received money after the sugar was sold. This could take several months. Wahyudi, for example, also sent sugarcane to Ngadirejo sugar factory in Kediri. He had send 10 truckloads to PTPN X but has only received payments for two.
Factories other than RMI have also started to implement wholesale, like Kebun Tebu Mas. Recently, a number of sugar factories owned by PTPN have implemented a similar scheme. But Yudi, 37, said that RMI gives the best price.
Ahead of this year's the milling season-end, Yudi still sends his trucks to RMI's factory in Blitar. His last trip was on September 13, with two truckloads of sugarcane. In total, he had delivered 60 truckloads of sugarcanes to the new factory. "Today we got Rp81,000 per quintal," he said.
He compared the price with that from sugar factories in Kediri, which—on that day—paid Rp77,000 per quintal. That is the price at pok-pokan or sugarcane collectors. Prices at the sugar factory were even lower. "The yield is low, the offering price is also cheap."
Yudi and other sugarcane farmers are blessed during this year's harvest period. The market is bubbling following the operations of new sugar factories. As a result, the factories offered competitive prices. On average, within two or three days, there are new price announcements that continue to increase. "They are being very generous," he said.
Sugarcane farmers now feel independent, they are free to sell their crops to any factory that offers the best prices. Collectors do not want to miss out either, and offer prices above PTPN's factory.
RMI CEO, Syukur Iwantoro, denied that RMI offers generous prices. He said that RMI's goal is to build long-term emotional relationships with partner farmers. He also said that the company wants to improve farmers' welfare, which in the end will encourage farmers to grow sugarcane of better quality. "The price we set is one that, in our opinion, will help farmers live well. We are not losing money either. We still consider it to be normal," he said.
But PTPN X Director Aris Toharisman felt otherwise. He said that there is unfair competition. Private factories, he said, received a relatively large quota of raw sugar imports at the start of the milling season. The big profit from selling imported sugar, he said, allows them to buy farmers' sugarcane at a high price.
"If the yield is 7 (percent), with a sugar price of Rp10,500—plus molasses and others—the normal price of sugarcane is Rp59,000 per quintal," Aris said. The fact is, he added, the price of sugarcane in the field could reach more than Rp70,000 per quintal.
Aris said that with the low yield of sugar cane, such a high price should not be taken into account for the factory's economy. "But the private sector took a risk to buy at high prices. It happened on the field," he said. "If we all don't get a raw sugar import quota, for example, we would have the courage to compete."
The government gave raw sugar import quotas to a number of factories in the first quarter of this year. The factories are tasked with processing it into consumption sugar. The policy was taken when domestic sugar supply was running low, pushing up prices to Rp18,000 per kilogram.
Kebun Tebu Mas, Rejoso Manis Indonesia, and PTPN all received this raw sugar import quota. However, the quota that PTPN received was only 26,000 tons in June. Meanwhile, KTM received an import allocation of 52,140 tons for the October-December 2019, 35,000 tons in February-April, and 65,000 tons in March-June.
Meanwhile, RMI got an import allocation of 60,140 tons for October-December 2019, 20,000 tons in February-April, and 35,000 tons in March-June.
Because of this, the parent company of PTPN hopes that the government will give back the right to import raw sugar to PTPN. The profit from sugar sales can be used to improve farmer prices, and ensure that the selling price to distributors is in accordance with government policy. "That way, at the consumer level, prices will not exceed the highest retail price of Rp12,500 per kilogram," PTPN Holding's Corporate Secretary Imelda Pohan said.
RETNO SULISTYOWATI, SUJATMIKO (LAMONGAN)