Importers' Sweet Promises
Thousands of tons of farmers' sugarcane are piling up in factories owned by the state. They are chasing after importer's promise.
Edition : 22 September 2020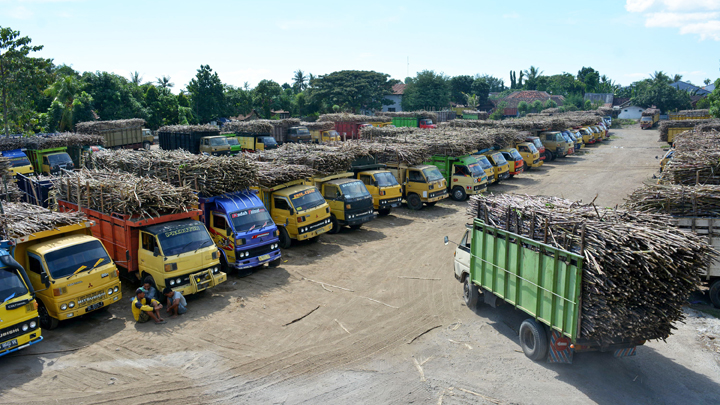 WHAT was agreed on paper may not happen in reality. That is something Soemitro Samadikoen knows very well of. And it is his task, as chairman of the Indonesian Sugarcane Farmers Association (APTRI), to ensure that importers keep the promises as signed in a deal on July 16. "Some have met all the requirement. Some have only met parts of the deal, and others have not at all," Soemitro said on Friday, September 11.
Every day, Soemitro takes notes of which importers have bought sugar from farmers. As of two weeks ago, only 52,000 tons of farmers' sugarcane have been paid by importers. This figure is still far from the July 16 agreement, plus the agreement on July 20, which mandate importers to buy 521,786 tons of sugar from farmers.
The July 16 and 20 pacts were the result of domestic sugar's plummeting prices since the beginning of the year. Since the sugarcane harvest season in this year's second quarter, local sugar price fell to some Rp10,000 per kilogram, both in the auction market and at large distributors.
Although the price is above the cost of purchase of sugar of Rp9,100 per kilogram, farmers see it as unfair, because the cost of goods purchased was calculated in 2016 and had never been readjusted.
The APTRI has been on a guerilla since early June, asking for better purchase price of local sugar. They have only one goal: for the government to mandate importers to buy sugar from farmers at a higher price. To farmers joined in the APTRI, sugar importers have been making a fortune since the beginning of the year when they were allowed to import 988,802 tons of sugar.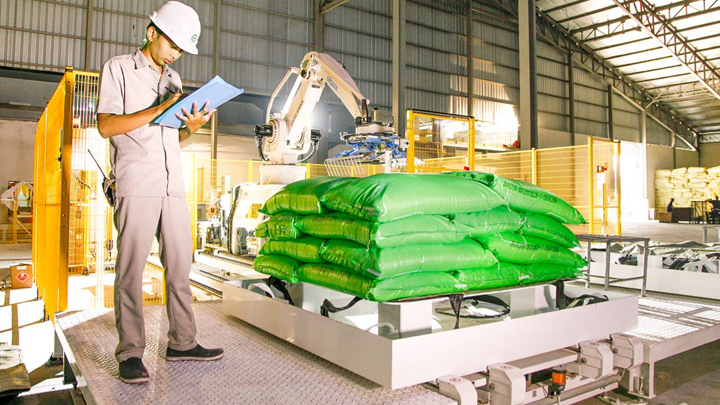 Kebun Tebu Mas sugar factory in Ngimbang, East Java./ kebuntebumas.com
In March, the government allowed sugar imports after prices soared to Rp16,000-18,000 per kilogram, far beyond the highest retail price of Rp12,500, due to scarce for domestic supplies. The APTRI estimated that importers made a huge fortune, since the average price of imported sugar was only Rp7,000 per kilogram. "We are asking for their conscience. Please help us. Don't look away," Soemitro said.
Following a number of correspondences, meetings with the parliament—as well as dialogues with the coordinating ministry for the economy, and the trade ministry, the government finally mediated the APTRI and importers. On July 16, at the office of the coordinating ministry for the economy, the government assigned 12 importers to buy 496,000 tons of sugar from farmers that were stored in state sugar factories. On July 20, one importer—Primus Sanus Cooking Oil Industrial—followed up on the deal and pledged to buy 25,786 tons of farmer sugar. It brings the total volume of importers' domestic absorption commitment up to 521,786 tons.
Benardi Dharmawan, chairman of the Indonesian Refined Sugar Association, said that when the agreement was made, the selling price of local sugar from factories to wholesalers or distributors was between Rp10,400 and Rp10,500 per kilogram. Through the APTRI, farmers asked importers to buy their sugar at Rp11,200 per kilogram.
"The number was decided by farmers," Bernardi said on September 17. "The coordinating ministry only facilitates. Later, importers and farmers will make their own business-to-business agreements."
•••
ONE of the sugar importers tasked with buying farmer sugar is Kebun Tebu Mas (KTM), a private sugar producer from Lamongan, East Java. As per September 17, the company—a new player in the business—was only able to absorb 14,110 tons out of the mandated 19,840 tons. "Because some farmers have already sold their sugar," KTM Advisor Adi Prasongko, who was an official at Perkebunan Nusantara (PTPN), said on September 17.
From its office in Lamongan, KTM must visit a number of state sugar factories in East Java to fulfill its obligations. From the Tjoekir Sugar Factory in Jombang, for example, KTM bought 1,090 tons of farmers' sugar at an agreed price of Rp11,200 per kilogram.
KTM also visited Meritjan Sugar Factory in Kediri, Djombang Baru Sugar Factory in Jombang, Rejoagung Baru in Madiun, Krebet Baru in Malang, and Candi Baru in Sidoarjo. During the second period of absorption, they visited the Kebonagung Sugar Factory in Malang, the Lestari in Kertosono, the Kedawung in Pasuruan, and the Semboro Sugar Factory in Jember.
Soemitro Samadikoen said that KTM is one of several importers that comply well with the obligation. "By no means I am favoring KTM or throwing the other under the bus here, other companies are absorbing too, gradually," he said. Apart from KTM, a number of companies also started buying sugar from farmers, such as Angels Products.
However, the July 16 and 20 agreements, which had no binding price, resulted in chaos. Not all importers immediately agreed to buy sugar from farmers. Now, thousands of tons of sugarcane from farmers are left unsold, piling up inside the warehouses of state sugar factories.
Those sugar piles belong to, among others, Mohammad Wahyudi (37), a farmer from Kediri who deposited his sugarcane into PTPN X's Ngadirejo Sugar Factory. Of the 30 rails of sugarcane trucks he sent in May, only 10 trips have turned into money. One truck usually contains 7-8 tons of sugarcane . "The rest is still unsold," Wahyudi said on September 19.
This is a tough situation for farmers who are bound to production sharing contracts, like Wahyudi. The majority of farmers sell sugarcane to state sugar factories under this scheme. Farmers deposited their sugarcane via cooperatives or the APTRI representatives, and only received parts of the sales once the milled sugar was sold to a large distributor.
For relatively small farmers, they have an option for wholesale to pok-pokan, a.k.a. sugarcane collectors in Kediri and surrounding areas. Meanwhile, for larger farmers who want to sell sugarcane in whole, they usually go to private sugar factories such as KTM and Rejoso Manis Indo in Blitar, East Java.
The fate of the sharecroppers still depends on PTPN. They have now become APTRI's patients. "We don't deal with whole-sellers," he said.
The House of Representatives' Trade Commission member, Marwan Ja'far, urged the government to demand importers fulfill their commitment to absorb sugar from farmers. Marwan said the issue now lies in the government's hand. "The government must ensure that importers keep their promise," the National Awakening Party (PKB) politician said on September 19.
Meanwhile, the Coordinating Ministry for the Economy's Deputy of Coordination for Food and Agribusiness, Musdhalifah Machmud, promised to follow up on developments in agreements between importers and farmers. "The progress is being analyzed," he said on September 18.
While farmers were waiting for their sugars to be bought, a shocking news came from PTPN XI. On September 7, the state-owned enterprise that managed 14 sugar factories in East Java sold 42,000 tons of sugar to Agro Tani Nusantara. Agro Tani is part of Artaguna Sentosa (AGS Group). Sold for Rp10,425 per kilogram, the sugar came from the former farmer's sugarcane mill in the fifth to ninth periods of this year's milling season.
The APTRI filed a lawsuit against PTPN XI decision, citing breech of agreement. According to Didik Purwanto Abdullah, chairman of APTRI Lumajang branch, the APTRI and PTPN XI had a deal to sell sugar at no less than Rp11,200 per kilogram, according to the agreements on July 16 and 20. "They sold farmers' sugar. Why did they appoint a buyer directly without an auction?" said Didik when contacted on September 18.
Tempo contacted PTPN XI Chief Executive Officer Tulus Panduwidjaja on September 18. He had not provided a statement about the company's decision to sell sugar to Agro Tani Nusantara, at less than the agreed price with importers. Tulus, who was the company's senior executive vice president of business support at the time of transaction, was appointed as CEO on Thursday, September 17.
KHAIRUL ANAM, SUJATMIKO (LAMONGAN)