Indonesia's Rich Alcohol Tradition
Local alcoholic beverages in a number of regions have strong traditional roots. Brewers are starting to sell them in attractive packaging.
Edition : Tuesday, September 22, 2020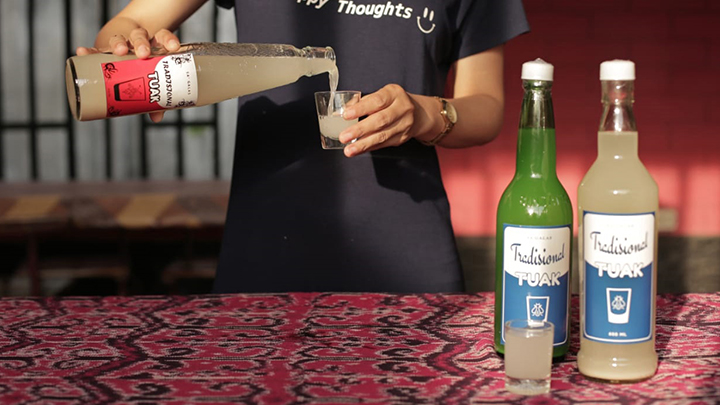 BREWING tuak (liquor) is the daily routine of Katarina Megawati, 28, from the Buluso Rayo community in Sekatak, Bulungan, North Kalimantan. On Friday, September 4, she was concocting tuak in a big vessel in her kitchen. The vessel sat next to a crock filled with pengasi, another local drink made by Katarina. Not only an expert pengasi and arak brewer, Katarina is also well versed in making ciu, another alcoholic beverage. She learned her trade from her mother and sister, as women are the ones who brew traditional drinks in her community. "But I only make them, I don't like to drink them," she said while laughing by telephone on September 9.
Katarina explained that almost every house in her region has a stock of tuak and pengasi. However, the alcoholic drinks are kept more for traditional activities rather than daily consumption. It is used, for example, during funerals, births, celebrations, or for visitors. During those occasions, guests often bring traditional drinks as gifts. When hosts run out of drinks, they would not hesitate to ask neighbors for additional stock. These 'debts' are usually paid in pengasi or tuak.
Pengasi is made out of fermented ripe cassava. Cooked cassava is then mixed with yeast made by Katerina herself. The process of making yeast takes about a month with pounded rice and herbs. This mix is then stored in a vessel or crock which the Dayak Bulusu people have been using for centuries.
While pengasi is seen as sacred, tuak and ciu is commonly sold. Katarina says that tuak packaged in a 600-millimeter (ml) plastic bottle sells for Rp15,000. Meanwhile, Ciu in a 450-ml bottle is priced at Rp35,000. In one cycle, Katarina can produce up to six jerrycans, or around 30 liters. Part of the alcoholic drinks is sold through retail, but some is also sold to wholesalers at a lower price. "It is sold beyond our village as almost every house here sells tuak and ciu," she said.
Dani, a driver for a private hospital in Pontianak, West Kalimantan, also moonlights as a brewer of tuak with the label Sagalas. Dani came to this because he would like to see traditional drinks compete with other alcoholic beverages, including imported goods. "I don't want tuak to eventually disappear, because until now it is only largely used during traditional celebrations such as weddings and harvests," he said by telephone on September 9.
W251bGwsIjIwMjEtMDUtMDggMTQ6NDM6MDMiXQ
Dani started brewing tuak seven years ago, but only clinched an official permit in 2019. He makes tuak out of fermented sticky rice mixed with yeast. In the beginning, his tuak was sold in plastic containers. Later, however, he switched to glass bottles bought in Surabaya, East Java, so that the tuak lasts longer. In a month, he comes out with two production cycles of tuak with an alcohol content of 5 percent. In each process, he produces some 100 bottles of tuak. Dani sells Sagalas through his network of friends and social media for between Rp35,000 and Rp40,000 a bottle.
• • •
UNIVERSITY of Indonesia anthropologist Raymond Michael Menot, who studies alcoholic drinks, said these beverages in Indonesia must be viewed from a cultural and customary angle. A number of regions have customs that use alcoholic drinks in traditional ceremonies, such as the Dayak in Kalimantan and the Toraja in South Sulawesi. There are also alcoholic beverages that are part of daily life in other regions, particularly in urban areas. Examples are lapen in Yogyakarta, ciu Bekonang in Sukoharjo, ciu Cikakak in Banyumas, sopi and moke in East Nusa Tenggara, swansrai in Papua, and sagoer in North Sulawesi.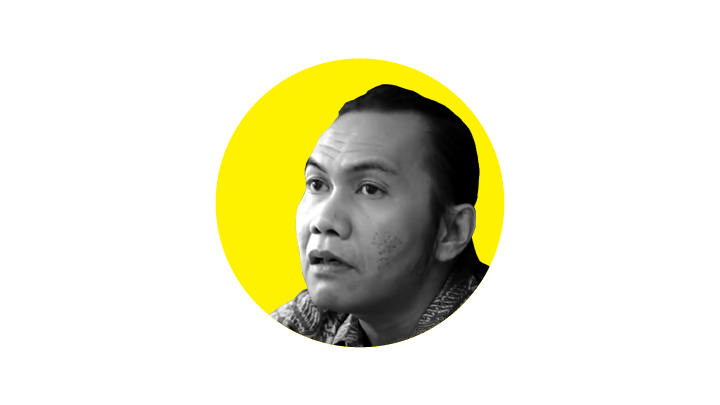 Raymond Michael Menot./Private doc.
It is still unclear how alcoholic drinks became part of daily life and tradition in some areas, Raymond said. Tuak-making technology has already existed for a long time in China and in the West, but the timeline for this tradition is unclear. Raymond explained that the earliest evidence was found in China, from residue in a clay jar estimated to date from 7,000 years B.C. This proves the existence of alcoholic drinks from fermentation.
Some believe people in Indonesia started drinking alcohol since the colonial era. "During Indonesia's Hindu era, these drinks were closely connected to royal ceremonial rituals," Raymond said by telephone on September 6. Even the names of the beverages in different regions sound similar, like baram in Kalimantan and brem in Bali. "However, if we trace their history, it came out earlier in local religions like the Dayak's Kaharingan in Kalimantan."
Unfortunately, this rich tradition often clashes with religious and social norms. The multiple criminal cases connected with too much alcohol intake has also spurred anti-alcohol campaigns. Whereas Raymond believes that alcohol—when used properly—could be used medicinally. Arak Bali, for example, is claimed to accelerate recuperation from Covid-19. "If this were to be studied further, I am convinced that we may get alternative medicine. Alas, this clashes with moral issues," said Raymond, who is also a member of the Indonesia Anthropological Association.
The production and distribution of alcoholic drinks in Indonesia continues to be controversial. A number of regions deal with this by issuing regulations barring distribution of the beverages. Besides Yogyakarta, which issued Regional Regulation No. 12/2015, regarding distribution of alcoholic drinks, Tuban's regent in East Java issued a circular prohibiting residents to sell and consume tuak in public spaces.
Currently, Parliament is looking into a draft law on alcoholic beverages. This draft law, included in the 2020-2024 prioritized national legislative program, was proposed by three parties: the Justice and Prosperity Party (PKS), the United Development Party (PPP), and the National Mandate Party (PAN). Chapter 5 of the draft law, which has currently been circulating on social media, stipulates that production of all alcoholic drinks is prohibited, including traditional drinks such as sopi, arak, sagoer, and tuak. If this draft law were to be ratified, alcoholic drinks can only be consumed for limited purposes at locations allowed by regulations. Regions will also lose their authority to regulate the distribution of alcoholic drinks.
Decades ago, President Suharto signed Presidential Decree No. 3/1977, which divides alcoholic beverages into three groups: A for beverages with ethanol concentration of between 1 percent and 5 percent, B (6 percent to 20 percent), and C (21 percent to 55 percent). This decree also regulated that alcohol production must be approved by the industry ministry with limited local distribution. Then, in 2015 the trade ministry signed a regulation that barred A-level drinks to be sold in minimarkets and grocery stores.
Ismail Surendra, who studies arak from Tuban, said that strong drinks, including traditional Indonesian ones, cannot be separated from politics. This is particularly evident in regional policies, such as those in Tuban, which has shifted in image. In the past, the region was known as 'the Land of Ronggolawe' and was the main port of the Majapahit Kingdom, which reigned for two centuries until 1500. According to a Tuban legend, Ronggolawe thwarted a Mongolian army by getting these men under Genghis Khan drunk on arak. Nowadays, however, Tuban is known as 'Wali Land' as it has become a religious pilgrimage destination, with mosques and tombs of prominent Islamic clerics such as Sunan Bonang.
Tuban's arak used to be the prima donna of Java's northern shores. Ismail remembers that over a decade ago, he started drinking arak Tuban when he was in junior high school. At that time, there were various types of arak Tuban, depending on their ethanol concentration, from very low until alarmingly high. "Arak used to be a known commodity, and was even produced on a mass scale, with village co-ops supporting its sales," he said on September 9. Unfortunately, he continued, as time went on, the increase in production quantity did not go hand-in-hand with quality. Brewing techniques and water quality became different. "Currently, even speaking about arak is a very sensitive matter," he said. Some residents are quick to call the police if neighbors are found to produce arak in their homes.
ISMA SAVITRI