Dian Ediana Rae, chairman of Financial Transaction Reports and Analysis Center: Our Financial System Is Not Immune from Illicit Money
Financial Transaction Reports and Analysis Center (PPATK) has detected suspicious fund flows from several overseas companies to Indonesia involving several local banks.
Edition : 22 September 2020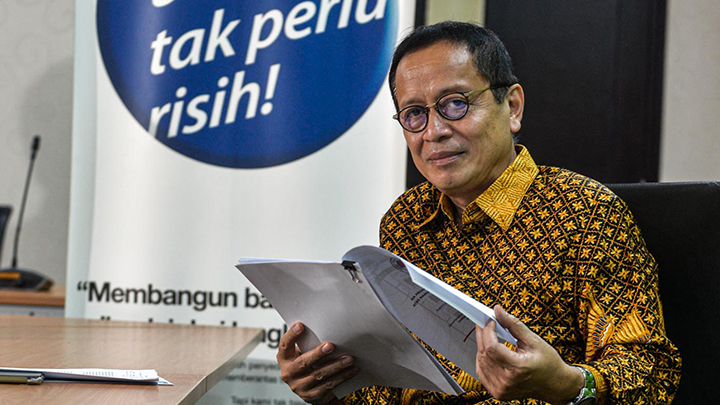 THE transactions reported by Financial Crimes Enforcement Network (FinCEN) occurred during the period 2011-2015. The investigation carried out by International Consortium of Investigative Journalists (ICIJ) including Tempo found that Indonesian businessmen were named in some of thousands of transactions mentioned in the documents dubbed the FinCEN files.
PPATK Chairman Dian Ediana Rae said his agency was already working with the US financial intelligence agency to follow up on the report. "We didn't have anything to hide," Dian, 60, stressed during a special interview with Tempo on September 11.
He added many cracks in the system—from inconsistent identity data to minimal banking oversight—enabled individuals to commit money laundering crimes. "That's why we are trying to fix the oversight mechanism. We don't want loopholes," said Dian, the successor of Kiagus Ahmad Badaruddin who passed away last March.
Speaking to Tempo reporters Mahardika Satria Hadi, Raymundus Rikang, and Nur Alfiyah, Dian explained how criminals were making use of these loopholes during the Covid-19 pandemic. The PPATK has also received reports from other countries about crimes involving Indonesian citizens. Four Indonesians have been accused of defrauding two companies from China and Italy. They diverted tens of billions of rupiah by stealing customer data and falsifying identities. During the interview that took place in PPATK's office in Central Jakarta, Dian also talked about the default by the state insurer Asuransi Jiwasraya.
Joint investigation by the ICIJ found thousands of suspicious transactions in reports by banks to the US financial intelligence unit, FinCEN during the period 2011-2015. Some of the transactions involved Indonesian businessmen. Did the PPATK manage to detect these transactions?
Yes, it is related to compromised business email accounts. Not just FinCen, but also the FBI was working with us to expedite the case. The PPATK has the authority to freeze the funds. As soon as we received information from them, we froze the transactions for 15 days while sorting out everything before we took over the case and handed over to the law enforcement agencies.
How many transactions were detected during that period?
If I remember correctly, more than 10. This is quite interesting. If people commit that kind of fraud, first, it is difficult to detect and it takes time. Second, the money involved will be huge. Export-import businesses are not small businesses.
Has the PPATK already informed the banks of the alert from US's financial intelligence unit?
It wasn't just an alert. We followed up and cooperated with FinCen. That's why many compromised business email cases in the US could be resolved. FinCen stepped in. And we didn't have anything to hide. We also informed the law enforcement authorities.
Is the PPATK capable of detecting each suspicious transaction with the existing system?
We are trying to seal all the cracks in the system. There is still room for people to engage in money-laundering crimes. For example, when normal banks are strict, scammers would go to rural banks. When rural banks are regulated, they would move to microfinancing institutions or to cooperatives. That's why we suddenly hear about saving and lending cooperatives getting themselves caught in scams involving trillions of rupiah. Therefore, we are working to fix the oversight mechanism. We don't want any loophole.
Are there still a lot of loopholes?
Quite a lot but we use risk-based principles. It means we focus on those with highest risks in order for us to make the best use of our resources.
Do the loopholes still exist because many banks still don't report irregular transactions of their important customers?
Yes, that still happens. We don't know whether they don't report intentionally, or if it's because they are scared or because they don't know that the account owners who committing crimes were state officials.
What is the PPATK doing to address this issue?
We investigate and if we find a violation like that, the fines we impose on the bank are not small. Many have been slapped with hefty fines but we may not publicize them. We can even use Article 5 of Law No. 8/2010 on prevention and eradication of money laundering crimes, if we want. It (the failure to report) constitutes a passive money-laundering crime.
PPATK Chairman Dian Ediana at the KPK building, Jakarta, September 10./ANTARA/Indrianto Eko Suwarso
Is the banking system in Indonesia able to block illegal or graft money?
Our system is not yet 100 percent immune from the inflow of proceeds from criminal activities. We are now fixing several areas. The quality of reports coming to us depends on several points, for example, whether their anti-fraud systems or parameters are sensitive or not, whether they use sophisticated information technology system or not, and so on. For instance, one of the parameters for corruption involves state officials. It means banks must have correct customer data. One of the difficulties banks face is their inability to differentiate customers' professions as the latter often cites entrepreneur as their professions while in reality, they are regents or law enforcement officers.
Can they not cross-check it with the identity card data?
The same goes for ID cards. Besides, our ID are not as good as, let's say, social security card of the United States. People's identities hardly get mixed up there but here they can be falsified. We are building a database of politically exposed persons (PEP), which is the data on public officials—be it central or regional government officials, law enforcement officers or politicians—to help the banks. We can monitor their transaction patterns. The list which initially contains the data of 347 state officials and political party members has now expanded to include data of 1.3 million people connected to their families as well as other affiliated people. Hopefully, all banks will be able to use the data next year.
How does the PPATK collect the data?
We collaborate with the home affairs ministry, the Corruption Eradication Commission (KPK) and several other institutions. It wasn't easy to compile the list due to different nomenclatures used. For instance, some people write my name Dian Ediana Rae in a complete form while others write Dian E. Rae. It took us a year just to sort them out.
Does the PPATK monitor possible signs of increased criminal activities during the Covid-19 pandemic?
As this is a pandemic, the sector that is growing is definitely the health sector. Criminals also see this. Dozens of emails (of businesses) were compromised. For instance, company A imported goods from company B. As A was due to make payment, hackers entered the system and stole all the data. Then they told A to transfer the money to an account different from the usual account of B citing the Covid-19 situation as a pretext. The money involved in the scams is not small including of the one that we and Bareskrim (National Police's criminal investigation unit) exposed which amounted to Rp56 billion.
Are the companies involved from Indonesia?
Both are foreign companies, from Italy and China. The money was diverted to the account of an Indonesian citizen. The perpetrators immediately withdrew the fund. That's what happens when the information comes late. Usually some of the money would already be gone. In the latest case, the criminals managed to make away with Rp1.7 billion out of Rp58 billion before we could freeze the rest.
That is a huge amount. Is it possible that the system of the paying company is not secure?
The transaction was made via email. People rarely hack emails unless they really are determined to do it. It means they really targeted these companies. They knew A was doing transactions with B. Where did they get that information? That we don't know. They targeted a growing sector and apparently studied overseas corporations and then prepared themselves by setting up a fake company under the name similar to the name of the targeted company. It is a systematic crime. We suspect that this was not an isolated case as this kind of fraud is rampant in many countries perpetrated using similar expertise and modus operandi.
What kind of hurdles the PPATK face in handling cases like this?
Some (victims) realized quickly but others didn't, even after they made several transactions because receiving companies did not complain assuming payments were simply late. If they realize sooner, they have better chances of getting back most of their money. But in some cases, none could be recovered. After investigation, we found so many accounts opened on fake identities and testimonies. So, it's hard to trace.
How do you overcome this problem?
That is one of the issues that we discuss internationally, for example at Egmont Group—a group of financial intelligence units from nearly 163 countries. I represent the Asia-Pacific region. We are building a system to facilitate faster exchange of communication. We urge our colleagues to make the complaint reporting process simple. As soon as a case is reported to the police, it should also be reported to the financial intelligence agency so it can be investigated sooner. We are also building awareness of corporations and banks alike about detecting strange accounts or transactions. For example, an account which is initially empty suddenly has Rp56 billion in it. That is one of most obvious fraud indicators.
The regional head elections are just around the corner. Has the PPATK already spotted suspicious transactions?
This is the largest event comprising 270 elections, almost double the number in 2018. For this year, we've coordinated several times with the General Election Commission (KPU) as well as the Election Supervisory Agency (Bawaslu) on how to carry out effective supervision. There are two things we want to make sure: first, we don't want any proceeds from criminal activities entering our political system; second, we don't want to see money politics.
Is the PPATK focusing on special campaign fund accounts?
No because according to our experience, it is ineffective to focus on these accounts. Mostly they use accounts of family members or even own accounts (for illegal transactions).
One of the issues surrounding the regional elections is political dynasties. Is there any surveillance on them?
As Pak Mahfud Md. (Coordinating Minister for Political, Legal and Security Affairs), there is nothing wrong with political dynasties. We only focus to see if anything is amiss with their fund flows.
As regards inter-institution coordination, we got information that only half of PPATK's reports were followed up by law enforcement agencies. Is it true?
It is true. We continue to coordinate with the KPK, Attorney General's Office (AGO), the police, the taxation directorate-general, customs, etc. to make sure more cases are acted upon. There is commitment, and God willing, there will be significant improvement in the coming years.
Doesn't the PPATK have the authority to push forward high-profile cases for follow up by law enforcement agencies?
Whatever we propose is definitely of high importance. For example, the information we provide to the KPK regarding state officials and state losses. But the problem is that the number of graft cases is not small. They also have their own priorities. That's why we plan to improve the five-year national plan which contains the commitments of all state institutions. Everybody takes part in the formulation. We will prepare programs, for instance with the KPK, police, or AGO, and we will have priority scales.
How likely are PPATK's reports get followed up until they reach court?
There are hearings to determine which money-laundering cases make the most sense and stand biggest chances to win. The question is whether this is backed by sufficient budget. We've discussed it with the National Development Planning Agency for support as our budget is limited.
Are there any delayed cases due to of lack of funds?
Oh, there is, because, let's say, they have other priorities. It is costly to process a case separately for other crime and money-laundry crime. That's why, for efficiency, we push for processing money-laundering charges with other charges in a given case. That is more cost-efficient and we have better chance of success with asset recovery as the President asked. We are also pushing for the draft of the asset forfeiture law particularly relating to obscure assets when suspects or convicts either absconded or died. If the suspect flees, then we'll just seize his assets.
There hasn't been any regulation on that?
Not yet. This is very important for recovery of state assets. We should try to recoup stolen state assets as much as possible.
• • •
In the hearing with the House of Representatives' (DPR) Legal Commission, you mentioned that the value of the transactions in the Jiwasraya case reached Rp100 trillion. Is the number likely to increase?
We are still looking at the possibilities. What is apparent now are losses in the capital market and mutual funds. There may be losses from investments in other fields as well. We're still making sure nothing is left out. Given the complexity due to numerous bank accounts, we are also handing over the data to the AGO gradually.
You also said at the same meeting that there were indications that fraud had been going on since 2008. Since when has the PPATK suspected it?
In 2008 or 2010. Without meaning to give excuses, we want to point out that it is not our job to supervise the financial system or individual banks but rather we work based on reports that we receive.
Reports from who?
From banks including companies such as insurance firms. They are obligated to report their customers' abnormal transactions. But it's difficult when they themselves are involved. That's why we coordinated with Financial Services Authority (OJK). I sent letter and also spoke to Pak Wimboh Santoso (Chairman of OJK Board of Commissioners). We have to coordinate immediately as soon as we see signs of irregularities.
The PPATK did not detect the fraud at the outset. Was it because PPATK's system was inadequate at the time?
No, it was because the information that came to us was not sufficient. And we attributed it to managerial problems.
---
DIAN EDIANA RAE
• Place and date of birth: Bandung, 4 April 1960 • Education: Bachelor of Law, Padjadjaran University, Bandung; Master of Law, Business School of Law, University of Chicago, US (1992); PhD in Economic Law, University of Indonesia (2003) • Career: Head of Bank Indonesia's Representative Office for Europe, London (2010-2013); Director, International Department, Bank Indonesia; Representative of Egmont Group for Asia Pacific; Co-Chair Financial Intelligence Consultative Group ASEAN, Australia and New Zealand; Deputy Head of PPATK (2016-2020); Head of PPATK (since May 6 2020)
---
After fraud was found, did the PPATK immediately suspect it as corruption?
It could not be categorized as corruption yet at the time but as irregularities or suspicious transactions. That's the reason why Supreme Audit Agency (BPK) had carried out the inspection. We also worked with the BPK that time.
Apart from the AGO, what other agencies is the PPATK working with to unravel this case?
We are working with the BPK to determine the state's losses. For tax aspects, we work with the taxation directorate-general and for involvement of individuals under observation, we certainly work with the OJK.
The OJK itself was the target of criticism for not taking prompt actions as it had long been aware that there were problems in Jiwasraya...
The Jiwasraya case has been an extremely costly lesson for all of us. We must dare to be firm against any violation as soon as it is discovered. Sometimes people concern about the markets' reaction or possible disruption to the country's financial stability. But the PPATK maintains the principle that exactly by daring to take actions and inform the public, we actually earn the trust of our people as well as the international community.