Special Treatment for Mining Firms'
People close to South Sulawesi Governor Nurdin Abdullah are suspected of enjoying preferential treatment for getting licenses for sand mining businesses.
Edition : 22 September 2020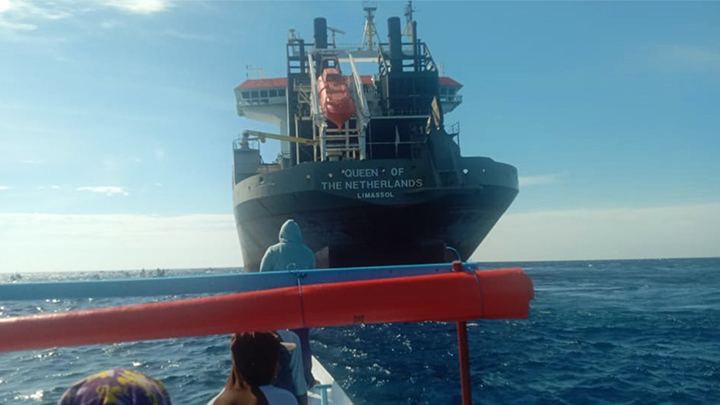 IT took only about seven weeks to examine over 1,000 pages of documents which was submitted on October 29, 2019. They were terms of reference for an environmental impact analysis (AMDAL) submitted by Banteng Laut Indonesia and Nugraha Indonesia Timur. On December 16, 2019, the South Sulawesi provincial government's office for the environment approved those documents to be deemed as an AMDAL report.
The speed of the AMDAL report issuance invited suspicion from the Indonesian Forum for the Environment (Walhi) of South Sulawesi. Executive Director of South Sulawesi Walhi Muhammad Al Amien said that the AMDAL approval process follows the administrative stages in the Environment and Forestry Minister Regulation No. 5/2012. "It takes at least 120 days," said Amien on Friday, September 18.
Banteng Laut Indonesia and Nugraha Indonesia Timur got sand mining business licenses for the Spermonde Block, in the western waters of South Sulawesi, in the Takalar Regency. This area covers nearly 1,300 hectares. Those two mining sites are strategic locations because they have large reserves of sand and are surrounded by small islands. This mined sand is used for the land reclamation project for the Makassar New Port (MNP) in Makassar City.
The MNP, which was named a strategic national project, is being touted as the largest port in eastern Indonesia, with a total area of 1,428 hectares. This port is being constructed and operated by Pelabuhan Indonesia (Pelindo) IV in cooperation with Pembangunan Perumahan, with an investment value of Rp89.57 trillion. "Up to the end of this year 2 million cubic tons of sand will be needed," said Prakosa Hadi Takariyanto, director of engineering at Pelindo IV. This project is targeted for completion in 2022.
Since February 13, mining contractor Boskalis International Indonesia has began dredging sand. They use a dredging ship named the Queen of Netherlands. It is 230 meters long and can hold 24,000 cubic tons of sand. One area being worked by Boskalis International is in the concession area of Banteng and Nugraha.
This mining has affected the lives of fishermen, in particular those who live around the Kodingareng Lompo Island. They are traditional fishermen who rely on bowfishing, rod fishing, and using traps to catch fish. After the mining began, the sea water became murky. They are claiming that the mining activity is damaging the fish habitat.
Protest by fishermen, together with student and environment activists, against sea sand mining, September 12./Save the Coast Alliance
About 5,000 people live on the Kodingareng Island. Together with other communities around the island, these fishermen and their families have been routinely protesting against the sand dredging ships around the mining location since last June. This culminated in a protest at a mining location on Saturday, September 12. After the protest, seven fishermen and four activists were arrested by police on the charge of damaging a sand dredging ship. However, they were released the following day. "We are comparing this with other evidence to determine who did the damage," said Sr. Comr. Hery Wiyanto, director of the water and air police at the South Sulawesi police department.
Walhi and other organizations working together in Save the Coast Alliance said that the environmental damage which led to the conflict between the public and the mining companies occurred because the government did not adhere to strict measures when issuing the permits. For example, the AMDAL administration process was done very quickly. "It is suspected that this was the result of people close to the governor who easily got into that mining," said Muhammad Al Amien.
The owners of Banteng Laut Indonesia and Nugraha Indonesia Timur are suspected to have connection with "Prof. Andalan"—an acronym for Professor Nurdin Abdullah and Andi Sudirman Sulaiman—who were running mates in the gubernatorial election in 2018. The company deed shows that half of the stock in Banteng Laut is owned by Sunny Tanuwidjaja, secretary of the board of patrons of the Indonesia Solidarity Party (PSI), a political party that supported the Nurdin Abdullah-Andi Sulaiman ticket. The rest is owned by Akbar Nugraha and Abil Iksan. Sunny sits as president commissioner, while Akbar is chief executive officer and Abil is a company director.
Akbar and Abil are former members of the "Prof Andalan" campaign team. Akbar is also a college friend of Nurdin Abdullah's son. At the end of last year, Governor Nurdin Abdullah appointed Akbar as chairman of the South Sulawesi tourism promotion board.
Abil and Akbar also own shares in Nugraha Indonesia Timur. The two control half of the stock in Nugraha, which is valued at Rp125 million. Nugraha Indonesia Timur was established in May 2019, a month before Banteng Laut was established in June 2019. On July 31, 2019, the company received mining location authorization. A day later they received a mining business permit. On August 7, the company was issued a mining exploration business license.
A source familiar with the mining licensing process for Banteng Laut and Nugraha in the South Sulawesi provincial government said that those two companies did receive the 'red carpet' treatment. According to this source, Governor Nurdin Abdullah pressed his subordinates to facilitate licensing for Banteng Laut and Nugraha. This special treatment was also extended during the review on the AMDAL report. The same source said that there are number of stages which were bypassed by both companies, such as coordinating with the communities around the mining location.
Andi Hasdullah, chief of the South Sulawesi environmental management office, denied such claims. He said that licensing services did not consider any closeness to the governor. The short time it took to approve the AMDAL report, said Hasdullah, was due to the fact that the documents were found to be in full order. "The approval was quick because not much needed to be corrected in the request," he said.
However, Hasdullah said that the AMDAL assessment team did not call on any residents of Kodingareng Island to discuss the request. This was because the residents of that island were not in the area deemed to be affected by mining activity. "Those who participated were only residents in seven villages in the North Galesong subdistrict, Takalar Regency," he said.
Sunny Tanuwidjaja, president commissioner of Banteng Laut, did not respond to phone calls or messages sent to his WhatsApp account as of Saturday, September 19. Akbar Nugraha did not reply to an interview request. Tempo went to the home of Abil Iksan in Makassar. A woman who claimed to be his wife said that Abil was not at home. "He is out of town," she said on Friday, September 19.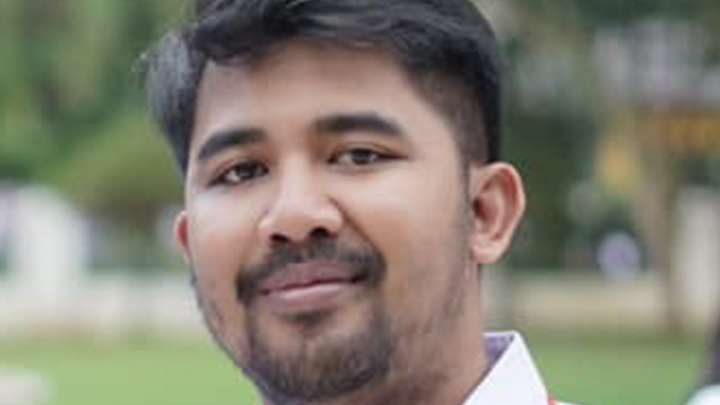 Abil Iksan./Facebook.com/ Abil Ikhsan
Boskalis has not responded to an interview request sent by email. When Tempo visited the office of Boskalis at the 88 Building of Kota Kasablanka, South Jakarta, a receptionist named Diyah said she could not facilitate an interview request.
Governor Nurdin Abdullah said that involvement of former members of his campaign team does not break any laws. He also questioned the relevance of the closeness of those company stockholders with his son. "He is not a stockholder, and not a member of the board of directors. Take a look at the company's deed," he said.
He also denied giving preferential treatment for Banteng Laut Indonesia and Nugraha Indonesia Timur to receive licenses. "We are committed to making administrative processes easier. As long as it is in line with the laws and regulations, we have been speeding up the times on all of it," said this former two-term regent of Bantaeng.
• • •
THE Queen of Netherlands vessel was floating in the waters of the Takalar Regency on Wednesday, September 16. Using a 6-meter long water taxi, Tempo attempted to survey the activity of this steel-hulled ship up close. To reach the location Tempo must travel for about two hours by sea from the Kodingareng Lompo Island.
About a kilometer from the ship, the sea water was visibly murky and brown. Pipes extended from both sides of the ship owned by a Dutch company, which stretched down into the sea. Two people could be seen overseeing this sand dredging process. "These waters are 15-20 meters deep," said Ismail, a fisherman from Kodingareng Island who accompanied Tempo.
Ismail also said that now fishermen are worried when approaching these waters. The waves there can reach as high as three meters on account of the mining activity. Some fishermen have had accidents, in particular if they are near the sand dredging vessel. Ismail took part in that protest against sand mining on September 12. However, he was not one of those who were arrested. Since that incident, he said, the police have been frequently making patrols, guarding the activity of Queen of Netherlands, armed with rifles. "We feel like we are being terrorized," he said.
The police are still investigating damage to the ship's pipes which occurred after the September 12 protest. Senior Comr. Hery Wiyanto suspects some fishermen damaged the ship's pipes using Molotov cocktails. "We are still studying who threw those Molotov cocktails," he said.
The Legal Aid Institute (LBH) of Makassar is questioning the stance taken by police in investigating the damage done to the ship. It is suspected that some of the protesters were tortured during the questioning process. Some of the seven fishermen who were detained claimed they were subjected to violence. "We ask the police to act in a professional manner," said Edy Kurniawan, deputy director of Makassar LBH, who is also a lawyer for the fishermen.
In addition to feelings of anxiety, residents of Kodingareng Island experienced some new problems after the sand mining began. The area initially used for fishing is no longer providing them with fish. The fishermen are now facing economic difficulty. "I always fight with my wife, who is upset because I often come home without fish," said Sahril Kilo, 35, a squid fisherman from the Kodingareng Island.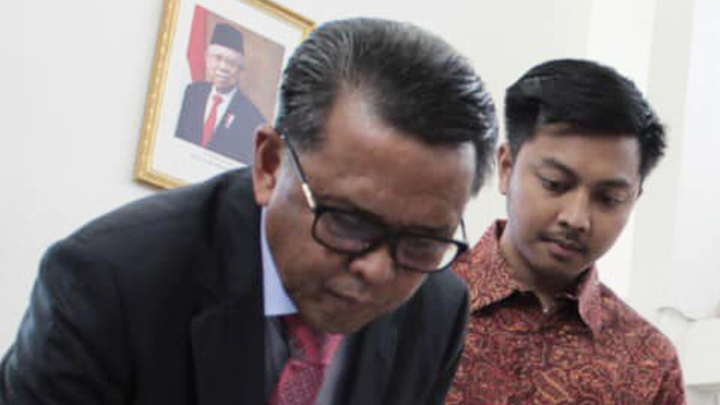 South Sulawesi Governor Nurdin Abdullah (left) and Akbar Nugraha, December 2019./Facebook.com/ Akbar Nugraha
The condition of these fishermen is a far cry from the benefits obtained by Banteng Laut Indonesia and Nugraha Indonesia Timur as the holders of the sand mining concession. An analysis done by a South Sulawesi Walhi team says that those two companies get about Rp1.1 billion profit per day. "They are paid by contractors and holders of the land reclamation project without having to do any work," said South Sulawesi Walhi Director Muhammad Al Amien.
Pelindo IV Corporate Secretary Dwi Rahmad Toto denied that the sea sand exploration has caused environment damage. According to him, the mining has been done according to the procedures and regulations of the central and regional governments. He also claimed that the Makassar New Port project will not induce any environmental problems because studies have been done. "This project already has an AMDAL report and some other licensing," he said.
RIKY FERDIANTO, FAJAR FEBRIANTO, ANDITA RAHMA (JAKARTA), DIDIT HARYADI (MAKASSAR)