Deadly Elections
At least 60 regional candidate-heads are corona-positive. The government and DPR are adamant about forging on with local elections.
Edition : 28 September 2020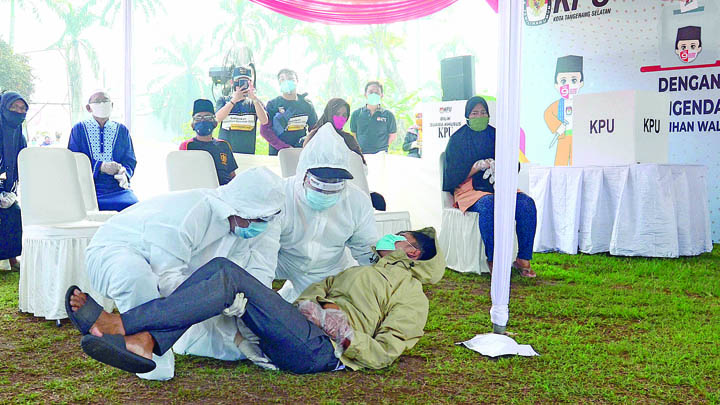 CHAIRMAN of the Sidoarjo General Election Commission (KPU) in East Java, Mukhamad Iskak, had no qualms receiving running mates Kelana Aprilianto and Dwi Astutik on Friday, September 4. The candidate pair supported by the Indonesian Democratic Party of Struggle (PDI-P) and the National Mandate Party (PAN) came accompanied by hundreds of their followers.
But upon scanning the application form the pair submitted, the verification team noted Dwi was corona-positive. The KPU has made it a requirement that candidate application forms be attached with results of Covid-19 swab tests. A candidate pair may directly register their candidacy once their swab tests show negative results. Iskak told Dwi to go directly home. "The application form will be officially verified once we know the results of their medical check up," said Iskak when contacted on Thursday, September 24.
On the same day, in Muna Regency, Southeast Sulawesi, candidate regent La Ode Muhammad Rajiun Tumada also went to the KPU office accompanied by thousands of followers. But Rajiun's file—he is currently the regent of West Muna—was deemed incomplete. Rajiun had not attached his swab test results. That very day, Head of Southeast Sulawesi Health Office, Muhammad Ridwan, dispatched a letter to the West Muna Regency health office informing that Rajiun was deemed corona-positive. Head of his campaign team, Aksah, said Rajiun immediately went into voluntary self-isolation after obtaining his test results from the Bahteramas Regional General Hospital, Kendari.
This is not the first time Rajiun had gathered crowds around him. On August 9, a crowd of thousands gathered at the Nusantara Harbor, Muna, to pick up Rajiun and his running mate, La Pili, who had just pocketed their recommendations from the United Development Party (PPP), Democrat Party, and National Democrat (NasDem) Party "The improper behaviour of these running mates ended up being detrimental to themselves and for other people," said Director-General of Regional Autonomy of the Ministry of Home Affairs Akmal Malik, who signed a reprimand letter five days later, addressed to Rajiun.
In Berau Regency, East Kalimantan, incumbent regent, Muharram, was buried using Covid-19 procedure on Tuesday, September 22. Before, the politician from the Justice and Prosperity Party (PKS) had accompanied Minister of Maritime and Fisheries Edhy Prabowo—who has also been declared corona-positive—on his visit to Berau on September 1.
Muharram and his running mate, Gamalis, put in their registration forms with the KPU on September 6 accompanied by hundreds of closely-packed followers, some of whom were not wearing face masks. Three days later, Muharram was confirmed corona-positive. "He should not have created a parade of followers if he was already feeling unwell," said PKS Deputy Secretary-General Mardani Ali Sera.
KPU data revealed at least 60 candidates of regional head in 21 provinces deemed Covid19-positive. Covid-19 Task Force Spokesperson, Wiku Adisasmito, said a significant case spike occurred in the last week of September after the regional elections registration. "There was a very sharp case increase directly related to election activities, which still hinged upon gatherings of crowds," said Wiku.
For the three days of candidacy registration between September 4 to 6, for instance, the Sidoarjo Regency administration noted an increase of 25 positive cases. On September 23, there was a further increase of 566 cases. In Berau, the total number of positive cases on September 6—the last day of registration—totaled 189, which then rose to 267 cases on September 25.
Several institutions, including the Nahdlatul Ulama, Muhammadiyah, and the National Commission on Human Rights (Komnas HAM), have urged the government to postpone the simultaneous regional heads election slated for December 9, to avoid further contagion spread. "The pandemic has not yet been contained, giving the elections postponement a very strong judicial base," said Komnas HAM Commissioner Hairansyah.
But the House of Representatives' (DPR) Government Commission, together with the home affairs ministry, the KPU, and the General Elections Supervisory Agency, in a meeting on September 21, decided the regional elections should go ahead. Member of the Government Commission from the PKS Faction, Mardani Ali Sera, said his faction asked the government to allow for a postponement option if the pandemic continues unrestrained. Mardani also requested President Joko Widodo to take full responsibility for the execution of the regional elections, since it requires tight disciplinary measures involving the Indonesian Military (TNI) and the National Police.
Gerindra Party is on the side of going ahead with regional elections. DPR Government Commission member from the Gerindra Faction, Sodik Mudjahid, assessed that the end of the pandemic still cannot be predicted, making it imperative for the elections to go on. "Regional elections have to continue with tight observance of Covid-19 protocol," he said. PDI-P Secretary-General Hasto Kristiyanto said, postponement of the elections would only create further uncertainty and can trigger political risks.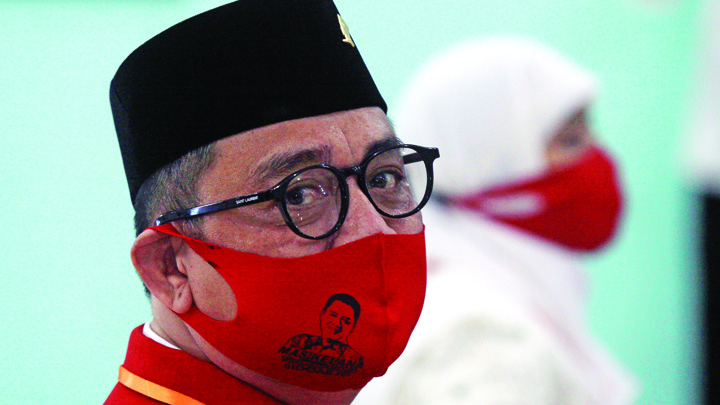 Sidoarjo Regency head running mates, Kelana Aprilianto dan Dwi Astutik, at Sidoarjo General Election Comission, East Java, September 4. TEMPO/Nurdiansah
On the morning of the meeting, President Jokowi called in Coordinating Minister for Politics, Law and Security, Mahfud Md., Minister of Home Affairs Tito Karnavian, and TNI Commander Marshall Hadi Tjahjanto to the Bogor Palace. Also present was Police Chief Gen. Idham Azis, Chief of the State Intelligence Body (BIN) Budi Gunawan, and Chairman of the National Disaster Mitigation Agency Doni Monardo. The meeting discussed the regional elections. After that, Presidential spokesman, Fadjroel Rachman, said Jokowi reiterated that the local elections could not wait for the pandemic to end. "Not a single nation can predict when the contagion will end," said Fadjroel.
Until September 26, Mahfud had made no response to questions submitted by Tempo. BIN Deputy of Communication and Information Wawan Purwanto confirmed the information that the President held a meeting attended by BIN chief regarding the regional elections schedule. "Decisions on the elections must be taken to avoid uncertainty," he said.
On September 22, the government gathered the secretaries-general of political parties in a virtual meeting to disseminate information regarding tight health protocols during the regional elections. NasDem Secretary-General Johnny G. Plate said, his party agreed to the elections going ahead under tight health protocols. Raja Juli Antoni, secreatry-general of the Indonesian Solidarity Party (PSI), who was also in attendance, said Mahfud and Tito announced the decision made in the meeting with the DPR the day before.
Ad interim KPU Chair, Ilham Saputra—KPU chair Arief Budiman and member Pramono Ubaid are both corona-positive—claimed his institution was ready to execute the regional elections in the middle of the pandemic. The KPU has revised several regulations to comply with Covid-19 protocols, for instance restrictions regarding meetings in closed rooms, and a ban on concerts for campaign purposes. "Procedures and simulations have been carried out to comply with health protocols for the duration of the election processes," he said.
RAYMUNDUS RIKANG, BUDIARTI UTAMI PUTRI, NUR HADI (SIDOARJO), ROSNIAWATY FIKRI (KENDARI)