Roaming
WHAT does 'roaming' mean? In this time of pandemic isolation, 'roaming'—which is always interesting, always full of problems, and thus constantly mentioned in literary imagination—is to leave a place and the past. Sometimes radically.
Edition : Monday, September 28, 2020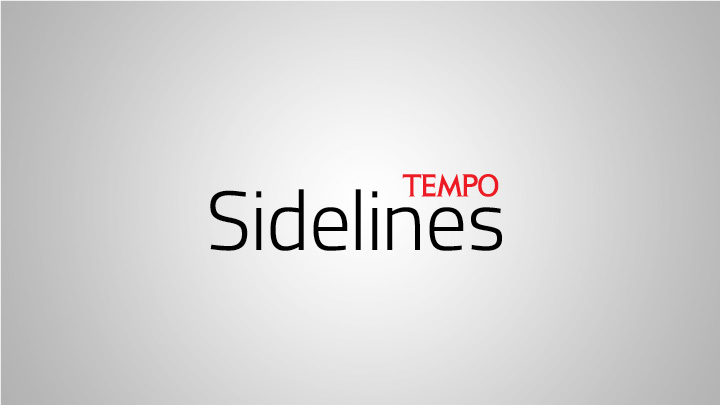 Chairil Anwar proposed it in a startling poem: to roam is to
probe the deserts, meeting nothing, landing nowhere
—the only possible non-stop flight
No arriving
In other words, there is no final destination. One who roams is prepared to 'not arrive', and dares to produce nothing. The wanderer is no docile walker.
So the true wanderer will find no model in the romantic tale of Panji. In this story, popular in many places in Southeast Asia, the prince from Jenggala in East Java in the 12th century leaves the palace. He roams though forest upon forest, searching for his vanished sweetheart. In one version, the sad prince is said to have lost his memory. But in the end, Panji—who in one Javanese dance is called kelana gandrung, or wanderer in love—is the noble with a set plan and good fortune; he finds what he seeks.
W251bGwsIjIwMjEtMDQtMjEgMTQ6NDI6MjYiXQ
Panji is no wanderer.
Even Odysseus is not in that category. Odysseus, the hero in Homer's story of the Trojan Wars in Ancient Greece, is commonly employed metaphorically. The word 'odyssey' in English means a long journey of adventure that frequently faces obstacles.
But actually Odysseus's journey is a route home. After years of warfare, Odysseus sails back to his palace, to his wife's lap. Homer calls him 'that many-sided hero who traveled far and wide'. After allying with the Greeks to sack Troy, "Many the men whose cities he saw, whose ways he learned." Yet still: that journey, like Panji's (although more exciting), is motivated by a return to what he knows—part of his self. A Homeric scholar once pointed out that within Odysseus the notion of nostos (return) is linked to noos (thought).
Lévinas, the French-Jewish philosopher, views Odysseus's journey as un retour au Même, 'a return to the Same'. Odysseus does not sail far to greet the Other, the Different. This is an egocentric story with a conservative agenda, a return to embrace identity, not to 'probe the desert, meeting nothing, landing nowhere'. Lévinas points out the contrast with the story of Abraham in the Jewish faith. "Abraham leaves his fatherland forever for a yet unknown land, and forbids his servant to bring back even his son to the point of departure."
But a caveat: Abraham, the model wanderer, founder of the great Middle Eastern religions, was indeed a man resolute and brave in strange lands. However, personal courage is not everything. There is the element of time. What is strange gradually becomes strange no more. There is transformation. This is why I think Lévinas is wrong to judge Odysseus's journey as a return to the Same. The veteran of the Trojan Wars had seen many things, had behaved intelligently and cunningly in the midst of danger; he could become totally calculating. But he also experienced the friendship of people who openly welcomed a stranger that needed a place of shelter—an element always present in wandering. Homer's poem shows, within the flow of time, Odysseus—like Abraham—is not as he was at the beginning. Roaming cannot be just a return to the Same. Lived and experienced space and time will not repeat an 'ego' whose identity is eternal. Odysseus experiences what is called xenia, the custom of hospitality that nurtures good relations between guests and hosts.
That relationship is not without effect.
In one scene, the King of the Phaeacians greets Odysseus, the stranger who needs to rest on his long journey. During the feast the King sees the visitor weep when he hears the poem sung by the bard about journeying. The king realizes that his guest is not some powerful god who has dropped by, but a man with feelings. So he asks Odysseus to recount his own travels: "But tell me this, and speak true, where have your wanderings taken you, what countries of men have you seen? Tell me of those peoples, and their crowded cities, the cruel, savage and lawless races, and those who are good to strangers, and in their hearts fear the gods."
Wandering cannot be without such variation. It reminds us of the Serat Centhini. Jayengresmi's roaming is certainly radical. The son of Sunan Giri Prapen who has to escape after his lands are taken by Sultan Agung, walks from place to place in Java using assumed names. In some villages the refugees from Giri become familiar with things they have not known before: types of food, varying customs—also with things mystical and erotic.
They do not fly far into space on any 'nonstop flight'. But they do not return. They are not Odysseus, nor Panji. They end up as identities totally different. At the end of this strange 12 volume story, they become larva.
GOENAWAN MOHAMAD