Extracting Sweets from the Marapu
The sugarcane plantation owned by Djarum and Wings Indonesia is being accused of damaging and shutting off access to a location where followers of the Marapu conduct rituals in East Sumba, East Nusa Tenggara. Despite repeated reminders from a number of institutions, the regional government and company were unmoved. Local residents accuse the company of misrepresenting a traditional offering of money as compensation for land use. This coverage was done through collaboration of Tempo and Tempo Institute.
Edition : 28 September 2020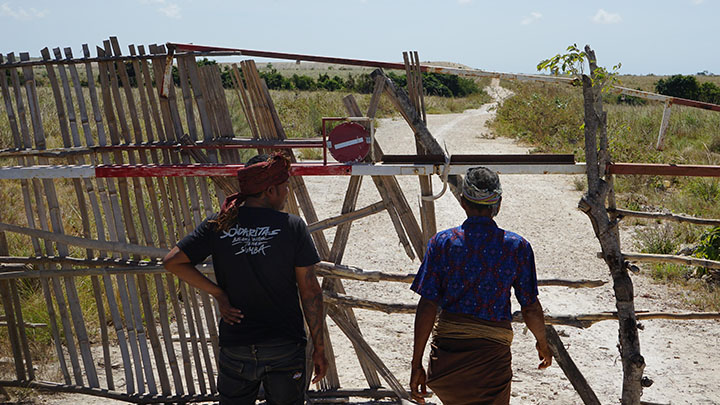 A four-meter wide wooden and bamboo gate blocks entry to a part of Patawang village in Umalulu subdistrict, East Sumba Regency, East Nusa Tenggara (NTT). A sign of no entry is put in the middle of a steel bar barrier. Wooden stakes stretch for more than two kilometers in either direction of the gate in that grassland area.
Together with some of his friends, Hapu Tarambiha II, 57, entered this forbidden area on Saturday, August 8. About a kilometer from that gate stand four lushly-foliated trees over 10 meters tall. They are known as Katuada Njara Yuara Ahu, and are the place for the hamayang ritual of praying to the clan of Mbarapapa and other clans in Patawang. These followers of the Marapu belief usually pray for their crops and livestock there before the rainy season. "This place has been damaged," said Hapu Tarambiha.
The flatlands around Katuada Njara Yuara Ahu are now a mud hole. Stones and soil cover nearly all of the roots of those trees. This is where Marapu followers usually place their offerings, such as betel leaf, areca nuts, or sacrificial animals for major ceremonies. In addition to no longer being able to perform rituals there, the kanotu or small concave stone objects containing pure gold have disappeared. They are usually placed in the ground around the katuada trees after the Marapu followers are finished praying.
The flatlands around Katuada Njara Yuara Ahu are covered by rocks and stones from the the excavation of a nearby water reservoir, last August. /TEMPO/Budiarti Utami Putri
Hapu Tarambiha, also others from the Marapu community, accused Muria Sumba Manis (MSM) of damaging the site. The stones and earth covering the roots of those katuada trees are suspected to come from the excavation of a water reservoir by MSM, just five meters from that site. MSM has controlled the land since 2016 and began clearing lands for a sugarcane plantation two years later.
Muria Sumba Manis received the land-using permit for 19,000 hectares of land in East Sumba in November 2016. In April 2019, this authorisation was increased to 41,000 hectares. The permit for cultivation has been issued for 5,428 hectares of that land. The area controlled by that company covers six subdistricts in East Sumba, namely the Umalulu, Rindi, Kahaungu Eti, Pahunga Lodu, Wulla Waijelu, and Pandawai.
The company was set up by two major corporations, Djarum and Wings Group. Djarum controls a 75 percent share of MSM through Hartono Plantation Indonesia. The remainder is held by Graha Gemilang Lestari, owned by Hanny Sutanto and Finney Henry Katuari. Hanny and Finney are children of Wings Indonesia founders Harjo Sutanto and Johannes Ferdinand Katuari.
Public Relations Officer of Wings Indonesia Christie Rachel denied any involvement of Wings at Muria Sumba Manis. "According to our BOD (Board of Directors), that company is owned and operated by the Djarum Group," she said on Thursday, September 24. Djarum Corporate Communication Manager Budi Darmawan was reluctant to talk about the company's involvement in MSM. "Let MSM answer that," he said.
Dumaria Panjaitan, Corporate Communications Manager at MSM, did not respond to the matter of stock ownership in her company. In a written explanation, Dumaria said that the company operates in the sugarcane processing and plantation industry. According to her, this sugar factory planned to begin operating next year will produce 1,200 tons of white sugar crystals and refined sugar crystals every day. "It is hoped that this output can increase the domestic sugar supply," wrote Dumaria.
• • •
Muria Sumba Manis joined the 2024 national sugar self-sufficiency program. This program was designed by the administration of President Joko Widodo after he was sworn into office on October 20, 2014. In 2016, the then minister of agriculture, Andi Amran Sulaiman, opened investment in sugarcane fields and sugar factories to meet the annual demand for 3.9 million tons of sugar. At that time, there was an annual supply shortage 1.1 million tons.
The government began to work with 10 companies to clear lands for sugarcane plantation at a number of locations. In return, those companies would be given sugar import quotas. "Sugar is being imported to meet the national stock needs and to stabilize the domestic price of sugar," said Didi Sumedi, director-general of foreign trade at the ministry of trade, on September 25.
Muria Sumba Manis is one of the 10 companies which was authorized to clear lands for a sugarcane plantation. The company was established on November 19, 2014. Two days later, they submitted principal approval for a planned investment in the East Sumba Regency. Five months later, in April 2015, MSM obtained location permit for 52,817.42 hectares of land. The principle authorization was issued on June 20 of the following year, with a planned investment of Rp9.5 trillion.
The company ran into some difficulties at the beginning of their operation. One of them had to do with the construction of rainwater reservoirs used to irrigate the sugarcane fields. Regent of East Sumba Gidion Mbilijora said that those reservoirs were drawing water from drilled wells, cisterns, and rivers during the rainy season.
The followers of the Marapu said that construction of those water reservoirs damaged the Katuada Njara Yuara Ahu, the site where they conduct their rituals. The company was also suspected of clearing additional lands in the Bulla forest, where the Marapu followers also conduct rituals. In March 2016, Regent Gidion reprimanded MSM for cutting down trees in the primary natural forest area. "That primary natural forest area is a source of water for the community," said Gidion.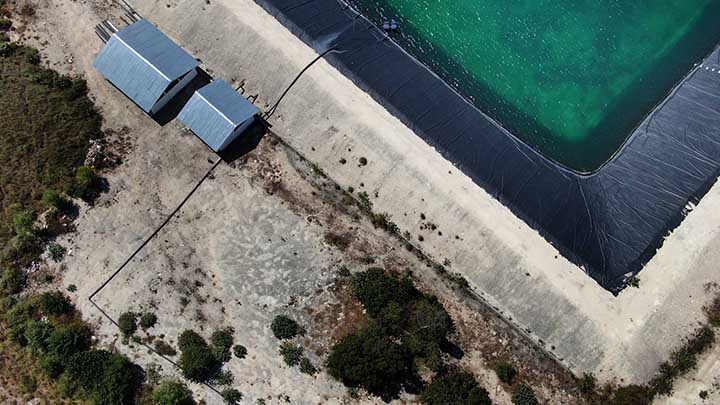 The water reservoir near the Katuada Njara Yuara Ahu, last August./TEMPO Team
On November 2, 2017, MSM obtained a borrow-to-use permit for a forested area to build a reservoir on 0.58 hectares of land in the Bulla forest. That reservoir constructed near the water source was said to have resulted in water shortages. Residents of the Wanga and Patawang villages in the Umalulu subdistrict have complained of water shortages ever since the reservoir was built. They can no longer work on their rice fields because their water source and the river are dry. Irwan Putra Lamuru, a resident of Wanga, said that the rice fields have dried up.
On January 7, 2019, the environment and forestry ministry wrote to the regent of East Sumba to reprimand MSM for building the reservoirs. In that letter, the environment ministry asked that the construction of such reservoir in the Bulla forest be stopped. One reason for doing so was that this construction was not mentioned in the attached environmental impact analysis (AMDAL) of MSM. Regent Gidion claimed to have followed up on the ministry's recommendation. He mentioned that some of the recommendations were incorrect. "Some recommendations have been implemented," he said.
In a written clarification Dumaria Panjaitan said that all of the company's operational policies are in line with the regulations. This includes the licensing process, AMDAL report, zoning regulations, and freed forested area status. "MSM highly upholds plantation operations which respect the natural balance, sustainable environmental management, and respects the noble cultural values and rights of the customary community of East Sumba," she wrote.
• • •
THE Marapu customary community began to take action against Muria Sumba Manis in 2016. "The operations of MSM have violated the human rights of the Marapu community," said Haris Azhar, executive director of legal and human rights foundation, Lokataru. The Marapu community has been working with Lokataru in order to fight for their rights.
Five representatives of the Marapu community met with high-ranking officials of Djarum and Wings at a restaurant in Setiabudi, South Jakarta, in early September 2019. Gories Mere, at the time a special staff member of President Joko Widodo, was said to have facilitated the meeting. "We were facilitated to meet with Djarum and Wings to inform them about the facts occurring in the field," said Umbu Manang, a Marapu representative who attended the meeting which ended uneventfully. Gories did not respond to a message and phone call from Tempo.
According to Haris Azhar, the government should not have allowed MSM to operate on land belonging to the Marapu community. There are some regulations, such as the Zoning Law, which recognizes the special status of communal land rights. "The Marapu community had already been recognized before MSM came," said Haris.
Documents obtained by Tempo indicate that the East Sumba office of culture and tourism issued a recommendation to recognize the Marapu belief on September 15, 2014. The education and culture ministry reiterated this in a Letter of an Inventory of the Marapu Belief System on February 24, 2015.
The education ministry sent a letter to the East Sumba Regency government on July 26, 2019. This letter was made in response to a complaint from representatives of communities from East Sumba and from Lokataru about the impact from MSM's operations. Sjamsul Hadi, director of matters of belief in God Almighty and customary communities, said that the letter from his institution was not carried up by the local government. According to him, the regional government is fully responsible for sites of cultural advancement located in its area. "For some reason the regional government hasn't done anything. It is the regional government which has the power to control that situation," said Sjamsul, in early August.
In July 2019, Lokataru reported the regent of East Sumba and some heads of local government offices in the East Sumba Regency to the Ombudsman of the Republic of Indonesia. These complaints were then taken up by the Ombudsman representative office of NTT. "At this time they are in the process of writing a final report on the examination results by the investigating team," said NTT Ombudsman Chairman Darius Beda Daton on September 25.
They also reported the matter to the National Commission on Human Rights (Komnas HAM). On June 9, the Komnas HAM wrote to NTT Governor Viktor Laiskodat asking to resolve the conflict between MSM and the Marapu community. "From experience in Indonesia, land conflicts often end in violence," said Komnas HAM Commissioner Amiruddin Al Rahab. Regent Gidion Mbilijora said the he received letters from several state institutions. He said that he has explained the issue and denied that any human rights violations have taken place. "The friction began with the giving of uang sirih pinang (a tradition of gift of 'betel and areca' money)," he said.
The issue of this 'money gift' is still a problem with some in the Marapu community. They accuse MSM of misrepresenting that traditional gift as funds to compensate for land use. That gift of 'betel and areca' money is considered to be a symbol of respect of guests towards the host. Yoseph Ndawalu, a resident of Pamburu village in Pahunga Lodu subdistrict, said that he received Rp400,000 of such money from Umbu Wanda Angu—who at that time was village head of Pamburu.

However, he did not expect that the money was a sign of communal land being turned over to MSM, which then cleared lands in the Pamburu forest. "All of the forest in Pamburu was cut down. That is why we protested," said Yoseph when met on August 14. Umbu Wanda Angu verified that about Rp250 million from MSM was distributed as a traditional gift in 2015. The money were distributed to about 200 families, each being given Rp400,000. Another Rp1-1.5 million was given to about 60 village figures.
Muria Sumba Manis did not respond to questions from Tempo about that monetary gift. Dumaria Panjaitan said that the licensing processes and company operations have been conducted according to procedure. "This process was done transparently without any coercion, with the principle of mutual benefit, and being done in minutes which were written down in a notarized act," Dumaria said.
BUDIARTI UTAMI PUTRI, MUSTAFA SILALAHI