Sumba Faith Followers Cornered by Rulers
Hundreds of years ago, the tale said, a herder called Umbu Pala arrived at the Sumba shores. He settled down in the Yuara Ahu savanna, where his cattle grazed. There, he also set up a hamayang, or a place to pray.
Edition : 28 September 2020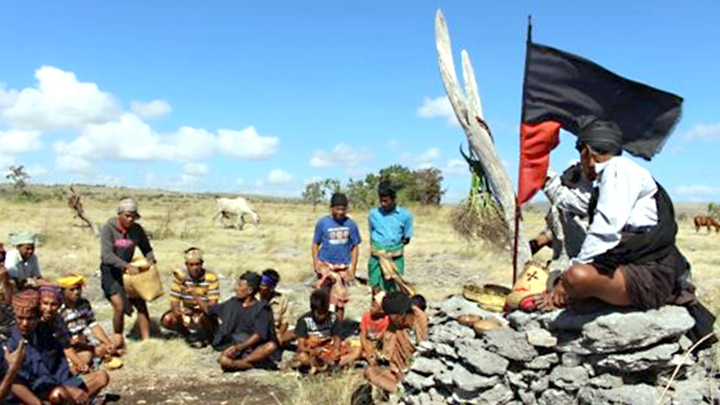 "Umbu Pala prayed for the safety of his cattle there," said Tay Daku Hamang, 80, to Tempo through an interpreter on August 9. Daku Hamang is a kabihu (clan) elder of the Mbarapapas, who are believed to be descendants of Umbu Pala.
According to Daku Hamang, the Umbu Pala legend was handed down from generation to generation. On the savannah now stands a hamayang called Katuada Njara Yuara Ahu. It consists of four lush trees towering over 10 meters high. The descendants of Umbu Pala also pray at a site called Bulla, a spring at the Bulla Forest, for rain-calling ceremonies. Those are the two prayer sites for the more than 10 clans residing in the Umalulu subdistrict.
They are part of the Marapu devotees, who also include other clans with different ancestors and places of worship. The book The Gospel and Marapu: a Historical-Theological Study about the Gospel's Encounter with the Sumba Community in the Period of 1876-1990 by church historian Frederiek Djara Wellem, a lecturer at the Artha Wacana Christian University in Kupang, East Nusa Tenggara, describes 'marapu' as a faith that worships the Creator, ancestors, spirits, and magic powers that are believed to give protection and support.
Purwadi Soeriadiredja, an anthropologist from Bali's Udayana University, said in his 2013 dissertation Marapu: Religion and Cultural Identity of the Umalulu People in East Sumba that the Marapu faith is the most important identity marker for the Sumba people, in addition to paraingu (larger village community) and kabihu. "Religious orders become the source of regulations in other walks of life," Purwadi said on Thursday, September 17.
He further said that Marapu worshippers acknowledge four groups in their social structure: maramba or noblemen, rato or priests, kabihu, which could either mean clan or a free person, and atta, which means servant. Noblemen have important positions in every village or paraingu. "They are usually the ones who are mangu tanangu or landlords," Purwadi wrote in his dissertation.
The Marapus, however, have always lived under the yoke of ruling powers. During colonial times, the Dutch tried to switch their faith by bringing in priests and pastors to Sumba. During the New Order era (1966-1998), Marapu followers were also pressured to embrace one of the religions recognized by the government. However, some Marapus refused to let go of their faith, which made it difficult for them to obtain documents such as identity cards and marriage certificates.
A national dialogue organized by the ministry of national development planning in Jakarta in 2018 noted that Marapu worshippers in East Sumba number some 16,000 people. The education and culture ministry's directorate that overlooks faiths outside the major religions eventually recognized the existence of Marapu followers. On February 24, 2015, this directorate issued a letter registering the Marapu worshippers' organization. However, the East Sumba Regency administration has yet to issue regional regulation that legalizes the Marapu as a one of the adat (customary) communities.
East Sumba Regent Gidion Mbilijora denied that the existence of Marapu followers is not recognized. He asserted that he tried to rescue the Katuada Njara Yuara Ahu, which existence was threatened by the development of sugarcane plantations exploited by Muria Sumba Manis. However, he also claimed that Marapu followers no longer exercise hamayang there as most of them are already Christian. "But we respect it as a cultural site," Gidion said.
BUDIARTI UTAMI PUTRI